Complete with a vibrant culture, rich history, delicious food, and a plethora of adventuring to be done, it's easy to see why Amsterdam is one of the most popular cities in the world. Digital nomads are welcomed with an average fixed broadband speed of 109 Mbps download and 58 Mbps upload as of January 2020, according to Speedtest Global Index. 
In addition to a flourishing digital business-sphere, AMS provides ample opportunity to connect with like-minded individuals on a personal level. WeWork, The Thinking Hut, and Meet Berlage rank among the best and most frequented coworking spaces in the city. As you depart from Schiphol Airport, suitcase in tow, it's easy to become overwhelmed by the abundance of newness to explore. Don't worry; we've got your back. Dive into our expert guide below, which will ensure any digital nomad a stellar Amsterdam experience!
Anne Frank House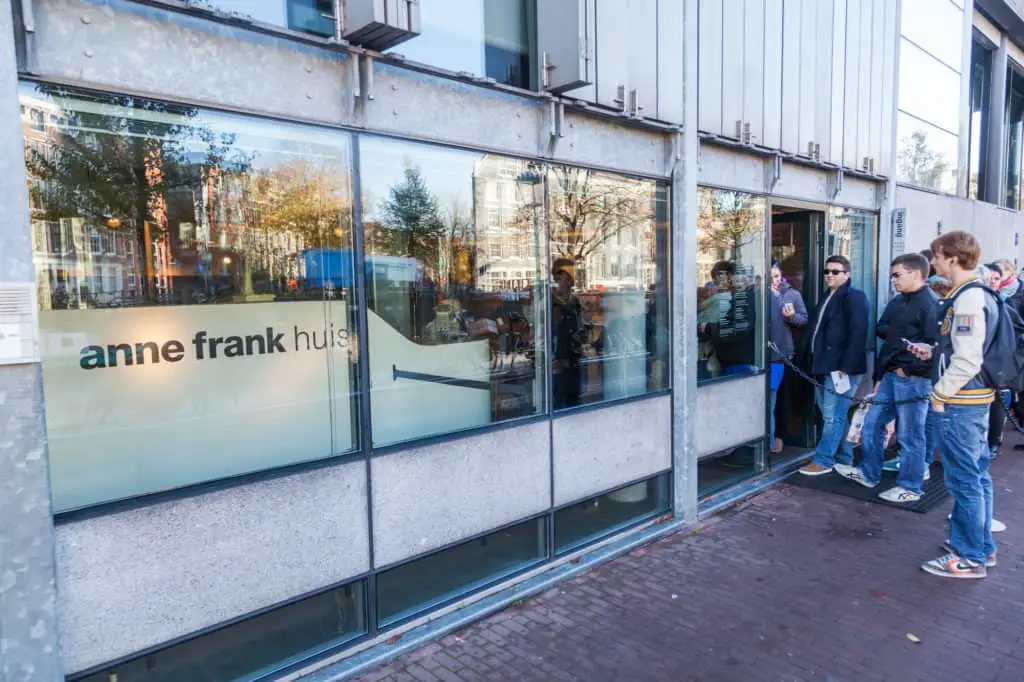 This archival home is rich with history and a favorite experience for many nomads. Whether you're a history buff or not, the solemn and powerful feelings it leaves you with are hard to grasp. The Anne Frank House monument is preserved excellently and with great respect, complete with personal audio guides in practically every language. There are no large bags, purses, backpacks, or photography allowed in the exhibition. Don't forget to buy your tickets in advance, as they are only available for purchase online.
Rent a bike
Without a doubt, the best way to travel in Amsterdam is by bike. This city has stepped into the forefront of the world in reducing its carbon footprint. Amsterdam has completely adapted to a cleaner, greener way of getting around, and prefers it that way. Spend some time watching and learning how to navigate the various unspoken biking rules before renting if you are going solo, or go with a tour group. I have done both, and would honestly recommend going on your own adventure. The leisure you have to do as you please, rest, or continue on further is priceless. Plan a day trip outside of Amsterdam into the countryside if you have time. Popular day trip stops include Marken and Haarlem. You'll get to see a completely new side of the Netherlands that feels like you stepped into a fairytale.
Vondelpark
Picture immaculate landscaping giving way to open grassy spaces, swans dabbling gracefully in streams, dogs playing fetch, and a yoga class mid-session. Visiting Vondelpark is a wonderful way for travelers to immerse themselves in some greenery among the cityscapes. Grab a to-go lunch from a local supermarket like Albert Heijn and enjoy a relaxing picnic on a blanket.
Keukenhof Fields (when in season) or Bloemenmarkt  (in the off-season)
Did someone say tulips? The Netherlands is home to one of the most astounding works of horticulture in the world. Visiting the Keukenhof Fields will require delicate planning, as they are only open for a short window in the year (usually between late March and early May).  If you're visiting during the off-season, the Bloemenmarkt can give you a taste of what springtime in the Netherlands is like. This floating flower market includes bursting stalls of souvenirs, peonies, sunflowers, and of course, tulip bulbs of every kind.
Admire legends at Museumplein
Attention Van Gogh lovers and museum savants! Spend a rainy afternoon in the Museumplein and you will have the opportunity to view popular culture capsules such as the acclaimed Van Gogh Museum, Rembrandt House, Anne Frank House, Rijksmuseum, and Stedelijk Museum.
Coffee Shops
When in Amsterdam, do as the Dutch do, right? There are no shortages of coffee shops in Amsterdam. Be sure to visit the classic "Bulldog", one of the first shops to open in the city. Spend a few hours venturing through the many eccentrically decorated seating areas while enjoying your…coffee.
Red Light District
You get the point.
Get a photo on top of the IAMSTERDAM Sign
Among the many souvenirs and stories you take home, don't forget to climb on top of the famous IAMSTERDAM sign and snap a picture. This art installation is almost always crowded with people, so come prepared to wait patiently for your perfect shot. Until recently, the most iconic letters (there are multiple sets) were located next to the Rijksmuseum. The exhibit has since been removed from the square because of overcrowding and planned for relocation in 2020.
Eat SO. MANY. STROOPWAFELS.
These scrumptious treats are everywhere in Amsterdam. Walk into your closest supermarket and you will easily find oodles of them. The best way to describe what stroopwafels are is to imagine two crisp, thin waffle cookies with caramel syrup in between, and they are heavenly. Bonus: Many gelato shops often serve stroopwafel-flavored scoops.
The Dutch just do cheese right, and they take pride in it. I would not recommend coming hungry, however, as you may end up spending more than you bargained for on these decadent dairies of every shape, size, color, and flavor.
Explore the Jordaan Quarter
Lined with quirky boutiques, stunning canal views, and known for its hipster feel, the Jordaan Quarter has character in spades. Stroll down the streets and admire the picture-perfect homes and sidewalks sprinkled with rose bushes. While you're here, schedule a tour of Electric Ladyland  (3 min from Anne Frank House) for some unique photo ops. This appointment-only museum focuses on fluorescent art and gives off a psychedelic feel.
Watch street performers at Dam Square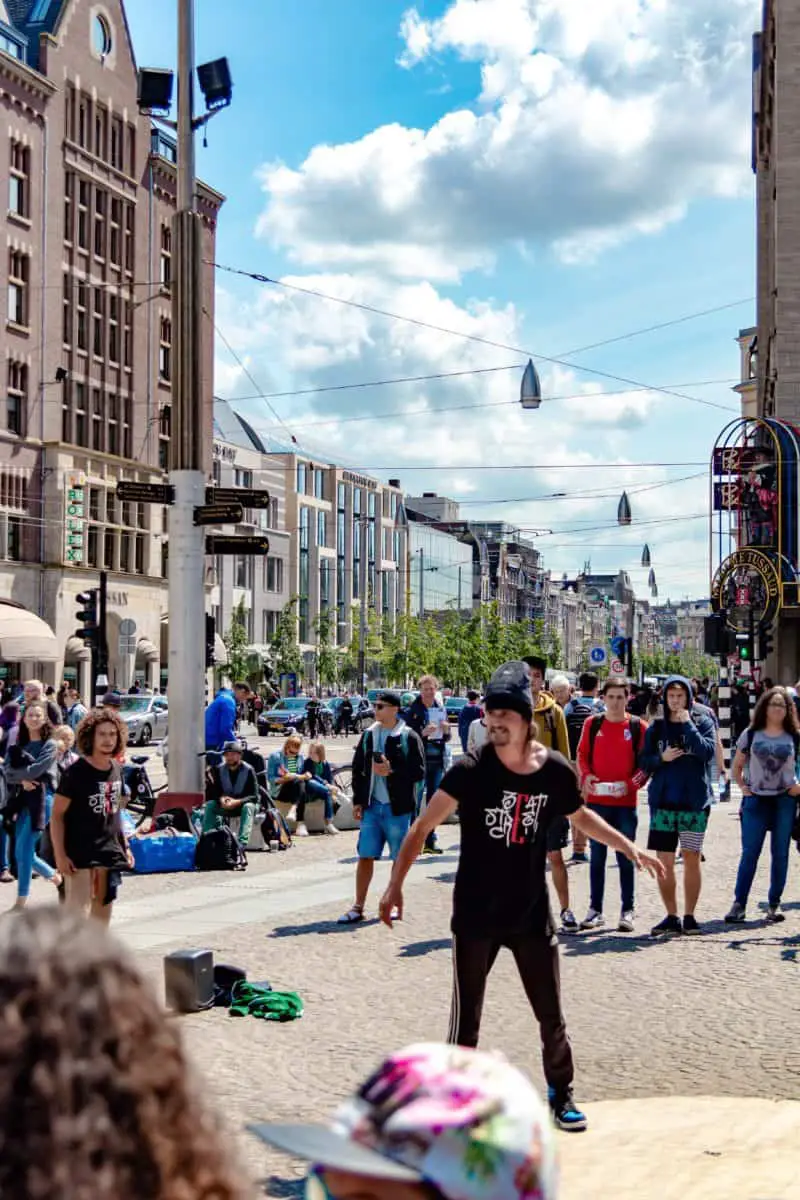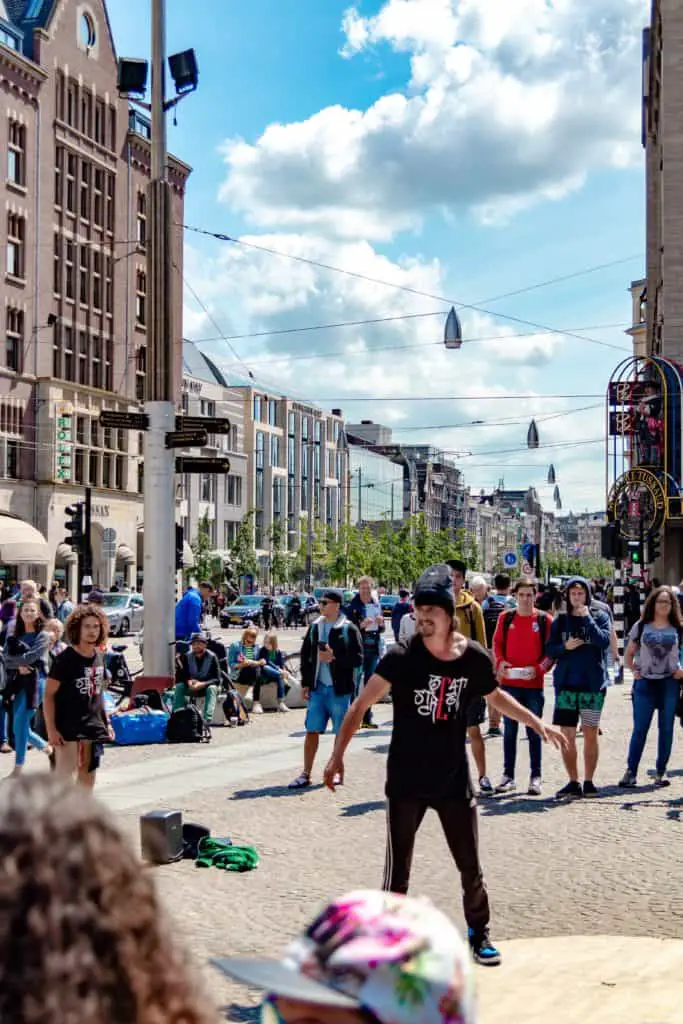 If you're like me, then you can't deny the fun in just allowing yourself to get mesmerized by people watching. Known as one of the busiest centers in the city, Dam Square bursts with life, culture, and entertainment for everyone. Give it a go and you might be surprised at what extravagant act you get pulled into!
---
Here at Nomadific, our goal is to provide you with the best information possible to prepare you for your next adventure. See any Amsterdam hotspots we missed? Share your thoughts in the comments below!