Digital nomads aren't just reaching for their luggage once or twice a year.
No, these globetrotting professionals are very often (and quite literally) living out of their backpacks and need to have the highest quality carry-ons available.
If you're thinking about cutting ties and traveling the world as a digital nomad you'll want to make sure that the backpack you've picked lets you travel light, lets you travel securely, and lets you carry everything you need – and then some – without becoming a headache or hassle along the way.
Below we break down the very best backpacks for digital nomads on the market today, the kinds of backpacks that are picture-perfect these kinds of modern-day travelers with a very unique set of needs.
Let's dig right in!
Osprey Porter 30
The Osprey brand is beloved by serious travelers and digital nomads alike for a number of different reasons, not the least of which is that they use only the highest quality construction materials throughout without adding a lot of extra weight to their backpacks along the way.
Beautifully designed, super lightweight, and featuring a lifetime warranty on top of all that you'll be blown away by everything the Porter 30 brings to the table. Multiple storage options, a hip belt for extra stability when your bag is loaded down, and strategic reinforcements throughout guarantee that your travel necessities stay safe and protected no matter where life takes you.
Combine all of that with the fact that it is guaranteed to fit the carry-on limits of almost every single airline out there (including the most restrictive) and this is a no-brainer.
Amazon Link
:
Osprey Porter 30
Osprey Farpoint 40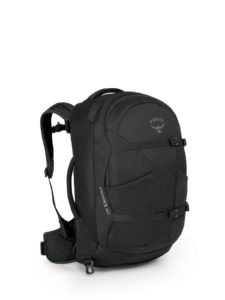 Slightly larger than the Osprey backpack we highlighted above, you're going to get 40 L of carrying capacity compared to 30 L – all without a lot of extra "backpack real estate" to contend with at the same time.
Featuring many of the same benefits of the Osprey Porter 30, just a little bit roomier, it also has been designed to fit pretty much every carry-on limit in the airline industry today (though the fit is admittedly a bit tighter).
If you're going away for longer excursions or simply have more things you want to keep close at hand while traveling, this is the Osprey you'll want to invest in.
Amazon Link
:
Osprey Farpoint 40
>> Read our full review of the Osprey Farpoint 40 backpack.
Pacsafe Venturesafe EXP45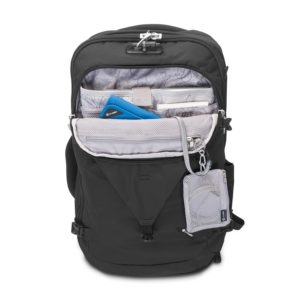 Digital nomads literally lived their lives out of their backpack, carrying all of their high-tech gear that allows them to travel the world while building a career everywhere they go.
This is why security is such a big piece of the puzzle when purchasing a digital nomad backpack – and security is what makes this particular option so special.
What appears to be a very minimalist, very simple and straightforward, and very modern looking travel backpack actually has five different antitheft mechanisms built right in to help you really lock down and secure everything you are traveling with.
Slash proof materials, internal locking cables, and a whole host of other features are baked right into this backpack to guarantee that the gear and equipment you are traveling with is never at risk.
It certainly doesn't hurt that the rest of the backpack has been designed with digital nomads in mind as well. The straps and hip belt evenly distribute the weight of a fully loaded backpack, the main compartment pops completely open so that you can make the most of its storage space, and more than a dozen different individual pockets and storage dividers can be used (or ignored) to totally customize the internal storage configuration.
Amazon Link
:
Pacsafe Venturesafe EXP45
Hanergy Solar Backpack
One of the most technologically advanced digital nomad backpacks you'll find anywhere on the market today, this amazing storage solution has built-in waterproof solar panel technology to provide you with an on the go charging station for all of your digital nomad tech.
This is a game changer in the digital nomad backpack world, giving you the opportunity to charge devices like your phone almost as quickly as you would have been able to charge it up it was plugged directly into a wall outlet.
Available in a variety of different sizes and configurations (from daypacks too much larger travel backpacks and everything in between) the odds are pretty good that you'll be able to find a solar backpack that fits your needs – and your budget – with no trouble at all.
Amazon Link
:
Hanergy Solar Backpack
Nomatic
The last digital nomad backpack we want to highlight is a favorite of digital nomads the world over because of the way that it was designed, engineered, and built from the ground up to serve the digital nomad communities specifically.
There are a lot of backpacks out there promising the moon and the stars for these kinds of travelers, but only this backpack was created (through crowdfunding) for the hyper specific purpose of serving digital nomads and digital nomads exclusively.
More than 20 unique features found throughout the bag give you every opportunity to turn this into your "home away from home headquarters", with numerous expansion features, internal and external storage options, specialized security features, and a whole bunch of other niceties that no other backpacks on the market provide. A little bit on the more expensive side of things (and sometimes difficult to get your hands on because they sell out so quickly) this is definitely an option you'll want to look into.
Amazon Link
:
Nomatic Backpack
Now that you have your beautiful new backpack, it's time to fill it with the essentials. Here's our digital nomad packing list.