If you're looking for a big city vibe, but with a more relaxed daily pace, then Lisbon is one of Europe's best-kept secrets. And if it's on your bucket list – you've got little to no time to dawdle. Lisbon has been gaining in popularity with digital nomads in recent years because of its walkability, cultural institutions, and the all-around friendly and welcoming vibe, which is a unique quality of pretty much every part of Portugal. 
Built along the ocean and boasting year-round sunshine, Lisbon is a city where people who have more flexible working lifestyles are opting to set up a home base for more extended periods. It offers citizens and visitors the chance to slow down the pace while still enjoying a bustling city lifestyle. With a well-preserved heritage and loads of parks, Lisbon is a great place to spend some time visiting or even living.
So, for all of the digital nomads out there looking to explore Lisbon – or even those of you who live there and want to enjoy a work from home lifestyle – here is a list of the best coworking spaces that you might enjoy setting up shop in.
1. Work Avenida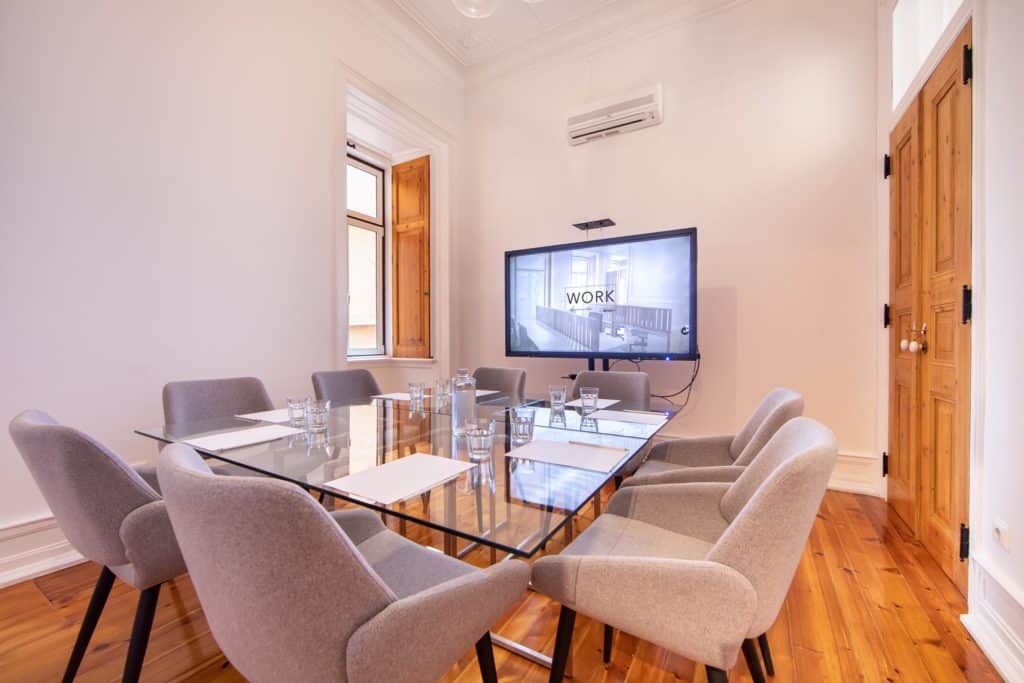 Located in the city center, Work Avenida features meeting rooms, a business lounge, an outdoor terrace, and a pantry stocked with snacks for guests to enjoy. It offers guests easy access to Lisbon's central business district (perfect for in-town meetings).
This space combines modern design with traditional architecture. Everything about the layout of the Work Avenida space is well thought out, clean, and beautifully executed. It is a tranquil and inspiring space that will allow you to be your most productive self while wowing any client who comes to meet you there.

There is also an ample event space available for rent by members and the community.
The use of the business lounge starts at 20 Euros per day.
2. Impact Hub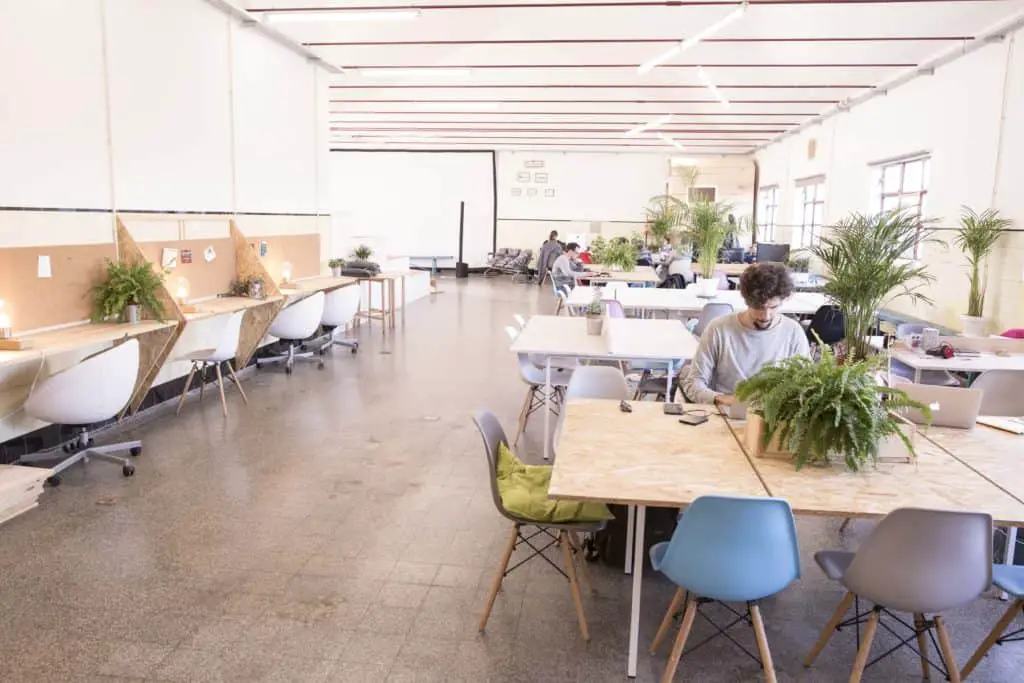 You may have seen this one pop up across a few other coworking articles, and it's all due to their super recognizable brand. Impact Hub has 90 locations all across the globe, in pretty much any part of the world that you might find yourself in, and Lisbon is certainly no exception to that.
Located inside the Carris Museum complex, Impact Hub Lisbon features two private Skype booths, as well as a large open-floor workspace with tons of natural light. It also has a large kitchen stocked with lots of drinks and snacks and offers members a variety of community events such as movie screenings, networking socials, and even wellness classes.
Impact Hub Lisbon is also part of a unique little village that includes the Museu Da Carris and the Village Underground (a very cool creative-focused space that we'll get to later in this list).

And, remember, Impact Hub isn't confined to Lisbon – they are a worldwide community known for providing some of the best coworking spaces out there. The entire experience is seamless, and members get to enjoy lots of perks at the location they're signed up with.
Daily rates start at 40 Euros.
3. Outsite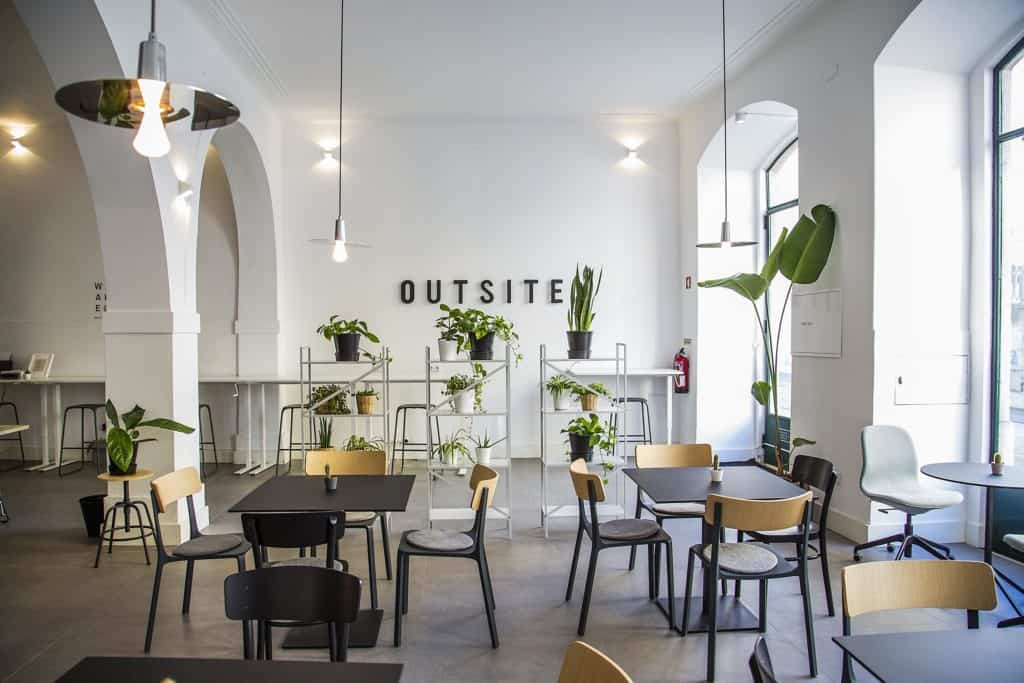 Minimalist, clean, and bright are some of the adjectives used to describe the Outsite coworking office. This intimate space holds up to 40 people at a time and has a high-speed internet connection, a spacious meeting room, functional printer, and lots of standing desks. It's located close to all of the major attractions in Lisbon and is only a 2-minute walk from the Time Out Market – which offers cuisine options to suit pretty much anyone's tastes and palate.
If you are looking to spend some time in Lisbon and want your living and workspace located in the same building, there is even an option to rent a co-living space in one of the suites above the Outsite Café. 
The stand-out features of this particular coworking spot are their free coffee (most offices in Lisbon charge for this) and their unique events. They also have an in-house Community Manager who organizes everything and is on hand to answer any questions that might come up.
Passes can be purchased online, and guests can check themselves in upon arrival. Day passes start at only 15 Euros.
4. Unicorn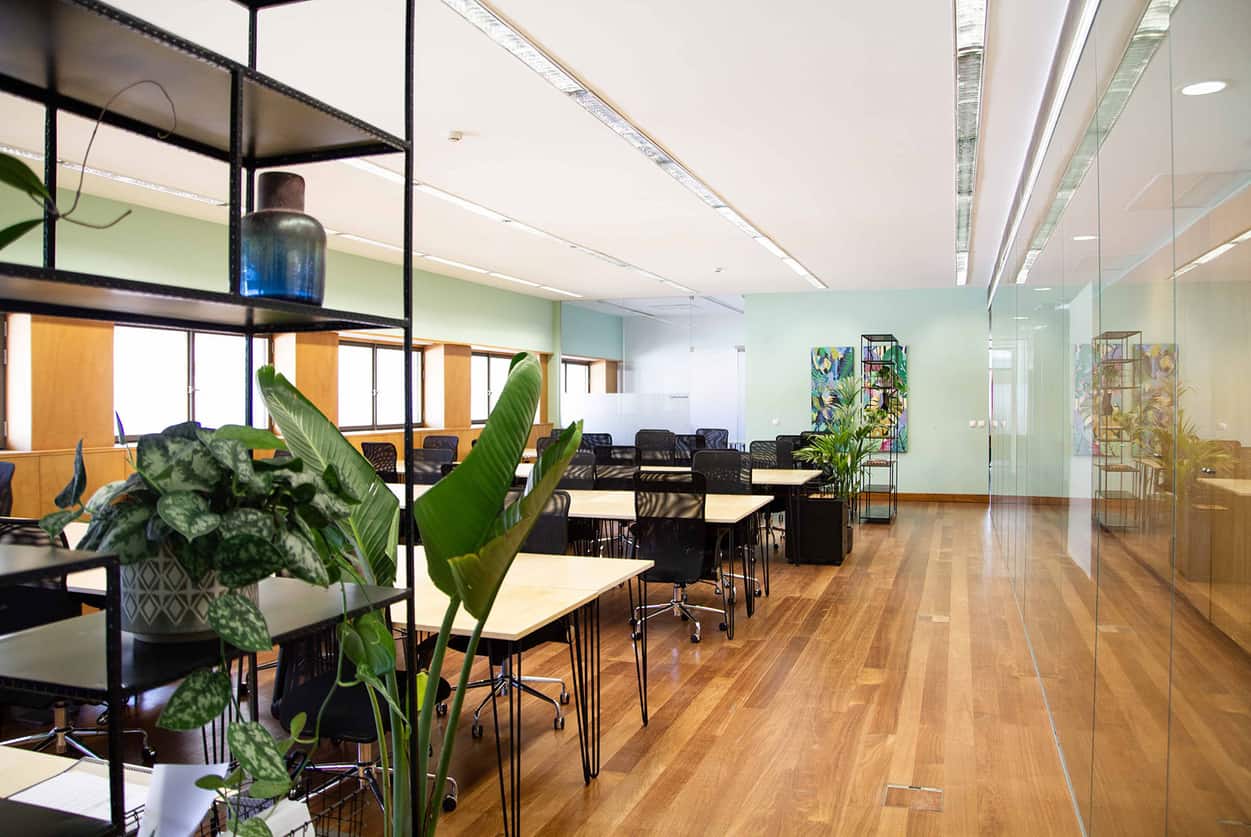 Located in downtown Lisbon, Unicorn boasts tons of features that make it a great space to get your work done! With coffee, water, and fruit available throughout the day, you can stay alert and well-nourished. The best part – it's all included in the cost!

There are flex desks as well as private offices available for daily, weekly, or monthly rates in their gorgeous space.  And they also have a Community Manager on staff to receive packages, greet guests, and even prepare coffee for members. The Community Manager is also available for all-around support throughout your day in case you have any questions.
Membership is monthly and starts at 180 Euros.
5. Avila Spaces
With ergonomic furniture found in every corner, Avila keeps comfort in mind – as well as design – for anyone who uses their space. They have private offices, flex desks, fully equipped meeting rooms, and a beautifully designed business lounge you can relax in. Avila was voted as the Best Coworking Space in Lisbon in 2018 and 2019. And it ontinues to get praise from people who frequent it as their go-to remote office.

Business Class membership starts at 138 Euros per month if you commit to an annual plan or 150 Euros if you join on a month-to-month basis.
6. Second Home
Located above the Time Out Market, Second Home is housed in a beautiful building that was built in the 1800s. It is a gorgeous space that has been fully restored and boasts tons of natural light that gives guests that extra energy during their workday.

Also, if you enjoy working in nature, this might be the space for you – the designers focused on creating a healthy and natural environment in this office. They included a jungle of flowers and plants, which fills the space with an extra bit of oxygen for all guests to enjoy. The plants are laid out between desks, offering remote workers an added level of privacy and separation to maintain their focus and stay productive.
Second Home also hosts many events – including cultural, educational, and wellness-focused ones intended to function as developmental initiatives for their members. Their event spaces can hold up to 120 people and can be booked by members or anyone in the community depending on availability.
You can use the workspaces at Second Home at rates starting at 100 Euros per month (for 5 days access).
7. Liberdade 229
As the first and the oldest of the coworking spaces available in Lisbon, Liberdade 229 continues to be a pioneer in the city's entrepreneurial community. Located on the Avenida da Liberdade 229 strip, this coworking space is a favorite among digital nomads, small-team startups, and programmers working remotely.
They offer 34 desks alongside a fully stocked kitchen, community library, meeting rooms and even a relaxation lounge with some ping-pong tables to help you unwind after a day of work.
Offering a very central location, you're a stones throw away from all of the major attractions, best food and amazing activities to partake in, allowing you to add that much more flexibility to your work-on-the-go lifestyle if you choose this particular coworking spot.
However, it's important to note that unlike most of the other options, Liberdade 229 is really aimed at long-term members. And you can opt into their membership plan for only €246 a month.
8. Village Underground
We mentioned Village Underground earlier – it is housed in the same complex as Impact Hub but offers a very different vibe. This one makes the list for its unique contribution to the creative community in Lisbon. A favorite among artists and creatives, Village Underground includes 14 refurbished metal shipping containers that can be used as shared spaces or reserved as private studios.

Village Underground is conveniently situated in one of the coolest neighborhoods in Lisbon. Home to designers, musicians, and artists, this complex is in proximity to all of the hippest cafes and bars in town. Great for those after-work drinks or setting up that unique business meeting nearby.

Rates for Village Underground start at 18 Euros per day.
---
So, whether you are a remote worker, digital nomad, or if you already live in Lisbon and work from home, this list can help you find a workspace that delights and inspires you while you enjoy one of the coolest, most underrated cities in Europe.

You might want to jump on the bandwagon quickly, though. Although Lisbon was a best-kept secret just a few years ago, it is now increasingly popular and is likely to be overrun soon with everyone wanting to explore it.