The digital nomad life is great! You get to explore the world while making money and setting your own hours. But if you live this lifestyle, you already know it can also come with its challenges. One of the biggest is that it can be hard to find a space to work where you can be productive. Everyone has their own personal preferences when it comes to an ideal work environment, so finding the perfect coworking space in each new city you visit can be challenging. 
Mexico City is a top pick for a lot of digital nomads looking to explore its vast urban landscape and for those who live there, it's that relaxed work from home lifestyle that draws the crowds. It offers many options to help you power through your workday, and coworking is no exception. Whether it's hotdesking (different parties using the same workspace at different times) or a dedicated workspace that you are looking for – there are a ton of coworking spaces sprinkled throughout the city, so you are bound to find the one that is best suited to you. And when you're done work, you can get out and enjoy the amazing nightlife!
1. Impact Hub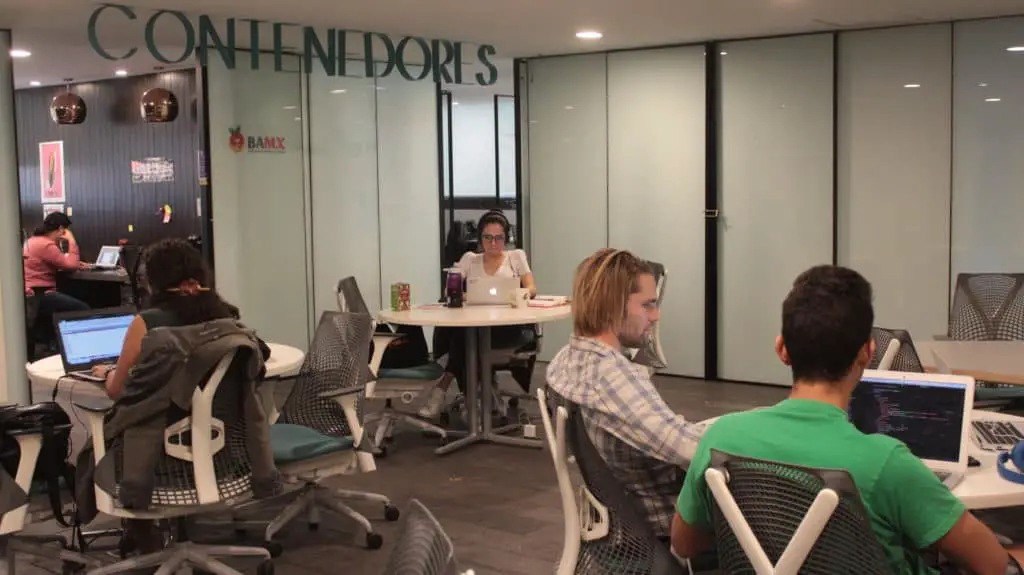 This one makes the list because their global community and recognizable brand are sure to make any digital nomad who is already familiar with their spaces feel right at home in Mexico City. Impact Hub has almost 90 locations across 5 continents and continues to grow. Their facilities consistently boast some of the most reliable and comfortable coworking spaces out there.

Their Mexico City location is no exception. They have rooms that can hold anywhere from 6 – 13 people for a meeting or course, as well as communal tables for anyone who needs to put their head down and work through their task list for the day. They also offer free coffee to guests and are located among a ton of cool little local eateries.

Impact Hub makes an effort to build a community through in-house activities like speaker events and potlucks. So, if coworking to meet new people and make connections is your thing, Impact Hub is a great place to set up shop – you can work and build your professional and social circles all at the same time!
Monthly membership is required and costs around $130 USD.
2. Homework
Homework may just have the coolest name of all of the coworking spaces we've come across. It's one of the most central coworking spaces available to remote workers in Mexico City. They offer a large, brightly lit open-floor space, filled with long tables, well-arranged desks and even some comfy loungers for your working pleasure.
Some of Mexico City's early-stage start-ups operate out of Homework, so it's not uncommon to find yourself in the midst of a launch party in the later hours of the day. Also, for those of you who like to keep your eyes on what's up and coming in the start-up world, you can use this space as an opportunity to rub shoulders with some of Mexico City's most innovative young entrepreneurs.

Homework offers free coffee among a number of other drink and snack options to it's short-term and long-term guests alike and is located right beside the Plaza de la Revolución, where you will find lots of great food options.
Monthly passes start around $110 USD and go up from there, depending on the type of space you require.
3. Ayni
Anyi – the Quechua word for reciprocity – is a coworking space focused on the holistic experience of the guests who use their facilities. The goal at Anyi is to support a collaborative environment that fosters a thriving entrepreneurial community.
Their space includes private offices, coworking, auditoriums, boardrooms, and an outdoor terrace.  There is a podcasting room, personal lockers, and a kitchen. With their mission of creating a holistic workspace, they provide access to onsite yoga, meditation, and other activities to help guests and members find balance during their workdays.

Ayni offers daily, weekly, and monthly rates, starting at only $12 USD.
4. The Pool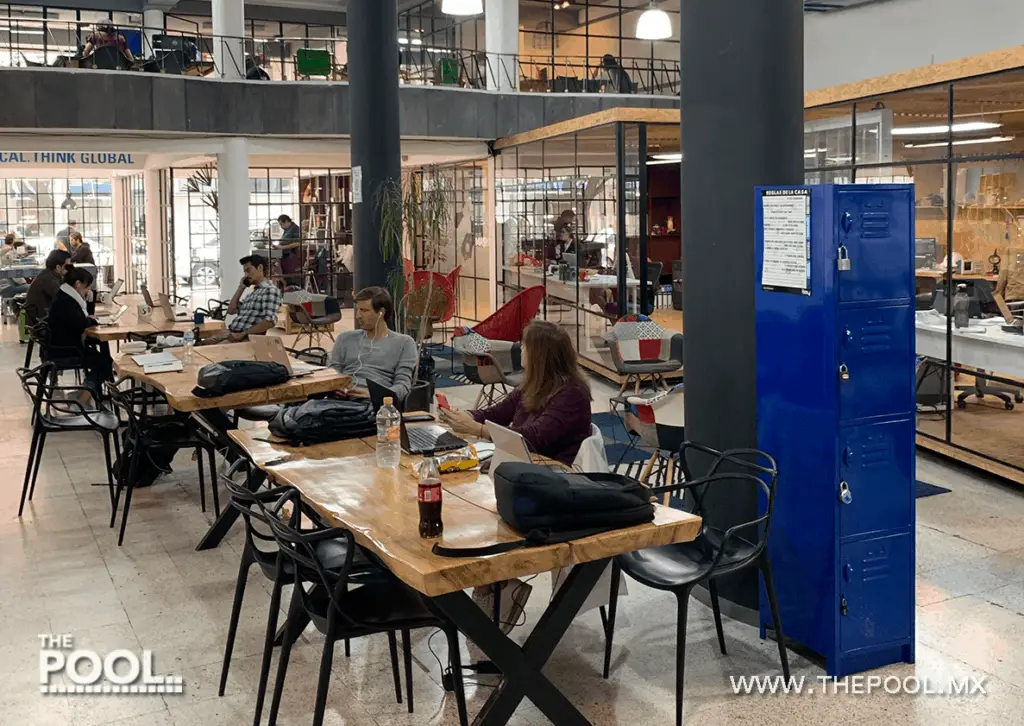 The Pool has three locations throughout Mexico City, including Pool Polanco, Pool Toledo, and The Pool San Ángel – and they're actively adding more locations each year. All of their facilities offer large, airy, open spaces with options for coworking, private offices, and even fixed spaces for teams.
All locations have a café on the premises, but outside food options can vary depending on the neighborhood. For example, Polanco is in a more upscale, expensive location, whereas Toledo is in a trendy, slightly hipster corner of the city.
If you opt for a monthly pass, you will have access to any of their three locations around town, so you can try out each one to see which suits you best. Passes start at around $75 USD per month for 80 hours and go up from there.
5. PÚBLICO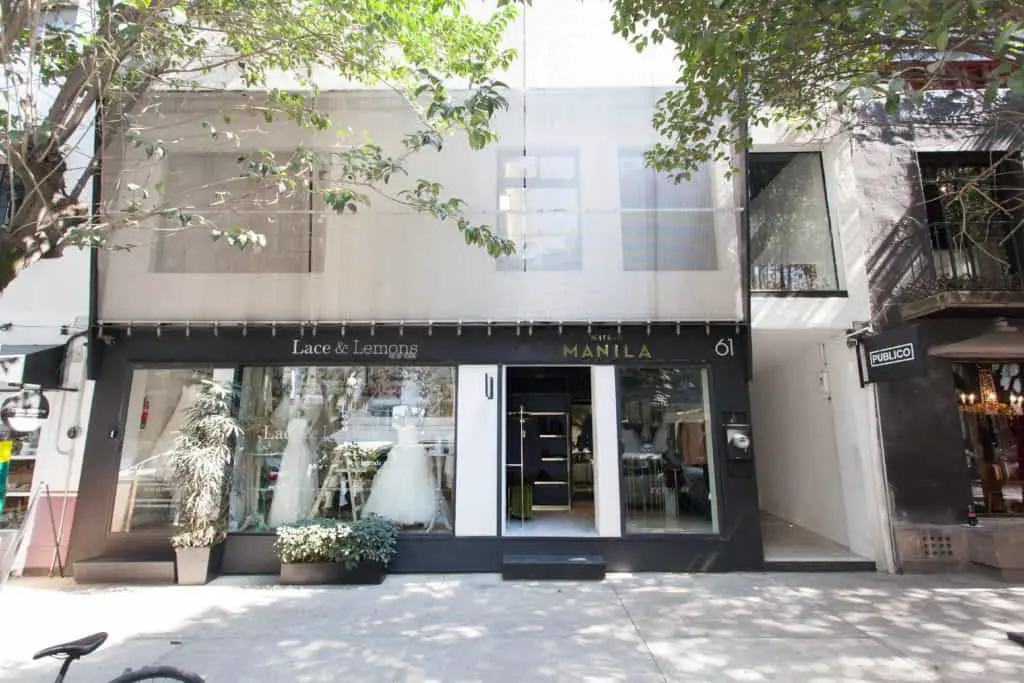 With seven locations strategically placed around Mexico City, PÚBLICO is bound to have a space that any digital nomad will love to work in. With more locations all over the world, members get access to offices with similar amenities wherever they go – offering a consistent remote working experience.
The facilities include some features that you won't find at any run-of-the-mill coworking space – such as photoshoot areas with blackout curtains and makeup stations.
PÚBLICO features in-house restaurants and always has a high-quality coffee available for members pulling those long hours. There are also lots of conferences and workshops among other events planned for the member community.
Memberships start at $170 USD per month.
6. MIA Co-Growing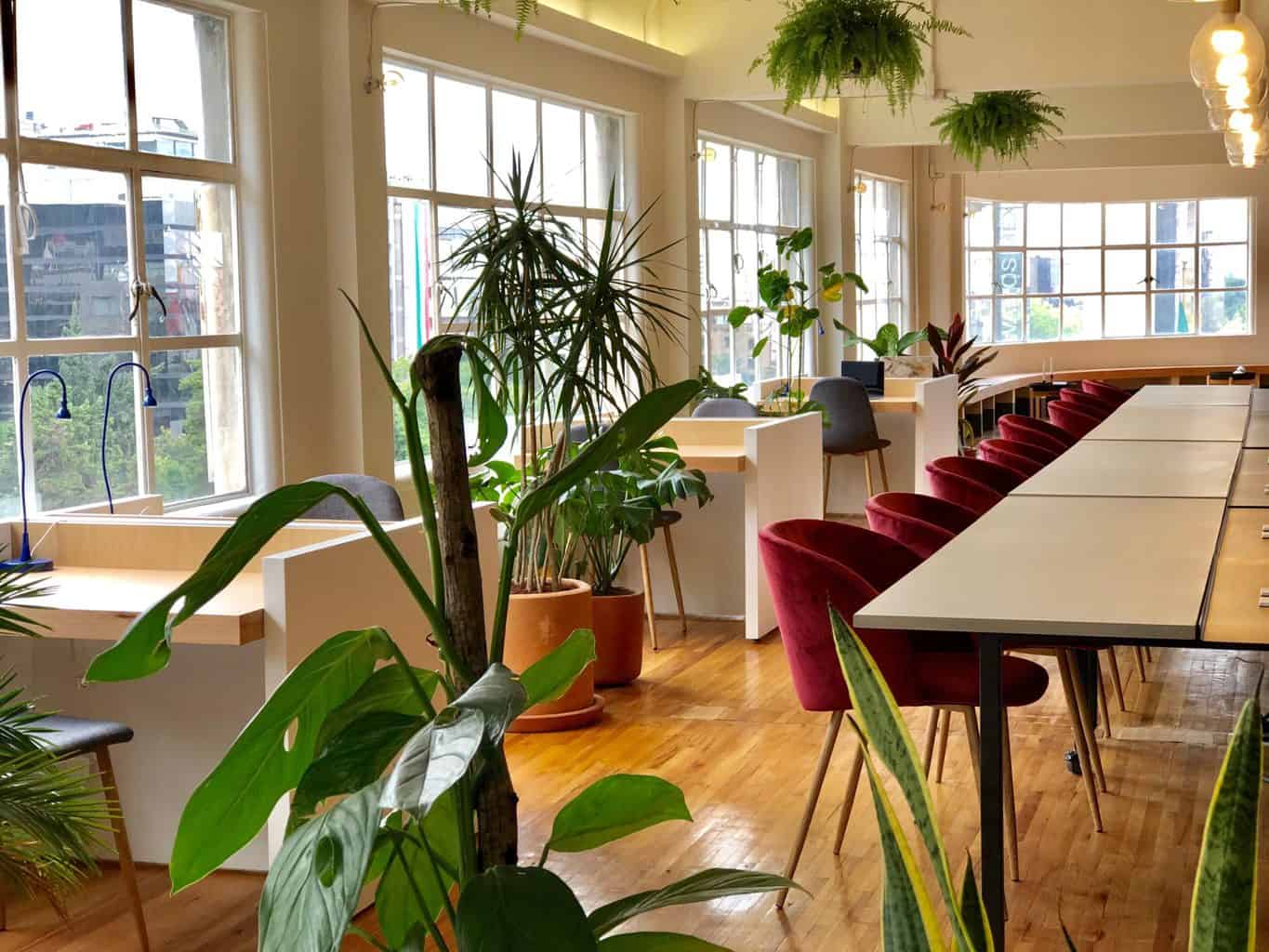 This coworking space is designed specifically for women in business to help them form connections and establish a healthy work-life balance. Located near the Revolution Monument, MIA Co-Growing is a coworking space that offers facilities and services to its female members to help them be their most productive. They even have a beauty bar, exercise classes, and events focused on personal and professional growth.
With flexible access plans, such as 1-day passes and 2-day per week memberships, you can try out MIA Co-Working for as little as $14 USD.
7. El 3er Espacio
Opened in 2011, El 3er Espacio is one of Mexico City's pioneering coworking spots. Located in the Hipódromo neighborhood, this space offers large open areas for hotdesking with tons of natural light. There is even a terrace to get outside and work in the sunshine. The neighborhood boasts tons of food options whenever you're looking to take a break and try a new spot. Everything from formal restaurants to taco stands and quick healthy fare is right at your fingertips.

El 3er Espacio also offers a fiber-optic internet connection, so you are sure to stay on track with all of your tasks while working out of their office. Not all neighborhoods in Mexico City have this available, so if that's an essential feature for you, opting for a coworking space that includes this sort of connectivity will limit you to coworking spaces in certain areas of the city.
There is an open offer for new guests to come in for a free day to see if they like it, no strings attached. From there, if you decide to stick around – daily rates start around $12 USD.
---
In a city with a population numbering in the tens of millions and with a long vibrant history, there are endless spots to explore during the off-hours to really get a feel for the unique and magical place that Mexico City is. It's a cultural hub that is sure to please any traveler, and it's so big that even locals are often surprised by new discoveries, so you're sure to have lots to explore!
Whether you live in Mexico City and work from home or even if you're looking to spend some time in Mexico City while working remotely, one of these coworking spaces might just suit all your needs. Let us know which one you end up picking!