Paris is a city that stations more than 1 million businesses. There are individuals in conventional businesses like transportation, design, and money, just as developing territories like innovation and computerized media. Paris has developed exponentially as a sci-tech center point lately.
It is rapidly getting one of the most appealing urban areas in Europe for sci-tech organizations, financial specialists, and business people to expand their market. With the rapid growth in numbers of businesses, start-ups, and even freelancing work, the demand for coworking areas in Paris has been witnessing an uptrend. 
There's a lot of options with regards to coworking in Paris, with spaces spread over all the city. Besides, the diversity in the space and style Paris has to offer is large and praiseworthy. If you are looking for the best coworking space in Paris, then you are just in the right place.
Check out these top 8 coworking places in Paris, which we have exclusively curated for you. 
1. Hubsy
This coworking bistro space has relaxing music just as a comfortable vibe. It's a coworking space with all the standard luxuries. That's only the tip of the iceberg, including remote associations, attachments, printers, and meeting rooms. Higher up, there's additionally a little library for benefactors.
You can pay €5/hour or a level charge of €20 for five hours or more for the whole day. Everybody utilizing the coworking cafe space is urged to take freshly brewed espresso prepared in France, tea, and different tidbits like treats, apples, or cereals. 
2. Greenspace
Greenspace market itself as being the coziest coworking space in France, and cozy it is! Greenspace is a huge coworking space in Paris with 760m2 of space on 3 levels and offers 95 spots for digital nomads, freelancers or anyone really who is looking to work in a great work environment.
Greenspace offers everything you need to optimize your productivity. A quiet space in a great location in Paris (11th arrondissement, 300m away from Bastille), meeting rooms, a chill area and… unlimited espresso to make sure you stay caffeinated. What more does a digital nomad need?
But the cherry on the cake is that they also offer yoga classes and walking desks. Pricing starts at 280 euros per month.
3. La Permanence
La Permanence is one of the coworking spaces which is extremely flexible in regards to that it doesn't pinch your pocket. It's cost-effective and available to workers 24 hours. Amongst students, La Permanence is a popular choice due to its proximity to Universities.
This place may not offer snack options like one of those artisan cafes, but it surely provides you printers, photocopiers, and scanners, which is of great use while you are working.
Like many spaces, La Permanence charges upon an hourly basis. The rate varies from €1 to €1.5 for an hour. While a meeting room is available at just €5 an hour. 
4. Unicorners
If you are one of those people who love working in cozy places, demand surrounding between green plants, and appreciate a minimalist decor, Unicorners is just the place. Unicorners might be a little ahead in charging you for the service but it's worth a little extra.
Holding meetings an Unicorners could be a thoughtful choice as its conference room is equipped with projectors and all the things you need.
With that bright space, Unicorners creates the most comfortable working spaces. More concentration is put on providing you the best lattes and espresso with a range of savory and sweet snacks. The pricing range extends to up to €5 per hour, they also have a day pass at €24. 
5. Draft
Seeing the surge in demand for coworking spaces in Paris, service providers are invariably aiming to make coworking spaces more interactive and suitable for all kinds of professionals. The Draft is one of those places offering services that you might not find at any location in Paris. 
Considered as one of the hip coworking spaces, Draft caters to artists, budding designers, and digital and tech nomads. With just €15 for the whole day, it is a great deal for all working professionals.
What makes this place stand out is the on-site facilities like the availability of equipment like sewing machines, 3D printers, and carpentry tools, etc. These facilities are chargeable depending upon different equipment.
6. We Art From Paris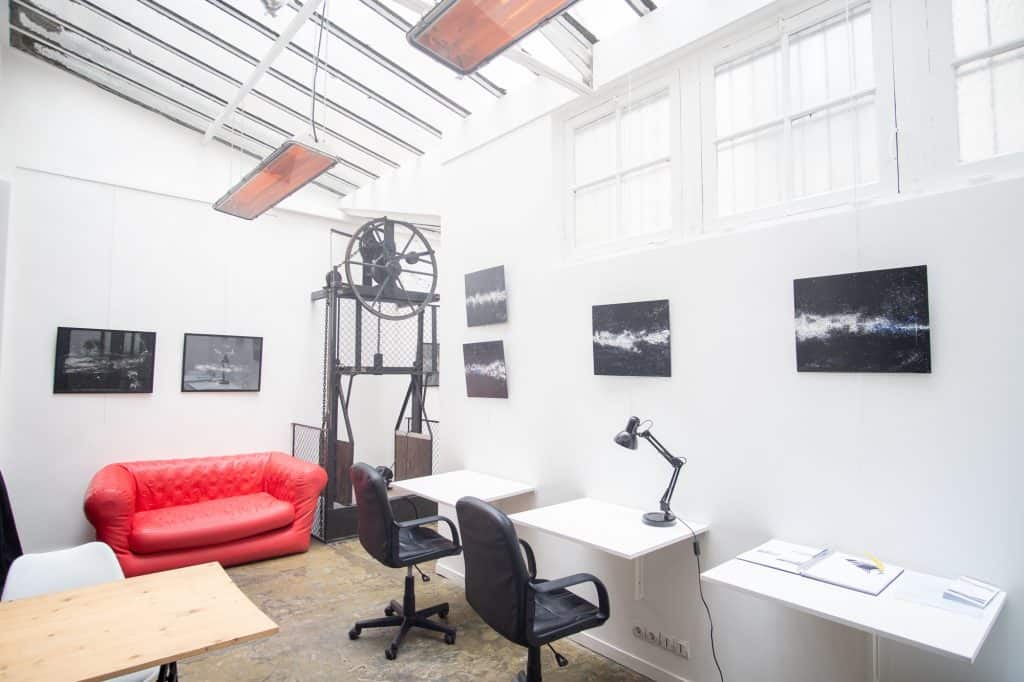 We Art From Paris is not your typical coworking space. It's a space dedicated to artists, to creative minds. This new concept will allow new types of people to travel. No longer people that make a living from their laptop.
Besides the expected office desks, this creative coworking also offers a shooting studio for photographers and videographers as well as a meeting room and a space for people to practice theater or any kind of corporal art.
This space offers fiber optics, a shared kitchen and a space to chill. Pricing starts at 150 euros per month.
7. L'Archipel Café
A very beautiful 19th-century chapel is converted into a café providing coworking spaces. A major perk of this place was that it also provided hammocks for a nap. This amazing idea of the charitable association Aurore which provides shelter for many professionals.
This is a good project which covers a wide range of social and community projects. Besides, it is a good environment to work with a massive book swap, and you can snack on whenever you want. Here you can get everything, may it be something you are craving to eat or yoga sessions for fitness.
8. Le 10h10 Paris
Want some 70s vibe while working? You must land at Le 10h10 for a creative retro inflated charm. This coworking place will be your home away from home. With formidable wallpaper and cozy-elegant vintage furniture, consider this coworking alternative as your private home far from home.
Choose from locations, which include Clery in "Silicon Sentier" and Saint-Martin, between Beaubourg and the Marais. Le 10h10's open hours, which consist of Sundays and blessings, all make it a super laid-back option. You don't have to pre-reserve this place.
---
Final Thoughts
In a magnificent city like Paris, you don't need to limit your options. The numerous spaces this city offers to professionals in need of working spaces are wide-ranged. Each place invariably differs from another; whether you prefer an artisanal cafe, restaurant, a minimalist bright place, or the conventional office type space, you have it all in Paris.
Prices and facilities are the major attributes of these coworking spaces, both of which are unique to each place.