The life of a digital nomad is exceptionally thrilling. You get to travel the world, explore their cultural heritage and landscape, and make a living by working in coworking spaces. Phnom Penh is one of the best destinations for a digital nomad because of its increasing number of coworking spaces, easy accessibility, low accommodation, and living costs. It is an insane amount of trendy coffee shops offering workspace and free wifi facilities. The sound of development bells has been ringing throughout the city and making it one of the top to-go spots for digital nomads. 
Though the coworking space is a new concept to Phnom Penh, it is rapidly developing its infrastructure to become a home to innovative ex-pats, remote workers, and digital nomads. The thriving scenic beauty and beautiful heritage temples of Cambodia will drive your breath away. The bustling city of Phnom Penh is not only a tourist destination but also the go-to destination for all the digital nomads. 
Read more: The ultimate guide to Cambodia for digital nomads.
1. Workspace 1 
Workspace 1 forms a part of the Factory and is located at its trading center in the south of the city. The welcoming vibe and crafted interior will serve as a working space for creative nomads and digital entrepreneurs. The place's cozy and harmonious vibe will allow you to put your thinking hat on and be your best self. It provides a workspace where innovative minds can learn, collaborate, and grow together. It offers open hotdesk, dedicated hotdesk, and dozens of conference rooms. Workplace 1 boasts not only professionalism but also such facilities that will make you feel at home. They offer free beers and coffee, a nap room to rest your eyes for a while after lunch, and air-conditioned rooms.
You will get high-speed free wifi, standing desks, photo studio, projector, computer, printer and green screen, and other necessary equipment for doing your work. They also have different relaxation zones where people can chill and connect with others. You will find an outdoor terrace, lounge, meditation room, trampoline, library, art gallery, and ping pong table. It offers a perfect blend of work-life-play balance. It also comes with a kitchen, locker room, and showers. You can book their private office for $280 per month, a dedicated desk for $120 per month, and a hot desk for $8 per day. 
2. Emerald HUB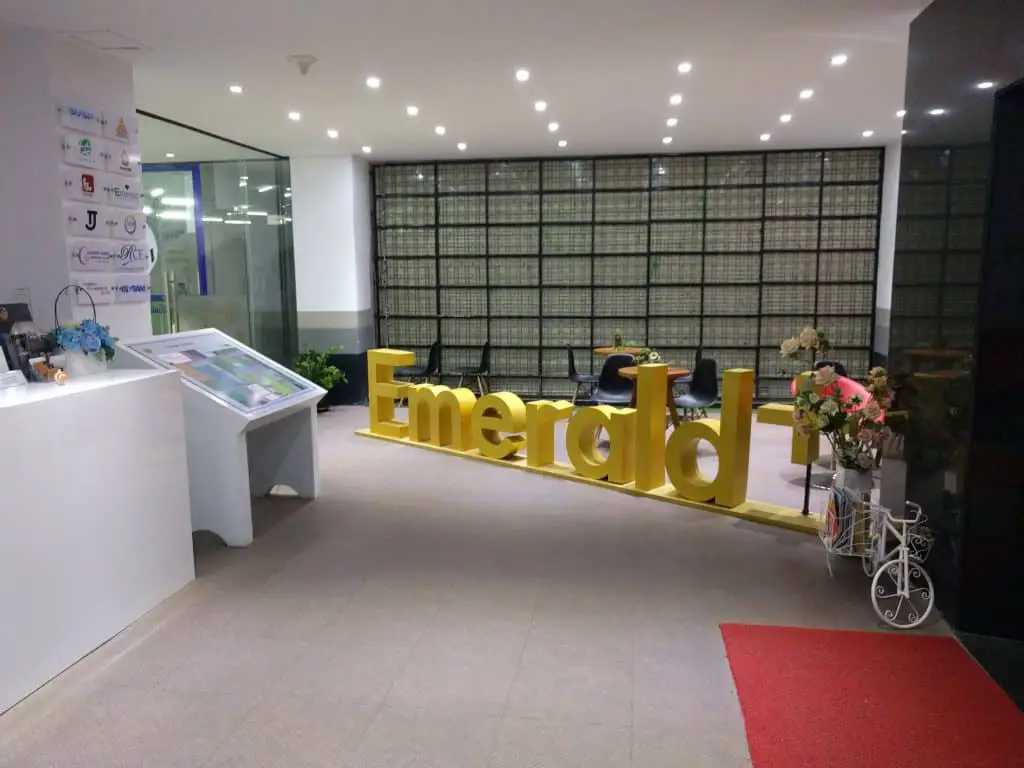 Located at the heart of the city, this large workspace serves as a home to individual entrepreneurs, small creative groups and as well as to the large business teams. Everyone will be able to find a seat in their spacious rooms. Their meeting room is only available to members who have opted for a private room. But community events and training workshops are open to all. They have some breathtaking amenities such as an onsite cafe, bean bags, lounge area and outdoor terrace for relaxation and communication purposes, library to feed your knowledge-hungry soul, free parking on their premises to save your parking charge and 24/7 access to their members.
They have opened a second coworking space named BBK3 with almost similar pricing and facilities. You can book their hotdesk for $60 per month, dedicated desk for $120 per month, private office for a small team at $330 per month, and private office for the large business group at $450-550 per month. 
3. SmallWorld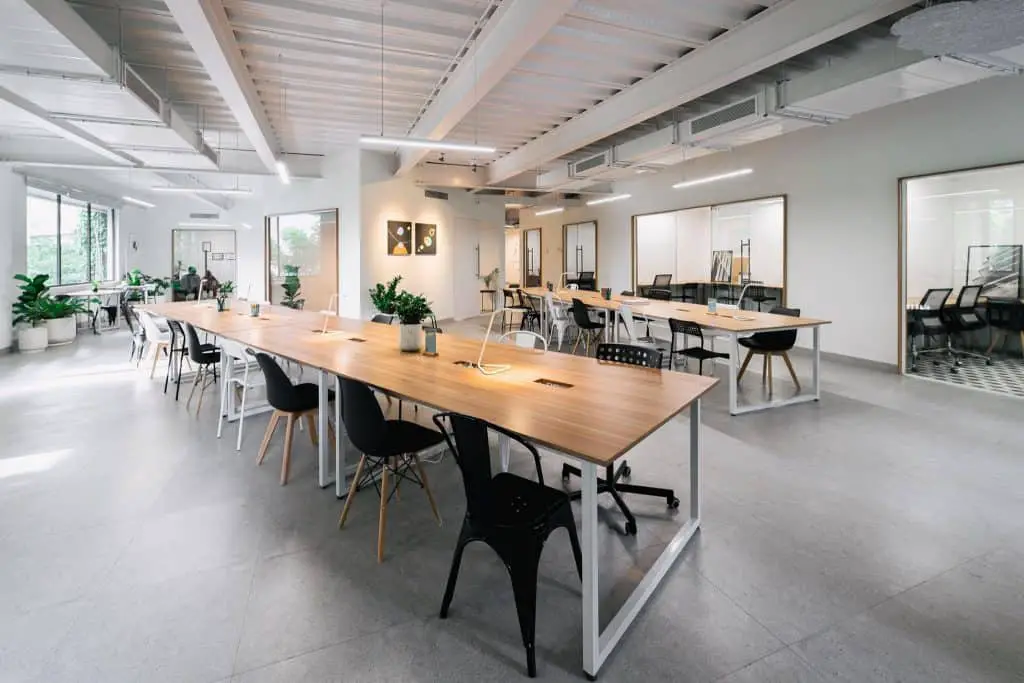 SmallWorld is a collaborative and innovative workplace for freelancers, young entrepreneurs, and digital nomads in Phnom Penh. Housed in a huge villa, SmallWorld offers a productive and casual work environment to enthusiastic and idea-driven youths. It provides many amenities to its members like high-speed free wifi, air-conditioned rooms, and personal lockers to safeguard every member's belongings, onsite cafe, co-living accommodation, lounge area and outdoor terrace for relaxation, free coffee, and tea. Also, standing work desks, ping pong table to provide an entertainment break, countless events wherein members can learn, connect, test and transform their dreams into reality, and allow members to bring their pets. You will get their open hotdesk for $100 per month, dedicated desk for $120 per month, and daily pass for $7. 
4. Sahaka Coworking Space
Sahaka coworking space, despite being a new coworking space, provides a collaborative environment wherein young talents can learn, network, and grows. It operates at a refurbished and spacious home with high ceilings and sandblasted glass walls. The place is thoughtfully designed with modern, simple, and bright colors. Its large windows and tiny balconies let in a lot of natural sunlight. The area is well-lit, cozy, and airy. You will find a lot of Khmer and foreign entrepreneurs there.
The place boasts a kitchen area for serving coffee and tea to its members, telephone room to take calls without disturbing the peace of other members, free to use meeting rooms, scanner and printer, fully-furnished office spaces, high-speed free wifi, chill-out area, onsite cafe, bean bags and outdoor terrace for a break from monotonous working hours, work desk and ergonomic chairs. You will get a hotdesk for $80 per month, a dedicated desk for $120 per month, and a private office for $250-550 per month. 
5. The Desk Coworking Space
The Desk offers a creative community and energetic workspace to meet the varying needs of digital nomads, young freelancers, micro-businesses, work-from-home employees, startups, bloggers, and other growing professionals. It offers plenty of networking workshops and events, business consultation, and knowledge sharing to boost young entrepreneurs' growth. It forms a roof wherein everyone will find a workspace that suits their needs. It balances your work, life, and play elements beautifully. They offer various amenities like an onsite cafe, bean bags, lounge area, personal lockers, free parking on-premise, free high-speed wifi, and many more. You will find an open hotdesk for $60/month, a dedicated desk for $80/month, and a private office from $350 onwards. 
6. Coworking Today
Coworking today is a worth mentioning workspace as it provides world-class amenities, affordable private workspaces, and great in-house support. You can also choose from flexible workspaces, specialized rooms, and private rooms. The place is well-lit and simple with personal lockers, onsite restaurant, and snack bar, outside terrace, free parking space for bikes and cars, and lounge. They believe in community workspace and offer mentorship and training programs, super-fast wifi, and private call rooms. You will get a private office from $400 onwards.
7. My Khmer Company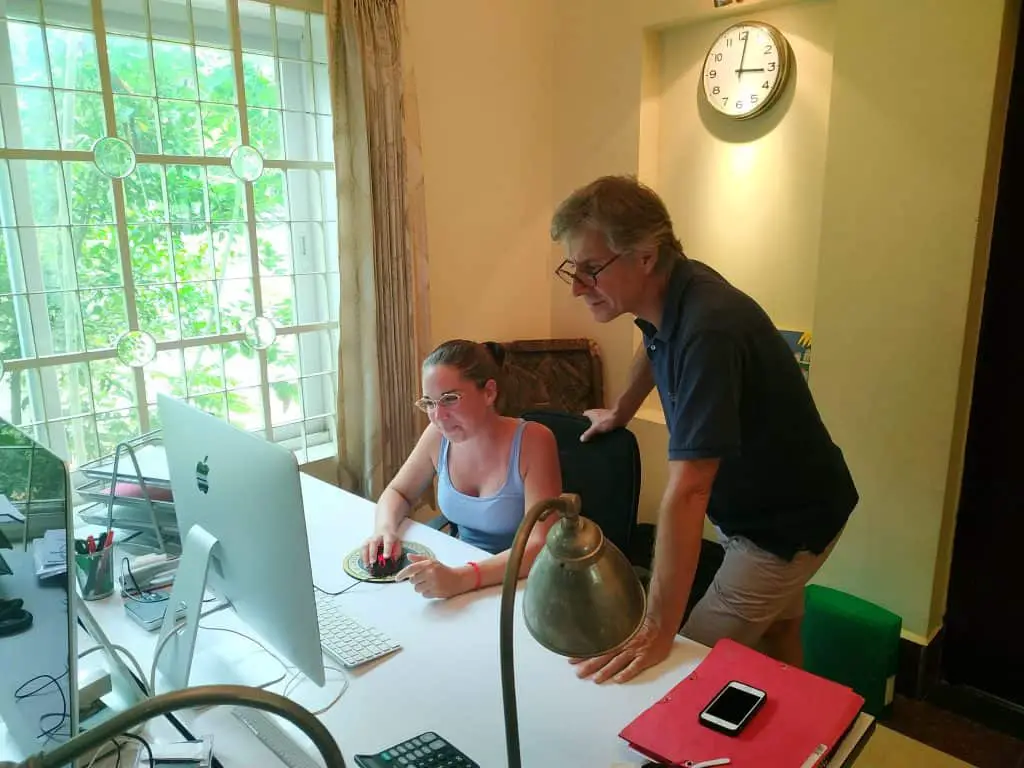 My Khmer Company provides business networks, exceptional workspace, and countless amenities for digital nomads, professionals, and innovative entrepreneurs. It is located in a hushed, green place at the heart of the city. It offers ergonomic chairs, hammocks, drones, projector, shower, retail space, lounge, terrace, ping-pong table, free parking on-premise, and many other top-class facilities. It creates a friendly working environment through community events and workshops, accelerator programs, mentorship programs, and incubator programs. You can rent private office space from $350 onwards. 
8. The Green Penthouse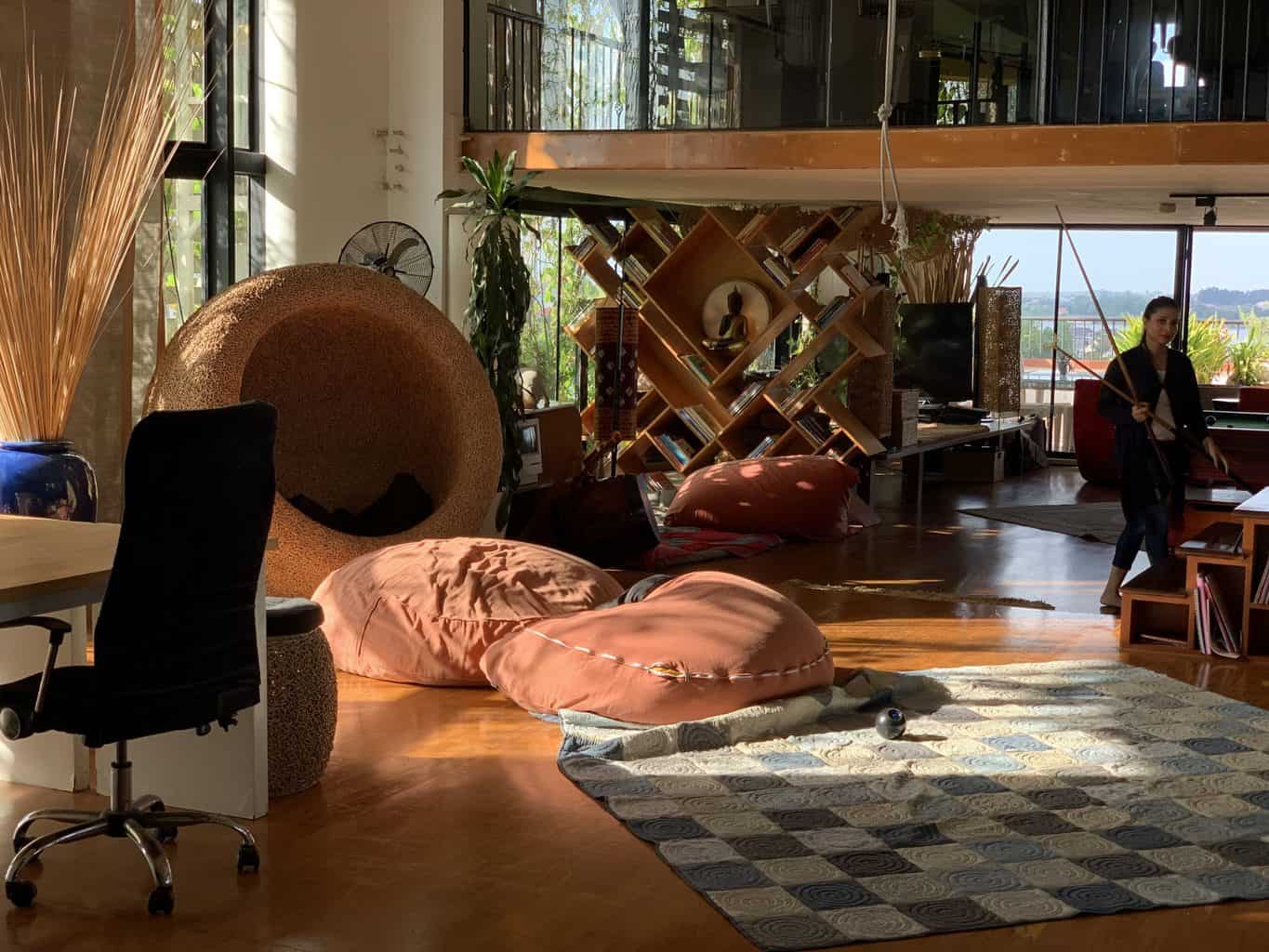 The spacious, airy, and open environment will spark your innovative thoughts and foster a community network of innovators. It acts as an urban oasis with hanging plants and greenery all around, fostered glass windows, high ceilings, and a 360-degree view of the city. The premium luxurious coliving space comes at a regular, affordable price range. It offers exclusive faculties such as winter garden, gym, pool table, relaxation rooms, yoga studio, dance studio, and rooftop bar. It tops the chart of most favored coworking space, so you have to book well in advance. You can book a private office from $350 onwards.
9. WeShare HUB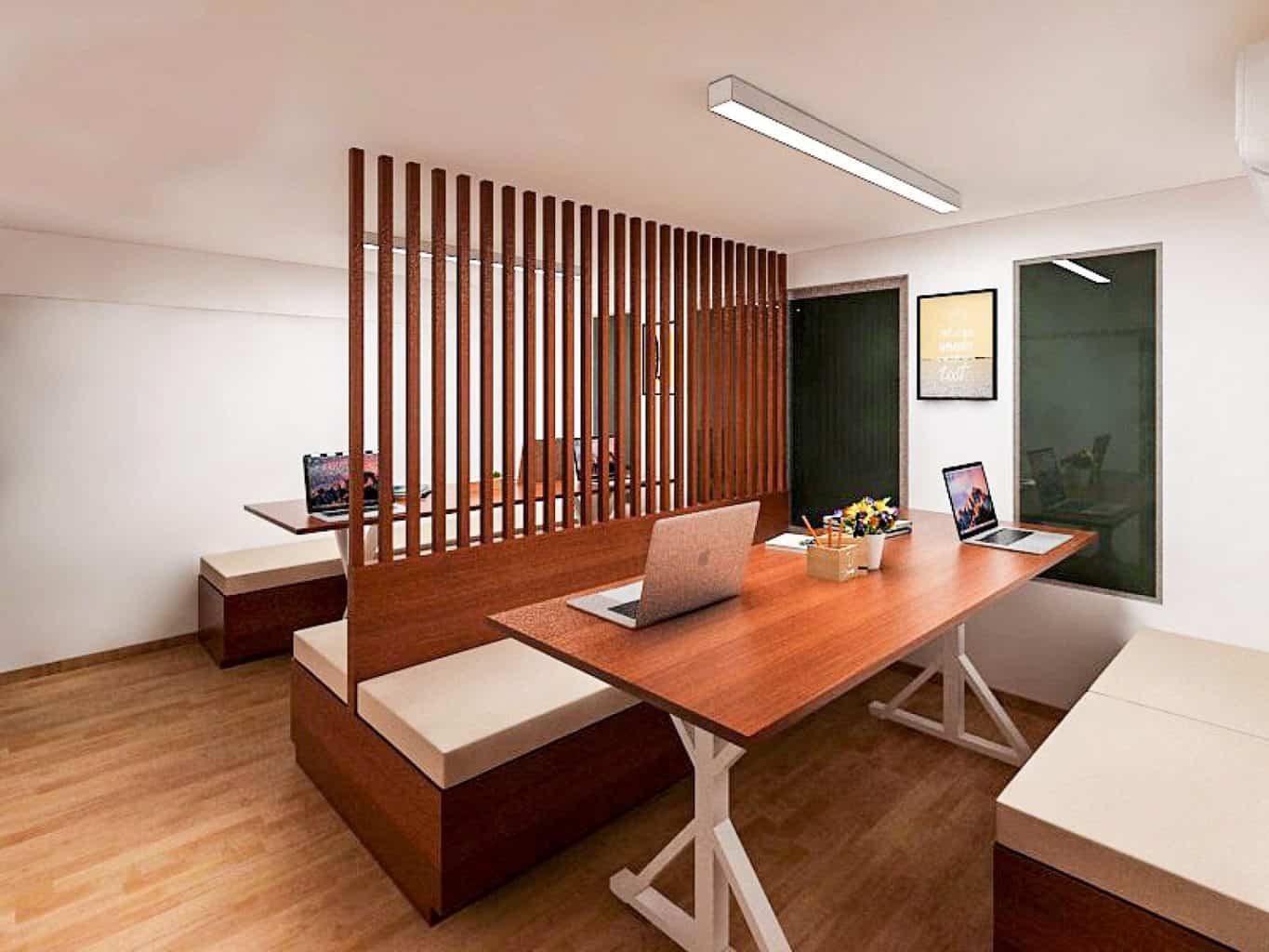 Housed in a French colonial establishment in the middle of the city, this small cozy workspace provides opportunities for learning and networking with locals and international professionals. It faces the tree-lined roads and has a meeting room with a scanner and projector, a library loaded with Khmer and English books, a tiny nap room, kitchen space for tea and coffee, and tile flooring. Their internet is super fast and offers 24/7 access to its members. Membership starts at $280/month for private office space. 
---
Whether you are a digital nomad or an innovator looking for startups, the affordable yet premium coworking spaces in Phnom Penh is sure to sweep you off your feet. You may as well want to take a flight to Phnom Penh right now. The place will offer you everything you have been looking for (except Angelina Jolie!). With more and more coworking spaces mushrooming in Phnom Penh, it will soon become the leading destination for digital nomads and freelancers.