Sri Lanka is growing in popularity among digital nomads due to the attractive prices coupled with everything a tropical island can offer (and more!). Pristine beaches and surfing, scenic mountains, magnificent historic sites, and wildlife are some of what makes it a travel hotspot.
> Read more: Ultimate guide to Sri Lanka for digital nomads.
Many coworking spaces have originated in Sri Lanka along with the island's growing entrepreneurial and start up culture. If you wish to take a break from your hammock-office or connect with other freelancers and entrepreneurs during your time in Sri Lanka, consider using one of the coworking spaces of this wonderful island.  
Here are the best coworking spaces in Sri Lanka for digital nomads, based on their offerings and amenities.
Worx
Worx is a unique coworking space in Colombo 05 with a Zen garden, outdoor cabanas, a rooftop terrace, an onsite restaurant, a café, and two swimming pools. Their coworking space is a great choice for digital nomads looking to work in a Zen atmosphere with comprehensive facilities. The member benefits include mail handling, shower facilities, a member support team, swimming pool access, and professional and social events. Members can also pay for private dining, boardroom access, a registered address, event space for functions, and printing and copy services. 24/7 access is available for private offices and dedicated desks. Worx hosts a variety of events including pop-ups (snack bars, and food stations), networking events and trivia nights. 
Worx members are a diverse group including digital nomads, tech start-ups, and a wide range of creative professionals. Users highlight the ambience, the facilities, and the onsite restaurant (and its food!) as key attractions of this coworking space. The greenery and relaxing spaces especially suit creative professionals and brainstorming sessions. Worx also has a Working Art Gallery in the premises.
In addition to offering a variety of facilities, Worx focuses on minimizing their carbon footprint by operating the entire building on solar power. They plan to launch a second coworking space in Havelock Road in February 2021, within walking distance from the existing facility.
(Image credit: Worx)
HomeTree Coworking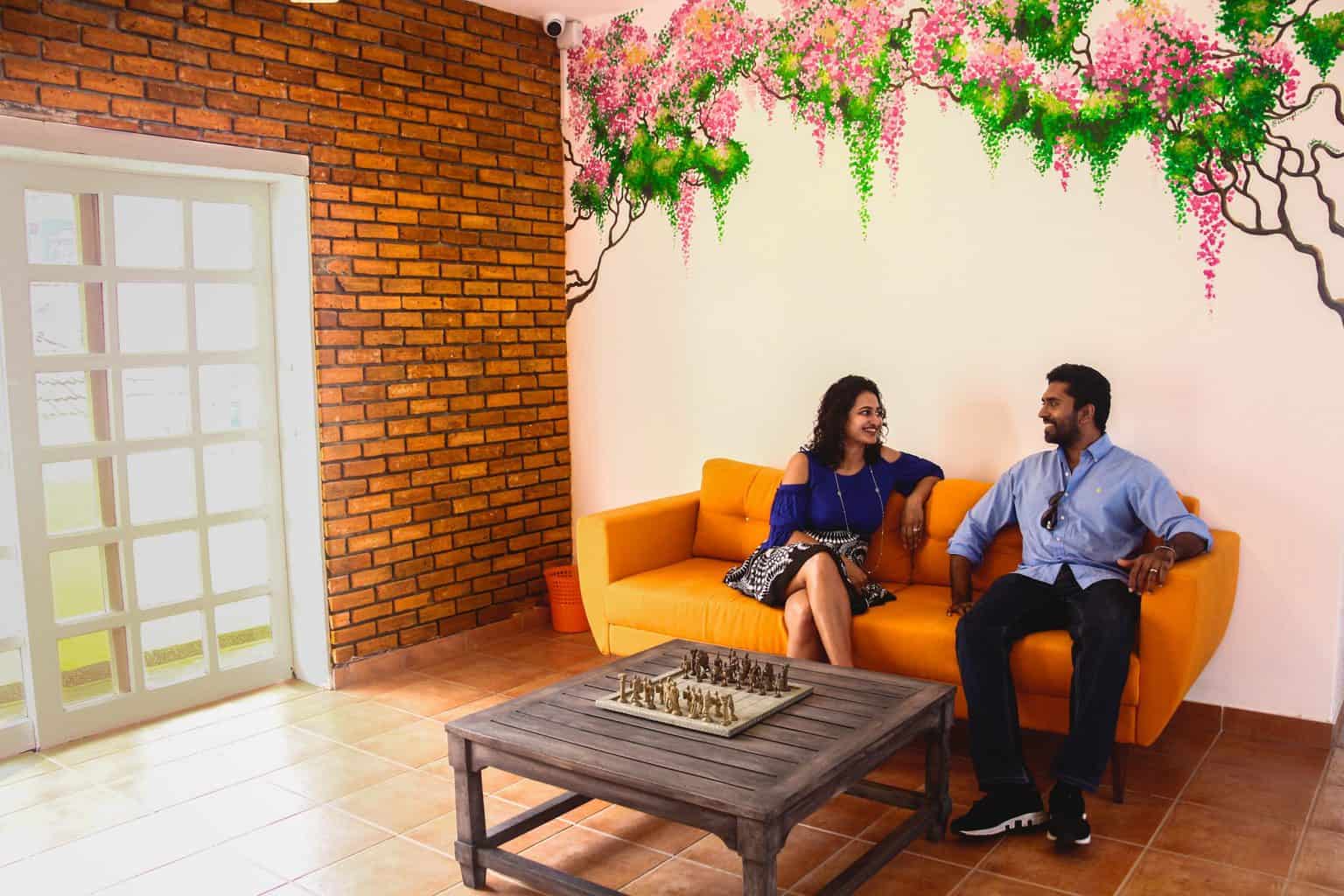 HomeTree Coworking located centrally in Colombo 04 is a coworking space inspired by the giant Redwood trees in California. HomeTree has implemented color therapy in their workspaces, designating areas for focus, casual work, creativity, and productivity. The space has three floors along the themes of "garden, ocean, and bougainvillea". HomeTree offers a variety of flexible membership options that suit digital nomads including a day pass for Rs 1,250, 1-week passes, 10-day passes, and a side hustler membership for evenings and weekends. They offer private offices for teams of five-10, a meeting room that accommodates six-eight people, and a rooftop event space with ocean view that can host 30-100 people. The amenities include mail handling, free coffee, and printing services. Users note the homely and relaxing ambience, the location, and the views as some of the key highlights.
In addition to coworking spaces, HomeTree also conducts and facilitates several events, workshops, and support circles. For digital nomads and remote workers facing the challenge of distraction or in need to improve focus, HomeTree has an "Online Deep Work initiative" with two-hour work sessions that combine mindfulness and productivity science to achieve deep focus.
(Image credits: HomeTree Coworking/Ashwin Jayalath)
Likuid Spaces
Likuid Spaces is a modern, cosy coworking space with free parking, in the convenient location of Colombo 03. Some of the amenities include unlimited coffee, tea, and water, complimentary fruits, lockable drawers, ergonomic chairs, and relaxing areas in the lounge and the rooftop. The monthly passes include 100 free printouts, use of the official business address, exclusive member discounts, among other facilities. A day pass costs Rs 1,500, and there are seven-day and monthly passes to choose from.
Likuid Spaces also offers private offices, a fully equipped meeting room for 16 persons, and a rooftop event space. The rooftop can accommodate 60 persons and is fully technologically equipped along with shower and BBQ facilities. Users highlight the relaxing atmosphere, the community, the facilities, and the location as some of the key attractions.  
(Image credit: Likuid Spaces)
Colombo Cooperative
Colombo Cooperative located conveniently in Colombo 03 is a modern coworking space with ocean view! The workspaces are designed to facilitate creativity and boost productivity, with separate areas for discussions and events. A day pass costs Rs 2,000, and there are a range of membership options to choose from. The space also includes private offices and a conference room that accommodates eight persons. In addition to coworking spaces, Colombo Cooperative also facilitates events across a range of topics. Users highlight the great location (close to restaurants and cafés), the views, the ambience, and the facilities as main attractions.
Colombo Cooperative is a great choice for digital nomads looking to work with a view. There is an option to drop in for a tour of the coworking space and a free day!
Colombo Cooperative is proud to be the first coworking space founded by a female, and to be one of the first community-focused coworking spaces, in Sri Lanka. Their aim is to provide an experience in line with the coworking spaces in the United States.
(Image credit: Colombo Cooperative)
The Office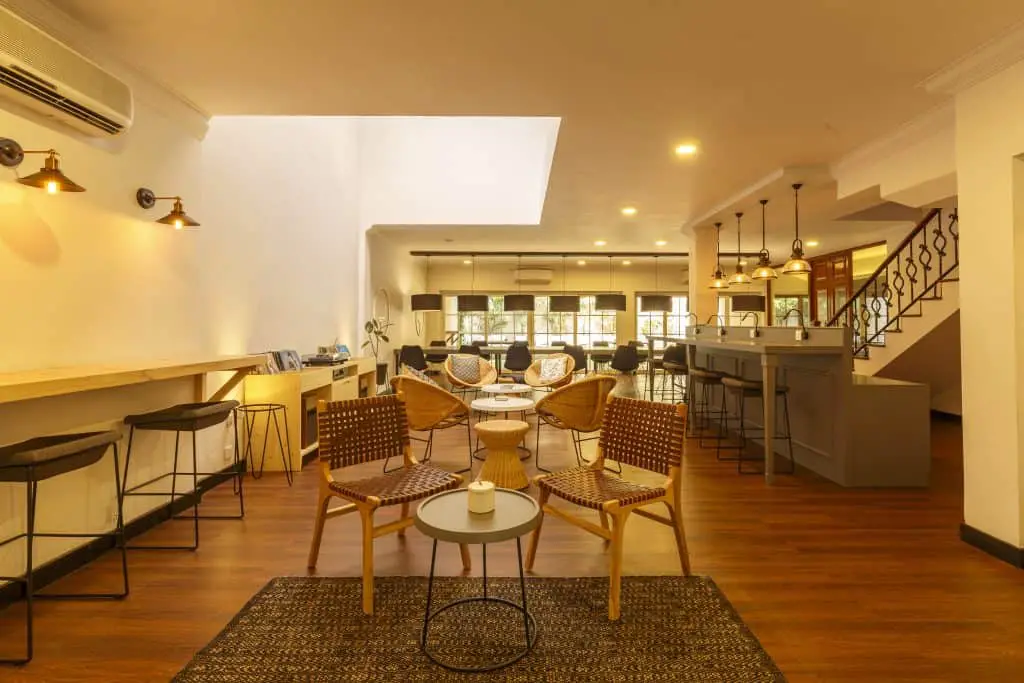 The Office located in the heart of Colombo (Colombo 07), is a modern, homely coworking space with 24/7 access to the premises. There are hot seats, meeting rooms, and private offices available for use, in addition to an onsite café with an inhouse chef and an outdoor terrace. Other amenities include, courier services, office supplies, printing services, and lockable spaces.
Users note the high-speed internet, affordable rates, the atmosphere, the events, and the café (the food is a highlight!) as key features of The Office. All food and beverages at the café are priced below Rs 750. Users also highlight The Office as a great place to hold important business meetings.
The Office is suitable for digital nomads who work on a flexible schedule and are looking for a homely atmosphere with 24/7 access.
(Image credit: The Office)
Hub9
Hub9 offers three centrally located coworking spaces in Colombo. The "Hub9 Coworking Space" and the "Catalyst by Hub9" are in Colombo 05, and the "Nest by Hub9" is in Colombo 08. A day pass costs Rs 1,000, and there are a range of membership options to choose from. The weekly pass at Rs 5,000 and the monthly pass at Rs 15,000 include free meeting room usage and 24/7 access to the premises. Hub9 also offers private offices, meeting rooms for six-eight persons, mailbox lockers, and other amenities including free tea and coffee. A key highlight is that all memberships including meeting room packages receive free printing services.
Users highlight the reasonable prices, friendly atmosphere, flexibility, great customer service, and the facilities as some of the main attractions. Hub9 is a great choice for digital nomads after value for money.
(Image credit: Hub9)
Kalatmaka
Kalatmaka is just 100m from the Kabalana beach in Ahangama, suitable for digital nomads looking to work in the South coast of Sri Lanka. Kalatmaka is in the premises of Cafe Ceylon, and highlights its Zen factor and the tranquillity of being hidden in the jungle. The facilities include high-speed internet, a meeting area, showers, a sofa area, and a fully equipped kitchen. The Cafe Ceylon restaurant also has events during the peak season.
The property has a colonial manor house converted to a 5-bedroom BnB, and there is a café in front of the premises. There are discounts at this café (the coffee is one of the highlights!) for bookings of a week or longer at Kalatmaka. There is also a small shop in the premises that sell local handmade products.
Kalatmaka, with its jungle views is suitable for digital nomads engaged in creative work, or for others who prefer to work close to the beach. Kalatmaka is popular among surfers since it's opposite one of the main surf breaks: The Rock in Kabalana.
(Image credit: Kalatmaka)
Note
There are several other coworking spaces in Sri Lanka to choose from depending on your specific requirements.
We'd love to hear your experiences of coworking in this wonderful tropical island!