Most every digital nomad knows that Taipei is one of the world's hot spots. The culture, the low cost of living, but especially the community has made it a home-away-from-home for digital nomads the world over.
Luckily, there are plenty of coworking spaces where you can get excellent wi-fi, a calm and friendly atmosphere, but most of all, a place where you can get work done while still enjoying yourself.
Keep in mind that these coworking spaces aren't the only ones you can try out. Trying new places is part of the adventure.
1.  FutureWard Central
FutureWard Central may be perfect for digital nomads nostalgic for the college days of unlimited coffee and sleek modern library desks. It's also centrally located in Taipei, which is ideal for trying to make your train or go out to lunch during the day.
Many customers speak to FutureWard Central's international, collaborative atmosphere. You'll meet all kinds of people from different fields, all within a quiet and clean space.
The price for reserving a desk is at an average of 500 NTD, which is worth all the amenities, like having a mail address, free coffee and snacks, a kitchen, and even a shower.
>> Check out FutureWard Central here.
2.  Connect Coworking Space
Connect also boasts of a convenient location in Taipei–standing nearby an Airbnb, and about a minute from the Zhongxiao Dunhua train station. However, the atmosphere is what most people stay for, with comfortable desks and decor that feels more like a cozy home office than a public library or cafe.
It also has most of the expected amenities, along with a library, a lounge area, and even Skype rooms. The price for a hot desk for a day is TWD 380.00, while a whole month in a private office with high-speed internet is TWD 6980.00.
>> Check out Connect Coworking Space here.
3.  The Hive
The best coworking spaces don't just invite people to be productive, but also to learn and be interactive. The Hive combines a cozy office aesthetic with an in-city college campus because you can choose a desk or office to work in, while also attending activities to connect with others. Like many coworking spaces, the Hive lies at the center of Taipei.
Depending on the room you choose, you can switch on the heat or AC as often as you need, and projectors, microphones, and other equipment come with every meeting room.
The ground floor also includes a cafe that makes coffee creations worthy of Instagram. If you like wide, open rooms with lots of glass windows and access to nature, the Hive may be the place for you. Overall the aesthetic is classy-meets-modern, with all offices and desks at reasonable prices.
However, some customers have pointed out that city noise can rattle the building.
4.  Impact Hub
So far, we've looked at cozy office settings that ring back to college campuses or school libraries. Impact Hub has a vastly different vibe, with a distinct mission among its members: to create and collaborate on projects that positively impact social and environmental issues.
Since Impact Hub's mission is so straightforward and powerful, it has a vast network of over 16,000 entrepreneurs with branches across South Asia. It regularly hosts networking events and lectures and workshops, to encourage learning and connection among members.
With a distinct focus on business, Impact Hub's access to technical and business support is among the highest in the Taipei digital nomad community. It almost feels like a national honors society or fraternity with its mission in mind.
5.  Keepworking Coworking Space
Although the name implies a focus on all work and no play, Keepworking is one of the more colorful, but still modern-looking, coworking spaces in Taipei. If you want a coworking space where you can sit on a comfy couch with some fun pillows, but have an office right down the hall, Keepworking matches that vibe well.
Along with all the other coworking space amenities, Keepworking offers shower rooms, bike parking, and medical-grade air purifiers for extra comfort. It costs NT 400 for one day at an open desk.
Keepworking also regularly partners with startup companies to hold networking events, but it stands out from other coworking spaces for its fun and inviting atmosphere.
>> Check out Keepworking Coworking Space here.
6.  8 Meters
For the hipster digital nomad or the quiet worker who loves a small, warm space, 8 Meters provides that atmosphere in droves. It looks like a small-town cafe with dark wood tables and gentle lighting. It doesn't sell food or have a kitchen, like other coworking spaces, but it does allow outside food and sells plenty of coffee and other beverages.
The Watshusi rooms are their most expensive working rooms, but those private rooms have beanbag chairs and book collections. Ironically, 8 Meters seems to encourage procrastination and relaxation with such comforts.
Lockers are also available for all working areas, but only a single clerk is available to help customers (presumably because the space is small and intimate).
7.  Yixian Coworking Space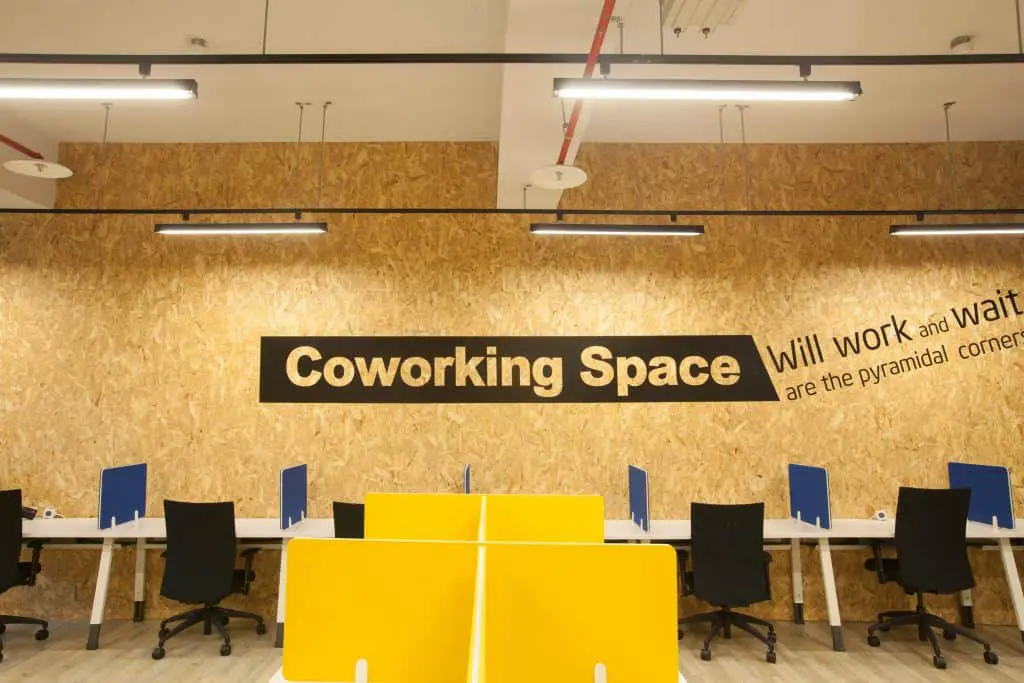 At first glance, this coworking space looks like a home goods or electronics store, with its bright yellow and blue color palette and bright fluorescent lighting. The chairs are also blue plastic, and the walls look like plywood like they are part of a garage.
However, Yixian offers two platinum memberships, both of which come with full-hour card access, a locker, and unlimited coffee. Both plans come with insurance. They even provide office stationery, just for a fun touch.
On the other hand, they don't offer many lectures or networking events. You might also have trouble finding space for a larger group, but if you're more independent, it may work better.
>> Check out Yixian Coworking Space here.
Final Thoughts
Taipei has an almost unlimited supply of workspaces, but that's the fun of it: each one has its own aesthetic and price range so that every single digital nomad can find their sweet spot. Whether you prefer sleek and modern, or intimate and warm, you'll eventually find the place where you get your best work done in the most cost-effective way possible.