Digital nomads maintain work and adventure balance to get the most of their existence. Their exciting, thrilling life involves exploring the vast landscapes of the world yet working in coworking spaces to earn their living. Warsaw is a breathtakingly beautiful city in Europe. It occupies the heart of the city and has hundreds of cool co-working spaces. It has opened its doors to the western working pattern and has catered to the needs of digital nomads, freelancers, entrepreneurs and startups. Warsaw will amaze you with its mesmerizing urban developments, spectacular architectures and vibrant scenic beauty.
'The city of contrasts' apart from its beautiful landscape, offers an opportunity to work while travelling. There are plenty of affordable fine dining places, cafe shops, and sightseeing places. It attracts entrepreneurs because of its modernised work culture and friendly business policies. Warsaw helps to keep your globetrotting spirits high while maintaining the work-life-travel balance. Read on to find the ten best coworking spaces in Warsaw.
1. HubHub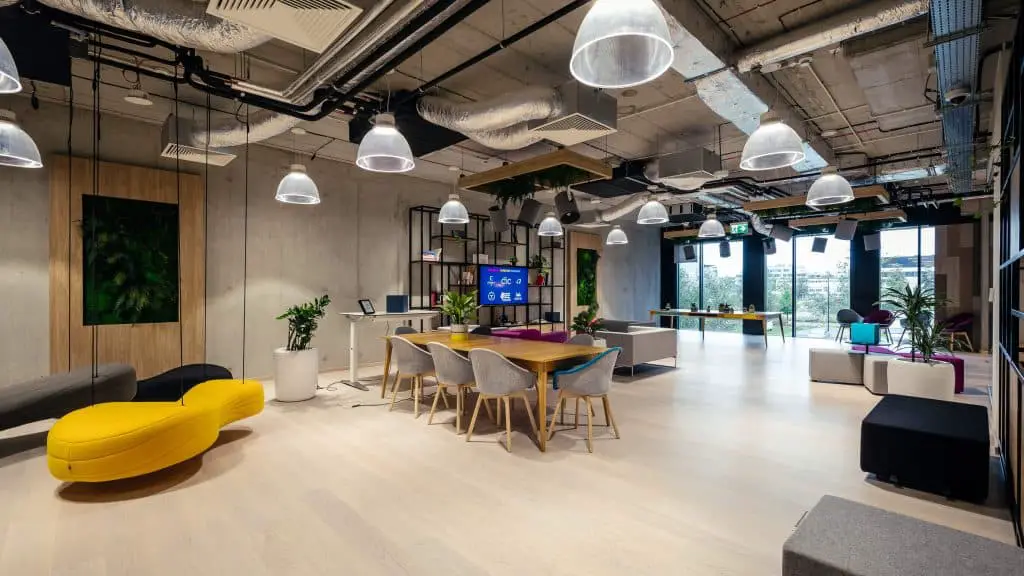 Located at al. Jerozolimskie Warsaw, near the midmost railway station, HubHub is a new age coworking space with chic interior designing. It offers a variety of office spaces and layouts. You can choose from a fixed dedicated desk or a flexible desk. The fixed desk will reserve the counter only for you, and in the case of a flexible desk, you can select from the different options of the desk. You can also avail of the private office space to your specific working needs. They provide mentoring, workshops and events to boost the growth of entrepreneurs.
They offer a plethora of amenities- games area, relaxing lounge, chill-out room, free coffee and tea, high-speed internet, meeting room, open bicycle parking area, printers, pet friendly, paid parking area, shower and personal lockers. They have air-conditioned rooms and an amazing office view. Their work environment enables you to delve into your productivity and bring out the best version of you. They offer an open-minded work community wherein you can learn, grow and collaborate with others. Membership for a flexible desk starts at 500 PLN per month. You can also opt for a single day plan at 110 PLN.
2. Brain Embassy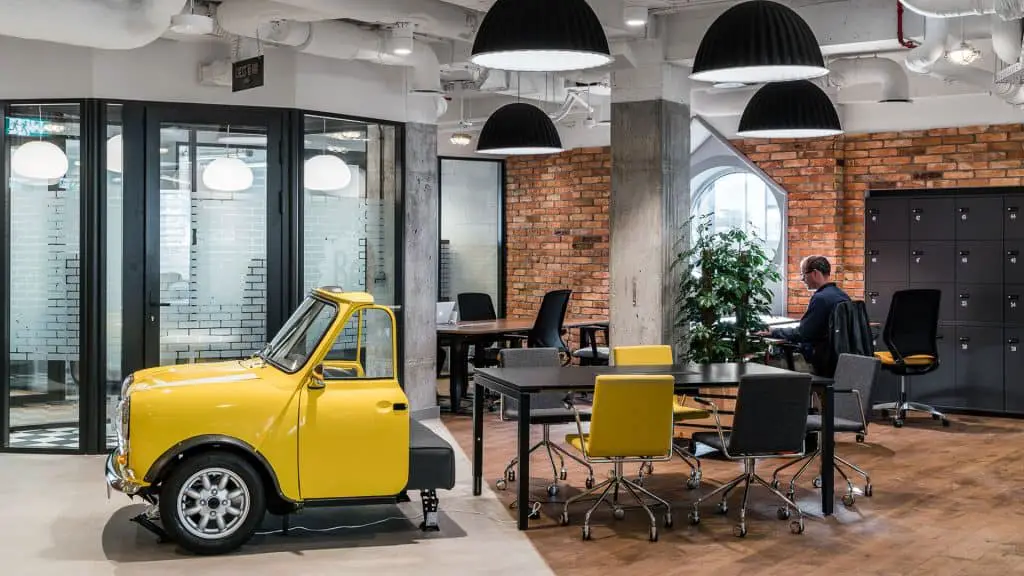 Brain Embassy operates four coworking spaces in Warsaw. It has red-hot interiors with large office spaces. The coworking space is full of natural light, energetic, and jazzy. They believe in creating a seamless work environment with scope for relaxation. They have four variants of plans to meet the specific needs of each professional- Be Together Basic, Be Together, Be Involved and Be Yourself.
The price range and facilities offered for each plan differs. It has around 250 office working spaces and offers private office spaces as well as open office spaces. It is home to freelancers, startups, digital nomads and independent professionals. They have a meditation room, chill-out area, free drinking water and coffee, kitchen and onsite cafe, wheelchair accessibility and podcasting room. Members have 24/7 access and are allowed to bring in their pets. Membership for open desk starts at 100 PLN/day and a dedicated office for 900 PLN/month.
3. Art Cluster
Located in a cultural neighborhood of Prague, Art Culture has neon pictures and artistic interiors. It offers relatively small office space and three varieties of plans for freelancers. They have a mini library, single desks, micro office, small separate office spaces, virtual offices, lounge area, personal locker and kitchen space.
They also offer a conference room at a different location with a seating capacity of 20 people. Air-conditioned and attractively furnished, Art Cluster is a mix of digital nomads, freelancers, and professionals. You can avail of a micro office(1-2 people) for 1000 PLN/month, dedicated desk(up to 5 people) for 220PLN/month, and conference room for 450 PLN/day.
4. Clockwork
It has two operating office spaces in Warsaw. The place offers peace and tranquillity to help concentrate on their work. They provide coaching rooms, medical care, chill-out area, fully functional kitchen and bike parking space. Others can easily avail of public transport to reach at Clockwork. They will provide you with a virtual office, open space, miro offices, fixed desks, hot desks, meeting rooms and bookkeeping services. It has a calm, homely work atmosphere and enables you to put your creative hat on. Membership starts at 125PLN/month.
5. Biurco
Located at the centre of Warsaw, Biurco combines professionalism with friendliness and a vibrant atmosphere. They provide everything ranging from top-notch office equipment to areas for leisure time and relaxation. They take pride in their flexibility and comfortable work environment. You can avail of any public transport to reach Biurco. They offer members 24/7 access and unlimited good food.
Whatever your business needs are, they have everything ready to help you with your work. They have private desks, virtual offices, conference rooms, a fully equipped kitchen, showers, skype rooms and ergo chairs. They conduct workshops and events to enable knowledge sharing of different skills, collaboration and networking. They will help your business grow with their creative inputs. They have different membership packages to suit the varying needs of freelancers, digital nomads and professionals. Basic membership package starts at 120 PLN/month.
6. Humańska 8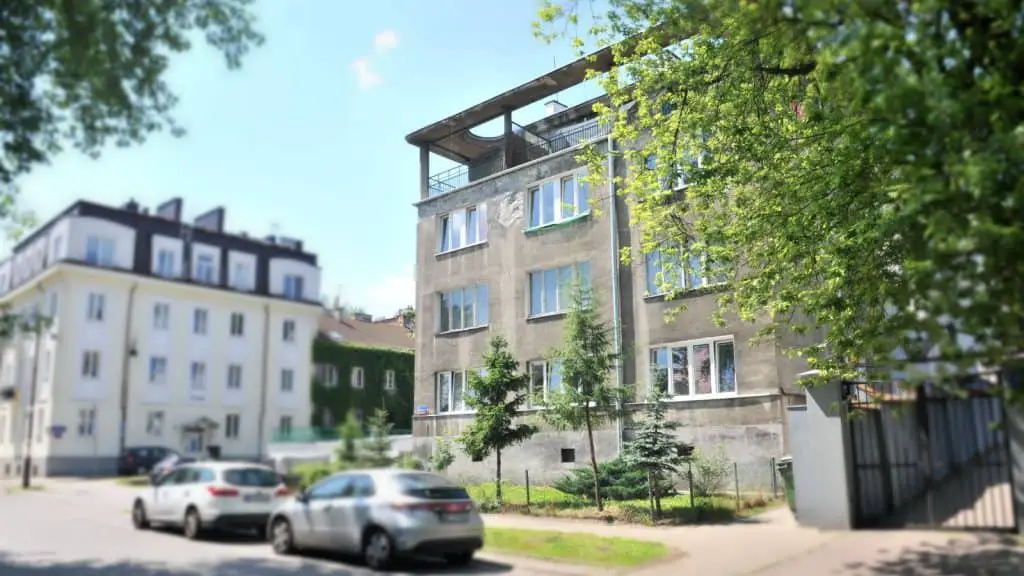 Humańska 8 is the second home to digital nomads, freelancers and entrepreneurs because of its serene and fresh work atmosphere. With a green scenic location in the heart of Warsaw, it is sure to make your work experience seamless. Its unique modern interiors, naturally lit rooms, conducive work domain, and spacious office areas will boost your work productivity.
They offer full equipment support, dedicated desks, and unlimited access to coworking space. It provides you with all the privacy you need and relaxation zones to take a break from your work monotony. It is one of the best places wherein you can share ideas and collaborate with other geniuses. Membership for hot desk starts at 45 PLN/day.
7. Creative Hub Targowa
Located in a picturesque area in Warsaw, Creative Hub Targowa is the torchbearer of opening coworking spaces for creative industries. It is a modern office space in a historic building solely dedicated to the artistic people. It is a network of digital experts, digital nomads, artists, photographers, designers and young professionals. It is the perfect place to get your artistic juices flowing while networking with more prominent brands.
They believe in creative hatching and offer a work environment wherein collaboration and creativity develops organically. It aims at bringing justice to your innovative self and helps in networking with other artists. They have individual desks, meeting rooms and mini-offices to suit your privacy and working needs. With relaxation zones and free coffee, they are there to take away your work stress. Membership for a hot desk starts at 500 PLN/month.
8. Business Link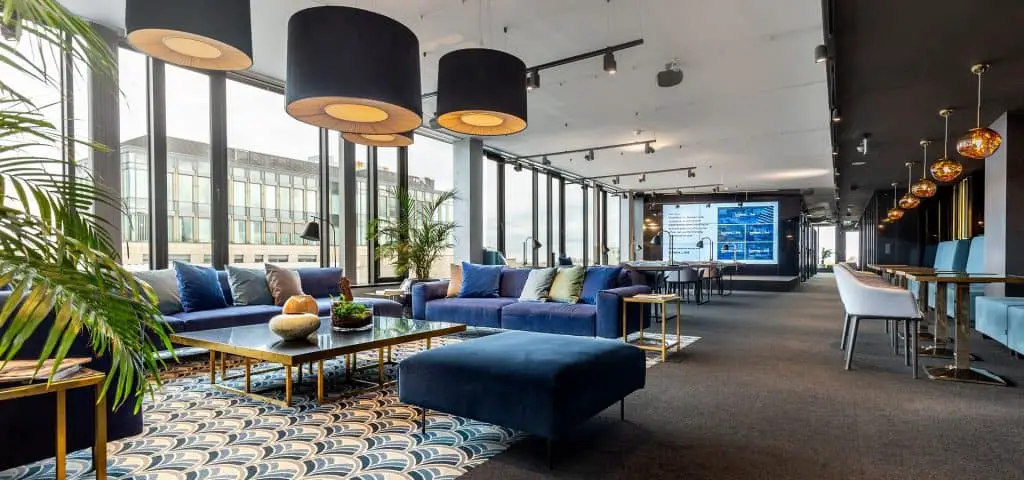 Business link, with its modern and cosy interiors, have tailor-made office spaces to suit the needs of each digital nomads, startups and freelancers. They have an electric mix of like-minded people wherein people can learn, grow and collaborate. With 24/7 member access, high-speed wifi, meeting rooms, top-class office equipment and private offices, Business Link is sure to become your favourite coworking space. They offer networking events to improve your business skills and connect with mentors. Membership starts at 500 PLN/month for a hot desk.
---
There are countless places to explore in Warsaw during your off-hours to get the most of your travel-work balance. The coworking spaces have nearby cafes serving delicacies to give your taste buds a treat. Warsaw has developed hundreds of office coworking spaces to help digital nomads and entrepreneurs. The coworking spaces in Warsaw are designed to meet your specific needs. Book a ticket to Warsaw today to get the best of both the travel and work world.