What does it mean to be a digital nomad to you? Many of us associate the lifestyle with living for extended periods in different parts of Asia or traveling around Europe while we work. However, one area that is arguably somewhat overlooked as a potential digital nomad hub is South America.
 The continent as a whole boasts fantastic natural landscapes and a relatively low cost of living, but this does vary from country to country. Also, it's essential to consider that some countries in South America are not that safe to live in, especially for extended periods. Depending on how adventurous you are, you might not want to spend a lot of time in a country where it's potentially too dangerous for you to be outside of your accommodation for too long.
One country that is rapidly developing in South America is Colombia. While it may not be as safe as other parts of the world, the country is quickly industrializing, and lots of money is being put towards infrastructure and travel. This means the quality of life in Colombia is continually getting better, especially in certain cities. It's becoming a more attractive destination for digital nomads for this reason, too.
Unfortunately, Colombia has something of a tainted reputation due to its past (and, to some extent, current) struggles with drug trafficking, violence, and turbulent politics. However, the country continues to move away from this history towards a much brighter future, which makes now a fantastic time to explore the place.
Warm weather, dense jungles, and pristine beaches are just a few of the things that Colombia has to offer. In addition, the food is delicious and varied, locals are friendly, and the culture is a fascinating blend of Spanish and local traditions and language.
Colombia for digital nomads at a glance
Pros
A beautiful country with a varied landscape
Relatively cheap cost of living and transport makes it easy to sustain yourself and move around
There is a digital nomad community in Medillin, which is welcoming and very open- great for networking or just settling in!
Cons
Internet speed is not the best, which might be an issue for a lot of digital nomads, especially if they have to upload and download a lot of content
Safety issues are a legitimate concern, especially in some regions
Women traveling or living alone may have particular safety concerns
The cost of living in Colombia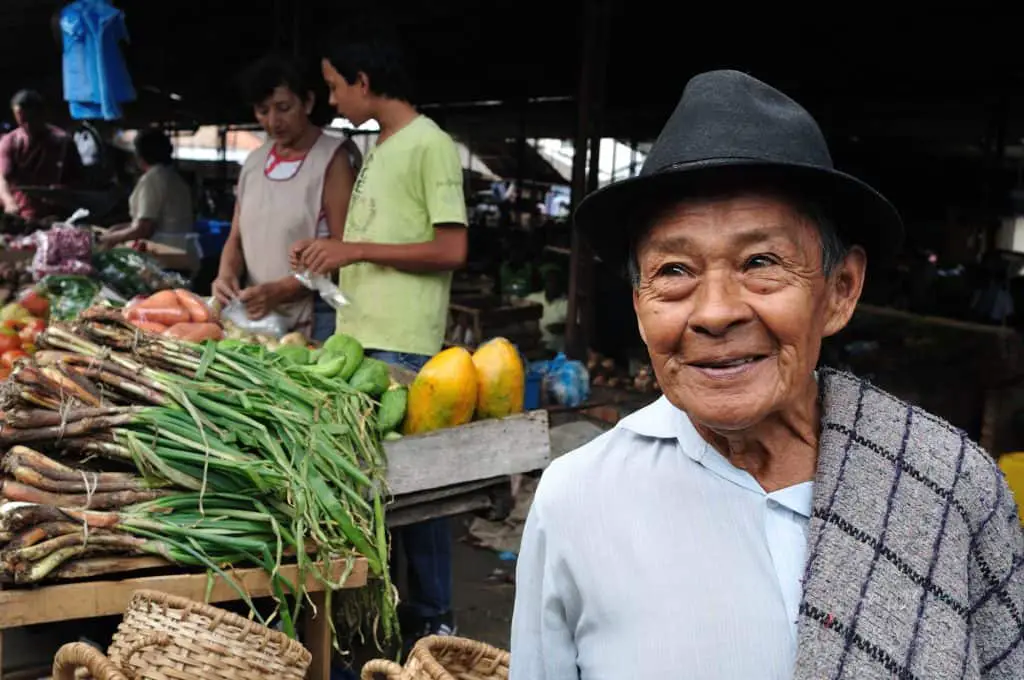 Compared to most developed nations, living in Colombia is much cheaper. However, certain products are quite expensive in Colombia due to being imported from abroad. People often find that toiletries and personal care products are also quite expensive and food if you don't live near a local market. Many digital nomads in Colombia resort to buying all their food at restaurants or getting it delivered, as this ends up being cheaper than merely buying groceries at a supermarket.
However, other essential expenses in Colombia are much more affordable than they are in much of the West. Healthcare in Colombia is very cheap, especially compared to healthcare in the USA, and it is also of a high standard. This is a real advantage if you have a condition that you need ongoing treatment for or intend to live in Colombia for some time instead of just passing through.
Your cost of living in Colombia is realistically going to depend quite a lot on your lifestyle. For example, a beer generally costs around $2, and a set lunch menu often costs about $3. This is incredibly affordable, especially given that the food is usually of very high quality. However, as mentioned above, you run the risk of spending a lot more money on groceries than you might like if you don't live near a local market or buy many products that have to be imported to Colombia.
Accommodation is also reasonably cheap in Colombia. You can generally rent an apartment in a decent area between $700-900, or around $1100 for a two-bedroom apartment in a good spot. This does vary somewhat from city to city.
The weather in Colombia
Colombia is a vast country, so the weather is different from region to region. Northern Colombia is generally very hot and humid, whereas the climate in Colombia's capital city, Bogota, is often a lot more temperate, and usually somewhat dry and cold.
Medellin is arguably the digital nomad capital of Colombia, and the weather there is desirable. People often report that the weather in Medellin is almost perfect all year- for the most part, the city's climate is warm and sunny without being too hot.
Finding Places to Stay in Colombia
As with much of the world now, it's pretty easy to find a place to stay in Colombia via Airbnb. The platform works well both for shorter and longer-term stays in the country. You can also choose to find a place to rent via an agency or a similar platform. A lot of people use the Whatyawant agency for longer-term rentals in Colombia very successfully.
You can also try to use the existing digital nomad community in Colombia to find a place to stay. Some people arrive just with accommodation booked for the short term- e.g., a room in a hostel. Additionally, a lot of people find a place to rent long-term via Facebook or social media.
Accommodation is arguably one of the best perks about living in Colombia longer term. The apartments that you can rent are pretty cheap, and they are usually clean and modern, too. Also, they typically give you access to excellent facilities and features.
Visas and Documentation in Colombia
Another advantage of living and working in Colombia as a digital nomad is the relatively relaxed immigration laws. Upon arrival, nationals of most Western countries (e.g., from the USA/EU/Australia) are usually granted 90 days visa-free in the country. In addition, you can apply to extend this period for a further 90 days online, making it very easy to obtain a longer stay in Colombia as a visa-free national without having to apply for a longer-term visa.
If you enter Colombia this way, you are entitled to be visa-free for a maximum of 180 days in any calendar year. This should be sufficient for most digital nomads, but if you decide to stay long term, you need to acquire a different visa type that allows you to do so.
The top destinations for digital nomads in Colombia
Colombia has several larger cities to explore and experience. However, there's one that stands out for digital nomads and which most digital nomads seem to gravitate towards. This is the city of Medellin, which already has something of a digital nomad culture and has a lot to offer in terms of coworking spaces and networking. Cartagena is also developing a reputation as an excellent destination for digital nomads.
Medellin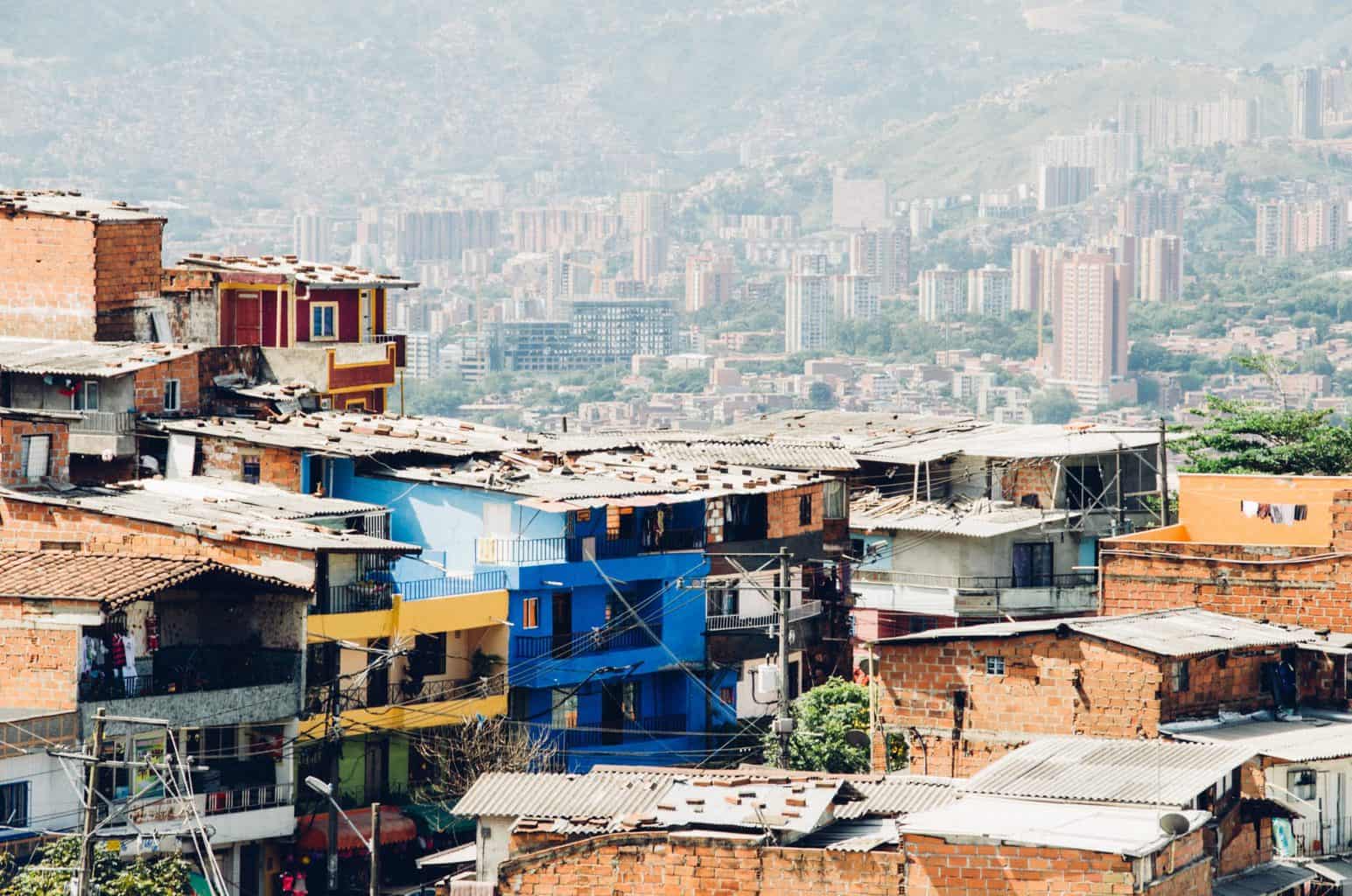 Without a doubt, Medellin is the most popular destination for digital nomads in Colombia. It is undoubtedly the country's most cosmopolitan and relaxed city and has a lot to offer culturally. Also, it's also the safest city in the state to live in, and you can have a much better quality of life in Medellin than you might in other parts of Colombia.
Poblado is probably the most common area for new digital nomads to the city to move to and start working out of. It's perhaps the most pleasant and wealthiest part of Medellin and has a great selection of shops and restaurants. Also, Poblado is fairly safe, which is important to consider in Colombia as this, unfortunately, can't be said of the whole country. Poblado also has many parks and greenery, which makes it very refreshing and relaxing to go for a walk in the area.
As a city with a growing digital nomad culture, Medellin has coworking spaces and options that should cater to most people. One coworking space that we love in Medellin is CBox Coworking in Poblado. The space is a short taxi ride away from the popular Provenza area. CBox has a relaxed and calm vibe and an excellent range of spaces to work in. There's a rooftop space, which is excellent for enjoying the often-fantastic weather in Medellin. Also, you can get a discount when reserving a desk for extended periods. Desk reservations here cost around $8 per day for a hot desk.
>> Read more: Best coworking spaces in Medellin.
Cartagena
While not as well-known as Medellin, Cartagena is a rapidly developing city and acquiring a reputation as a digital nomad haven in Colombia. The city is smaller than Medellin, and this makes it easier to navigate and get an understanding of. Most digital nomads in Cartagena live in three neighborhoods- Getsemani, Bocagrande, and the Old City. These neighborhoods are all safe, easy to get around in and have a nice variety of accommodation options.
For coworking in Cartagena, we recommend Tu Work Coworking Space. The space has a mixture of private and shared coworking spaces available, making it an excellent option for having meetings or just working on projects. You can also hire a private office at Tu Work if you want to. Furthermore, Tu Work hosts lots of different events for networking and socializing, making it a great hub for you to meet others and find work opportunities in the city.
Barranquilla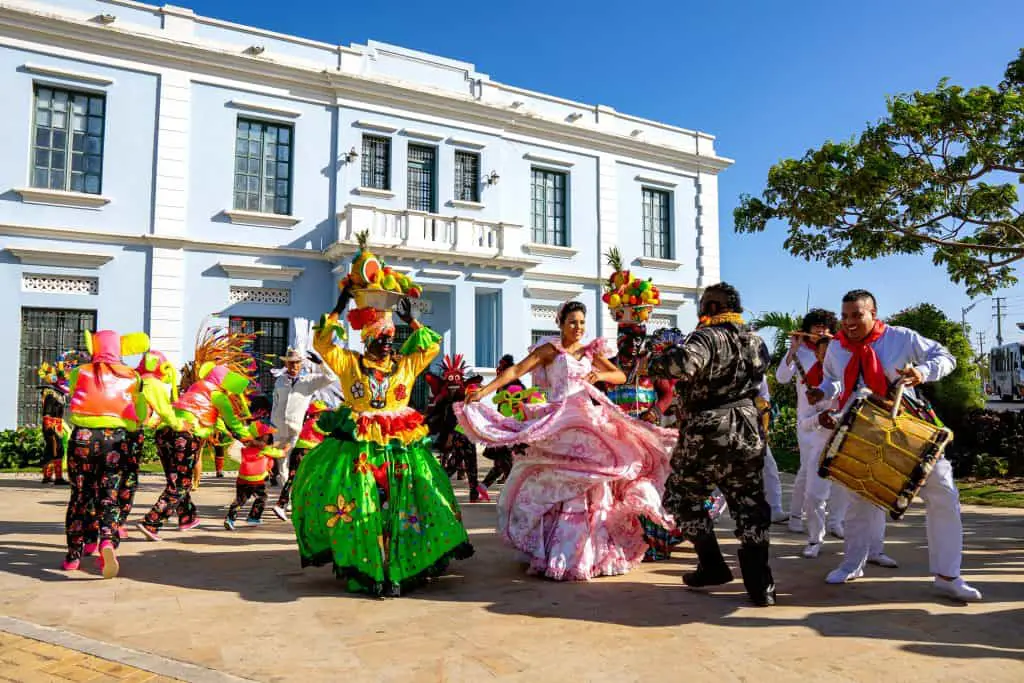 With its cultural offerings and beautiful architecture, Barranquilla is another beautiful city of the arts in Colombia. As it's not as well-known as Bogota and Medellin, Barranquilla has less of a digital nomad scene, but the city is certainly developing quickly and more and more travelers are choosing to make it part of their itinerary. We predict that Barranquilla is going to become another digital nomad hotspot as it continues to make a name for itself. Barranquilla hosts some of the most important cultural festivals and events in Colombia, and has a range of beautiful and unique districts to explore.
A popular coworking space in Barranquilla is WeWork in Carrera. It's conveniently located in the Carrera district of Barranquilla, and features a number of bright, open spaces with comfy furniture. You can rent a private office or a set of desks in a lockable office, or pay for a hot desk membership in the communal area. The space has a number of great and somewhat unusual facilities, like a dedicated barista service and a mother's room for mothers at the office with their children.
Bogota
The huge, sprawling capital city of Colombia is one of the most exciting and diverse places in all of Latin America. Almost 11 million people live in the metropolitan area of Bogota, meaning this city is absolutely full of life. Bogota is a great travel hub to explore other parts of Colombia from – but there's always something to do and see in the city, too. Bogota is home to some of the most impressive museums and sights in Colombia and has a great nightlife scene as well. However, you do need to have your wits about you in Bogota. Some parts of the city are dangerous, especially for travelers.
One of the most popular and highly-regarded coworking spaces in Bogota is Sectortic. It has spaces to work both inside and outside, and you can reserve desks, offices and more. In addition, the coworking space has a bar and café service, meaning you can get something to eat or drink while you work. However, if you want to try some of the local fare, Sectortic is located in the upmarket San Patricio neighborhood. This is an area filled with local eateries and cafes, making Sectortic well-placed for you to explore the city further while you take breaks from your work. In addition, the area is linked by a few different bus routes, so it's easy to get here from other parts of Bogota.
---
We hope you find our guide to living and working as a digital nomad in Colombia helpful. While it might not be on everyone's radar at the moment, we think it's clear that interest in Colombia is increasing. If you plan your travels and accommodation properly, you can have a fantastic time living in Colombia. This country has so much to offer, whether you're interested in nature, culture, or food. You can explore the fascinating history of this melting pot, try the delicious local cuisine and coffee, or spend time hiking in the beautiful rainforests and mountains that cover the Colombian landscape. We definitely encourage you to consider Colombia as your next digital nomad destination. The warm weather, friendly locals, and low cost of living make it hard to beat!