When you think about being a digital nomad in Southeast Asia, Cambodia probably won't be the first country that would come to mind. Thailand, Malaysia, and neighboring Vietnam may be on top of your list.  While that may be understandable given the tumultuous past of this nation, it's also important to take note that the digital nomad culture here is slowly but surely rising.
> Further read: Our guide to Cambodia for digital nomads.
Co-working spaces and accommodations have popped up especially in larger cities like the capital Phnom Penh and Siem Reap where the world-famous Angkor Wat is located. So, should you decide to give this nation a try, then be sure to go through our cost of living guide for the optimum experience. Can you live in this nation for under $1000 a month or even way less? We bet you can!
Here's your in-depth guide.
Accommodations
It's safe to say that generally, it's really affordable to live in Cambodia or in most parts of Southeast Asia. That's the reason why these countries are so attractive to expats, backpackers, and digital nomads. From accommodations to transportation to food, Southeast Asia will give you the best value for your money and you can be sure that Cambodia will too.
In Cambodia, you'll have a wide range of choices when it comes to accommodations. If you're not picky, you'll save a lot of money for sure as most often than none, the bulk of your budget goes to the places that you decide to stay in.
Depending on your budget, length of stay, or if you're going there on your own or with companions, your choices range from hostels, hotels, dorm beds (shared rooms), guesthouses, co-living spaces, Airbnbs, apartments, house rentals, and maybe even, couchsurfing.
If you are on your own and can do with just a private bedroom and a fan then you can save a lot of money with that as that should only cost you as low as $3 a night. But before you do so we would point out one very important aspect of your stay in Cambodia – the WEATHER.
*Cambodia has 2 seasons all year round, wet and dry given that it is a tropical country as most Southeast Asian nations are. Temperatures there can get to 40 degrees C easy and so if you can't stand the heat then be sure to rent an air-conditioned place. It can get hot and humid in Cambodia from February to June with the rest of the year being a bit rainier.
Moving on, a double non-air-conditioned room should cost about $10. The price of the hotels then varies from $20 to $40 per night and needless to say, you'd already be living comfortably with that amount.
Want to have a fully furnished studio apartment of your own for the length of your stay in Cambodia? Then you only have to shell out about $400 a month on average. Apartments there can go for as low as $200 with utility bills around say $50-$70 a month. Please do take note that we are talking about average prices in larger cities and you may still catch a better deal should you choose to live in the outskirts or some smaller towns. Apartments may be your best option if you want to live there long term or if you're with your family. Airbnb accommodations can be the pricier option as they can cost you about $800 to $900 per month still unless you can find better deals. But, these Airbnb houses are mind-blowing and will surely offer luxury living while in Cambodia.
Agoda.com and Hostelworld.com are still your best bet to find the best deals for your accommodation for your stay in Cambodia.
The official currency of the nation is Cambodia Riel and you'll the nicest people in there too. It's also important to take note that while Cambodia is not Thailand, its cities are still busy and you'll have access to cozy cafes and co-working spaces that have started to pop up due to the advent of digital nomads, backpackers, and expats. And the internet connection? Pretty reliable.
They have large malls, good transportation, and active nightlife over there so you won't get bored for sure. Once you get there, don't forget to try some popular local co-working spaces and some may even offer co-living spaces.
Go for Workspace 1, Emerald Hub, SmallWorld, Sahara Co-working Space, Co-working Today, The Desk Co-Working, or The Green PentHouse for all of your co-working spaces needs.
They have large areas to accommodate anyone who wants to work alone in peace, set up meetings or conferences, and meet new people or maybe brew a new startup or small business.
As far as affordable and known hotels are concerned you may try the La Rose Blanche Boutique Hotel, Day Day Inn, and the Schein Guesthouse.
Healthcare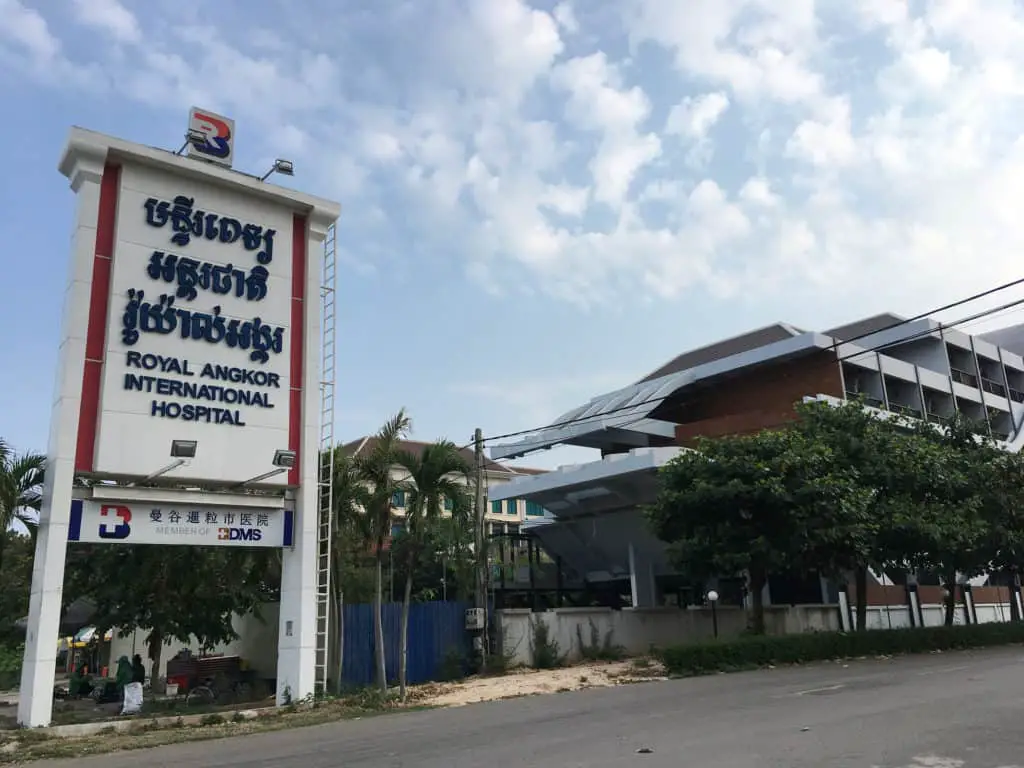 Healthcare in Cambodia is still a work in progress and we're not even talking about foreigners but even for their general population. In theory, healthcare there is free for the citizens but they still pay for a lot of charges and if the hospital can't provide what the patient needs, the said patient probably needs to buy it themselves.
Life expectancy there has vastly improved though so that's a good indicator. And, if it's any consolation, they have good dental care over there. But it's actually advisable that if you have a major medical issue then you're better off flying to Thailand to get treated.
If it's an emergency or some minor medical issues then their local hospitals can take care of you given that you have money to spare. They also have health insurance available for foreigners and expats that may apply to you too as a digital nomad so better check it out. Remember, make sure to read the finer details before purchasing insurance so you are certain to get the right medical care should you need it.
As for your wellness program, you need not worry for Cambodia offers some good spots for you to go jogging, just be sure to do it early on as the heat can get extreme. Spas, yoga places, and gyms are conveniently located in major cities too so you won't have a hard time keeping yourself in good shape. Massages are common, so get yourself pampered after a hard day's work every once in a while.
On average, General Practice Consultations should cost $30 for foreigners and a visit to a Specialist should cost around $40. With other regular clinics being cheaper at below $20 per consultation.
Food
Ah! We've come to our favorite part, FOOD! What's the best way to immerse yourself in the culture of a place? Is it by visiting and enjoying their festivals? Is it by traveling every corner of a nation? Well, to us, it's when we eat their glorious food.
Cambodian cuisine may not be as popular as their neighboring countries but that doesn't really mean their food is not as (or even more) delicious. They have a plethora of flavors and most of their delicacies lean towards the utilization of rice as well as freshwater fish.
Fish Amok, Beef Lok Lak, and Green Mango Salad are just some of the must-try delicacies once you get there. They also have a lot of vegan and vegetarian options for you to choose from.
As far as cost is concerned a meal in Cambodia should be as low as $2. $3 to $5 or maybe even $7 should already fetch you a pretty hefty and flavorful meal. If you want luxurious lunch and dinners then shell out $8 to $25. Trust us, it will be worth it every once in a while.
If you want to save more on your budget when it comes to food then you may cook at your rental place by buying your own groceries. A rough estimate of a monthly food budget for 2 people living in Cambodia should be around $200. Local and imported beers also cost $0.5 and $1 respectively.
Food deliveries will also be at your disposal once you get there so you don't have to worry about what to eat whenever you are busy with your work.
Transportation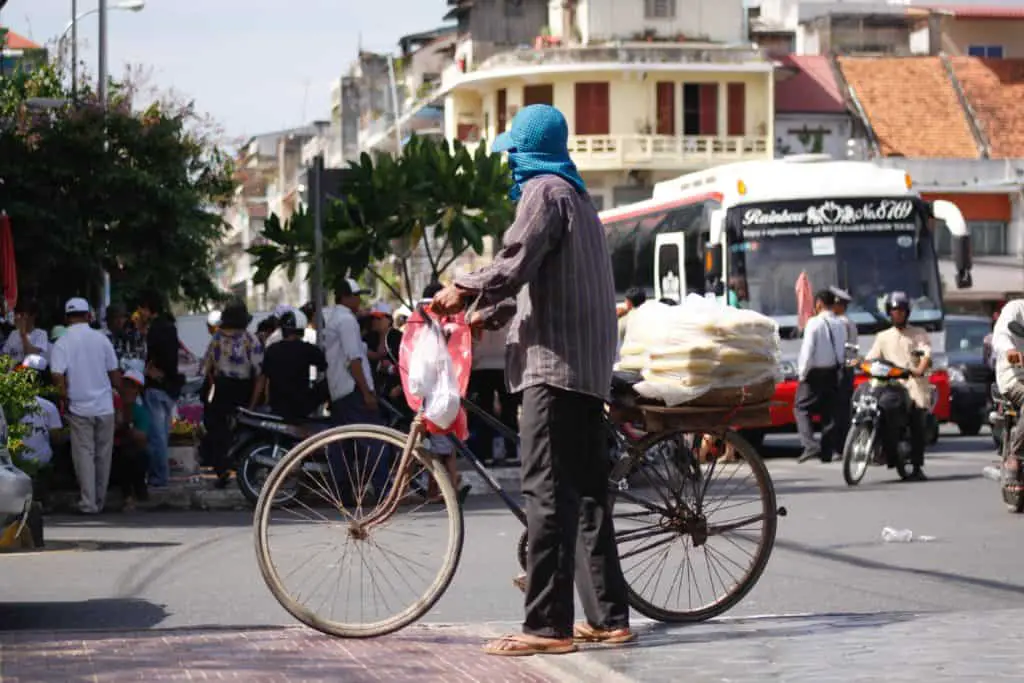 Of course, getting around Cambodia or within its major cities is important for digital nomads. Can you explore the city on foot? Probably not, due to the hot weather, and even if Phnom Penh or Siem Reap is not the largest of the metropolis is still pretty busy and we do advise that you take public or private transportation for your safety and convenience.
So what're the primary means of transport when you live in Cambodia? Well, everyone takes the bus. The 5 to 6-hour route from the capital city of Phnom Penh to Siem Reap is what you'll most likely take and that's how you're going to get around the country. And please don't be surprised if the buses will be crowded or you'll sit beside a couple of chickens. These rides will only cost you $7 on average. If you're looking for something more comfortable then you may pay twice the amount at $14 for another bus service.
For cross-country trips then you may ride the train. They are comfortable, have ACs, and even some have TVs and a trip from the capital to Sihanoukville will only cost $8, more or less. What about via private car? Well, you may split the $70 to $100 fare with 3 other passengers, if you want to. Taxi rides should have a flag down rate of $1 and additional 60 cents per mile on normal tariff. Moto-taxis are also quite popular in cities as it's a fast and cheap way to get around. But, please do take note that they are not the safest to do so. Ride Moto-taxis at your own risk. They are cheap at $1 for a minimum fare.
When it comes to traveling inside the cities then perhaps you're going to ride the tuk-tuks a lot. They are very popular even amongst foreigners and are very cheap, convenient, and safe to ride. Tuktuk rides should start at $2. The city also offers 24/7 car rides so you should not worry about being out late especially if you want to go experience the nightlife. Take note that the larger cities are filled with restaurants, bars, and cafes that are open for 24 hours.
As far as traffic situation is concerned, it's not as congested as Thailand or Vietnam, and don't get surprised if your driver deliberately ignores traffic rules and regulations.  
Mobile and Internet Expenses
Now comes one of the most (if not the most) important aspects of your stay in Cambodia as a digital nomad, your internet connection. The country does have decent mobile phone service and internet coverage.
But don't expect to get lightning-fast speeds, but you'll get by. The average internet speed in the country is probably at 6mbps or the highest at 10mbps. What's probably more important is that it's reliable enough for you to continue working. Co-working spaces have decent speeds to help you get by too at a very affordable $5 per day which will already enable you to do everything you need to digitally.
You will have a lot of phone networks to choose from for cell service and mobile data. And internet service providers too. There are monthly data packages that start at $20. You can even purchase a portable Wi-Fi modem. The said $20 is probably going to fetch you around 15 to 20 gigabytes so you may have an idea of how much will it cost upwards.
For mobile phone calls, in-network calls will cost you 5-7 cents per minute, cross-network at 8 cents per minute, and international calls at 20 cents per minute. You can have access to phones literally anywhere as the cities will have a lot of cellphone shops.
If you stick to your budget, live, and eat like a local then living even as a digital nomad in this foreign land should only cost you about $800 a month easily.