Paradise! This is one way to describe Croatia. Croatia is the place to fulfill all your Mediterranean fantasies. This country has world-class beaches, delicious food, high-quality wine, and plenty of beautiful sites. It truly is an exquisite location; however, how does it compare if you are trying to work?
Is Croatia a suitable place for digital nomads? It definitely is a place that should be on your bucket list. There are so many things to enjoy in Croatia, such as the climate, diverse cities, culture, nature, ways of living, and the wonderful local people. It is also close to so many beautiful places like Rome, Berlin, London, and Paris that you cannot afford to miss out! It truly does sound like heaven on earth.
Croatia for Digital Nomads at a Glance
A beautiful place does not mean that everything is perfect. There are advantages and disadvantages to every situation.
Pros
The local people are often very friendly, and a lot of them speak English.
There are rich cultures and delicious food.
You can visit many historical sites.
There are plenty of outdoor activities.
It is an affordable destination.
Croatia is a safe place.
Cons
It can be overcrowded/ flooded with tourists.
There are not many coworking spaces.  
The focus is on tourism and vacationing.
The Cost of Living in Croatia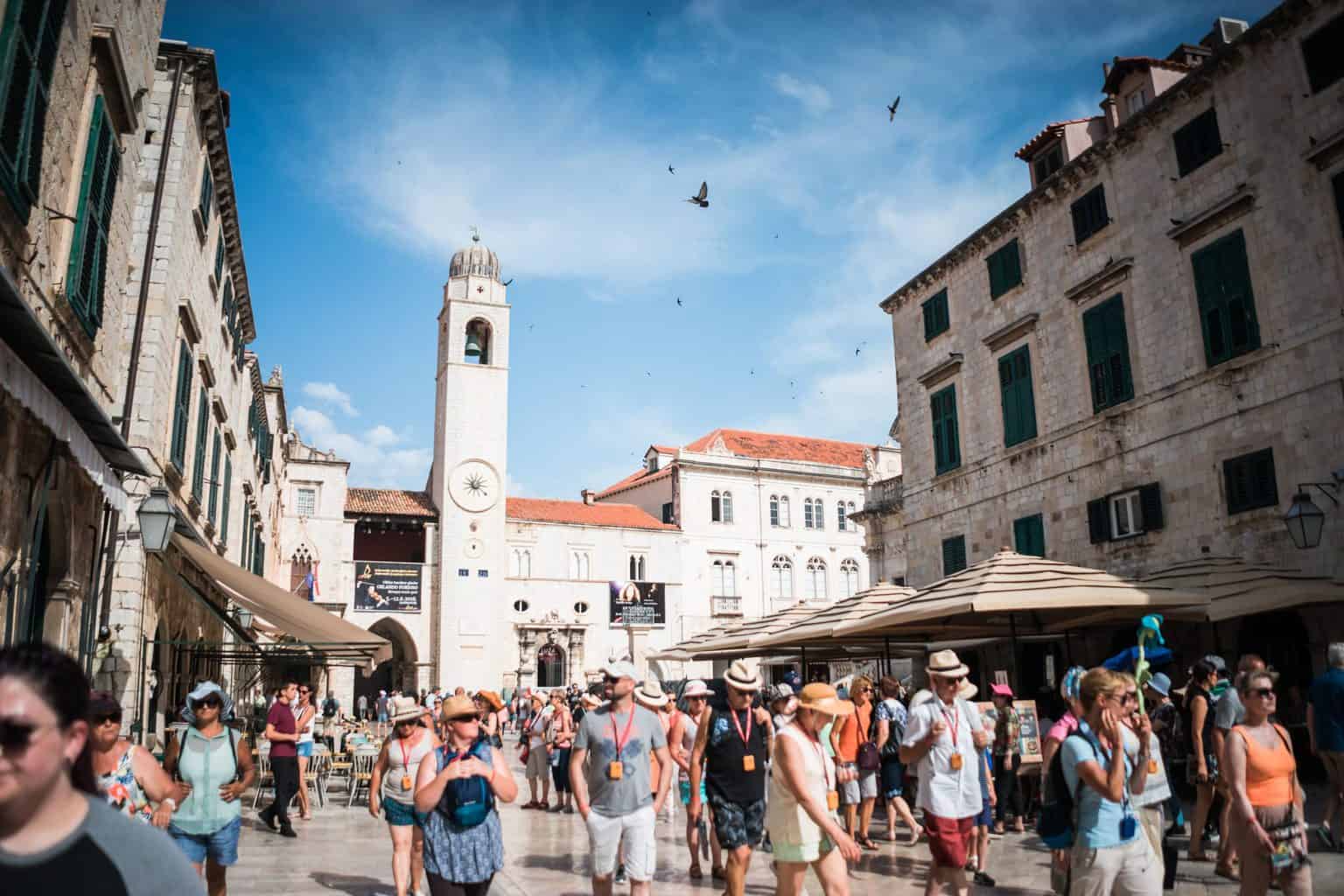 This is one of the reasons why Croatia is an excellent destination for digital nomads. The cost of living is low. Ultimately, just like many other places, you are in control of how much you choose to spend. Thus, it can be expensive or cheap. It is affordable to work and live in this country depending on how you want to live and spend your money. There are also things that are slightly more expensive, but you are going to find this wherever you go.
Kuna (KN) is the currency used in Croatia. You can expect to see the following prices in Croatia:
9.50KN for a coffee ($1.51)
45KN for an affordable meal ($7.15)
10KN for a public transport ticket ($1.59)
14KN for a beer ($2.22)
The Weather in Croatia
Coastal Climate in Croatia
The Croatian coast has a Mediterranean climate. You can expect to experience hot, sunny, and dry weather. In winter, it is often wet and relatively mild. Snow is not common, but it is not an impossibility.
Weather in the Interior
As you move more towards Croatia's interior, you are likely to experience a more continental climate. This is defined by colder temperatures in the winter with a higher possibility of snowfall. Summers are extremely hot and can be unbearable when there is no sea breeze. You do not have to worry about this too much as your accommodation is most likely to have air conditioning.
If the weather is an important factor to you, it would be advisable to go to Croatia in April, May, and September. You are going to avoid peak tourist season, and the weather is pleasant. During these months it is sunny, but not too hot. This means that you are still able to enjoy your environment and get work done.   
Finding Places to Stay in Croatia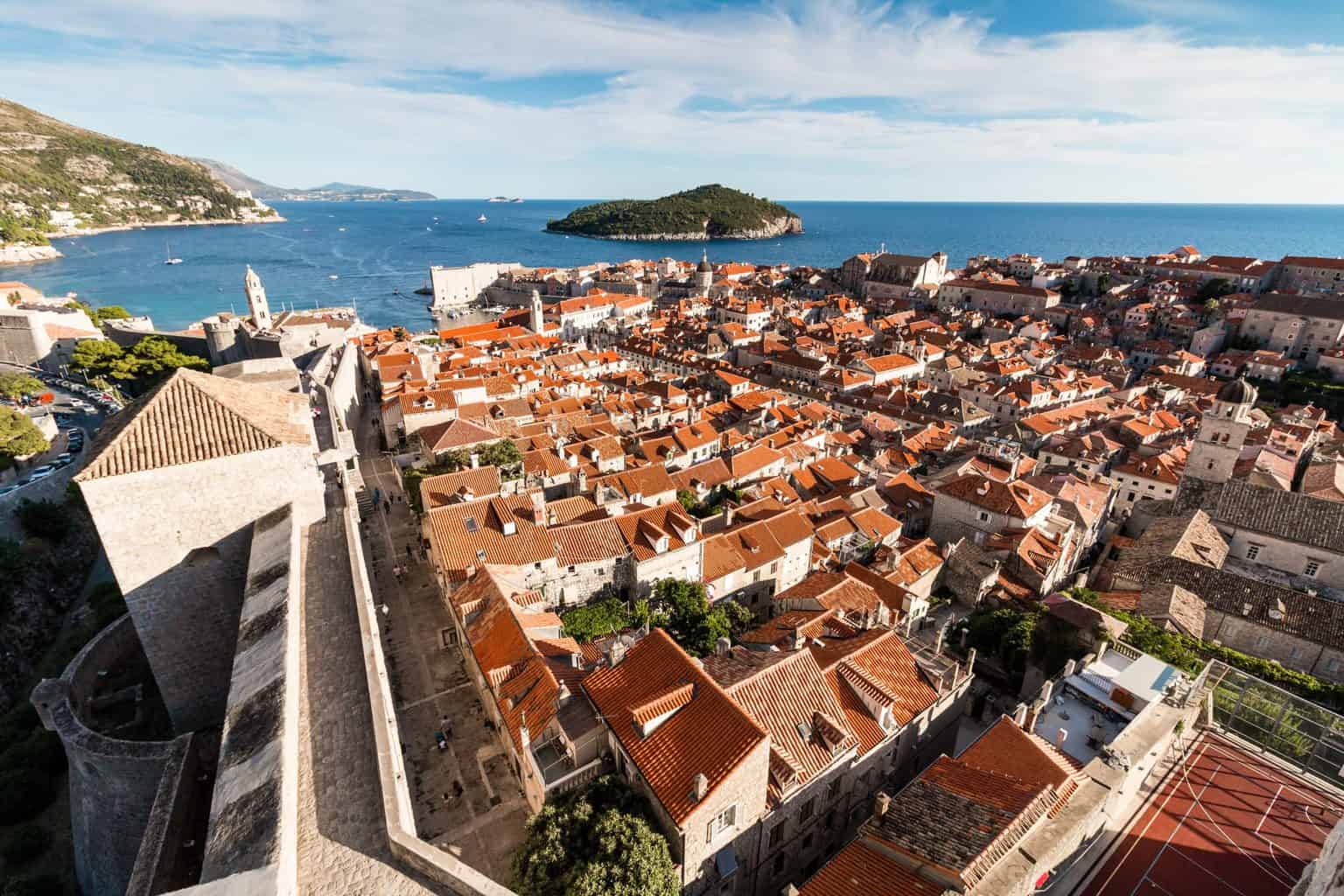 Accommodation is not a problem in Croatia as it is a booming tourist and holiday destination. There are a variety of Airbnb's, hotels, and villas. Finding the right accommodation for you could be slightly more difficult as there are so many options to choose from. However, there most certainly is a place to suit your budget and style. The country has different options to offer based on what city you are staying in. For example, you are going to find more luxurious hotels in Dubrovnik, Rovinj, and Zagreb, whereas you can expect more historical and quaint hotels, hostels, and apartments in Split. Porec has a variety of accommodation; however, this is a more family-friendly place with campsites, etc.
Booking Accommodation
Booking.com is the most popular website in Croatia to book accommodation. You can often find a wide variety of deals and explore all your options on this site. It is also a good idea to check the website of the place you want to stay at, as you can often find better deals and value this way. HostelWorld is a great site to check if you are interested in staying at a hostel.
Hotels in Croatia
There is no shortage of hotels in this beautiful country. They also range anywhere from 2-star to 5-star. Hotels generally offer a complimentary breakfast, and some also provide complimentary dinner. There are not many international brands of hotels; however, this is not important.
The hotels in Croatia have many positive attributes, such as the fact that they are safe, you are most likely to get a meal plan, there are various on-site activities, and finding transportation is easy. This is convenient for people who are looking to get work done. The downside of hotels in Croatia is that they can be expensive, there is no personal touch, and there are fixed eating hours. For people who do get to determine their own working hours, you do not exactly want to be told what time you have to eat.  
Hostels in Croatia
Hostels are increasing in popularity as the tourism industry continues to grow. You can find comfortable, relaxed, and dorm-style hostels. The quality of these places has drastically improved. They can also be compared to the hotels. The bigger towns in Croatia, such as Dubrovnik, Split, and Zagreb, have a better range of hostels than cities like Orebic, Rovinj, and Porec.  
This is an excellent option if you plan on spending most of your time working at coffee shops or exploring. Hostels are an extremely affordable option, and you do have variety in Croatia. You do not have to share a room or bathroom with other travelers. There is the choice of a private room with its' own personal bathroom.
The famous hostels get booked very quickly during peak season, so it is advisable to book in advance.
Apartment Rentals
If you are looking for a more work-from-home environment, it would be a great idea to rent out an apartment. You are going to find rental units available throughout the entire country. Many people do this as they need a way of earning an income.
This is an excellent choice as you have the opportunity to meet more local people and learn more about the place. It is also highly beneficial if you are working because you have the option to be in a quiet location with no distractions when you need to concentrate.
Renting an apartment in Croatia is also a cheaper option; you get access to a larger space, and you have all the necessary equipment you need if you were to be working from home. However, you would need to allocate time to cleaning up and making sure the apartment is kept in good condition.
Croatian Resorts
Booking accommodation at a resort may not seem ideal for a digital nomad; however, you could find a great option in Croatia. The lodges are often situated in lovely locations as they are in the town or within walking distance from the city. This means that you are not going to get cut off from everyday life, which is a bonus. You can still interact with locals and explore the cultural aspects of the country. There are also various types of rooms, which means you can find something to suit your preferences. It is a very convenient option with a lot to offer.
Visas and Documentation in Croatia
One of the most significant factors to consider when visiting another country are the visa requirements and necessary documentation. The criteria to enter Croatia are pretty straightforward as it is a tourism destination. Most citizens do not need a visa to enter the country; all they need is their ID. A desirable trait to many digital nomads is that you can enter Croatia for 90 days within a 180-day period without having a visa or paying a certain fee. The same does not apply to nationals from other countries such as China, South Africa, Russia, Ukraine, and Turkey. People of these nationalities do require a visa. Others need to register with the local police once they arrive in a particular area in the country. This is also not complicated, as it is generally dealt with by your place of accommodation.  
With regards to documentation, such as your passport, it must have been issued within the past 10 years and must be valid for at least another three months after you plan to leave Croatia. It is essential to check whether you need a visa or other form of documentation before entering the country. With that being said, Croatia is an admired destination for digital nomads because of this simple process without any legal or lengthy procedures.
The Top Destinations for Digital Nomads in Croatia
Digital nomads are going to enjoy the various places that Croatia has to offer. With this being said, there are a few great coffee shops, but the country is mainly focused on tourist attractions. Some people enjoy these options and the opportunities to explore, whereas others think that it is quite challenging to find a space to work.
Recommended Coworking Spaces in the Cities of Croatia
Finding a place to work in Croatia is not as simple as it appears to be. Many people find that they have to work in their area of accommodation due to Croatia being a major party destination; however, there are various available options such as coffee shops.
Dubrovnik
This is one of the most well-established cities in Croatia; however, it is not ideal if you are looking to get work done. This is because it is a very touristic and party-driven city. You are bound to get stuck between floods of people. It is a better option to stay just outside of the town. If you do need a place to work in Dubrovnik, a hotel would be ideal. Find a hotel with good internet, lobby space, and a café. There are no available coworking spaces.
Split
Split is the second most popular city in the country. There are a variety of places to stay at, work, and visit in this city. You are going to find coworking spaces here, as well as plenty of cafes. This is the perfect destination if you want to find a balance between places to work and relax. You can spend your days working in the coffee shops and the evening at the various nightclubs and Jazz lounges.
Hvar
Hvar is much like the other cities in Croatia. It can be defined by tourist shops, breathtaking views, and narrow pedestrian streets. You are limited when it comes to finding coworking spaces. This is an ideal place to visit when you are taking a day off.
Zagreb
Zagreb is a vibrant place where the coworking spaces available are growing. There is a broader range of areas here for digital nomads. It is a community that does pay attention to the fact that many entrepreneurs, freelancers, and professionals come to the country to work. The spaces available to work in Zagreb are continually growing and expanding.
Experiencing Croatia
Croatia is a relatively small country, which means that you are free to travel and explore in your spare time. Whether you would like to go to the beach or have a look at the beautiful mountains, there is an endless list of things to do and see. It is a place to fall in love with, which is why it is a popular destination for digital nomads.
It is possible to switch between work and rest mode in Croatia. While the hype is centered around adventurous activities and sight-seeing opportunities, you can find a quiet place with wi-fi to sit down and get your work done. Times are evolving, and Croatia is adapting to this. Digital nomads and having the ability to work from wherever, whenever and are becoming increasingly popular. Croatia may not be perfect at accommodating this lifestyle yet; however, they are making necessary changes, and they do offer a lot more than was previously possible. Soon this is going to be a digital nomad's dream destination.   
The Bottom Line
Croatia is a stunning place to visit. There is no doubt about that; however, it is more suitable for people looking to go on a vacation. You can make an adventurous trip out of this. There is so much to learn and experience in between your work breaks. Whether you are a digital nomad or only looking for a place to visit, Croatia has to be on your list.