There are a lot of reasons why the Romans coveted Greece. It's a hub of rich culture, it's got breathtaking sceneries, and most of all, it is the seat of knowledge. Living in Greece is like living in paradise and even vacationing in it is like having a taste of Olympus on Earth.
Despite having problems with its economy as of late, Greece is one of those countries that've opened up to digital nomads. Entrepreneurs and remote workers alike are flocking to this historic country for its affordable cost of living, peace, and comfort. Oh, and did we mention breathtaking sceneries and vacation spots?
Kidding aside — let's get you up to speed on the things you need to know on being a digital nomad in Greece.
Greece for digital nomads at a glance
Pros
Very affordable to visit and live in even just for a while
You can visit all the beautiful spots that you could ever want in peace and they won't be crowded
Relatively low crime risk for tourists as tourism itself helps their economy so they wouldn't do anything to jeopardize that
Easy to move about with their robust transportation system
Historic and breathtaking spots and you get to experience their rich culture
The country is relatively open to digital nomads, in general
Cons
Traffic congestions in major towns and cities
There can be water shortage especially during summers where it can get exceedingly hot and humid
There can be some occasional protesting on the streets 
Internet connection unreliability maybe in some areas which can be a deterrent for digital nomads
The Cost of Living in Greece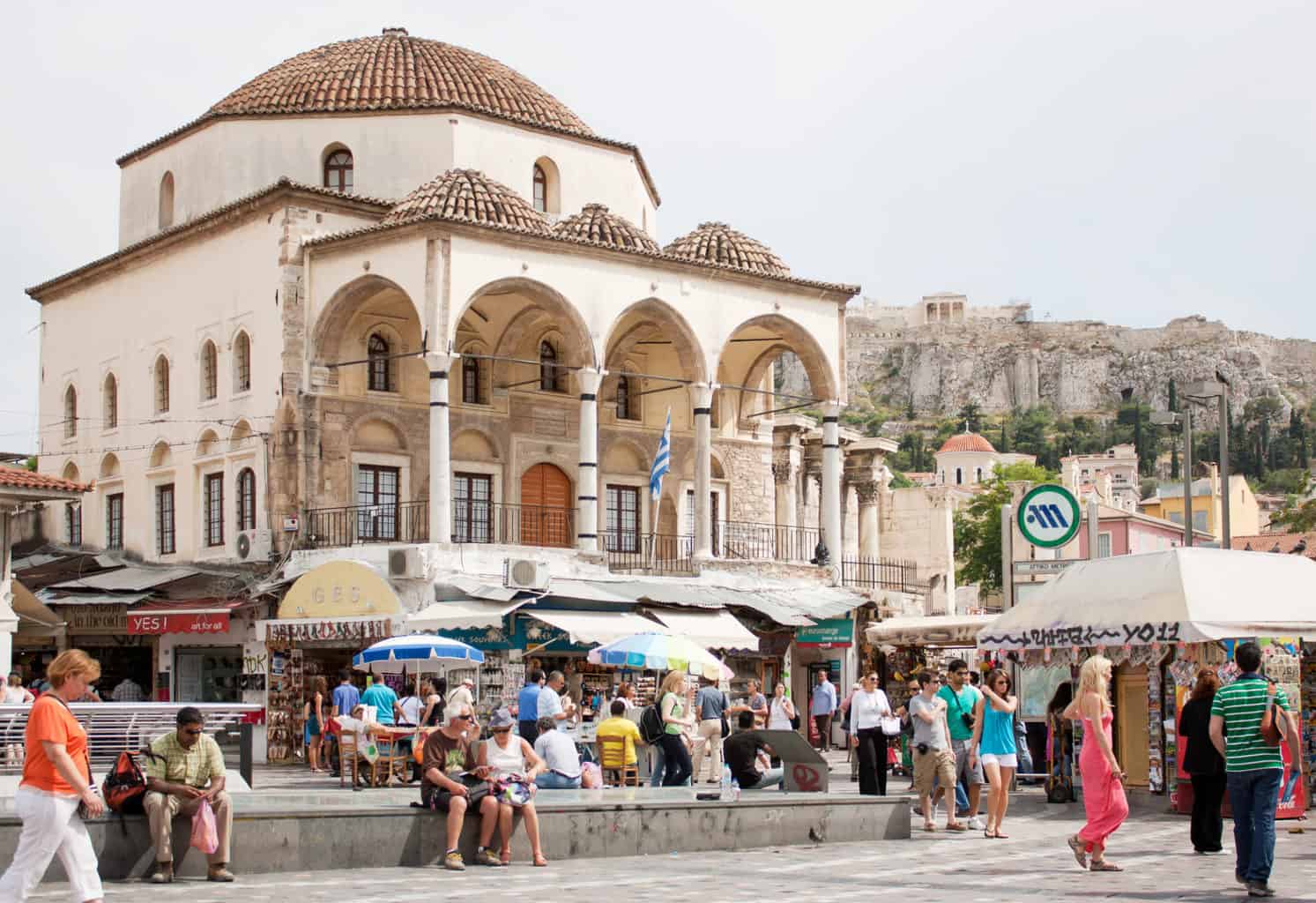 It's generally known that the cost of living throughout the country of Greece varies. Naturally, it would be more expensive to stay in top tourist areas or cities especially with their accommodations and food. But, it's also noteworthy that Greece does have a relatively lower overall cost of living than its southern European counterparts. So, in a nutshell, it's still cheaper to be a digital nomad in Greece compared to anywhere else at least in this part of the continent.
Remember that May to August is the peak season for Greece so those months would cost you more than the rest of the year. One very helpful tip? Try to book accommodations where you can cook for that's going to save you a lot of bucks in return.
Also, you can bank on Santorini being expensive compared to other spots even compared to Athens itself. Thessaloniki, Patras, and Heraklion are also great choices.
Please do take note that Greece can still be expensive just like any other countries you may visit if you don't know how to look for cheaper options or you refuse to live cheap while you're there.
What's a suggested budget for backpackers who knows how to live on a budget in Greece? Well, that should be about $45 to $65 per day, $100 is already a good amount of money for a day in Greece while $200 can already be considered fancy living.
How much does accommodation usually cost?
An estimated 2-3 bedroom apartment in Thessaloniki which is considered as one of the best spots for digital nomads may cost around $350 and maybe around $700 around the summer season monthly. And, that's about the same price in Athens although if you really look for a cheaper place in the capital city, you might find accommodations for less at $250 monthly but remember, Athens can get really crowded.
On the expensive side of things, if you're looking for furnished accommodation then the overall spend would be around $500 to $800+ for monthly rent.
We'll talk about top destinations more in a later section. Want to get accommodation for free? Why don't you try couch surfing, it's a well-known practice in Greece.
What about the food?
Some hardcore digital nomads and backpackers would tell you that you can live off gyros for less than 10 euros a day in Greece. They are sold everywhere, taste good, eaten easily, and will keep you full for a while as you travel or work in coworking spaces.
Eating in a mid-range restaurant with a 3-course meal for 2 will cost you around 35 euros. McDonald's meal there should cost around 6 euros as well. Food in Greece is relatively cheap as an average meal can cost around 10-15 euros and you'll already be full and have experienced their culture too.
Another tip – off-the-beaten-path accommodations are usually 30% cheaper.
Transportation
Renting a moped in Greece is not a bad idea to move around. If you're going to stay on their islands for a bit of time then go get one. They are cheaper and more convenient than either a car or bus not to mention that it's a lot more fun.
Booking overnight ferries are also a cheaper way to travel from one island to another. Ridesharing services are also a norm in Greece so you may move around that way. They travel throughout the country and have really flexible schedules.
The Weather in Greece
Greece has what you may call typical Mediterranean weather. For those who are not familiar with how that can be then take note that they have mild to wet winters over there as well as really hot and dry summer seasons. Also, the country is mostly sunny the entire year. Snow is also not unusual in Greece especially in their more mountainous regions during winter.
Winter is a bit mild in the south but can get really cold in the North. July and August being part of the peak season for tourists for Greece will also have the perfect weather for outdoor trips and adventures. Perfect for backpackers, that is.
So, if you want to explore the Greek islands then travel over there at that time of the year. November to March, on the other hand, is considered as an off-peak season for Greece's tourism but maybe time to travel to colder regions up north and go skiing.
Also, during those times of the year, except for prices to drop overall may it be for accommodation or tour prices. As a digital nomad knowing these weather varieties helps in what you may prepare in terms of money, clothing, and scheduling your tours if you want to.
Finding a Place to Stay in Greece
Given that Greece can be considered as a backpacker and digital nomad hub then you can be sure that there is more than one way to get accommodation and book yourself some shelter once you get there.
Booking.com and Hotelscombined.com
Your best bet to book affordable and fast accommodations would still be from Booking.com and Hotelscombined.com. Booking.com actually makes it a lot easy for people to plan their trips as there's no pressure if you don't proceed with the said plan for most hotels won't have any cancellation fees.
They offer pretty good rates too, detailed maps, information on destinations, and most of all, their listings are verified which proves as a valuable reference for all. Hotelscombined.com, on the other hand, is the perfect site for finding last-minute bookings for Greece and is also pretty reliable.
You're going to have to book your hotels or any accommodation you plan to stay in from June to September especially if you plan on staying on Santorini or Mykonos. Usually, the best ones are already gone a few months before that season so be sure to book really advanced.
The competition for said accommodations would then be pretty relaxed on some other seasons of the year.
Airbnb bookings are also pretty standard in Greece. And yes, the residence is quite safe and as mentioned above, that's pretty much the same if you plan to go couch surfing just always remember to be respectful if you do so because take note that the owners let you couch surf because they want to and not because they have to.
Book your Airbnb accommodations in Greece and live in places you can only see in movies for as low as $20 a night for 2 people. The places are really cozy and fit for any digital nomad who wishes to relax and work at the same time. Anything $30 to $80 a night will get a very nice (and unique) place to live in at least for a while.
Visa and Documentation in Greece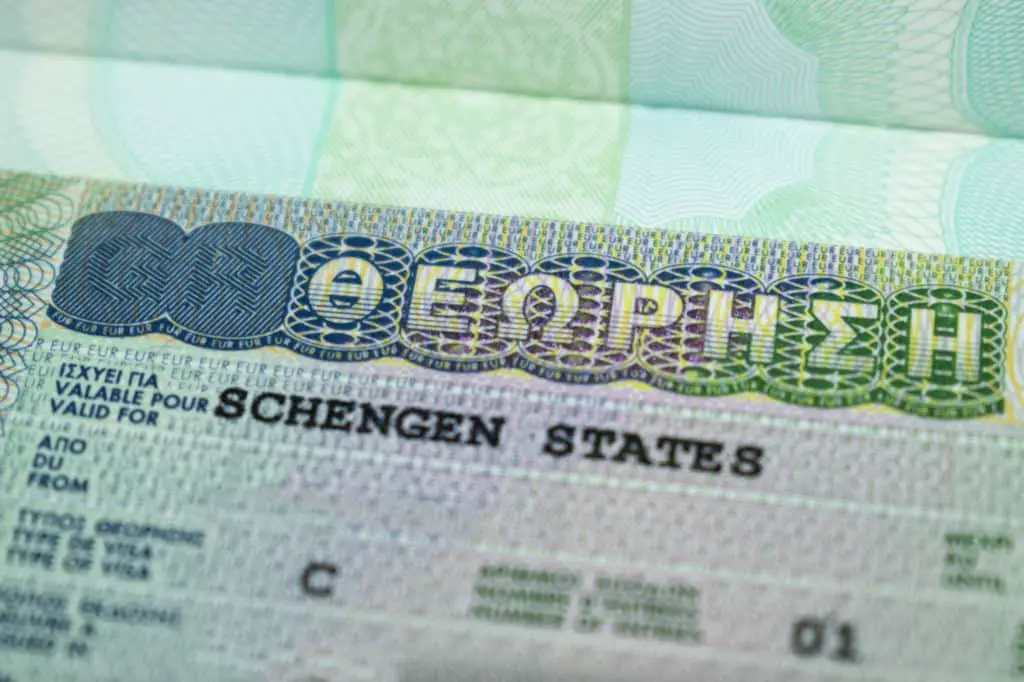 If you're from a country where Greece has got tax treaties with then their digital nomad visa is open for you. So far, this includes countries like the US, UK, and Canada. It's important to take note that while Greece is already considered a digital nomad-friendly country, it's still got a lot to work on accommodating just about anyone.
But it's important to take note that their rules on digital nomads are quite the chance for those who are not usually allowed to travel within the borders of the EU. They accept applications from both remote workers as well as self-employed individuals given that you were not a tax resident 7 years prior.
> Read more: Guide to the Schengen visa.
The government given that it's now slowly but surely trying to open the country up even more are working on a 1-year digital nomad visa that can be processed online. For now, the general knowledge is that you may stay for more than 90 days as a digital nomad in the country.
The visa may also permit for studying, academic research, scientific studies, and participation in cultural as well as religious events. As always, you should obtain said visa before you arrive in Greece and only from the Greek embassy or their consular section in your country of residence.
If you're looking for legal help such as an accountant or lawyer to make your stay longer in Greece then rest assured that you won't have to spend a fortune just to do so.
The Top Destinations for Digital Nomads in Greece
All right, so you're packed up and ready to go. Where are the top destinations in Greece that are digital nomad friendly and which spots are usually underrated or overrated for tourists? Let's find out!
Thessaloniki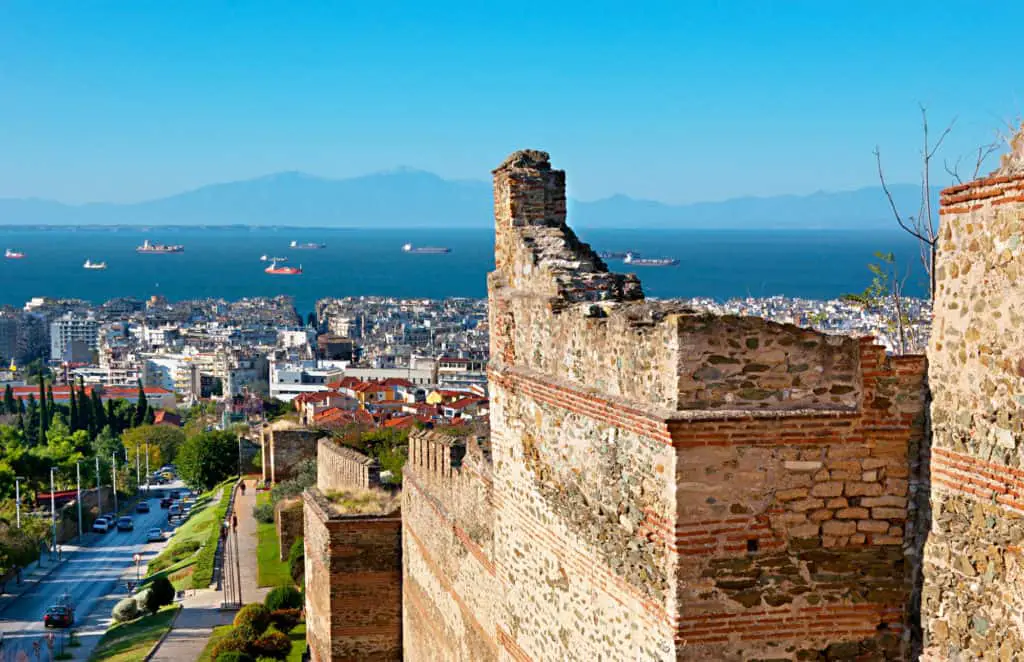 For those who are not familiar and likely so because Santorini, Mykonos, and Athens usually take the limelight, Thessaloniki is actually the 2nd-largest city in the country, and guess what, it's generally considered as the best for digital nomads.
It's even included in the 20 best cities for digital nomads list and for a lot of good reasons. First of all, it's got a LOT of coworking spaces, secondly, it's got of both affordable and premium restaurants, third, it's got fitness centers where health buffs can still stay as healthy as possible, fourth, you can always bet that it's got a good internet connection, and lastly, it's connected to the rest of the country by means of the major domestic transportation network.
Pretty much everything that you'd need as a digital nomad can be had in Thessaloniki. And apart from immersing in their rich culture and the arts, it's not that expensive either to live in either. It's also not overcrowded compared to say, Athens and you'll just find digital nomad-friendly cafes all over town.
Any downside you may ask? Well, it can get a bit cold during winters that it can be.
Coworking in Thessaloniki
Coho is a cozy coworking hub in Thessaloniki. It's a 2-floor shop that's perfect for modern work and modern people. It's best for collaborations as well as for business developments. And it's right at the center of the city so you'll have access to it or anything else for sure.  
Pretty convenient hub with all facilities and services you'd need as a digital nomad.
Athens
A lot of people might tell you to avoid Athens due to its overcrowding but for digital nomads, this city has got a lot to offer. Athens has a pretty affordable cost of living, it's got everything that you'd need, and the average internet speed is at 18mbps which is not bad.
> Read more: Our ultimate guide to Athens.
Coworking in Athens
Impact Hub Athens is where a lot of ideas and minds meet. It's just a perfect place for entrepreneurs new or seasoned. This coworking space is part of a global network and it's perfect for people who just want to work in peace, have seminars, or conduct meetings.
Santorini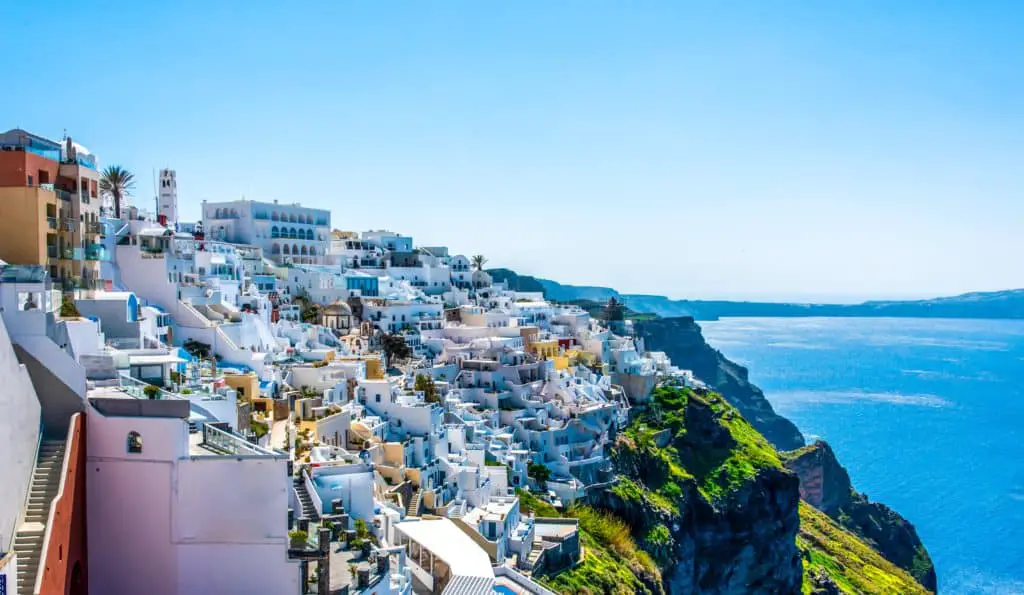 No doubt about it, Santorini is like a dream island for a lot of people and a lot of us wishes to visit it at least in this lifetime. The sights are breathtaking, it's a favorite tourist spot of all, and it's slowly becoming a favorite of digital nomads too.
Just please take note that it can get a bit more expensive and crowded during peak season as expected.
Coworking in Santorini
Cocohub Santorini is a very well-known coworking hub on this island. It's located in the coolest part of the island and offers cozy work areas as well as living areas. It's just the perfect place to house a digital nomad whether you want to be alone or be part of a community.
It's full of art and culture and people who've stayed there can attest to the vibe and effect of the place. They say that it nurtures creativity like no other.
Mykonos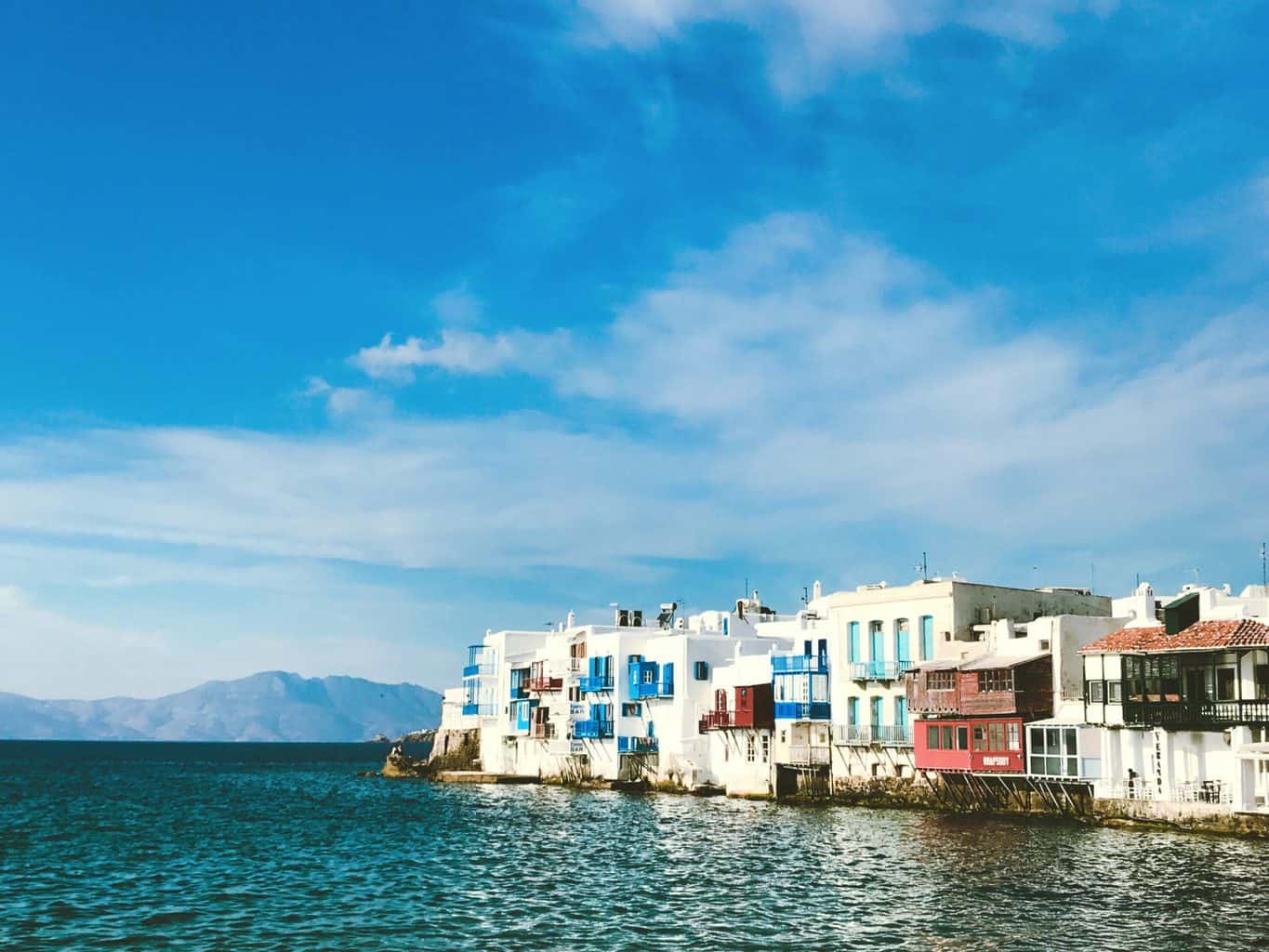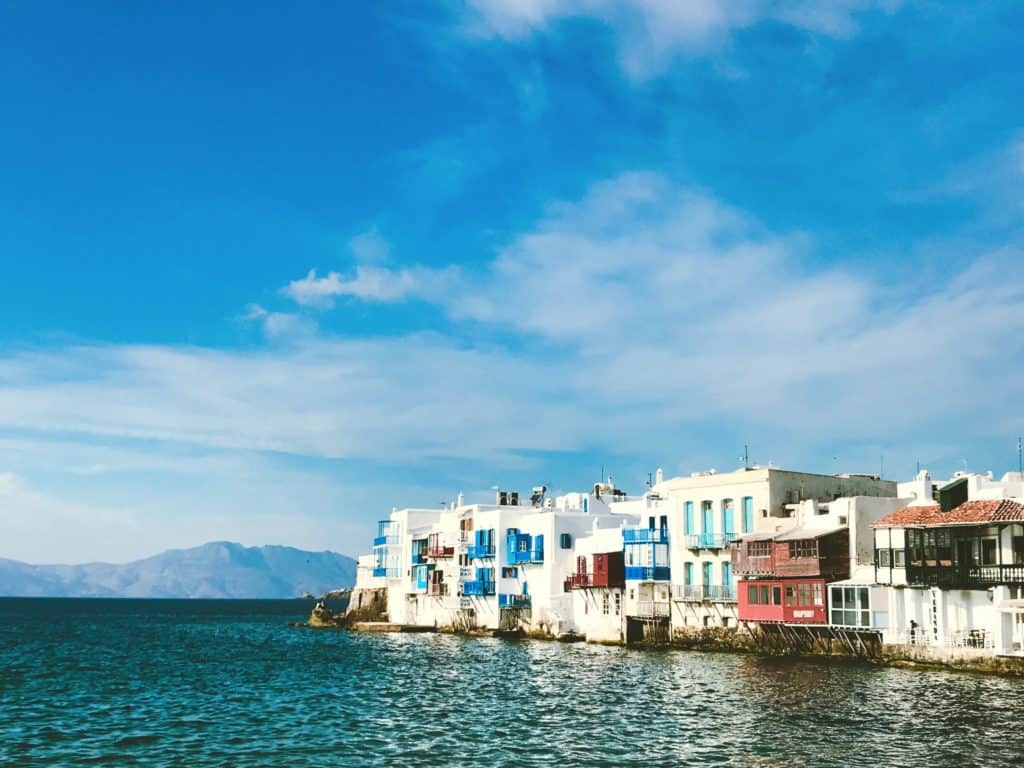 Mykonos is also quite famous as a digital nomad spot due to its convenience and culture. It's also quite accessible to all modes of transportation whether you want to move about the country or internationally.
It's got a consistent and reliable internet connection, vibrant food, and entertainment too especially during nighttime. This city is also considered very safe for digital nomads or people visiting it alone.
Coworking in Mykonos
We can't recommend enough this coworking space, Cocohub is one of the best that you can find with multiple branches in the country and it's not only a place to work seamlessly but also a place to live and be with other digital nomads.
---
Feel free to add your tips, ideas, destinations or tricks in the comments below. We're always looking for more info to add to this ultimate guide to Greece for digital nomads!