I remember my experience in Brussels quite fondly, merely because my absent-mindedness turned the trip into an adventure. Plainly said, I forgot my documents in the previous country, and panicked over the convoy driver announcing there were going to be controls at the borders. Yet somehow, I managed to pull through this slightly illegal maneuver? My apologies for the trip down memory lane – we're here to talk about everything that came after that! Because once I got to Brussels, the adventure took a smooth and pleasant turn. I have the feeling this cute city goes oftentimes overlooked: sure, there's no tropical weather or mesmerizing beach; and sure, the center has that so widely known 'European vibe' to it. But Brussels thrives on its balanced nature: indeed, it's a city that offers the utmost quiet as well as the best party energy. You just need to know where to go! And that's why we're here today – certainly not to put a bounty on my head.
 1. Van Buuren: the quirky house
This one is definitely a hidden gem so many tourists miss out on. Van Buuren house is basically what Alice in wonderland would buy was she interested in art deco. Back in the '20s, the two married fellows David and Alice decided to turn their home into a piece of art – and may I say, they did a wonderful job. Behind every room and piece of furniture, there's a story, a meaning, and an impeccable attention to details. But it's not just a beautiful chandelier or an eclectic studio that make this place worthy of a tour. The house is filled with paintings and sculptures created by renowned artists – such as Pieter Brueghel or Van Gogh! Personally, I think the garden is the star of the show. You'll walk through a labyrinth, a peaceful orchard, a romantic rose garden, Japanese ponds and exotic plants, even a memoir garden made of heart-shaped bushes! It's easy to fall in love with the place – and in general, to fall in love, in a rose garden. I'm winking at you.
2. Melting pot kilo – give a scale to your clothes
We're quickly changing scenario here: I want you to feel all the feels! Don't laugh at me, but when I found out there were pricing clothes based on their weight, I freaked out. Melting pot kilo (in Marolles) was my first time experiencing this selling method, and it made me feel like a kid at a playpark. This vintage store is an absolute treasure, and way off the tourist's gaze. They have such a good selection of clothes and accessories of all types; to that, add the fun of weighing your clothes like it was a fish market, and voilà! I'm having a whole other level of appreciation for my 8 euro beautifully preserved jacket.
3. Au Bassin (viavia) – a night out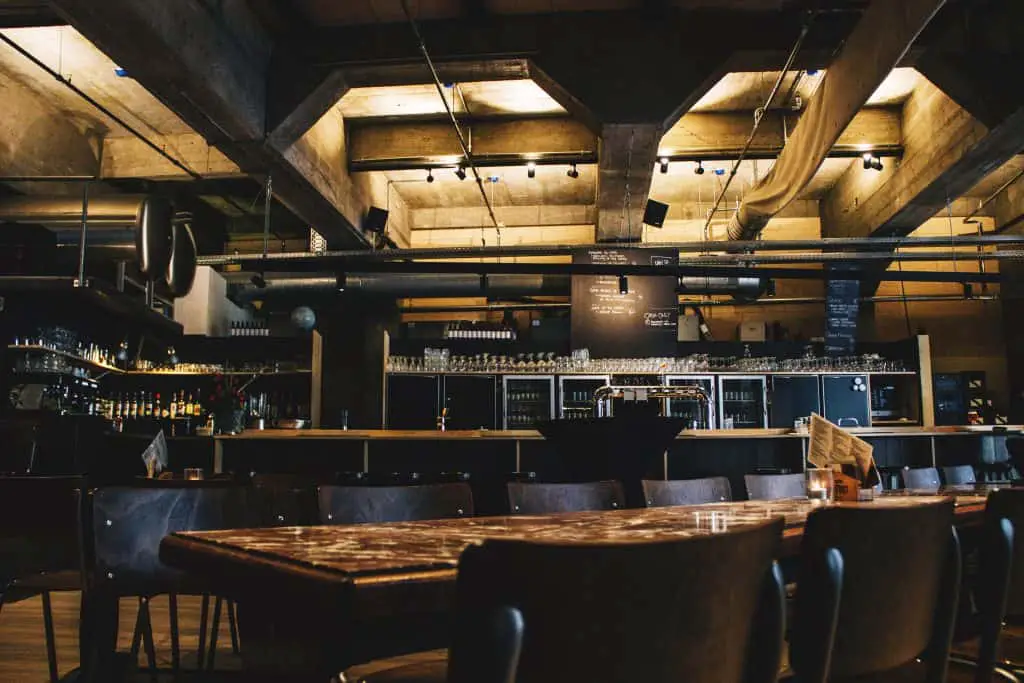 Well, now that you have your new outfit, how about showing it off? If you've virtually picked up a tourist guide already, I'm sure you've read all about the Delirium bar. By all means, you should visit Delirium: it's a place like no other, with its huge beer list and cute pink elephant. But if you're looking for a less-trafficked bar, I definitely recommend Au Bassin! This huge place combines the Belgian pub style with plants and smiley faces, a cozy outdoor patio with an indoor ready for the most tripping party. They continually host Dj sets and concerts, as well as quiz nights (my favorite) and stand-up comedy.
4. Magritte Museum: your wildest dreams on canvas
The devotion towards Magritte that Brussels holds is no secret – nor is the dedicated museum. The Magritte museum would steal away even the coldest of hearts. If you're familiar with the painter's works, my words of admiration will make total sense. The museum features paintings and sculptures that stands out even more thanks to the black walls and warm light. Everything is so bizarre yet resonates so purely with human nature. I have no doubts that if I lived in Brussels, I would be hitting this place way more than the gym. Honestly, you owe yourself a visit, especially if you're in search of inspiration.
5. Le Botanique, when the sun goes down
Lots of tourists seem to misunderstand the contemporary nature of Le Botanique – only to end up miserably disappointed. And I don't blame them: le Botanique itself is not what it used to be, and it serves a different scope than showing off beautiful tropical plants. Today, this big complex, included the pretty Rotonde building, is used for some of the best concerts in Europe. Hence, the gardens here are a bit overlooked compared to the venues; but their events list is busy and always spot-on. Chances are that your favorite artist is already booked for a concert here – in case you needed yet another reason to visit Brussels. And the moment you experience blissful notes between these amazing walls, you'll be sure to leave with so many good memories.
6. Abbaye de la Cambre, for the hermit inside you
Precisely in the heart of Brussels, amidst those residential districts, there's another gem hidden in plain sight: Abbaye de la Cambre. This abbey presents an ambiguous yet intriguing mix of architectural styles so that even the most undecided ones can find their favorite corner. This location is perfect if you're trying to escape the mayhem of the city! When spring hits, the gardens all around the pond work perfectly for a quiet afternoon of sun-soaking and juice sipping. In summer, you'll even find a temporary café on the spot, the Guingette Gisèle! Take advantage of their fab snacks and enjoy the peaceful greenery all around.
7. Jeu de Balle Flea Market, a classic
Apologies to all other flea markets in the city, but none of you beats the good Old Market. Located in the Marolles district, the Jeu de Balle flea market gives off chaotic energy beyond compare. The variety of items offered perfectly matches their quirky and enthusiastic sellers. Remember that you can always try haggling (I wish I had insisted more on that beautiful, red jacket), so bring your negotiator A-game. There are tons of toys and trinkets, but also thousands of hidden gems! You may already know about this market, but I hope to convince you that it really deserves a spot in your itinerary. There's plenty of room for you here, whether you love a great bargain or a few hours of people watching.