Lisbon has become one of the most rated European attractions only in the last few years, yet it feels like its infinite crowd of tourists has been flooded in there for ages – and it's there to stay. My prolonged stay in Lisbon came with numerous solitary walks, with many of them counting endless deviations to dodge the flock of tourists. By now, I'm forever grateful to those many wrong turns: the majority of my discoveries started off as mere accidents.
Lisbon is a gem itself. The heterogeneity of its freguesias and the number of colors would make a breach into the coldest heart. So much of this city gets overlooked – which works well for us, if you can keep a secret. Today, we toss our tourist guide to make space for a little special something: here's my, and now your, personal hidden gems of Lisbon.
1. Casa do alentejo, an interdimensional travel
It's easy to walk past this mesmerizing place. No sign, no mass gathered at the entrance, no gleaming windows: literally no way to see it. That's because Casa do Alentejo is well hidden behind a plain façade, all the way upstairs. Inside, it's a whole festival of azulejos, arches and palms, all-around a seemingly Moroccan patio. You'll wonder if you accidentally popped out the Narnia wardrobe only to get to the wrong dimension. I highly suggest that you skip the restaurant on the first floor: instead, turn to your right and head to the charming tavern. Here, you can chill with a nice glass of sangria tinta and try out a few snacks typical of the Alentejo region. Compared to the slightly expensive restaurant, the tavern is also an absolute bargain.
2. Any bookworms out there? I've got you covered.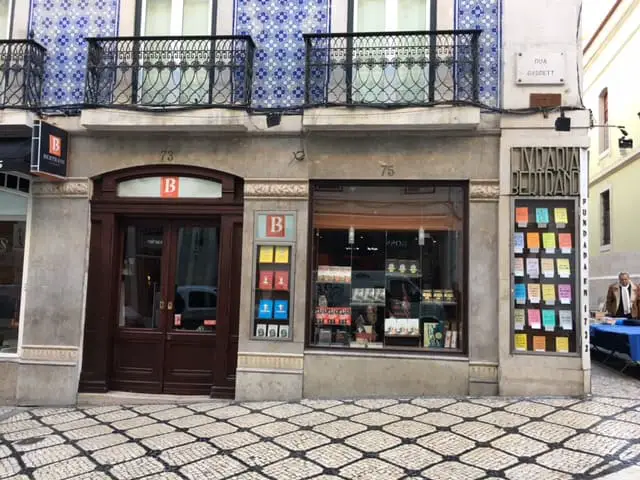 I've always said that if I could pick any place to be buried, I'd choose a bookshop. Something about bookshops keeps my restless soul at bay; hence, it's no surprise that I stop and visit each one I find on my way. Lisbon counts so many pretty, vintagey bookshop, but Bertrand is on top of my list. The place is located in a pretty trafficked district, but I've always found it pretty serene. The ceiling is low, and the shop looks like an endless tunnel stocked with books. There's even a tiny café/space to work with your laptop at the very end. Ler Devagar is another gem for all the bookworms of the world: located inside the LX Factory, this bookshop, despite having gained some recognition, is always quiet. It has an industrial, hipstery flavor that I don't mind at all, and a wonderful selection. Finally, you should definitely pay a visit to the tiniest bookshop of the universe, Livraria do Simao. Just be patient and wait for your turn, unless you want to get stuck.
3. Central Tejo power station: the dark side of the MAAT
Bear with me, because this one got a somewhat nerdy note to it. I'm sure you already read on those tourist guides that a visit to the MAAT is a must. Indeed, the MAAT museum in Belém holds fascinating exhibitions for all the tech-savvy and alternative souls. However, most people miss out on a 360° tour of the building: right behind the main entrance, there's a whole space dedicated to the Central Tejo, the very first power station of Lisbon. I know, it doesn't sound that exciting; but it's actually pretty cool to walk around inside huge, black, shiny furnaces. You get the feeling of being cooked alive, and you learn all about the tragic history of this gigantic station. It makes for a weird afternoon.
4. Hidden bifanas are the best bifanas
Back to when meat was still part of my menu, bifanas were an ever-green craving. If you're unfamiliar with this dish, bifanas are nothing but sandwiches of fried, soft pork and bread roll. Sounds simple enough, but words can't describe the outburst of flavor that comes within a single bite in. Weirdly enough, the two best bifanas places are 200 meters apart. At least according to my own bifanas tour! Head to the local café Solar da Madalena on a Tuesday, and then try out As Bifanas do Alfonso on Wednesday. I had a hard time making up my mind between those two: too many delicious factors to weight in.  
5. Bartô: a night out with the locals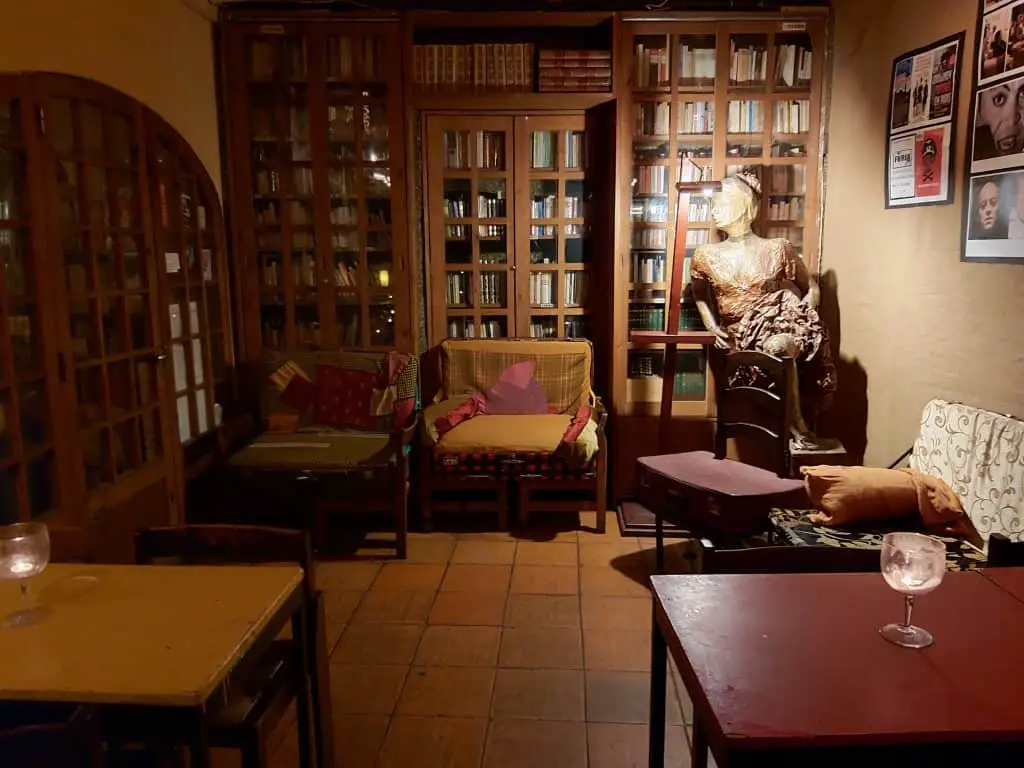 While located near the famous S.Jorge Castle, Bartô escapes from the most attentive tourist's eyes. The entrance looks like a pretty yet ordinary restaurant-terrace. But on the far right, you'll stumble on peculiar stairs – and down there, that's where you want to follow the white rabbit. Barto is not just a place to get a few cheap drinks. Basically every night, they host either a live concert or a public reading or an artsy workshop. The vibe is genuine and energetic, and you'll only be surrounded by friendly locals here.
6. Miradouro de Santa Luzia
The thousands Miradouros (viewpoints) are always a hit in Lisbon. Each one of them holds its amazing peculiarity; and surely you've been recommended the Miradouro da Senhora do Monte. By all means, that's a breathtaking spot – quite literally, I walked all the way uphill to get there and my lungs were feeling it. But Miradouro de Santa Luzia is an absolute gem that you cannot miss. While it may get a bit busy at the weekends, with street vendors and artists storming the place, it's the perfect place to chill while waiting for the weekday's sunset. If you're lucky enough, a local will accompany your existential pondering with a music performance.
7. Ginjinha and Ginjinha n.2
Using and abusing is not on the to-do list, but a little alcoholic experience fits quite well when it comes to tasting a local specialty. Ginjinha is a Portuguese liqueur able to satisfies all palates, made with ginja berries and aguardente. It's sweet, not at all too heavy, and too typical to leave Lisbon without trying it. A Ginjinha has to be the most famous place where to get this fine liqueur. Yet, I'll warn you, the square in front of it gives a heartbreaking reality check on the social inequality and homelessness issue hitting Lisbon. Ginjinha Sem Rival is another place selling great Ginjinha, only a few meters away from the other one.