Hungary may be one of the less popular tourist sites in Europe, but that doesn't mean it should be ignored. Full of history, art, and unique culture, Hungary brings a particular aspect to Europe. It truly is a hidden gem. With Roman-inspired architecture and special cuisine, Hungary offers a different travel experience that has visitors falling in love. 
While there is only one big touristic city in the whole country, Hungary is not immune to modernization. For most of its history, Hungary's land and economy were dedicated to farming. With the Soviet Union's influence after the World Wars, the entire central European country slowly became more urban. Luckily for digital nomads today, you can experience bustling cities and internet access with ease. 
Modernization, unfortunately, diminished a large part of peasant and agrarian culture. Food, dance, and dress all became less important to society as more buildings appeared. Tourists can still see some aspects of the semi-lost culture when they visit. 
Overall, there is a constant conflict between urban and rural cultures. This is most notably seen in Budapest- the capital city. As the city attracts more tourists every year, it subconsciously keeps up with modern trends, but still attempts to hold on to Hungary's past. For digital nomads and all Hungarian tourists, there is lots to learn and see in this immaculate country. 
Hungary for digital nomads at a glance
Pros
Historic architecture
Low price for housing
Reliable public transportation
Pleasant weather in spring and summer
Most cities are not a tourist trap
Cons
Budapest, the most popular city, is pricey
Need a working visa to reside for more than 90 days
Not too many large cities
The cost of living in Hungary
Hungary isn't mainly known for its bustling tourist trap cities- minus Budapest- so the price of living is not too over the top. In comparison to other European cities that sit high on people's "must visit" list, Hungary offers fair living prices, especially for digital nomads. 
Hungary uses the Hungarian forint as the official currency. One forint is equivalent to 0.0032 US dollars and 0.0029 Euro. So, the average cost of living for a month- for residency, transportation, and occasional social outings- is about 150,000 forints. Sounds intimidating, right? At second glance, you can notice that this price easily converts to about 690 USD or about 520 Euros. It is a much better value for an authentic European experience. 
> Detailed Guide: The cost of living in Hungary
One thing to be aware of is that Budapest reigns differently than the rest of the country. Prices are typically higher than in calmer regions. While Budapest attracts the more relaxed and culture appreciative tourist, almost 30 million people visit annually, according to the Qatar Embassy in Budapest. So, it's practically inevitable that the prices rank higher than average. However, don't let the pricing discourage you from experiencing one of the most aesthetically and culturally unique cities in the world. 
Before your pack your bags, here are some estimated prices for general items and services in Hungary:
Monthly rent for a small flat: 50,000 HUF (about 160 USD or 144 Euros)
Monthly rent for a small flat in Budapest: 70,000 (about 226 USD or 200 Euros)
Dining: about 1,000- 3,000 HUF (about 3- 10 USD or 3- 9 Euros) 
One loaf of bread: 270 HUF (about 1 USD or 1 Euro)
The weather in Hungary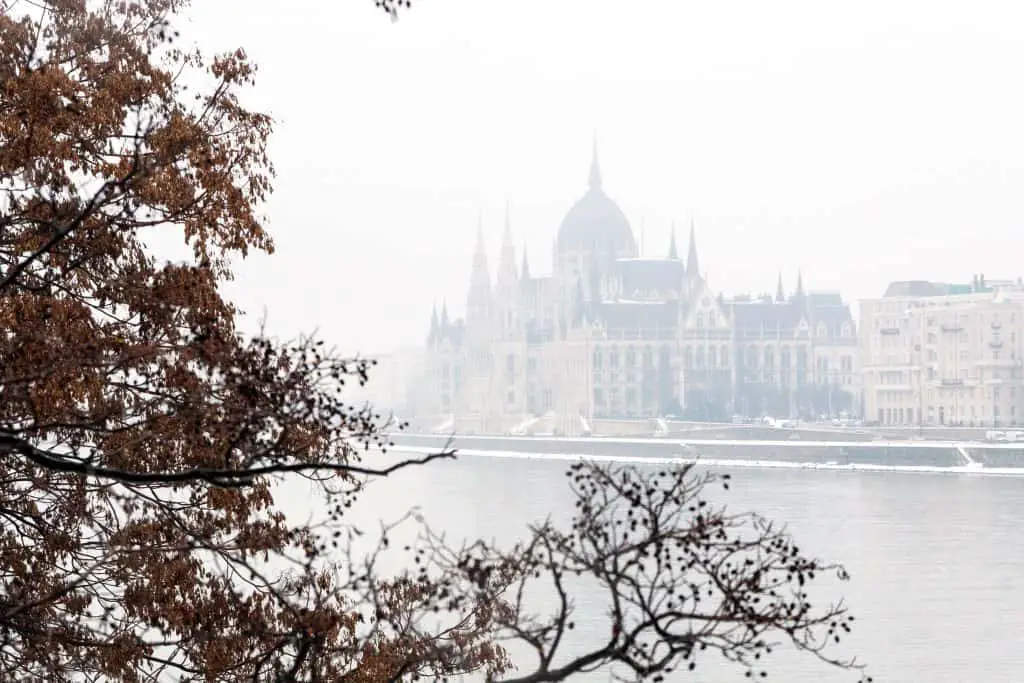 Unlike many of the tourist countries in Europe, Hungary does not have access to the coast. So, there are no beaches and less than likely tropical weather. As a landlocked country, Hungary has four seasons- winter, spring, summer, and fall, but the weather never becomes extreme. It coincides with the typical European climate- warm and dry summers with cold winters. 
Winters in Hungary see the lowest temperatures, especially in January. When the time comes for spring and summer, then temperatures become cool and calm- around the 60s and 70s range. Beware, though, many days in spring can start sunny and dry, but quickly transition to thunderstorms. The more mountainous rural regions of Hungary usually get the bulk of the precipitation. Just remember to bring your umbrella.
Hungary's weather is at its most pleasant in the spring and summer. Rain is more common in the spring, especially later at night. The days during these two seasons typically start warm and then cool off in the evening. It's a perfect mix for all digital nomads seeking a country with a pleasant daily forecast. Autumn and winter can be a bit on the rougher end, as the weather becomes much colder and wetter than the rest of the year. 
Finding places to stay in Hungary
Like many of its European neighbors, Hungary has plenty of options for you to choose to stay. There are hotels, hostels, BnBs, and more. Whether you are looking for a part-time stay or a permanent flat, you can find the right accommodation for your stay's duration. 
TripAdvisor and Booking.com
With accommodation services being so popular within Europe, visitors of Hungary can stay in hotels- that is, if you are staying temporarily. Websites like TripAdvisor and Booking.com can help you find an affordable hotel with all the essentials.
Hungarian hotels range from quaint and moderate to grand and luxurious. Much of this influences the overall price. Budapest has the most variety in terms of star ratings. Visitors can reside in simple, lower quality rooms; or, opt for something a bit grander. It all depends on the kind of experience you are looking for. 
TripAdvisor and Booking.com are also gateways for digital nomads to live in a Bed and Breakfast. Hotels tend to be more common in the city, but bed and breakfasts find popularity in the rural parts- which make up most of the country. For a much more quaint and up-close experience of the rolling hills and Hungarian agrarian culture, a Bed and Breakfast can be your ticket. 
Airbnb
Airbnb tends to be a digital nomad favorite. You can find affordable places to rent for your next Hungarian journey. Plus, the platform allows users to rent homes and apartments for a month at a time. So, for your next not-so-temporary stay in Budapest, Debrecen, or Pécs, you can explore your surroundings and come back to comfortable lodging. 
Visas and Documentation in Hungary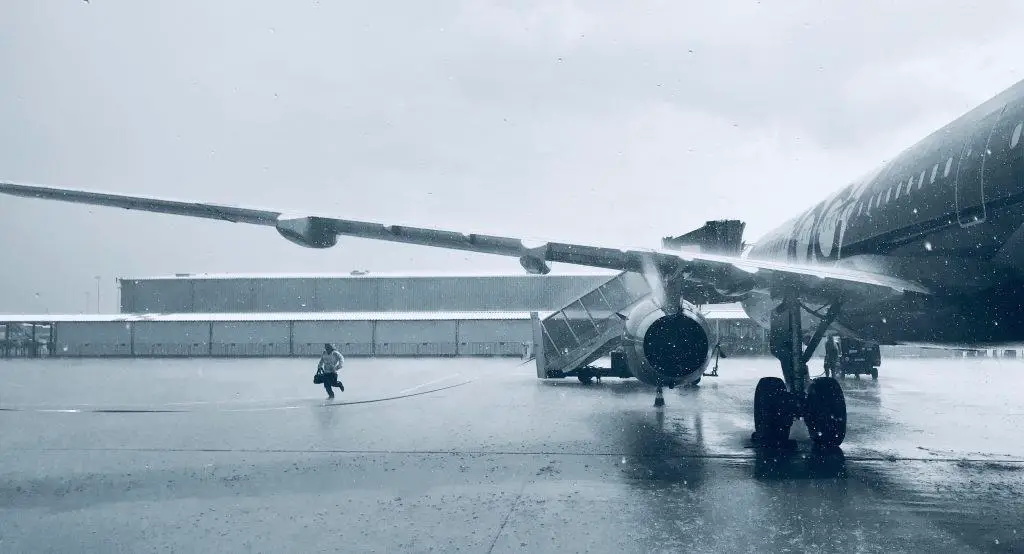 Hungary is a part of the European Union as well as the Schengen Area. Therefore, for those already citizens of the European Union, you are free to travel without obtaining a Schengen Visa. All you must do is register your stay if you plan on visiting longer than three months- easy peasy!
For non-EU citizens, the process is a bit harder, especially if you like to stay in areas for longer than three months for work. As a non-EU citizen, you need to obtain a Schengen Visa. You can do this through your federal government, providing all necessary information about yourself and your visit with supporting documents. 
You can get a travel visa on time. This can range from 10 to 15 days, but there are times when it could take up to 60. Be sure to set aside about three months from departure to get all the travel documents needed. 
Travel visas only allow tourists to visit up to 90 days in another country. Obviously, this is unfortunate for digital nomads who like to reside in one place for a while. Luckily, you can get a working visa, but this can be more complicated and take more time. 
Wi-Fi and Coffeehouse Culture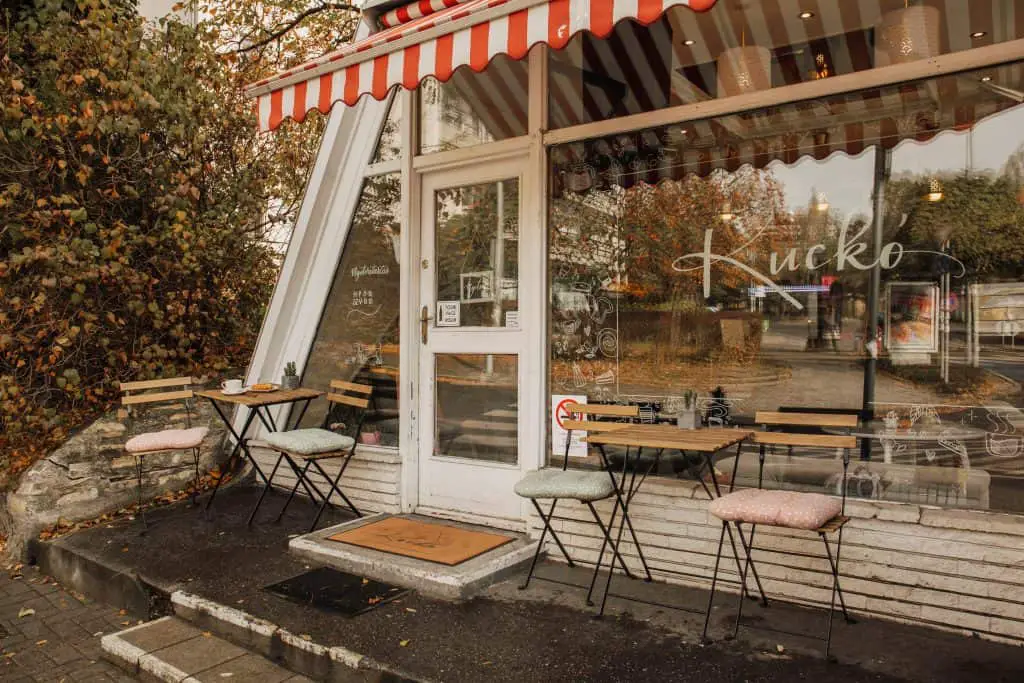 Don't be too concerned about Hungary's historic appearance. Despite presenting architecture from as early as the 13th century, Hungary has reliable internet and designated spaces for people to work and collaborate. 
Hungary's overall culture shows evidence of a push and pull of rural and urban traditions. With centuries of agrarian customs, the environment shifted after the World Wars to a more modernized country. Libraries and universities were constructed, as was the intellectual culture. 
The coffeehouse, which is also a dominant American tradition, is the customary public place for the gathering of intellectuals for discussion and collaboration. This had a major impact on Hungary's overall culture. 
Today, the coffeehouse is a popular meeting place for people to work, talk, and, well, drink coffee. It is usually in these spaces that you can find reliable Wi-Fi to complete any work. With coffee being a social drink, you can also take a break to socialize and interact with other workers and possibly other digital nomads in the area. 
The Top Destinations for Digital Nomads in Hungary
Budapest
Budapest is one of the most famous cities in the world. People all over flock there because of its ancient architecture, proximity to the Danube river, and picturesque skyline. There is no place like Budapest, especially for its mixture of agrarian and cosmopolitan culture. 
Pécs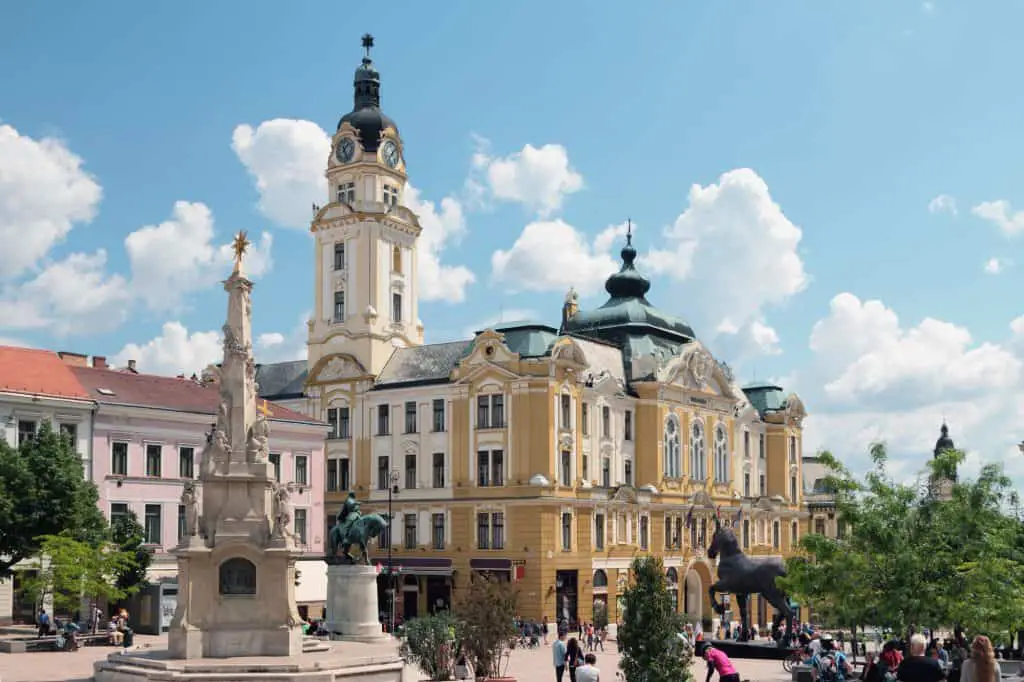 On the southwestern side of Hungary lies the historic city of Pécs. Established by the Romans, this city is an architectural time capsule that awaits your discovery. It is home to the Early Christian Mausoleum, containing a masterful amount of frescoes from the early Roman eras, as well as the Mosque of Pasha Gazi Kasim, now a Catholic church. There is a swirl of culture that rests on top of a long and rich history. 
Debrecen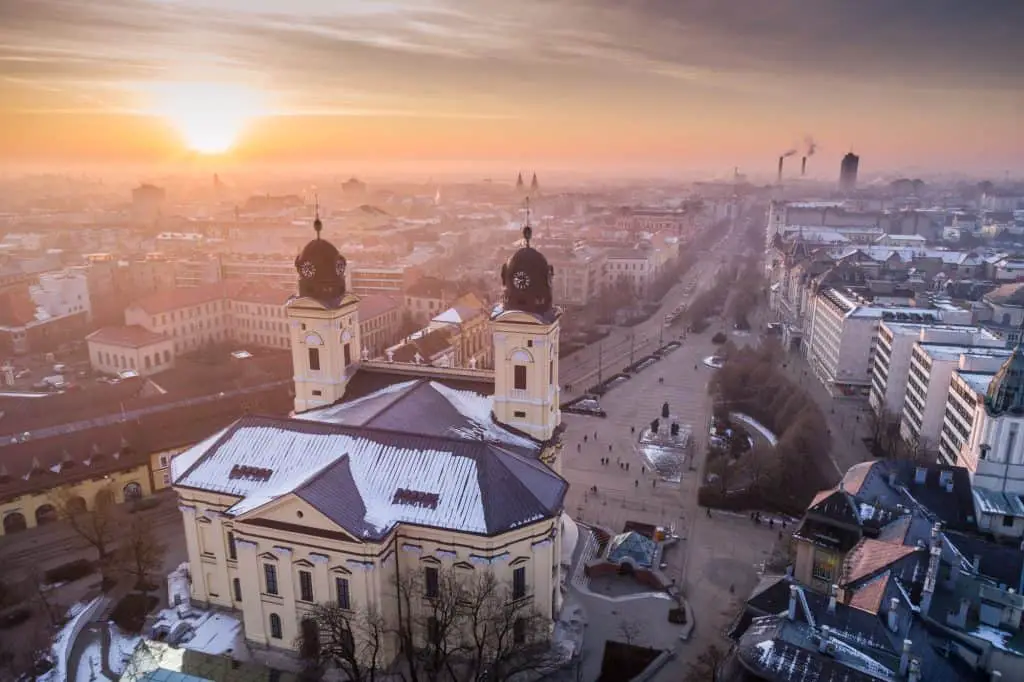 Debrecen, like Budapest and Pécs, is full of historic architecture and lively art. From the Reformed Church that possesses beautiful 19th-century techniques to the Déri museum, there is so much art, culture, and history to discover. Despite such a small population, this hidden European gem acts as the capital of the Northern Great Plain region of Hungary. 
Szeged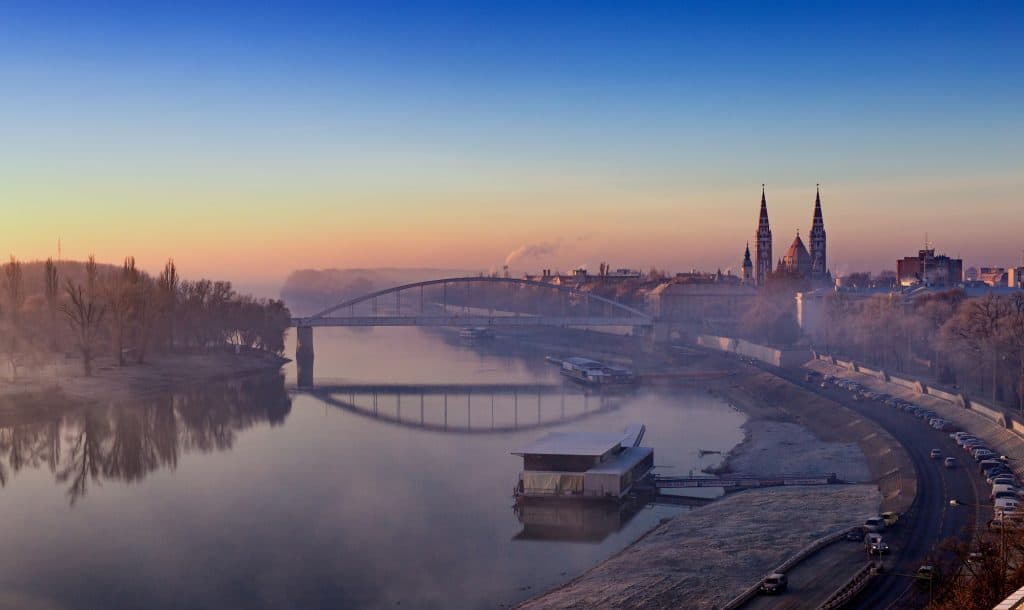 As one of the largest cities in Hungary, Szeged is home to one of the most esteemed universities in the country. Full of unique architecture and scholarship, Szeged has everything that a major city like Budapest has, except for large crowds of people. Szeged is a great city for digital nomads since there is so much to discover, both culturally and scholarly. 
Sopron
For lovers of all things medieval, Sopron is calling your name. Filled with cobbled streets and ancient architecture, Sopron is the perfect place for digital nomads with an appreciation for European history. Travel back in time just by walking the streets and visiting one of the well-known wine cellars. The city is also on the border of Austria, so you have the opportunity to explore another special aspect of Europe. Above all, Sopron is the place to be for historic charm. 
---
Feel free to add your tips, ideas, destinations or tricks in the comments below. We're always looking for more info to add to this ultimate guide to Hungary for digital nomads!