Laying across the Equator, spread over a whopping 17,000 islands, dashed by primeval rainforest, and dominated by smoking volcanos, Indonesia is somewhere you're not likely to forget in a hurry. A real economic powerhouse of Southeast Asia, it's the most populous Muslim nation on the planet and a doozy of a destination for anyone searching for adventure, peanut-infused foods that zing with spice, legendary surf, and encounters with rare wildlife.
In recent decades – thanks largely to the island of Bali – there's been a surge in the popularity of Indonesia for digital nomads. It's almost the perfect cocktail: Warm year-round weather, excellent internal flight links, amazing relaxation destinations, and an uber-cheap cost of living. Spearheading the lot are top-of-the-bill DN hubs like Canggu and Ubud, but there are also loads of other places worth having on the radar…
Indonesia for digital nomads at a glance
Pros
Things can be really cheap.
Gorgeous natural wonders.
The surf.
Cons
Hotspots like Canggu are bursting with digital nomads.
Pollution (air and water).
Can get really hot!
The cost of living in Indonesia
Average monthly outgoings for digital nomads in Indonesia are estimated to be around the $1,400/month mark in the popular hub of Bali. That makes it cheaper overall than Bangkok but more expensive than Eastern European destinations like Bulgaria and Romania.
Of course, you can expect prices to drop considerably the moment you head away from the island of surfers and yogis. Out on Java and Sumatra, and across in the uncharted lands of Papua and Borneo (known as Kalimantan in Indonesia), things cost far less. It's just also less likely you'll find co-working spaces and cool cafés serving up flat whites and those avocados on toast.
A few examples of the sorts of outgoing you can expect as a digital nomad in Indonesia are:
Monthly rental for a flat in a city like Yogyakarta: 2.7-3.5 million INR ($200-260)
A domestic beer in a bar: 35,000 INR ($2.50)
An Indonesian meal in a warung (traditional tavern): 70,000 INR ($5)
An internal flight from Jakarta to Surabaya: 730,000 INR ($52)
The weather in Indonesia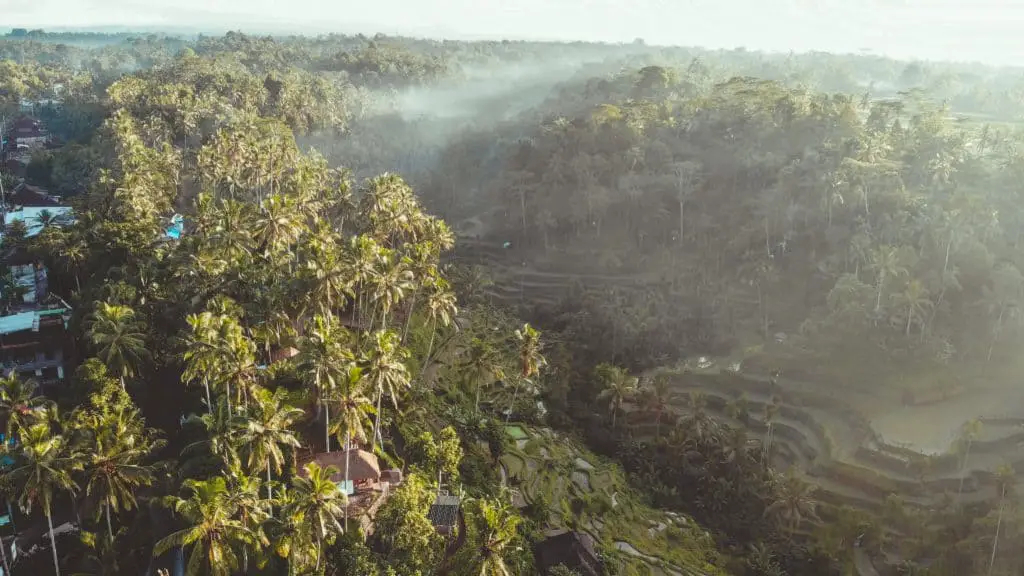 The Equator cuts right across Indo's islands. That means there's fairly regular weather patterns here, along with steady temperatures – high temperatures – for much of the year. Expect to be bathed in low to high 80s from December to December.
When it comes to rainfall, there is a wet and a dry season to contend with. Only here it's nowhere near as pronounced as in Malaysia, Vietnam or Thailand. In fact, it's possible to catch fully dry, sunny days without a cloud in the sky during the monsoon months, which typically run from October to April.
If you want to be certain that you'll catch a tan and be able to hit the Lombok beaches without an umbrella in hand, you might want to travel during the official dry period. That's roughly in line with the European and North American summer (May to September). Of course, prices – especially in tourist hotspots like Bali and the Gilis – will be higher at this time of year, and there's bound to be far bigger crowds around.
Finding accommodation in Indonesia
From beach bungalows by the hidden beaches of south Java to luxe penthouses that soar above the Golden Triangle of Jakarta, there are all sorts of accommodation options open to digital nomads in Indonesia. Of course, the type of pad you're looking at will change depending on what corner of the country you opt to visit. Some tried-and-tested ways and tools that can help with scoring a stay are:
Airbnb
The Airbnb scene in Indonesia varies a lot. In the popular vacation region of the Nusa Tengarra (the island chain that includes Bali, Lombok, and the Gilis), you'll be swamped with options on the sharing site. What's more, there are some seriously hefty discounts if you're willing to stay for a month or more, which can often be increased by haggling a little with any prospective host. It's worth booking as far in advance as you can, however. Even with an abundance of Airbnb options, the most sought-after stays will usually get snapped up quickly.
Booking.com/Agoda/Hotels.com
If you're looking for a little bit of R&R mixed in with your DN trip to Indo and don't mind cranking up the budget, you could consider hitting the resorts. There are oodles of them fringing the sand stretches of southern Bali, of course. But there are also enticing retreats in the jungles of Ubud, along the pink-tinted shores of Flores, by the coastal areas of Java – the list goes on. It's common to find these with their own on-site spa, infinity pool, and restaurant, along with pretty decent internet connections throughout.
Facebook
Indonesia is no stranger to big expat populations. That means there are usually ready-made communities of internationals willing to help each other out. One of the best ways to reach out to them is via Facebook, where it's normal to find flat sharing or rental ads posted online. This method is especially helpful for places like Lombok, Bali, and Jakarta. Check out Jakarta Expats (13k members) and Surabaya Expats (2k members) to see what we mean.
Visas and documentation in Indonesia
Travelers from most western countries are eligible for a visa waiver in Indo. So long as you're staying under 30 days (and be warned – the moment you pass through immigration is counted as day one), and enter at one of the participating airports (all major destinations from Denpasar to Jakarta to Medan are included), it's just a case of stamping the passport, smiling at the customs officer and you're in…
If you're planning on staying longer then it's possible to pay for an extendable visa on entry. That costs $35, plus another 250,000 IDR ($18) if you choose to extend. But that doesn't factor in all the time it takes to deal with Indonesian bureaucracy at the visa office!
A longer visa that allows 60 days entry is also available. That requires a visit the Indonesian embassy in your home country and can cost up to $100.
Of course, all of the above are intended for tourism purposes. Like so many countries around the globe, the attitude towards digital nomads in Indonesia is something of a grey area. Staying above board will usually depend on the nature of your work, but you should consider applying for a KITAS visa and other work permits if you think they might be required.
Mobile internet in Indonesia
There's great news on the roaming front – Indonesia has some of the cheapest and most reliable mobile internet in the region. Under $30 at the airport can usually score you a decent deal on a SIM and data. The top-rated providers are Telkomsel and Indosat, both of which offer LTE connections that are pretty darn fast.
The top destinations for digital nomads in Indonesia
So, you're tempted by the idea of Indonesia as your next DN destination? Great choice. But the hard part's still to come. Where exactly will you go? Are you craving the mystical religious sites of old Yogya? Are you drawn by the surf breaks of Bali? Or do you come in search of a buzzing Southeast Asian metropolis?
Jakarta
The big, bustling capital is actually several metropolises crammed together on the northern shores of Java island. For those who love the energy of colossal cities, there's surely nowhere better to be a digital nomad in Indonesia. Most people will say that the area known as Golden Triangle is the one to head for. It's a forest of shimmering skyscrapers and buzzing business districts, where most of the apartments come with reliable internet and with young professionals in mind. The neighborhoods of Menteng – complete with handsome Dutch colonial architecture – and Sudirman – with its hip sky bars – are particular favorites. Just remember that Jakarta really is huge. To get your taste of beaches and sea, it's almost certainly going to be a trip to the airport.
Yogyakarta
They call Yogyakarta the cultural capital of Java. Head here and you'll be within striking distance of the haunting Buddhist shrines of Borobudur, the grand relics of the Sultan's Palace, and halls that echo with traditional gamelan music. Given the vibe, it's hardly a wonder that Yogya – as it's affectionately known – has risen to become something of a mecca for hippies and yogis. This is an urban spot at heart, though. That means strip malls, independent coffee shops, bazaars, and all sorts are also part of the package.
Bali
Don't underestimate just how popular the so-called Isle of the Gods has become for digital nomads in Indonesia. This is the go-to place for laptop workers. It's also easy to see why. There are loads of short- and long-term rentals that come with swimming pools, speedy internet and tropical gardens. You've got miles of great surf beaches. You can head to the hills of Ubud to supplement your work sessions with yoga and vegan eating. Meanwhile, Canggu is being hailed as the heir apparent to Chiang Mai – the world's biggest nomad hub. Of course, there are downsides to the popularity. You'll can't swing a cat in Bali without hitting a dozen DNs, prices are forever creeping upwards, and there are reports of poor water management and pollution.
Interested in going to Bali? Read our guide to Bali for digital nomads.
Lombok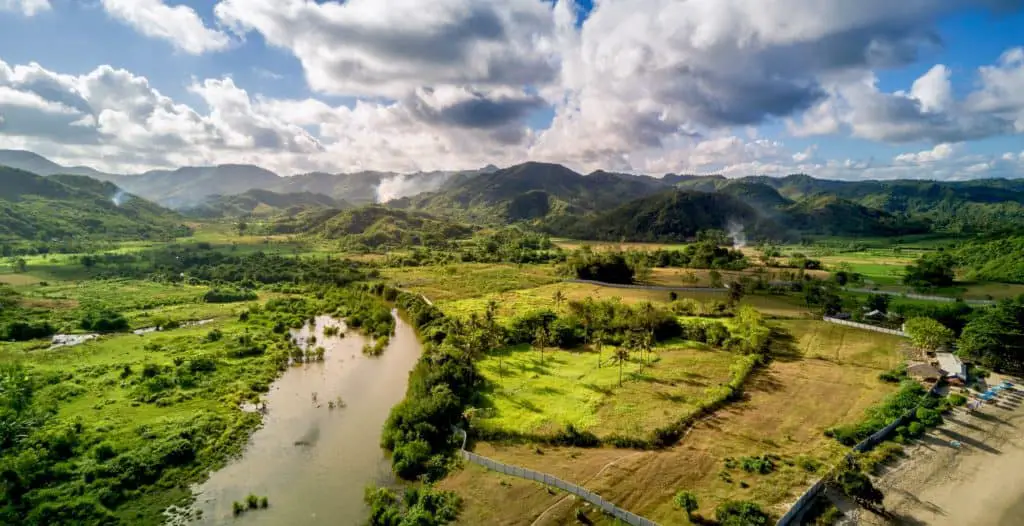 Bali's lesser-known bro is something of a rising star on the DN scene. Much more chilled, conservative and traditional than the isle of the gods, it's a glimpse at island Indonesia without all the development. Slowly but surely, Lombok is going the same way as Bali. There are deluxe hotels to be found on the west coast especially (look to Senggigi). On the south coast, wave-bashed surf beaches and chilled bungalows are the norm. There are also a soaring volcanos and national parks to get stuck into. Internet is good, though not as good as on Bali.
Gili Meno / Gili Air
There was a time when Gili Trawangan was considered the paradise of Southeast Asia. Over development and the rise of party tourism really took its toll, though. These days, DNs might prefer the smaller of the two Gilis: Air and Meno. They're dotted with laid-back reggae bars and luxury resorts and have beaches and reefs that are to die for. Expect the web connections to slow a little in these parts, but hammock time and R&R will surely shoot through the roof!
---
If you can think of anything to add to this ultimate guide for digital nomads in Indonesia, we'd sure love to hear about it in the comments below…