Travel videography is an art, and not everyone is an artist. YouTube and other social media platforms are full of travel videos, but few of them actually leave an imprint on viewers' minds. 
Want to make your video stand out? Here's a rundown of six effective tips to make your travel videos worth watching. 
1. Shoot smartly
Capturing as much as you can is excellent advice as it gives you plenty of material to work with. However, video creators often misunderstand "shooting enough" with "over capturing." They usually start recording videos from the moment they reach their destination. 
There is no point in capturing unnecessary shots as it will only enhance your editing time. Your focus should be on exploring the beauty of a place rather than creating a video. Don't forget that you are there to enjoy your vacation and not for footage. 
Record the moments that you genuinely want to remember and cherish for a lifetime. Also, shoot your videos when lighting is at its best, usually in the early morning or around sunset, to get beautiful clips. 
2. Keep in mind the Frame per Second and Frame Rate
The second most important step to making great travel videos is to keep FPS and Frame Rate in check. FPS, or Frame Per Second, is a simple yet effective camera setting to produce great results. 
Standard films used to be 24 FPS. Although 24 pictures per second are fast enough to capture most actions, it still allows the directors to shoot the content without missing any important detail. 
However, the introduction of cheap digital cameras and tons of video editor options have changed the entire scenario. With plentiful storage devices, you can easily shoot video in whatever format you like, be it slow-mo, HD, or others. All you have to pick is your Frames Per Second to get started. 60fps is a go-to option as it makes the video worth viewing.
Multiplying your frame rate makes your videos smoother and more professional. Don't worry if you are using the phone to create videos, as smartphones are available with four different FPS settings that you can change in less than 10 seconds. 
Also, keep in mind the fact that increasing FPS makes your video files larger. Hence, you need to carry some backup storage device like a hard drive to save the captured data. If your phone is stuffed with apps or if you travel without any backup device, then 60 FPS might not be the best option for you. 
Let's look at the FPS rates and storage space here to have a better idea. 
720p HD at 30fps:  60 MB
1080HD at 30fps: 130 MB
1080HD at 60fps: 200 MB
4k: 375 MB
3. Focus on the destination and not on yourself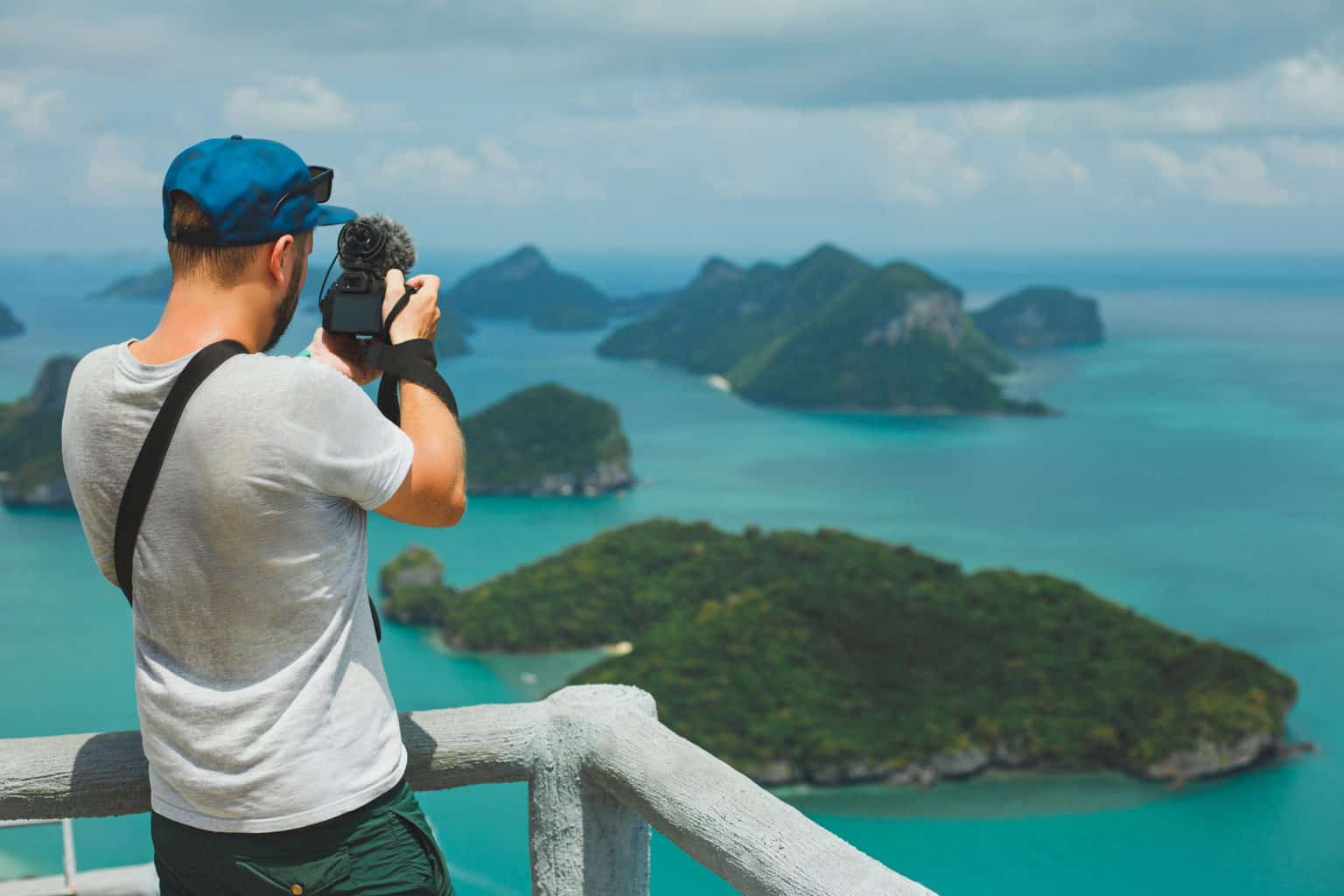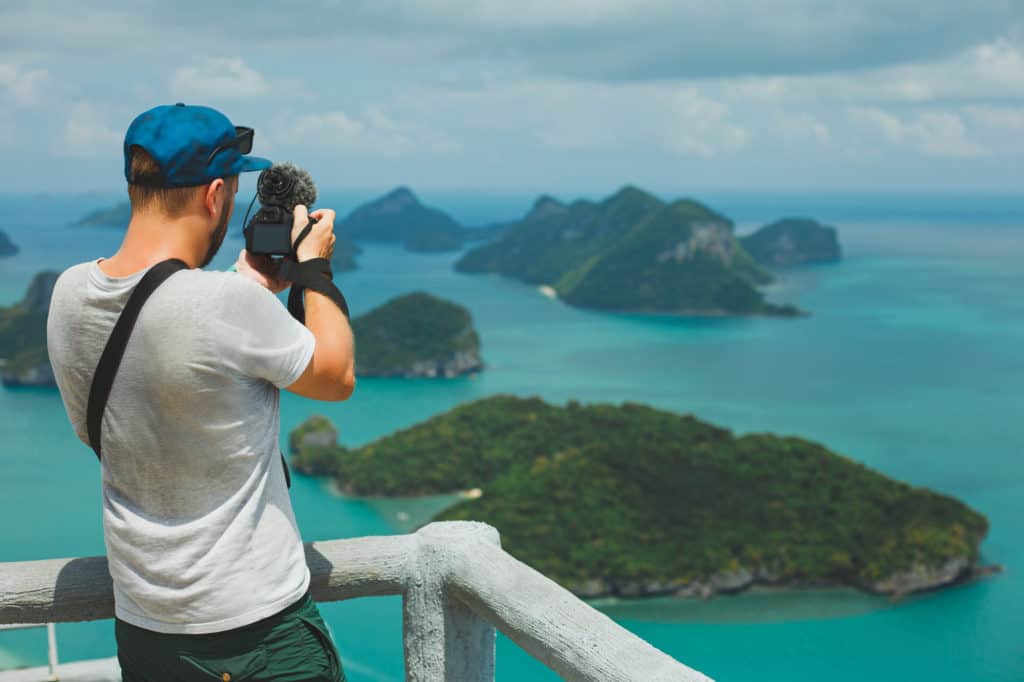 One common mistake most travel video creators make is capturing shots focusing mainly on themselves rather than the destination. Remember that viewers are not concerned about your routine, how you spend your vacation or your life in general. They browse your videos to explore the destination and drop it if they don't find worthy content. 
Travel videos are supposed to tell a story about a location, reflect the culture, showcase the local customs, food, etc. This platform is not about showing off your life or achievements. Hence,  include fewer videos of all the parties or adventure activities you enjoyed. Instead, showcase the destination's history, people and architecture. Curate moments and tell a unique and engaging story that will inspire others to visit.
4. Diversify your shots
Videographers must experiment and diversify how they capture shots to develop the viewers' interest. Try using advanced features like time-lapse, slow spinning, or shooting on a moving vehicle. In addition to this, you can also use graphics and filters at the time of editing to add some sparkle to the final video. It is essential to use motion to capture the excitement and energy of the place. This can be done in several ways, including hyper-lapse, panning, or shooting something already moving to bring the video to life. 
5. Consistency is the key
The significant difference between amateur and professional videographers is consistency. The best travel video creators are typically consistent, and this is what distinguishes them from the crowd. 
Upload your travel videos regularly to maintain consistency. This is the best and the only way to grab attention and climb the ladder of success. You can use a video editor to refine your video and ensure that it is of a certain professional standard.
But even the best video editor cannot help you if you aren't going to be regular or frequent with the video creation process. Decide the interval, say a week, 15 days, or a month and upload videos accordingly. This ignites the spark among the audience and leaves them with the urge to revisit your channel. 
6. Connect your shots in a meaningful way
Capturing the best moments, adding lively music, and uploading video regularly doesn't make any sense if your video is not meaningful. You need to connect the shots so that they tell a story and engage the viewers until the end. 
Most travel videos look like a bunch of random clips stitched together with no purpose or no story behind them. If you wish to make your videos stand out from the crowd, pay attention to how the clips are connected before uploading them.
Conclusion
Creating a travel video that hooks the audience can be tricky. You never know what the audience actually likes and dislikes. So, it's best to go with tried and tested tips and tricks to grab their attention. Make your videos worth the audience's time to ensure that they visit your channel again.