In today's Osprey Farpoint 40 review, we are going to showcase Farpoint 40 – a mid-end travel backpack from Osprey. At the same time, we'll have a look at Fairview 40, which is essentially Farpoint's women's variant.
By the end of this review, you'll know everything important about Farpoint/Fairview 40 to make a final purchasing decision. We'll have a look at the benefits, disadvantages, and uses of Farpoint/Fairview backpacks.
And if you are still on the lookout for the perfect backpack, please check our best backpacks for digital nomads guide.
---
Key Features & Benefits Of Osprey Farpoint & Fairview 40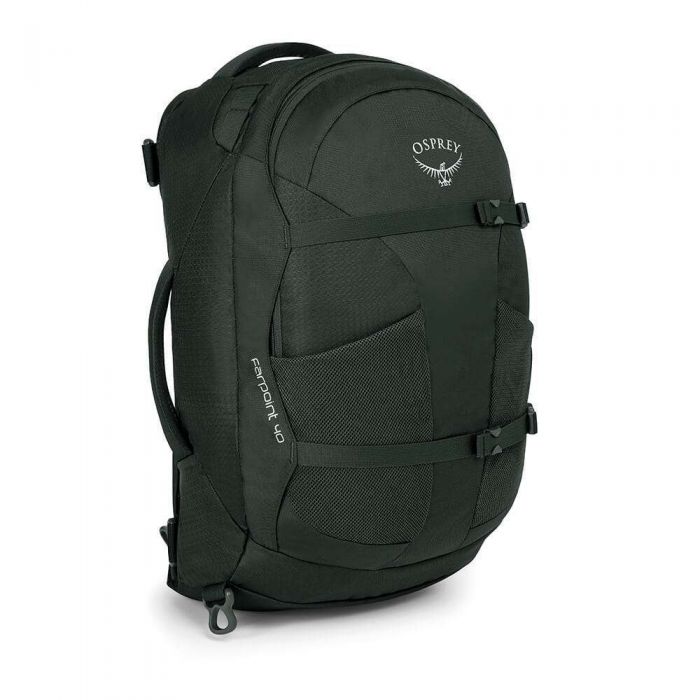 First up, let's cover all the features and advantages of Osprey Farpoint and Fairview 40. Once you are done with this section, you'll know what exactly makes Farpoint 40 a great buy for the money.
One thing to keep in mind – Farpoint and Fairview travel backpacks are nearly identical. Unless otherwise noted, everything we'll talk about with Farpoint 40 also applies to Fairview 40. There are some very minor differences, but we'll explicitly state them to avoid confusion.
Great build quality
The first thing you notice in the Farpoint 40 backpack is its great build quality.
If you've ever used a cheap travel backpack, then you probably know how flimsy and short-living they can be. Thin fabric, low-quality stitching, weak straps, and other such details can significantly shorten the service life of low-end backpacks.
There is nothing like this in Farpoint and Fairview 40. They feel solid and will most likely serve you for years (if taken care of properly, of course). The main fabric is durable as well – it is 210D ripstop nylon, while the bottom is coated in 600D packcloth that should effectively resist abrasion.
The nylon shell also has some degree of water resistance, but you shouldn't let the backpack outside under downpour. Farpoint and Fairview 40 won't withstand submersion too.
All in all, the two Osprey travel backpacks are great for weekend or day trips. Although Farpoint and Fairview are quite tough, they are not tough enough for multi-day journeys. Aside from that, they are not the best choice for environments where there is a risk of getting wet.
Travel-friendly sizing
Osprey Farpoint and Fairview are the smallest backpacks in their line. Although their larger brothers will take much more stuff, they can't boast the same travel-friendliness as their small analogs.
Sized at 21 x 14 x 9 inches (H x W x D), Farpoint 40 should meet the hand luggage requirements of most airlines. What's also neat about Farpoint is that you can stow its shoulder straps and hip belt behind a protective backpanel. This simple feature allows you to slightly reduce the size of the backpack.
In terms of capacity, Farpoint 40 is advertised at 40 liters. Osprey appears to be pretty accurate in interior capacity measurements, and the size is pretty nice for weekend travel too.
One important thing to keep in mind – although Women's Fairview 40 is also advertised at 40 liters, it may actually be a little smaller. Fairview 40 is sized at 21.3 x 13.7 x 9 inches (H x W x D), meaning that its total (exterior) volume is about 43.03 liters, whereas Farpoint 40 has 43.36 external liters.
Also, note that the XS/S sizes of Fairview 40 are advertised at 38 liters.
All in all, the two backpacks are sized very close, but the Fairview may be just a tad smaller.
Plenty of pockets and compartments
To be honest, the organizational abilities of Farpoint 40 are nothing too spectacular. This travel backpack only has:
A large main compartment.
Interior zippered mesh pocket.
Two mesh water bottle holders.
Stowaway backpanel for shoulder strap & hip belt storage.
So as you can see, Farpoint and Fairview do not have any fancy things like shoe pockets or small item pockets. All in all, Farpoint and Fairview 40 are pretty basic in the organizational terms.
With that said, if you don't need superb organizational features, then these backpacks will work nicely for you. The main compartment occupies most of the backpack and offers ample room for clothes, food, or other items that require a lot of space.
What's also notable about the main compartment is that it has a pair of compression straps. Once you've packed all your gear, you can tighten the compression straps around it to prevent the items from shifting around.
This is great for the safety of your items since they won't hit each other along the way. Not only that, but this should improve comfort and support too since the weight won't be shifting around the backpack much.
Right in front of the main compartment – on the inside of the compartment flap – you can also find a large zippered mesh pocket. This pocket may be used to store small items. Thanks to its padding, the mesh pocket is also fairly decent for up to 14-inch laptops.
You will most likely be storing your most important items in the main compartment as well – to keep all your stuff secure, the main compartment zippers are lockable.
That's it for the inside. On the outside, you have a pair of mesh water bottle pockets that also have compression straps. You could use these pockets for other items too, but they would work the best with water bottles.
Finally, Fairview and Farpoint 40 have a stowaway compartment for the shoulder straps and hip belt. We've already talked about this feature earlier – its purpose is to help you make your backpack a little more compact.
Overall, Fairview and Farpoint 40's organizational abilities are solid for weekend trips. But for backpacking or hiking, we'd like to see more.
Excellent support
If you are buying a backpack, you are probably worried about the support the most. The primary purpose of a backpack is to evenly distribute the load across your back. Thanks to this, backpacks are optimal for traveling on foot.
Well, how good are Farpoint and Fairview 40 in the support department? We think that they are excellent.
The support system of Farpoint and Fairview backpacks has two key components:
Padded shoulder straps + chest strap + hip belt.
LightWire suspension system.
If you've ever worn backpacks that have not only shoulder straps but also a chest strap and a hip belt, then you know how supportive they can be. The chest strap and hip belt take some of the load off your shoulders and distribute it throughout your upper torso. As a result, your trips become less exhausting.
The shoulder strap + chest strap + hip belt system is pretty decent on its own, but Osprey went one step further with its LightWire Frame suspension. The main task of this suspension system is to transfer the load from your shoulders to the hip belt, improving support even more.
Solid comfort & breathability
Now, onto comfort. All in all, it's solid in Farpoint and Fairview 40 backpacks, but we think that it could have been better.
The shoulder straps in these backpacks are pretty basic. They have a good amount of padding, but nothing too remarkable. If you wear these backpacks for a long time, then your shoulders may get sore.  
Although needless to say, the supportive harness system makes things much better than they would have been if you had only shoulder straps.
The backpanel of Fairview and Farpoint 40 backpacks is mesh and offers good breathability. There's also some mesh on the shoulder straps and the hip strap. Needless to say, you won't stay completely sweat-free on a hot day, but you should stay pretty comfortable during tough trips.
Multiple carrying options
What's also nice about Fairview and Farpoint 40 is that they can be carried in multiple ways. Aside from the primary way – via the shoulder straps – you may also grab these backpacks by the thick & padded side/top handles. Osprey includes an additional shoulder strap for single-shoulder carrying too.
Obviously, the best way of carrying Farpoint and Fairview 40 is on your back. But at short distances where you don't need to bother with buckling the chest strap & hip belt, the two other methods will work fine as well.
With that said, the single shoulder strap is a little underwhelming. It has very little padding, so we don't think that you can comfortably use it as a secondary method of carrying. But since that is not how Osprey Farpoint and Fairview 40 are meant to be worn, we didn't count that as a downside in our review.
Accessory attachment points
Remarkably, Osprey Farpoint and Fairview 40 have a few accessory attachment loops. There is a pair of loops at the top corners, and you could also use the shoulder strap loops in the back while they are not in use.
Downsides Of Osprey Farpoint & Fairview 40
Osprey Fairview and Farpoint 40 aren't perfect – they have their downsides. We would like to talk about three of them more in-depth.
One important note to make here – these downsides do not make these backpacks bad. Rather, we want to talk about them in order to give you a better idea of what kind of uses Farpoint and Fairview would be the best for.
Pricey
First and foremost, Osprey Farpoint & Fairview 40 are pretty pricey backpacks. If you are shopping on a budget, then these are definitely not the right option for you.
Besides, some people may argue that you don't need a backpack of this quality for light weekend trips. Well, this actually depends on your expectations. If you want to purchase a backpack and use it for a few years, then you shouldn't look among cheap backpacks.
With that said, no matter how big your budget is and no matter what you need, you can't deny that Farpoint & Fairview 40 have excellent build quality. These backpacks do deliver for their price, and you could expect years of service from them – with reasonable use, of course.
Can't stand upright
The second downside of Farpoint & Fairview 40 is that they cannot stand upright. Although this isn't what we'd call a dealbreaker or a serious issue, we would really like these backpacks to be able to stand on their own.
Backpacks that can stand upright are just more convenient. After you are done with your break, you can pick the backpack up without bending too much. Not only that, but accessing the pockets in an upright-standing backpack is a little bit easier.
Not for multi-day outings
And the third downside of Farpoint & Fairview 40 is that they are not for multi-day outings.
Now, Osprey clearly states in their product description that these backpacks are for weekend getaways. And as long as we are talking about weekend outings, Farpoint & Fairview are great.
However, some people may attempt to also use these backpacks for hiking and backpacking. With that in mind, we would like to explain why Farpoint and Fairview would not be the best backpacks for such purposes.
Here is what makes our two backpacks unsuitable for hiking and backpacking:
Weak water protection. Nylon is a decently water-resistant material. However, the best hiking & backpacking bags also have water-resistant coatings from the outside, liners from the inside, and sometimes waterproof/water-resistant zippers. These are very important in heavy-use backpacks because during multi-day trips, you are very likely to get wet.
Inadequate shoulder strap padding. As we've talked about earlier, the shoulder straps in Farpoint & Fairview are fairly nice, but they will most likely leave your shoulders sore after hours of non-stop wearing. What would happen if you were to wear these backpacks for several days without letting your shoulders rest?
Inadequate organizational abilities. High-end backpacks for hiking & backpacking (Osprey has a couple of them) have features such as multiple pockets, sleeping bag compartments, insulated food pockets, ice ax loops, and much more. They are more versatile and space-efficient, which cannot be said about Farpoint & Fairview.
Difficult access. The best backpacking and hiking backpacks make access to your items very easy – partly, thanks to their excellent organizational capabilities.
Inability to stand upright. Again, this isn't that big of a deal, but it would certainly make things more convenient.
Small size. Finally, Farpoint & Fairview 40 are pretty small. 40 liters is decent, but a good backpacking and hiking backpack would be closer to 60 or 70 liters.
Again, these points do not make Farpoint & Fairview 40 bad. We only mention them to set expectations and explain why these two models aren't the best for backpacking & hiking. For these two activities, look for specialty Osprey backpacks – there are quite a few of them.
Pros & Cons Of Farpoint/Fairview 40
To recap what we've talked about above, here are the pros and cons of Farpoint/Fairview 40.
Pros:
Excellent build quality.
Travel-friendly sizing.
A good number of pockets and compartments.
Very supportive.
Decently comfy and breathable.
Multiple ways of carrying.
Several accessory attachment points.
Cons:
Steep price.
Inability to stand upright.
In contrast with what some people may think, unsuitable for multi-day hikes or backpacking trips.
How Does Farpoint 40 Compare To Larger Farpoint Backpacks?
We've mentioned a few times throughout our Osprey Farpoint 40 review that it's the smallest backpack in its family. Although all Farpoint backpacks share some base features, they have some significant differences as well. In this section, we'll address these to help you better understand the Farpoint series.
Farpoint 40 vs Farpoint 55
The differences between Farpoint 40 and 55 are as follows:
Farpoint 55 is a 55-liter backpack, so it can fit more stuff.
Farpoint 55 is sized at 25 x 13 x 13 inches (H x W x L), so most airlines won't allow it as hand luggage,
Farpoint 55 has a detachable daypack with a laptop/tablet sleeve and a non-scratch small item pocket.
At the top, Farpoint 55 has another non-scratch stash pocket.
Farpoint 55 has more loops for anchoring/accessories.
Farpoint 55 does not include an additional shoulder strap.
Finally, Farpoint 55 has removable sleeping pad straps.
Farpoint 40 vs Farpoint 70
Farpoint 70 is very similar to Farpoint 55, so it's essentially a 70-liter version of it. The 70 again has a removable daypack, non-scratch stash pockets, and more. If you like the 55 but want something bigger, then Farpoint 70 is a nice option.
Farpoint 40 vs Farpoint 80
Finally, we have the Farpoint 80 – the largest member of the Osprey Farpoint backpack family. Here's how it differs from the 40 backpack:
It is sized at 80 liters and measures 29 x 15 x 16 inches (H x W x D).
Aside from the compartments that the 40 has, Farpoint 80 features a top pocket for liquids and toiletries, as well as a lower zippered compartment for shoes, sleeping bags, or whatnot.
Farpoint 80 has a few more accessory attachment loops.
Unlike Farpoint 55 and 70, the 80 does not come with any daypacks. With that, if we don't count the added storage compartments, it's essentially a larger version of Farpoint 40.
Out of the entire Farpoint backpack line, the 80 probably comes the closest to traditional backpacking and hiking backpacks. However, since it retains the design features of Farpoint 40 – the shoulder strap padding, the inability to stand upright, and the weak-ish water protection – it's not ideal for hiking and backpacking.
However, Farpoint 80 is lighter than specialized backpacking/hiking bags from Osprey. With that in mind, it's an excellent choice for areas where you are unlikely to encounter any water. This also to some extent applies for Farpoint 55 and 70, but note that their organizational abilities are a bit worse.
How Does Fairview 40 Compare To Larger Fairview Backpacks?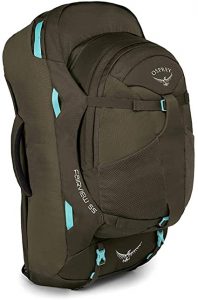 Next, let's compare Fairview 40 with its larger counterparts. The points that we've talked about in our Farpoint comparison section mostly apply here as well.
One important thing to note – the Fairview line does not have an 80-liter backpack. This kind of makes sense because women aren't as physically strong as men. But if you do want 10 liters more capacity, you may purchase men's Farpoint 80 – just make sure to pick the right size!
Fairview 40 vs Fairview 55
Here's how the 55 differs from Fairview 40:
Its capacity is 55/52 liters (in S/M and XS/S sizes respectively), while the size is 25 x 13 x 12 inches. This is again a bit smaller than Farpoint 55, though the advertised capacity is the same.
Fairview 55 has removable sleeping pad straps.
The Fairview 55 includes a removable daypack with a laptop/tablet sleeve and a non-scratch pocket for small items.
At the top, Fairview 55 has another non-scratch pocket for small items like sunglasses.
Fairview 55 has more accessory loops.
Lastly, Fairview 55 doesn't come with an additional shoulder strap.
Fairview 40 vs Fairview 70
As for Fairview 70, it's again essentially a 70-liter version of the 55. The XS/S size has a capacity of 67 liters, however.
Fairview 70 is sized at 25 x 14 x 12 inches too, which is noticeably smaller than the men's Farpoint 70. So although both are advertised at 70 liters, Fairview 70 may be a little less capacious. If this matters to you, you may always go for the men's backpack instead.
Final Words
That's it for our Osprey Farpoint 40 review! Hopefully, you've now got a clearer idea of what this backpack (and the women's Fairview 40) are for.
As a reminder, Farpoint and Fairview 40 are great for weekend travels. They are not the best for multi-day outings, though they would be pretty decent there too.
Earlier, we've talked about the downsides of Farpoint and Fairview 40 quite a bit, but remember that we covered all that info only to set expectations for these backpacks correctly. We want to help you pick the right backpack for your needs, and we are honest when saying that Farpoint and Fairview aren't the best if you want to primarily hike.
All in all, Farpoint and Fairview offer great value for the money. They are excellent for what they have been made for – day and weekend outings. If that's exactly what you need, you'll probably struggle to find anything better.