Clear blue skies, tropical weather, and kind people are some of the best features of the Philippines. In this country, you will learn the real meaning of life and appreciate everything around you.
You cannot compare the love and warmth of a Filipino's heart. Even before Spain's colonization, the Philippines treats its visitors in the best way. No typhoon, earthquake, or any disaster can drag them down. Despite being a third-world country, the Filipinos still wear a smile with optimism for all situations.
When it comes to their beautiful islands, this country boasts over 7,000 of them. Over the years, foreigners across the world visited their historical and natural attractions in Cebu, Puerto Princesa, Aklan, Bohol, Davao, and Baguio. Currently, there are over 31 airlines that fly all over the world every day. Regardless if you're from the United States, Japan, United Kingdom, Africa, or Australia, you can safely reach the country in a few hours.
Moreover, the coastline is the fourth largest in the world, and the total length is around 3,289 kilometers, making it ideal for foreigners to explore the warm tropical islands. If you prefer the land tourist spots, we have a variety of natural landscapes, such as Mount Mayon, Chocolate Hills, and the world's smallest volcano, Taal.
In recent decades, thousands of digital nomads have considered the Philippines as their new home. It comes in full packages thanks to its low cost of living, top-notch internal flight links, relaxing destinations, and tropical weather. 
Whether you love living in the street, city, mountains, or beach, you are sure to enjoy your quiet life in the Philippines. Besides that, you don't have to worry about having friends since the Filipinos are the friendliest and happiest people on earth. They smile even when they are struggling, help others despite having a miserable life, and treat you with respect despite being a stranger.
The Philippines for digital nomads at a glance
Pros
Friendliest people
Low cost of living
Lax Visa policies
Cons
Typhoons
Infrastructure issues
Corruption
The cost of living in the Philippines
It is affordable to live in the Philippines. To be frank, most people prefer to retire in this country due to their affordable goods and services. Regardless if you will live in the city, mountains, or near the beach, your $1,000 will go far beyond your monthly expenses.
A restaurant meal only costs $3-$5, while the staple American and Filipino foods are cheaper. If you eat at local food stores, you can spend as little as $100 for the whole month. But if you prefer the big city lifestyle, your food might cost you around $200-$400 per month. In rural areas, appetizers usually cost $3, the main course for $5-$7, and a beverage for only $2 or less.
The best way to disperse your savings in the Philippines is to live like a local. Don't spend too much on vacations and buy your groceries in the local markets instead of shopping centers. If you want to go for a trip, make sure to set a budget and avoid spending beyond the limit.
For your monthly housing, the average price of a one-bedroom apartment in Manila is around $230. If you go outside the city, you can have a decent place for as low as $125. However, a three-bedroom property in the city usually costs $395 and outside the city is $240.
Unfortunately, foreigners cannot buy properties in the country. If you want your place, buying a condominium unit is your only choice.
Regarding the utilities, an average person usually spends $130 for the electricity and water supply, while about $50 for the internet service per month.
The Final Budget
The necessary living costs in the Philippines may include:
$225-$230 for a beautiful one-bedroom apartment in the city
$200-$220 for groceries
$125-$150 for essential utilities, cellphone and internet service
$100 for personal and household items
$40 for transportation
The weather in the Philippines
Northern Philippines
Luzon, also known as the northern Philippines, is the top-most and most significant island of the Philippines. It is the country's political and economic center, being home to our capital city, Manila. It also features the country's best tourist destinations, such as Mount Pinatubo, Mount Mayon, and Palawan. The climate in Luzon is usually hot.
Throughout the yeat, the temperature is around 77°F to 87°F. The clearer and better weather in Luzon begin around December, which lasts until March. The rainy and cloudy season of the country usually starts around June and ends in September. The driest season lasts for two months, specifically from March to May.
If you stay in Luzon around September to December, you will encounter heavy traffic everywhere. However, most tourists prefer this month to avoid the tropical heat during the summer.
If you don't know yet, Filipinos celebrate the Christmas season as early as September. During this month, you will start hearing Christmas songs and see Christmas lights everywhere.
The weather in the Visayas
The Visayas is the middle part of the country. It consists of several islands, including the famous ones, such as Bohol, Cebu, Samar, and Negros. Due to the country's tropical climate, Visayas became the home of the sugarcane, root crops, and rice. Some of the best products in this area are tobacco, abaca, bananas, corn, and coconuts.
The average weather in the Visayas is hot and oppressive. Throughout the year, the temperature usually reaches 72°F to 93°F. The coldest weather typically starts in December and ends in March. The warmest temperature of Visayas begins around April and lasts for two to three months. The rainy season lasts for two months, specifically from May to August.
The weather in the Southern Philippines
Mindanao, also known as the Southern Philippines, is the home of the country's second-largest island. It is the home of most ecclesiastical provinces, such as Zamboanga City, Davao, Cotabato City, and Cagayan de Oro City. Besides that, it also the largest supplier of pineapples and bananas in the country.
The daily temperature at Mindanao usually ranges from 87°F to 92°F, making it the warmest region in the Philippines. Most of the time, you will experience high humidity, which is slightly irritating for some people. The best time to visit Mindanao is from December to April.
Finding places to stay in the Philippines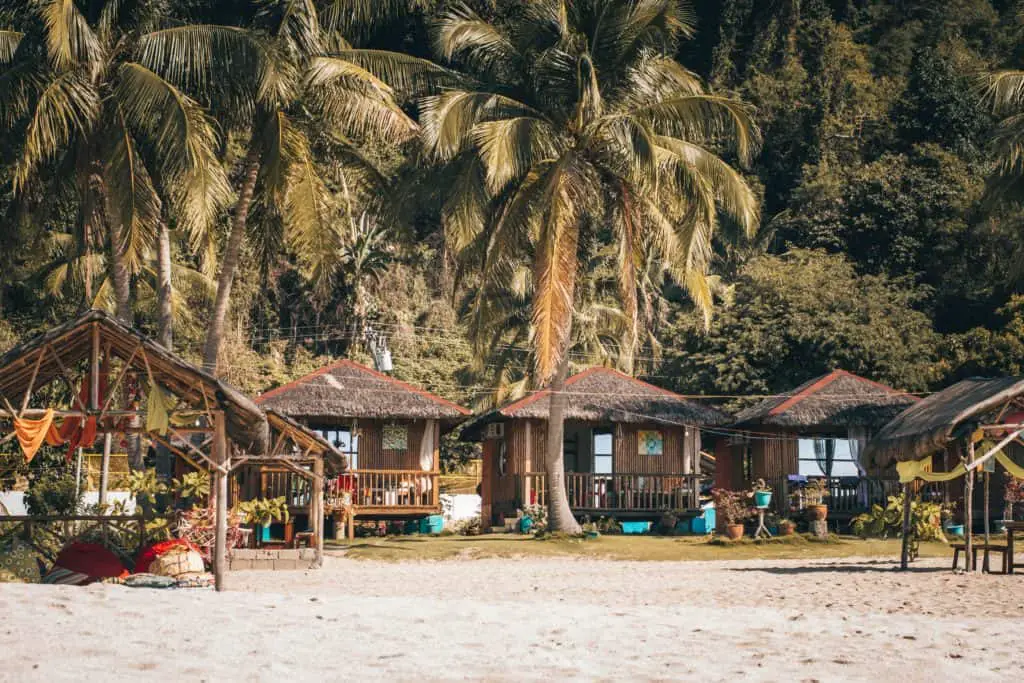 Hotels.com/Booking.com/Agoda
If you prefer to stay in a hotel during your trip to the Philippines, you can have the best deals from Booking.com, Hotels.dom, and Agoda. These websites have cheaper offers for people with an extended stay.
From the best luxury lodging to the most budget-friendly rooms near the beaches, you will have a wide variety of options from these brands. You can quickly locate hotels from these sites since they provide detailed maps that show the nearest transport and landmarks. Besides that, you can also earn some free nights by joining their reward programs.
In Agoda, you will find over 15,000 hotels in the Philippines with the best available rates. You can also find the lowest price of accommodations in Cebu, Boracay Island, and Manila. If you prefer accommodations near commercial centers, Makati is the ideal place for you. This city offers a wide variety of bars and restaurants that cater to international cuisines, such as European and Asian dishes.
Airbnb
The average accommodation in Airbnb Philippines starts from $20 per night. Most apartments have space-saving interior, which is ideal for digital nomads. Besides that, accommodations from this brand are way cheaper and spacious that the standard hotel rooms. You can find budget-friendly penthouses and bungalows with ocean views.
If you're missing home, you can choose a New York-inspired urban loft in Greenbelt. What makes it more interesting is that the owner offers a complimentary wine upon your arrival.
Get enquiring on Facebook and social media.
Filipinos love posting their properties on social media, especially Facebook. If you cannot find your ideal place in Airbnb and Agoda, maybe you can finally see it here. Filipino people are very welcoming to foreigners. It means that you can quickly contact them on Facebook if you are interested in their rental advertisements.
Visas and documentation in the Philippines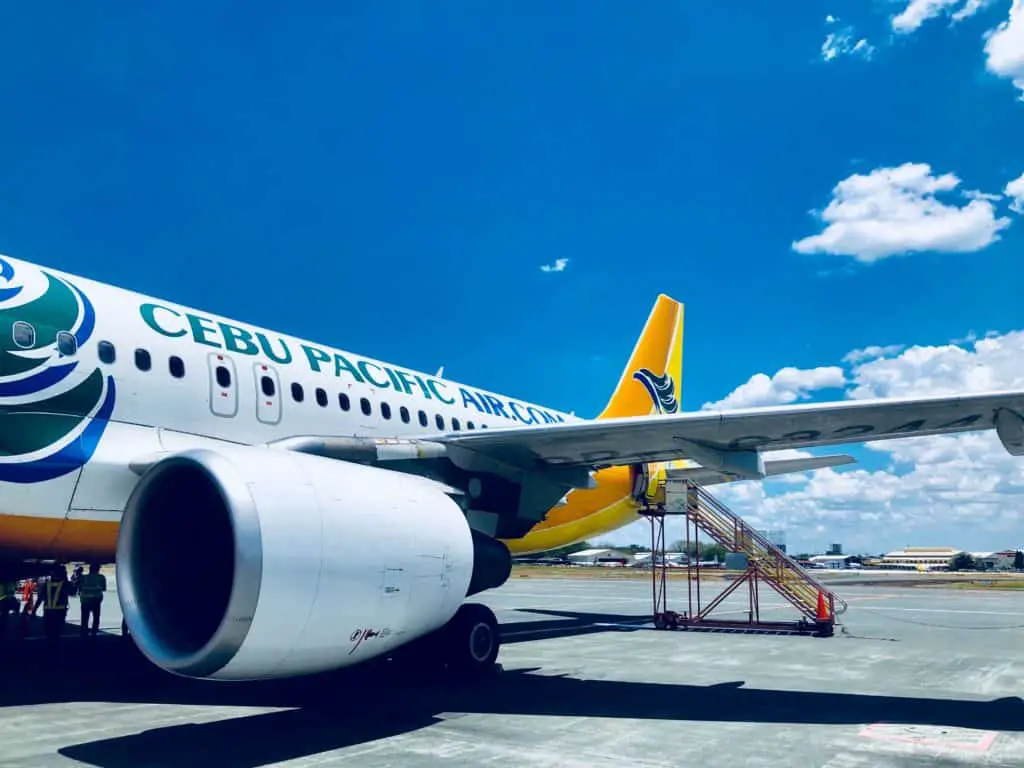 Travelers coming from the United States do not need a visa for a stay that will not exceed 30 days. However, they must hold valid tickets for the next country destination and a passport with at least six months of validity before the expirations.
If you are planning to stay longer, you can request for a 29-day extension for only ₱3,130 ($63). You can process this application at any office of the Bureau of Immigration and visit their website at www.immigration.gov.ph if you want to know the exact and updated fees for the extension of stay.
The minimum requirements for all Visa applicants are:
One passport-size photo (scanned photos are not allowed)
Bank statements for the last six months with an authorized stamp and signature of the bank officer
Original passport valid for six months and more
Copy of e-ticket that shows your flight details
If you are a temporary visitor, you must provide your return or onward journey plane ticket before entering the Philippines.
Self-employed must submit a photocopy of their latest Income Tax Return and Personal Assessment Number Card.
Depending on your visa process, the authorities may also ask for other documents, and you must submit them at least two weeks before your scheduled departure for the Philippines.
The top destinations for digital nomads in the Philippines
Rapid developments in technology allowed Filipino entrepreneurs to build coworking spaces in the country. It allowed us to finish our daily jobs in more flexible working conditions. These friendly spaces spread throughout the country, but most of them are in Manila.
Makati 
Makati is one of the wealthiest cities in the Philippines. It has several shopping malls and tourist spots where you can relax. If you want to know the Philippine history, you can visit museums nearby. From art galleries to 17th-century churches, there are tons of incredible places in Makati for digital nomads.
Davao
Davao City can be found at the southeastern Mindanao Island of the Philippines. It is the leading regional center in the south and encompasses over 50 ports in its commercial area. This city is a very affordable place to live in. You will have a variety of options, such as apartments, dorms, and even condos. Most condominiums in Davao have resort-like amenities that are way more economical than those in other countries.
Moreover, you will be surprised how developed Davao is due to their small shops and local restaurants. Digital nomads can easily connect with Davaoeños since most of them understand English.
Palawan
Palawan is arguably one of the most breathtaking destinations of digital nomads. The province's natural attractions include some of the unique marine biodiversity in the world, including the Princesa Underground River, which is considered as one of the 7 Wonders of Nature.
Several freelancers prefer Palawan since it offers several white-sand beaches with vibrant cerulean waters. If you stay in El Nido, you can explore several nooks and crannies while kayaking. Palawan also has tons of nature and adventure parks where you can explore the city's lush forests.
Cebu
Cebu takes pride in being the center of high-quality education and business in the Visayas and having a rich culture with the famous Basilica Minore del Santo Niño and the historic Magellan's Cross.
This city became known among digital nomads due to the city's affordable cost of living. Whether you are looking for local or international cuisines, you will find a diverse selection of restaurants in this area.
On top of that, all you need is a one-hour drive to experience an exciting island hopping or mountain trekking. It is ideal for DNs like you to recharge from those stressful work.
Boracay
Boracay is another excellent place for digital nomads who love white beaches and clear blue waters. This island has achieved massive growth in tourism in the past years. You are sure to have fun on this island since it has friendly locals who can understand English. Whether you want to stay in a hotel, condo, or apartment, you can find one in Boracay.
However, we found out that the most affordable accommodations can be hard to find online.
Baguio
Baguio City is a popular place among people who prefer lower temperatures. This area has several historical buildings within green parks and rolling hills. Thousands of Filipino families visit Baguio at least once a year to enjoy the cold climate. Some of the most famous tourist attractions are Burham Park, Mines View Park Lourdes Grotto, and Camp John Hay. 
---
Feel free to add your tips, ideas, destinations or tricks in the comments below. We're always looking for more info to add to this ultimate guide to the Philippines for digital nomads!