At the heart of Costa Rica lies its capital and one of its busiest cities – San Jose. Named after Joseph of Nazareth, this populous city houses the country's political and economic centers.
Thanks to its ideal location at the center of the country, the city has become a major transportation center with millions of people passing through it daily. And that makes it an attractive spot for digital nomads.
> Read more: Our guide to Costa Rica for digital nomads.
Fortunately, Costa Rica opens its doors to citizens of the United States, Canada, and members of the European Union visa-free. As long as you have a valid passport, you can stay in the country for up to 90 days – and that's enough to fully enjoy what San Jose has to offer.
With so many sights to see, historical landmarks to explore, and mouthwatering dishes to taste, San Jose is truly enticing. So if you're looking for a digital nomad's guide to explore this beautiful city, we have got you covered.
Language
One of the things you have to be prepared for as a digital nomad is to make sure that you can go around the city with ease. And that largely means being able to communicate with the locals.
Being part of Costa Rica, San Jose is home to native Spanish speakers. But since this city is the capital of Costa Rica, most of its dwellers are bilingual and may be able to communicate with foreigners in simple English. There is also a limited number of residents who speak French.
Thus, going about the city won't be a problem for English speakers, or even if you have a basic grasp of Spanish.
Accommodation
Making sure you have a safe and comfortable place to stay is essential to any digital nomad. Since San Jose is the capital of Costa Rica, you might think that accommodation options all come with a steep price tag. Fortunately, that's not the case.
San Jose is dotted with safe and secure accommodation options in different parts of its 12 districts. To help you find the ideal accommodation in San Jose, you might want to consider the following:
Airbnb
Airbnb is the practical choice if you're looking for a value-for-money apartment rental in San Jose. It comes with listings at different price levels offering a variety of amenities. You can even rent an entire house on this platform if that's where you want to stay.
Agoda
For hotel accommodations, the best place to look for is Agoda. Aside from being easy to use, it also has a convenient app where you can search and book your room with ease.  
Internet Availability and Strength
As digital nomads, there's no denying that Internet availability and strength are our top priority. Otherwise, we won't be able to get anything done.
As to availability, there's no denying that San Jose is a well-connected city. Being the central hub for economic activities, it's a given that most, if not all, of its establishments offer Internet connectivity.
But as to the strength, that's a different question. Costa Rica, as a country, is known to have one of the slowest internet speeds around the globe. A test conducted in 2017 shows that the country has an average speed of only 3.9 Mbps, falling way behind the global average of 7 Mbps.
Fortunately, in 2019, things took a turn for the best, and fiber connectivity was introduced to the city of San Jose. That greatly improved internet speeds to around 10 Mbps, and you can opt to pay more if you want higher speeds. While it's not the fastest globally, it's a decent speed to get things done.
And if you're planning to use cellular data, San Jose offers 4G LTE connectivity. You can buy a sim card upon arrival at the airport for around $2, and it already comes with call and text credits, as well as a limited internet surfing package. You can opt to add more data allocation by visiting the network provider's official store.
To purchase a sim card at the airport, you will need your passport with you. We also recommend getting a sim card from kölbi, which is a state-run network offering reliable network coverage throughout the country.
General Cost of Living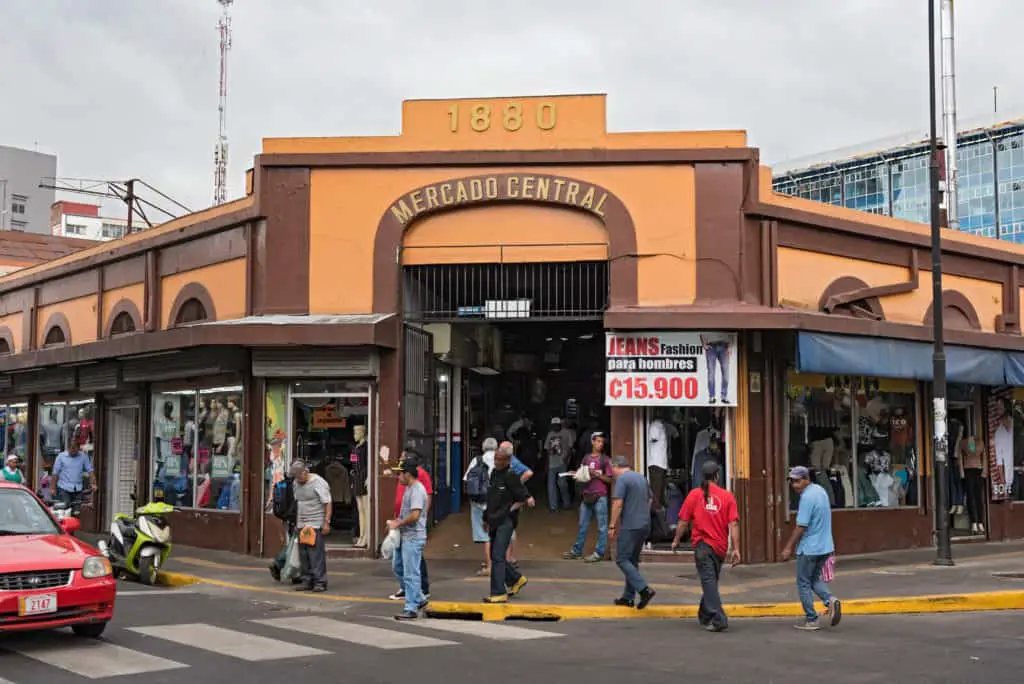 Being a digital nomad means that we have to know how to budget our money for daily expenses. That's why it's essential to learn the city's general cost of living before you make the move.
The official currency in Costa Rica is the Costa Rican Colon. For your reference, one US dollar can be exchanged for around 610 CRC. While USD is a widely accepted currency in its major city of San Jose, we recommend exchanging your dollars at the airport to ensure paying the right amount.
> Read more: Cost of living in Costa Rica.
An average meal at a restaurant in San Jose would be around $20, which can be quite pricey. But if you follow locals to where they eat, you'll notice that they frequent small family-run eateries called sodas. A meal at a soda can range between $5 to $10, and you'll get a hearty meal containing meat, beans, and rice. An even cheaper alternative is street food, where you can get a decent snack for less than $5.
If you're concerned about tipping, know that a gratuity fee of 10% is already included in your bill when you opt to eat at a restaurant in San Jose.
As for the nightly accommodation, you can find great deals ranging from $10 to $50 per night, which isn't too hard on the budget. On average, you'll need between $30 to $150 per day to live comfortably in San Jose.
Coworking Spaces in San Jose
Gracias Coffee & Cowork
If you need a coworking space that lets you unleash your creative side, then Gracias is perfect for you. Aside from its fast and reliable internet access, it also comes with a recording studio, meeting spaces, and a graphic design space. Their rate starts at $10, and we think that's a pretty fair deal for what you'll be enjoying.
Selina CoWork San Jose
With multiple locations across Costa Rica, there's no denying that Selina CoWork is an established space for digital nomads. If you're looking for a coworking space that offers hostel-like accommodation, food options, and a pool, then you can't go wrong with Selina.
Beeworking
One of the most affordable options for freelancers is Beeworking. With their flexible offers, you get to enjoy high-speed internet, free coffee, and a peaceful working environment close to the airport.
Transportation
Traveling to, from, and within the city is not a problem, either. Remember that San Jose is the central transportation hub in the country. As such, you'll never run out of transportation options.
A cheap way to get around the city is by bus. Buses are easily available from the airport, so traveling to your destination won't be a problem. Bus fare is also cheap, which can range between $1 to $5, depending on your destination. However, inter-city buses can be crowded, and that can be uncomfortable.
Taxis would be another option. Taxi drivers in San Jose are known for their honesty, so you don't have to worry about any form of scam. However, taxi rates are expensive at around 650 CRC for the first kilometer with another 650 CRC for every succeeding kilometer. That's like paying more than a dollar for every kilometer you travel.
The least expensive and most eco-friendly option is to ride a bike across the city. You can opt to rent or buy a bike since the city is dotted with these bicycle stores.
Must-Try Eateries
Of course, living in a new city won't be complete without tasting its local cuisine. In the case of San Jose, the go-to place for mouthwatering delicacies is Mercado Central.
The name of the place translates to Central Market, which we think is an apt name for it. This food market is lined with restaurants where you can try a range of local seafood dishes ranging from fish soups to more exotic squid braised in squid ink.
If street food is more your taste, then head on to La Calle where you can get a taste of almost anything from fruits to fried delicacies.
But if you're looking for specific restaurants, here are some of the must-try spots:
El Balcon del Marisco
This is the place to be if you're craving delicious seafood cooked the Costa Rican way. Fair warning: it's a popular restaurant among locals and tourists alike, so it's always packed.
Bar Poas
This bar and restaurant is home to San Jose's award-winning chili con carne, so you know that's a must-try on their menu. Bar Poas also serves a variety of Tico and Gringo food to satisfy your palette.
Soda Esnider
For those looking for a more affordable option with home-cooked meals, the Soda Esnider at Galerias Avenida Central will surely satisfy your tastebuds for less than $5.
The best places to toss a few back
If you want to unwind after a long day of working or exploring the city, San Jose has a lot of areas where you can enjoy a drink and be part of the bustling nightlife. Here are some of the best places where you can toss a few backs.
El Pueblo
This area is known for its duality – it's a busy shopping district with amazing finds and bargains in the morning, but it transforms into a busy night scene once the sunsets. Here, you can find alleys lined with bars and clubs that are popular among locals and tourists.
Barrio La California
If you're not into clubbing, then the Barrio La California may be more to your liking. This area is home to bars with live bands playing every night. That's a great way to relax and enjoy the local music.
Weather
Thanks to its location, San Jose enjoys a tropical climate all year round. The city has an average temperature of 24 degrees Celsius, which is still quite comfortable despite its warmth. It is known to have two seasons: the dry and the rainy seasons.
The dry season starts from December to April, while the rainy season starts from May to November. During the rainy season, the temperature usually drops slightly, but the added humidity makes it a bit uncomfortable for some travelers.
With that said, the ideal season to visit San Jose is during the dry season, when you can explore the city without worrying about the rain.
Top Excursions around the City
Being the heart of Costa Rica, there's no doubt that there's so much to see and explore in San Jose. It is home to several museums and parks that are sure to take your breath away. Here are some of the top spots you should visit while you're in the city.
Museo Nacional
This museum houses relevant artifacts and displays details about the country's history as well as that of Central America. The texts are available in both Spanish and English, so travelers can easily understand what's going on in each exhibit. Aside from its impressive architecture, the Museo Nacional is also home to a breathtaking butterfly garden.  
Teatro Nacional Costa Rica
This cultural asset houses performances from the National Symphonic Orchestra during its regular performance season. But during days when it's not used as a concert hall, you can marvel at its architectural beauty as well as its lavish interior design and furnishings.  
Where you can find other digital nomads/travelers
There's no denying that San Jose is a busy city. With millions of people passing through in a day, we can say that it's easy to find other travelers while you're in this city.
You can start by joining the San Jose Free Walking Tour. This activity allows you to explore the city with other nomads and travelers while being guided by a local. It also has a Facebook page where you can interact with fellow travelers.
Another option is to go to different co-working spaces. Most of the time, these areas are used by digital nomads who have to work on their projects, so you're bound to meet a like-minded traveler in one or more of these spaces.
All things considered, there's no doubt that San Jose is a welcoming temporary home for digital nomads. With its rich history, low criminality, savory dishes, and enticing nightlife, you're bound to enjoy your stay in this beautiful city.