Washed by the waves of the Indian Ocean, crumpled by mountains that look like twisted giant's fingers, and fringed by coconut-strewn beaches, Sri Lanka is an enticing destination no matter who you are. Days of soaking up the sun, munching on far too much curry (just wait for those spice-packed lentil dals at breakfast!), hiking tea-covered slopes, or surfing glassy reefs are all part of the deal. And that's not even mentioning the immersive mix of Buddhist culture and rich kingly history.
When it comes to Sri Lanka for digital nomads, it's fair to say this is very much a destination on the rise. You've got to remember that the island was embroiled in a brutal civil war until 2009. That hampered development, especially in terms of infrastructure. However, things have changed dramatically in the last decade. Faster web links, better roads, and much more nomad accommodation is now on offer.
Put simply, being a DN here isn't the cinch it is in Thailand, but the pay offs are plentiful…
Sri Lanka for digital nomads at a glance
Pros
Stunning beaches and mountains.
It's really cheap!
Lovely people with great cooking skills.
Cons
Internet connections aren't the best.
Humidity can get annoying.
Rainy seasons.
The cost of living in Sri Lanka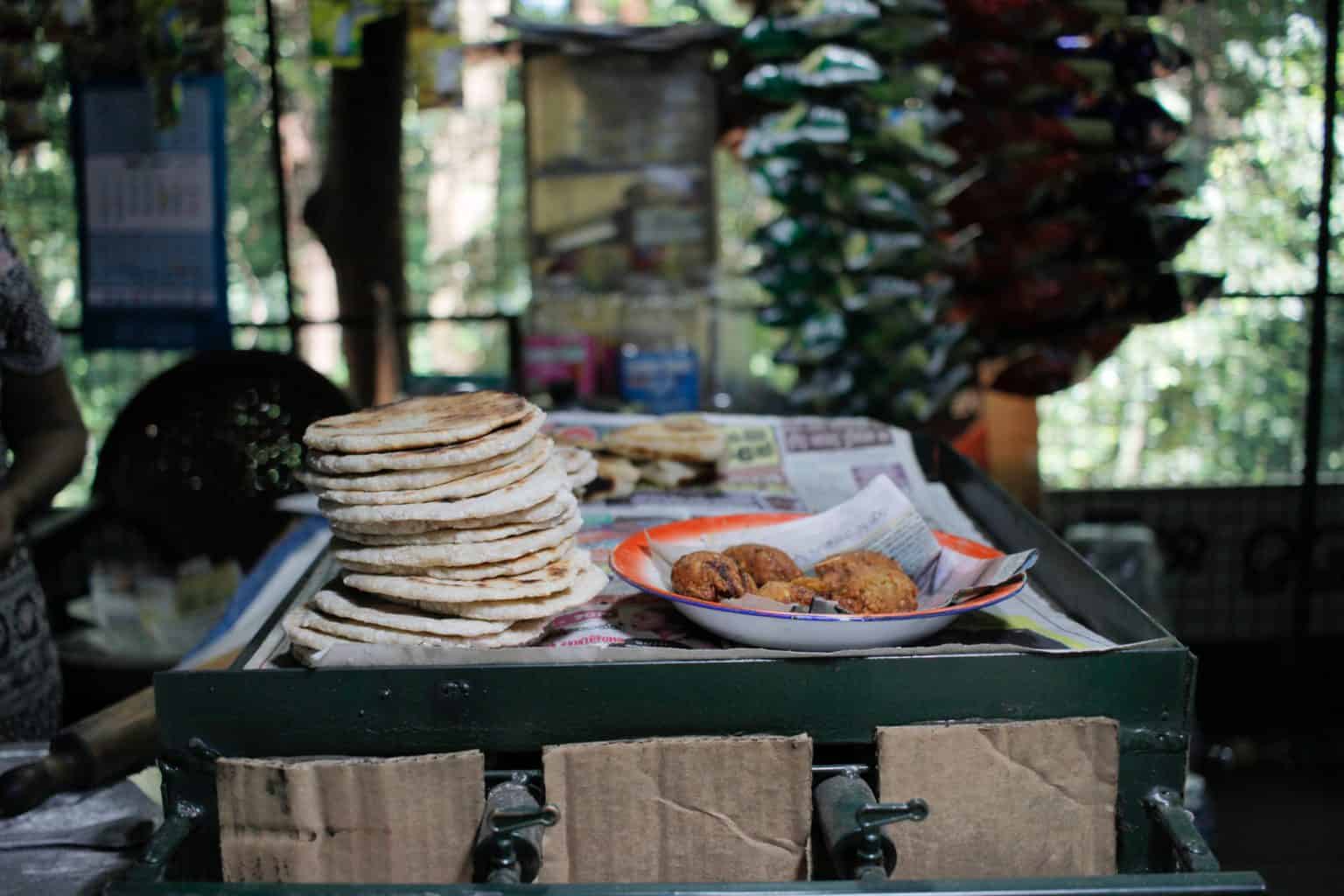 One thing's for sure – Sri Lanka certainly won't break the bank. From those uber-cheap curry plates in the local buffet joints to a rattling tuk-tuk from beach to beach, everything you're likely to fork out on a day to day basis will be affordable in the extreme.
Recent times have seen an uplift in the cost of hotels and accommodation, though that admittedly plunged up to 40% on average in the wake of the 2019 terrorist attacks. Still, you're going to get some serious bargains in the Teardrop of India.
That's especially the case if you do things local. Sri Lanka is a working example of a two-tier economy. Tourists will often pay stacks more for their avocado on toast and flat white. But you don't need to. A dal and a coconut roti combo is enough to wake up to, and you won't even notice the rupees leaving your wallet!
Some approximate examples:
A night in a midrange hotel with a swimming pool near a beach: 7,500 LKR ($40).
A selection of veg curries and rice (enough to feed a small army!) in a local restaurant: 700 LKR ($4).
A bus from Ella to the south coast (taking four hours): 250 LKR ($1.50)
A private taxi from Weligama to the airport in Colombo: 10,000 LKR ($55)
The weather in Sri Lanka
It's easy to get to grips with the weather and climate in Sri Lanka. There are two distinct seasons that happen at different times of the year on opposite sides of the island. The upshot is that there's always somewhere with sunshine, no matter if you drop in come December or June.
The pattern is broken down into the monsoons. There's the south-west monsoon (affecting the most popular beaches), and there's the north-east monsoon (affecting the top surf bays and some national parks). 
The south-west monsoon (May-September)
Rains hit the south-west portion of the island during the northern hemisphere summer. The seas get rougher, too, and it can be windy. This is hardly the time to drop the towel on the shoreline and rejuvenate – you're just as likely to get hit by a flying coconut shell than catch a tan!
Of course, things don't always go as predicted. It's normal to have some days that are totally dry with calm waters and clear skies in the tea fields and along the coast at this time of year. What's more, when downpours do happen, they can be short and sharp. Rental rates and hotels will also fall, so it's worth considering if you're watching the rupees.
The flip side of the south-western beaches being out of action is that the east coast certainly is not! Cue Arugam Bay. It's a major destination for surfers, but it's also got plenty for digital nomads in Sri Lanka – think lively nightlife, bamboo-built reggae clubs, and golden beaches.
Consider visiting: Arugam Bay, Ella.
The north-east monsoon (October-March)
Digital nomads landing in Sri Lanka any time after October get to enjoy the peak season on the south coast. Rains start falling in Arugam Bay, so the surfers tend to pack up and move west to places like Hikkaduwa, Weligama, and Hiriketiya. The Yala National Park also gets wet early on in the season, so safari goers wanting to spot a cheetah should bide their time until drier weather comes after February, at least.
As the north-east monsoon gains traction and the south-west monsoon drops away, the most popular parts of Sri Lanka hit their annual zenith. It can sometimes take until after Christmas for the best of the weather to come, but then it's all about the yellow-tinged sands of Mirissa and the lovely bays around Galle.
Consider visiting: Mirissa, Unawatuna, Galle, Weligama.
Finding places to stay in Sri Lanka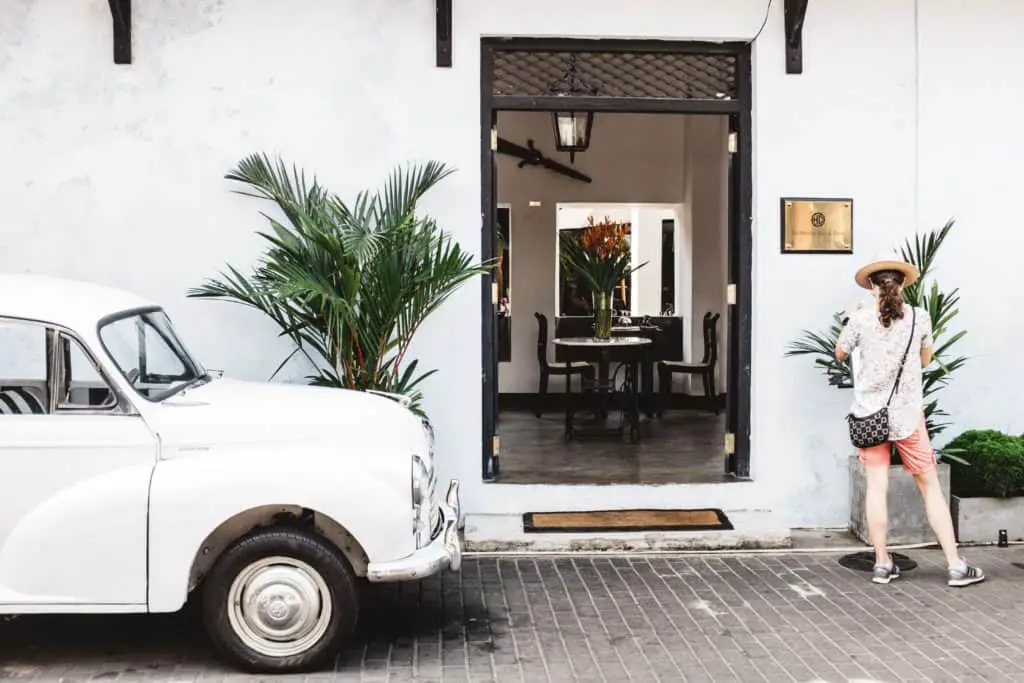 We've said it already – digital nomads in Sri Lanka won't get the same sort of uber-efficient infrastructure as they do in other Asian hubs. That goes when it comes to hunting for accommodation, too. The best tactic would be a multi-pronged approach. Use different services, reach out to Facebook groups, and get on the ground. That way, you won't miss that paradise beachside bungalow in the coconut forests when it becomes available.
Airbnb
The classic nomad option is a possibility on Sri Lanka. But it's not the cure-all solution for accommodation hunts it might be elsewhere. A lot of local bungalows and flats simply aren't listed on the service. That means choice can be limited, but also prices rise in the ones that are on offer. Just be sure to shop around, try monthly dates for good discounts, and contact hosts to ask for reductions, especially in the low season months of the monsoon.
Facebook groups
There are a few good online groups that can help you get to grips with Sri Lanka. These are largely aimed at travelers, but there's no harm in reaching out to see if anyone's got any long-term rentals or contacts. Try the Sri Lanka Surf Community (13k members) or Expats in Sri Lanka (7.5k members).
Get to Sri Lanka
Digital nomads in Sri Lanka can do no better than getting on the ground. We're certain that the biggest range of potential cottages, flats and bungalows is advertised by simply wedging a sign onto the gate. You'll also almost certainly get better deals in hotels and resorts by going to reception and haggling a price, particularly if you're willing to stay longer term.
Visas and documentation in Sri Lanka
Sri Lanka ushered in a huge change to its visa program following the terror attacks of 2019. Intended as an adrenaline shot for the country's tourism industry, visitors can now enter visa-free for up to 30 days, a period that can be extended twice (only doable from Colombo) for periods of up to 90 days. All you need is a completed online Electronic Travel Authorization prior to arrival. It can be done in the airport, but who wants to wait around for five hours when the beaches are a-calling?
Internet and mobile data in Sri Lanka
We can't say this enough – get mobile data the moment you touch down at the airport! Like India, Sri Lanka has a much more reliable 4G network than it does landlines. You won't regret the 1000 LKR you drop on the data. Mobitel comes highly recommended and has good coverage ranging from the southern beaches the mountains of Ella and beyond.
The top destinations for digital nomads in Sri Lanka
Colombo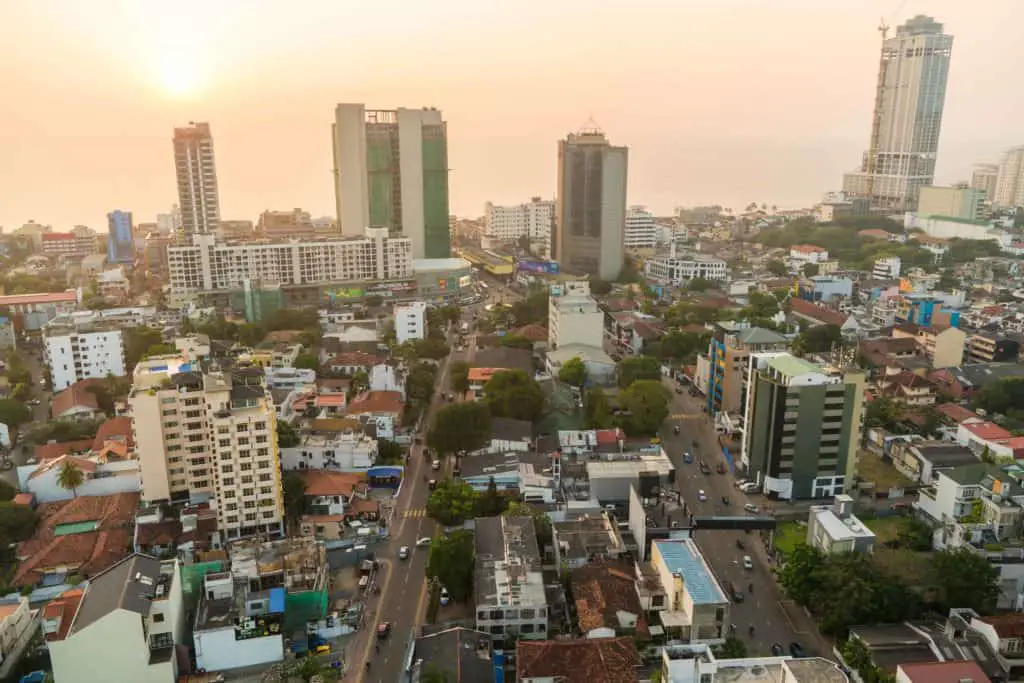 Sleepless and filled with energy, Colombo is as big as the cities get in Sri Lanka. It's the booming financial capital of the country, and the best place to be to sort out your admin – mobile data, visa extensions, that sort of thing. Of course, the keyword here is city. Life in Colombo might be easier for digital nomads in Sri Lanka (good internet, plenty of cafés) but there's no laid-back islander vibes or green tea fields.
Mirissa
It's all about the beach life in Mirissa. Hugging a headland on the south-west coast, this one's fringed by coconut trees and has more bamboo beer bars facing the Indian Ocean than you can shake your pina colada at. The main beach – known simply as Mirissa Beach – is a classic stretch of good-vibes coast life. At night, it turns into a buzzy strip of seafood restaurants and little party joints with beanbags.
Digital nomads in Mirissa can look to the quieter neighborhoods that lie behind the bay but before the main Matara Road. They are in streets where there's a mix of locals and travelers. They're also closer to the tracks that lead to so-called Secret Beach. Clue: It's not a secret anymore, but the sunsets and the little bar there are great for your post-work chillout sessions.
Arugam Bay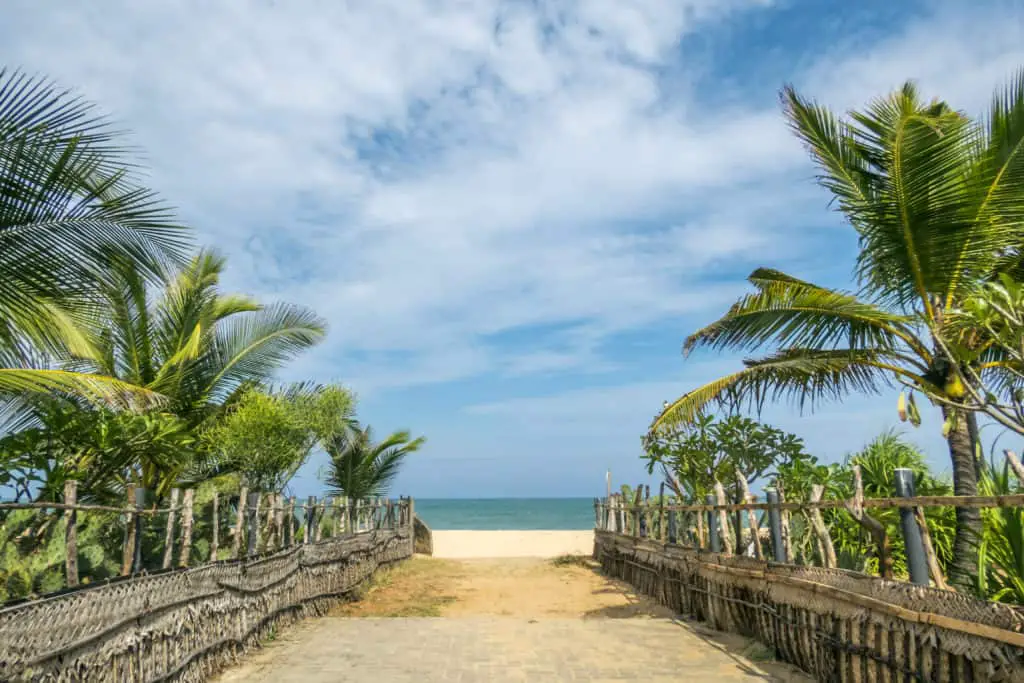 Wave mecca extraordinaire, Arugam Bay has become synonymous with the Sri Lanka surf scene thanks to its collection of reliable beach and reef breaks. They work throughout the summer months (May to October), which is also when the weather's best. That makes this town a fine alternative to the monsoon-doused beaches of the south-west coast for half the year.
But even if you don't come with the board in tow, you can enjoy something really special in Arugam. The sands are lovely, framed by rugged headlands and laced with stooping coconut trees. You could bag yourself a sea-view beach cabana to work away your days in a hammock. And there's a legendary nightlife scene – surf après and all that.
Ella
Long a backpacker favorite, Ella is perched up in the Central Highlands. It's famed for two things: mountains and tea. So, if you prefer great brews and hiking trails to sandy beaches and surf breaks, this is probably the one for you.
In recent years, the town has come on leaps and bounds. It was once just a strip of rickety shacks selling roti breads. These days, you've got reggae bars, family eateries, and some really great hotels. Be sure to conquer the trek up to Ella Rock on one of your weekends off. It's awesome.
Hiriketiya Bay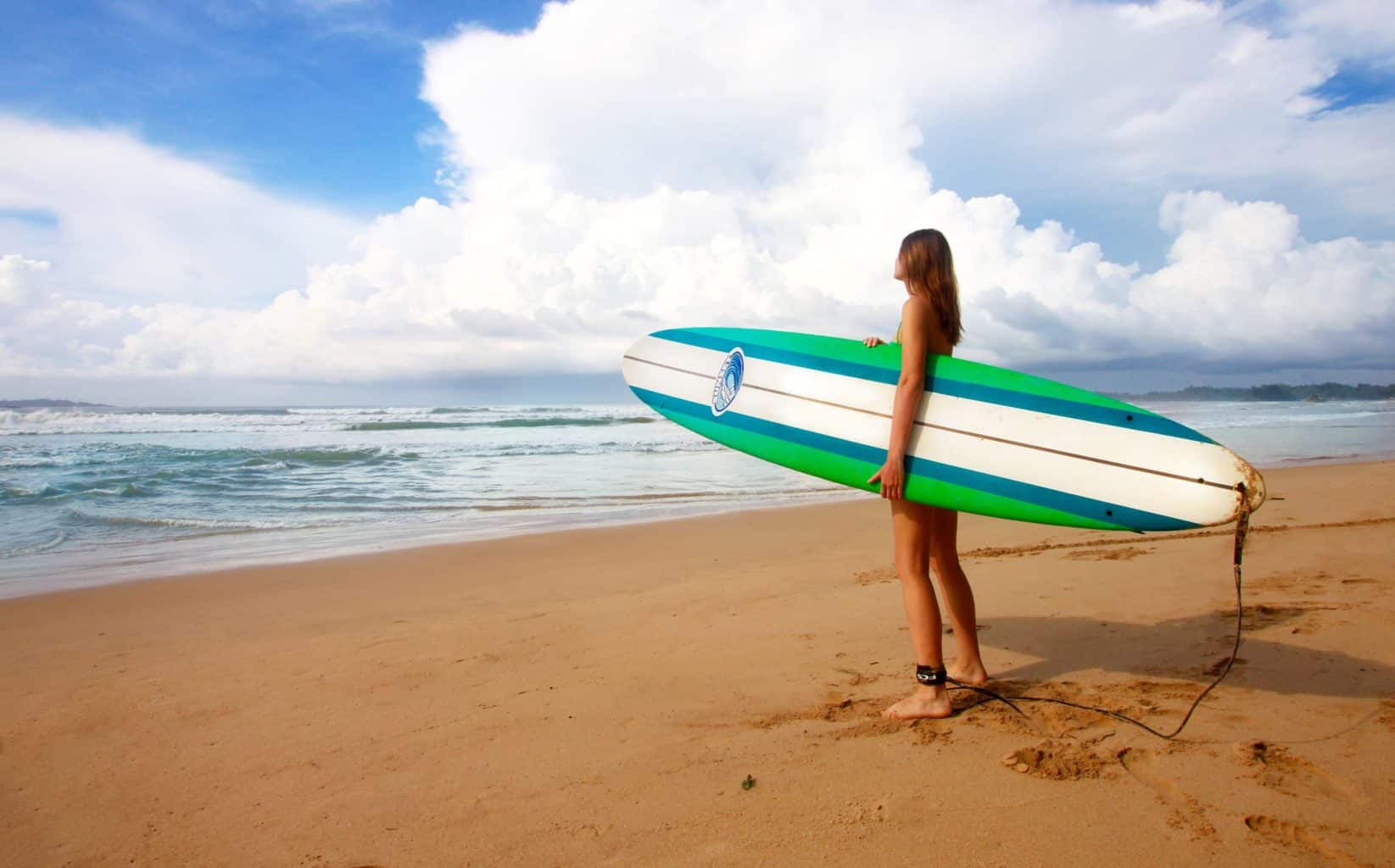 Most people will surely come for the surfing in Hiriketiya Bay, but this stunning inlet on the south coast has also got something a lot of other towns around the region don't – charm. Buckets of it, in fact. The moment you veer off the bustling Matara Road, you'll feel in a whole other world. The roads turn to mud tracks. The buildings become beach shacks and surf shops. There are little cafes nestled under lanky palm trees.
The piece de resistance of the place is Hiriketiya Bay beach. A halo of gold sand, it's got board rentals, little restaurants, and loads of places to kick back and relax after a day at the laptop.
If you've got anything to add to this guide for digital nomads in Sri Lanka, we'd love to hear it in the comments below!