This is going to be a weird one. I know, I know: Marbella is not my kind of destination, hold that dropping jaw. Not that I have a personal problem with more high-end locations. But I've always opted for low-profile, rough-on-the-edges kind of places during my nomadism. Marbella looks more like a perfectly happy Truman show, where the sun always shines, and the people always smile. I'm not getting on my high horse here: I found Marbella to have quiet, colorful corners that fitted in well with my usual habits.  Costa del Sol is a dreamy county that I recommend visiting with a car, to really get into all those wonderful niches and villages. It has indeed become a sort of modern hub devised for major tourism, and that's something that can be very much loved or plainly hated. Yet, the modernity of the area merges well with the nostalgic remains of multiple civilizations, and Costa del Sol dresses up with thousands of shades because of that. Marbella retains much of this historical beauty, on top of offering its guests comfort and summery vibes all year round. Plus, you know I can't say no to a place with great food.
>> Read More: Our ultimate guide to Spain for digital nomads.
1. Puerto Banús
Very few spots on the globe will make you feel as luxurious as Puerto Banús does. Yeah, sure, it'd be way better if you owned a yacht here; but strolling on the pier admiring the fancy view is anthropologically fascinating, nonetheless. This is the perfect place to hang out with a drink in your hands and enjoy the nocturnal movida. Puerto Banús shines like a diamond at every corner, and you won't be getting much sleep between one disco party and the hundredth flashy, expensive cars blinking at you. If that's not your kind of fun, you can still opt for a quiet stroll on the beach, maybe dipping your toes in the fresh waters and admiring the mountain tops all around – did you know you can see all the way to Africa from Marbella?. Who knows, you might bump into a friendly local and get an exclusive invitation on a yacht. While I do recommend getting a drink here, restaurants are quite overpriced, with the location weighing in way more than the quality of the food. So maybe head here after your meal, or, you know, befriend the yacht guy with a good grill on board.
2. Old Town
The true heart of the city, a timeless gem that stole my heart: the old town of Marbella is nothing like its surroundings. It's the cleanest and most colorful living fairytale ever – even the garbage bins are all dressed up in rainbows and pretty drawings. And the proof lies in my album folder filled with pictures of garbage cans. Take a stroll around flowery alleys and terracotta rooftops and get to the beating heart of the old town: Plaza de los Naranjos (aka the Square of the Orange Trees, if your Spanish knowledge is limited to the lyrics of Despacito). I think my happy place looks something like this square: bright tiles, orange trees, bougainvillea on the balconies, white and pink and turquoise walls, fountains and friendly beach umbrellas. And yes, I kind of had a feeling those oranges weren't meant to be eaten, but curiosity kills the cat and I'm all furry ears and tail. A bitter experience, but I sacrificed my tongue papilla for you – you're welcome. The old town preserves historic remains that recount the passage of Romans and Moors throughout the centuries. Just go observe the castle and the walls embracing the town, or the beautiful La Encarnación church. And after a fascinating and informative tour, make sure to enjoy a glass of wine and soak in all the chromatic peace of this place.
3. Beaches and Paseo
Other than yachts and fancy restaurants, Marbella counts multiple blue flag beaches, all of them with palms and dark sand. There's a long, paved promenade that stretches right along the beach, the so-called Paseo. I recommend starting your itinerary from the beach Playa del Faro, and walk all the way to the Embarcadero, a charming pier with a breathtaking view of the sea. Just to give you an idea, it looks like a frame of that romantic bridge scene in La La Land – minus a smoking hot Ryan Gosling singing to strangers. It's an absolutely charming stop to end your quiet walk, lulled by the waves and the seagulls (when they're not aiming at your food). Evening strolls here are the best, especially with a setting sun, as the breeze hits the spot; and there's always a chiringuitos bar around the corner in case you need to hydrate your tired self.
4. Golf
Trust me, I feel you. My only attempt at golfing previous this one resulted in a pathetic shower of balls into a pool. Luckily, only my aunt was there to pity me. Marbella offers dozens of golf courses that will please the pickiest sheik. Some of these are obviously exclusive or very high-end, and only accessible under specific requirements. Because boy, do people there love golfing. But there's also a few pretty golf courses for newbies like your girl here, for example El Soto Golf Club. And of course, you get to rent all the equipment right on the spot. Even if you have no practice with your swings, you'll get to admire the fancy greenery of their golf fields, happily driving a golf cart like a kid at a playpark, all while wearing the cutest outfit. Just don't forget to bring your hat: the Spanish sun won't spare no one.
5. Tapas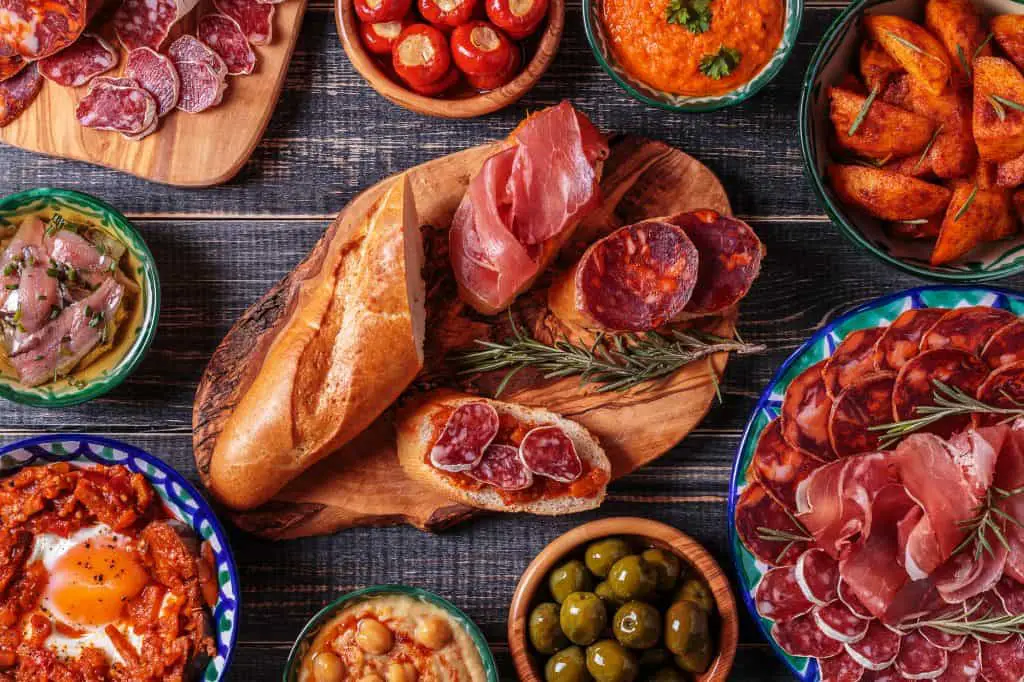 I've got a confession to make. My stay in Marbella occurred when I hadn't really turned to the vegetarian lifestyle yet. And while now my memory is tinted with a blue shade, I gotta admit that right in Marbella I had the best filet of my life – so past me feels obligated to give credits to Origen restaurant. Forgive me animal kingdom. However, you're in Spain my friend, so you can skip meat altogether and go for the true experience: tapas. Luckily, you won't need to hit any fancy, bougie restaurant to get a tasty bite of these treats. Hidden from the tourist's gaze yet close to the prettiest beaches in Marbella, Lekune stands out for its bright concept of food service. This humble place feels a bit chaotic, but in a good way: there's not much space to sit, but have faith, food will come to you. Every 10 minutes, the kitchen pops out a new type of tapas and brings the tray to the crowd: you just gotta be fast enough! The only thing is, you'll probably lose track of how much delicious tapas you're ingesting, because they just keep coming like an amazing avalanche. The toothpicks piercing the tapas will make for your final check, so don't use them to poke people stealing the last tapas on the plate.
6. Lanes and parks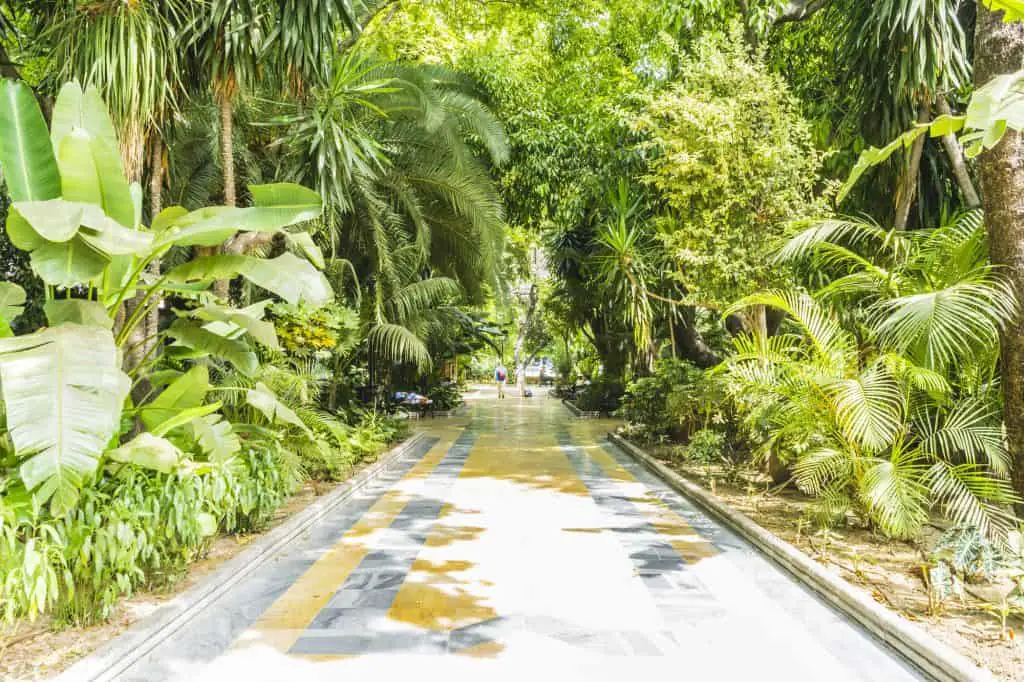 One last tip, in case you have to digest all those tapas now. Albeit quite known, the Avenida del Mar is worth an afternoon walk. This artsy street hosts a series of bronze sculptures made by famous Salvador Dalí, all of them quirky and fascinating to the right point. No matter what direction you take, you'll end up with a gorgeous view either way. The Avenida stretches between the sea and the beautiful Alameda park. Here, you'll be able to rest your stuffed belly among trees and fountains, sitting on a pretty bench covered in Andalusian tiles. The birds are always singing and though the park is rather small, the locals really make the most of this quiet, green heaven.