Many foreigners who visit Mexico go to its main tourist cities such as Tulum, Cancún, Puerto Vallarta, or Cabo San Lucas.
Morelia isn't on many people's lists.
If it wasn't on yours, then it should be!
This capital city in the state of Michoacan is highly underrated. Its entire historic center, filled with over 200 pink stone colonial buildings, is a UNESCO World Heritage Site.
Although it's known for its old-world feel, the city has plenty of modern restaurants and hotels for visitors to explore. 
> Read more: The ultimate guide to Mexico for digital nomads.
It is a picturesque blend of old and new that is well-known for its welcoming residents and bustling city life. You could lose yourself (in a good way) strolling through its charming cobblestone streets and visiting all its monuments.
You won't be disappointed if you visit here.
If you're interested in visiting this beautiful city, here are eight exciting things you can do in Morelia:
8 Exciting Things to do in Morelia
1. Walk around the historic center
Morelia has a relatively large city center that combines elements of Spanish and Mesoamerican styles. Many of its buildings have pink stone, which is characteristic of the area.
Its architecture is a stunning blend of Rennaissance, Baroque, and Neoclassical styles.
In the center, there are 249 different monuments that you can explore.  Twenty-one of these are churches, and 20 are civil constructions.
Often, historic centers only span a few blocks, but it is more than just a few streets in Morelia.
Within this area, you can find restaurants, bars, and shopping areas. 
The historic center is charming wherever you go.
2. Explore the Morelia's stunning buildings
Morelia has more than its fair share of spectacular buildings.
Buildings that you should visit include:
Palacio de Justicia (Justice Palace): You need to check out some of the impressive murals depicting Mexican history housed in this building's stairwells.
Palacio de Gobierno (Government Palace): Just a block away from the cathedral is Government Palace. Today it holds the Michoacan state executive branch but also has some spectacular historical murals.
Conservatorio de Rosas (Rose Conservatory): While its name implies that it might be a garden, it is more famous for its music. It serves as a music education institute where you can hear some fantastic sounds.
3. Visit the Morelia Cathedral
The Morelia Cathedral is one of the crowning jewels of the city. It is an impressive Baroque structure that looms over the city center. Completed in 1744, it took around 84 years to build.
When the sun goes down, revisit the exterior to see a spectacularly illuminated façade.
The inside of the structure is also remarkable. It has an impressive collection of paintings and sculptures. You can also see the largest organ in Latin America brought from Germany in the early 1900s.
If you decide to enter the Morelia Cathedral, dress respectfully and stay quiet since it is an active worship space.
4. Relax at the Plaza de Armas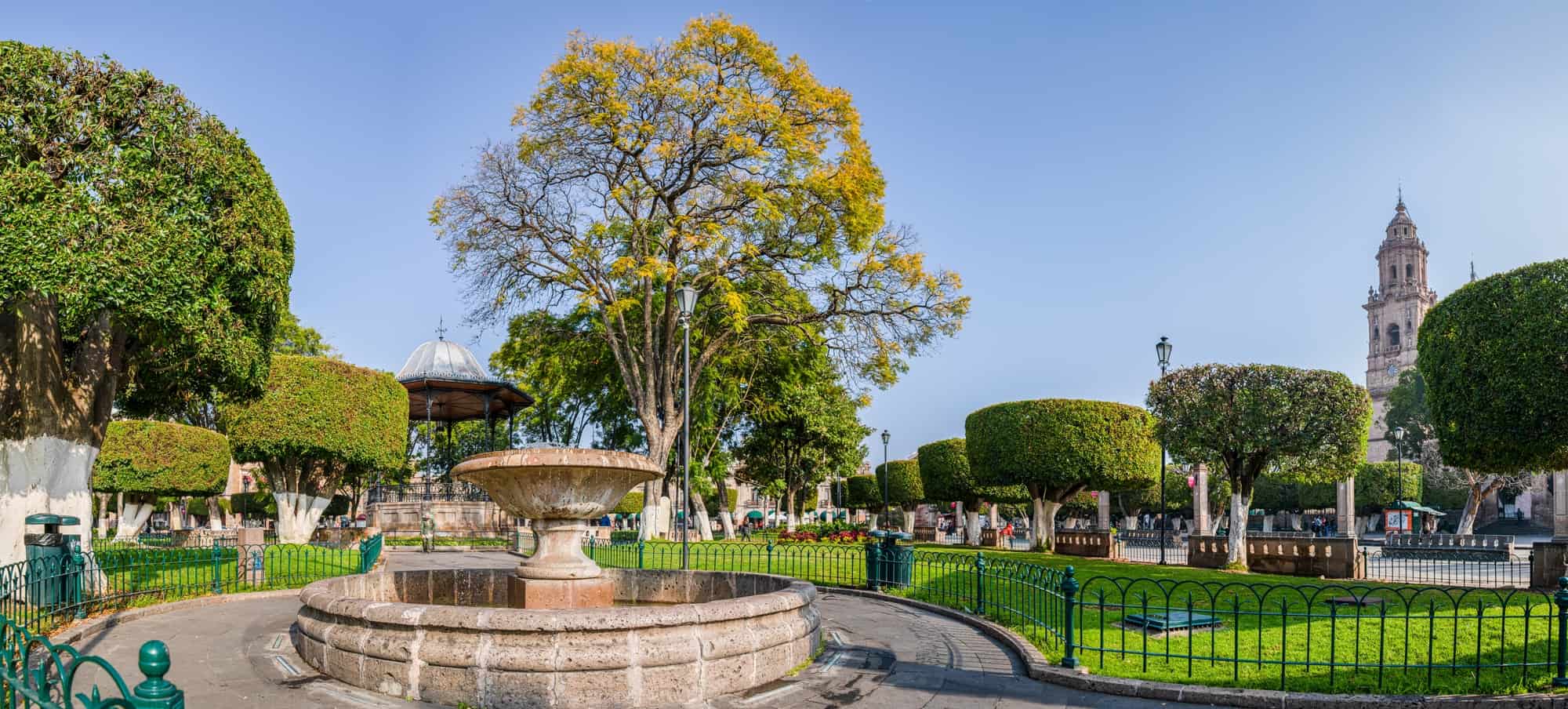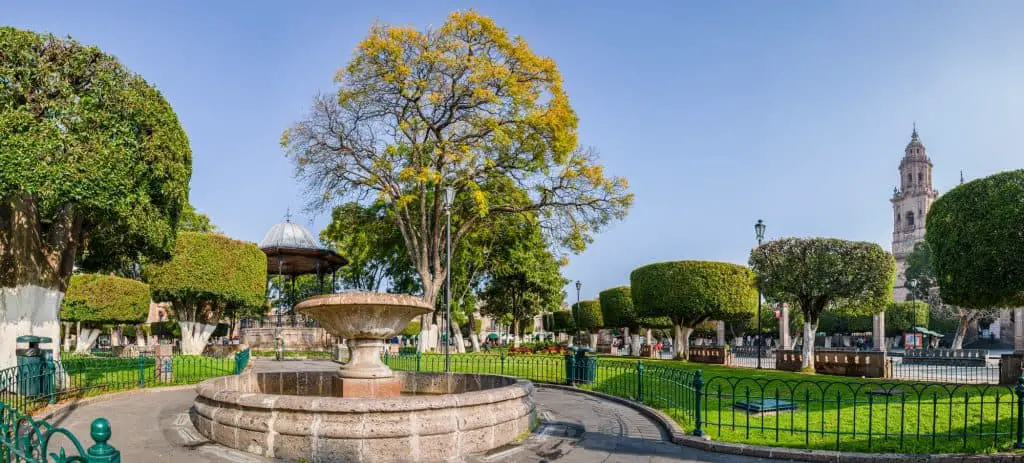 Just outside the Morelia Cathedral is the Plaza de Armas.
This plaza serves as Morelia's main square, and you can find it nestled between many of the city's main attractions. There are beautiful fountains, nicely manicured lawns and trees, and gardens in this plaza.
It is a great space to catch some spectacular views of the cathedral, especially at night. 
If you're tired of walking around, there are plenty of places to relax, and people watch. You can grab a paleta (popsicle) from one of the street vendors and cool down.
The park has benches everywhere where you can rest.
5. Visit the Morelia Roman-style aqueduct
Mexico is not a destination where you would assume you'd see a Roman-style aqueduct, but in Morelia, you can.
You don't have to travel far to see it. The aqueduct starts from the city center and radiates outwards. It spans for a little over a mile and has roughly 200 arches.
This 300-year-old aqueduct runs through many iconic monuments so that you can see many sights at the same time.
The best way to see this aqueduct is by starting at Tarascan Fountain and following it to Plaza Morelos.
Don't forget to snap a few aqueduct pictures along the way.
6. Explore the Mercado de Artesanias (Handicraft Market)
If you like to buy unique handicrafts, you'll love exploring the Mercado de Artesanias.
Here, you can purchase quality, locally-made Mexican handicrafts.
This market houses vendors from Morelia and the surrounding areas. Each village and town has its unique specialty.
You can also snack while exploring the Mercado de Artesanias.
Vendors sell traditional treats in market stalls.
Two must-try sweets are ates (fruit paste sweets) and chongos (honey, cinnamon, and milk treats).
You'll have a ton of fun walking through the market and seeing all of the crafts available.
You may even find something unique to bring home with you!
7. Try local delicacies
Morelia is known for its delicious food as much as it is for its historical sights.
Some tasty treats include:
Morelian Gazpacho: Not to be confused with the tomato-based Spanish soup. This gazpacho is a refreshing cup with fruit, citrus, chili, and cheese!
Corundas: A regional, banana leaf-wrapped tamale made from corn flour that tastes oh so good fresh out of the steamer.
Paletas: These popsicles are a Michoacan classic that comes in endless flavors sold by street vendors and paleterías.
Pollo Placero: A Savory chicken dish from Morelia with spicy chile sauce, potatoes, carrots, and enchiladas on the side.
8. Participate in the Sunday morning Ciclovía
If you want to discover the Morelia on a bike, a fun way to do so is to participate in Ciclovía. Every Sunday between 8 am to 1 pm, the city blocks off traffic to create a bike route in the historic center.
No bike? No problem!
You can rent one for 10 pesos for 45-minutes, which gives you plenty of time to ride the entire route, roundtrip.
If biking isn't your thing, you can rollerblade, skate, or jog this route, vehicle-free!
The route passes by some of Morelia's most iconic sights, so this is a great way to sightsee.
Ready to visit?
If Morelia wasn't on your list before reading this article, we hope that it is now!
While it is still under-the-radar internationally, many locals love this best-kept-secret.
If you visit, you too will see what the hype is all about. 
It is a bit off-the-beaten-path but well worth the journey!