Even after so many years of exploration, they say we only know 5% of what lies in the ocean, and at times I feel the same about Italy. I've lived there for a decent amount of time, and driven my little fiat up and down, east and west whenever I could. Yet, the bewilderment of a new, stunning landscape always gets me every turn I make – which is why I should not be allowed to drive anymore. (Or maybe stop building roads next to a ditch but right in front of mesmerizing views; just a note).
Point remains, Italy is the easy choice when it comes to planning holidays, and rightly so. But if I hear "let's go to Rome or Venice" one more time, I might slap you with a pizza slice. I mean, I can understand the appeal; and I won't be that seemingly alternative soul in the room telling you you're basic. Famous locations, filled to the brim with historical artifacts, handsome statues and Fellini fountains deserve to be visited at least once in a lifetime. Yet, I am here to tell you that googling 'best holiday spots in Italy' to decide your next trip is a huge mistake. So, beach lovers, mountain admirers and city people, buckle up, because I've got tips for all tastes.
1. Pienza
This tiny hilltop village is one of my latest discoveries. Pienza is the perfect location if you're looking for romantic sunsets and oddly named streets. The heart of this towns overlooks the famous Val d'Orcia, giving out postcard-like views to all its spectators. Late-afternoon strolls here are highly recommended if you want to soak up the typical Tuscany landscape and the soft pink light embracing the rocky town when the sun descends. After admiring all the yellow hills and cypresses lines in the distance, I suggest that you cool down your selfie fever with the only thing worth distracting over: good food. You can stop at any bar or winery for a typically Italian aperitivo. Pienza is known for its famous pecorino cheese, which comes in so many flavors and it's best accompanied by a good glass of wine. If your stomach is growling already, then head quickly to the best restaurant in town, the Osteria Sette di Vino. The host of this small tavern is absolutely phenomenal, almost as much as the food. You'll be treated with the utmost kindness, given so many extra treats, and enjoy the purest, tastiest food in all Tuscany. I'm not even exaggerating. I suggest that you make a call and book a place beforehand, being the place so small and price-quality ratio so incredible. Make sure to try Cantucci with Vin Santo for dessert! Pienza isn't just a lovely place for pictures and proposal: its location is ideal if you want to go on a road trip and visit the entire Val d'Orcia. I particularly love that this town is always crowd-free, and untouched by those annoying touristy souvenirs shops.
2. Bassano del Grappa
You wouldn't find this town in the finest tourist guides, I bet. Indeed, Bassano del Grappa is a rather small town located in the Veneto region, and despite the proximity, it has nothing to do with the famous Venice. In Bassano, you'll find a long, wooden bridge right over the Brenta river, with a stunning view on green mountains and flowery balconies. At the end of the bridge, under rocky arches, there's a historical distillery called Grapperia Nardini: only here you can, and you should taste the ultimate, fortified yet sweet mezzo e mezzo. Walk around the streets to find the ancient house of Napoleon, or Hemingway's favorite spots. But the true highlight of this location is on top of its homonym mountain, Monte Grappa. You don't have to pack up a pair of hiking boots if you're not a friend of the wild. The place I'm talking about is called Sacrario del Monte Grappa, and it's easily reachable by car. It's actually a massive, white graveyard for WWI soldiers: but I promise, it's not as grim as it sounds. Its thousand stairs seem to disappear into the unknown, the fog lifts over the woods and you'll have the feeling to be walking in the clouds. It's a profound experience, even if you're not a spiritual person, you can't help being touched by the silence, the nature, and the majesty of it all. Bonus point: the way up is inhabited by dozens of chilling steinbocks and deer.
3. Polignano a Mare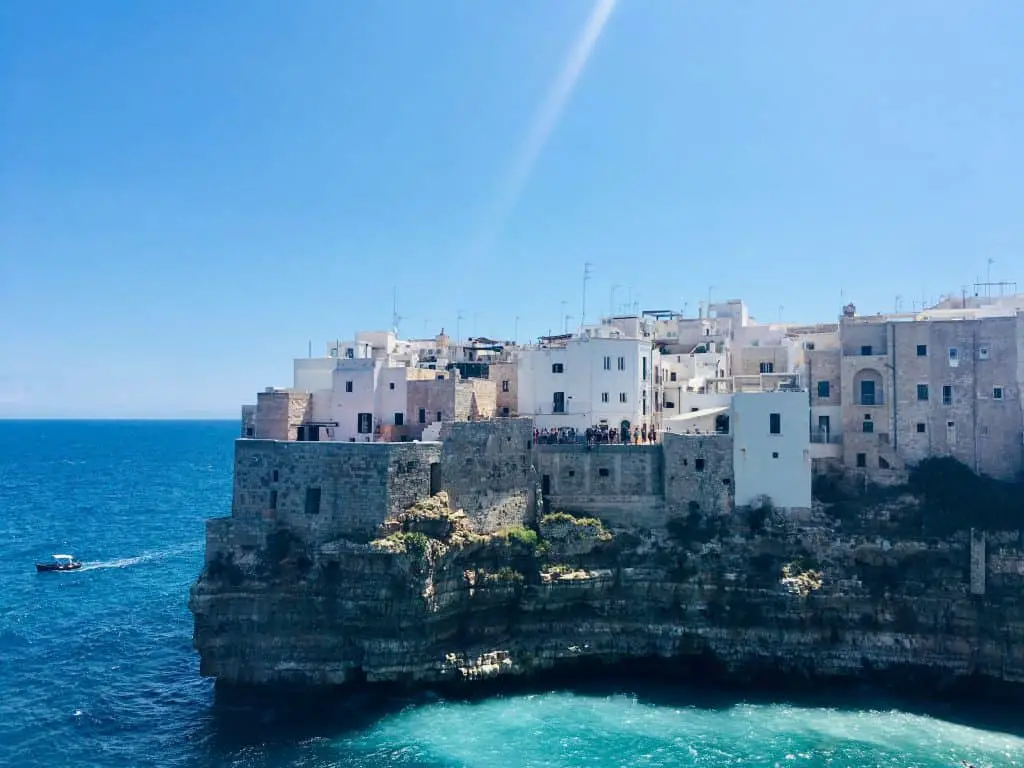 Let's head to the south of Italy to find this precious little gem that has been getting due credits only in the last few years: Polignano a Mare. This charming town in the Puglia region will sweep you off your feet with its crystal clear waters and poetic vibe. Polignano rises right out of the water, making it King Triton's favorite holiday destination. Its high cliffs hide tons of inlets, like Lama Monachile, a super romantic beach surrounded by walls of rock. The heart of the town is equally stunning, and you'll find yourself busy if you're an avid poet. Polignano has so many walls and stairs covered with beautiful poetry verses, like it wasn't romantic enough already. The colors, the peace of this place, it's indescribable. You'll obviously want to have a fish dinner here, and then head over to the bar Il Super Mago del Gelato. Here, you can try a special coffee, meshed with amaretto, lemon zest and cream.
4. Bosa
It's a matter of syllogism: Sardinia equals Berlusconi, Berlusconi equals Porto Cervo. I'm sure you have this picture painted in your head, hundreds of yachts parked in a fancy harbor, clear waters and air that smells like you should pay for it. Sardinia has the annoying ability to be beautiful no matter where you go. But on top of being a handsome fella, Bosa is quiet and off the beaten path. This small town has all there is to offer. Immersed in the greenery, you'll find plenty of trails to hike starting from Bosa, most of them ending with either a stunning view on a beach or a beach itself. The heart of Bosa recalls the vivid townhouses of Burano: all of the facades are painted with bright, instafriendly colors – to brush off your feed. On the very top, there's a cute castle, and although not much of it is left, you'll be able to get an incredible view as the sun sets. To top it all off, Bosa is surrounded by some of the best beaches ever. If you're lazy, you can opt for Bosa Marina, which is right in town: its waters are shallow and more adapt to families that only seek their Sunday relaxation. I suggest that you bring those comfy shoes, arm yourself with some bravery and walk all the way to Cane Malu and Cala 'e Moro. These two beautiful 'bays' are less than an hour walk away from the city center, hidden from tourists and uncontaminated. Once you're there, switch to a pair of water shoes, as the coast is mainly rocky. And enjoy all of them dives.
5. Siena
Let's finish it off with a widely overlooked Italian gem, located once again in beautiful Tuscany: Siena. Seriously people, why are you not swarming here in flocks? This place is ridiculously fascinating. Siena rises on top of a series of hills – hence, be prepared for some up and downs walks. Strolling around this city is like dressing in the colors of autumn: the terracotta walls hit by the sun, the dark green and red doors, the wooden finishing of the houses. My heart just melts thinking about it. The main square Piazza del Campo converge towards the ancient Palazzo Pubblico, with a pavement going slightly downhill that I certainly did not roll down on like a huge potato. The fort Fortezza Medicea overlooks the entire city, and it's been turned into a hot spot where the city organizes summer activities, festivals and movie nights. The city is surely a treat to art and history lovers, and if you're in for a bit of live music, heads out to unTUBO, a tiny yet cozy bar, perfect to enjoy a jazzy cocktail. Pro-tip: have a look at the map while you're walking around! Siena is divided into 17 districts, or better said, contrade, all named after an animal or a mythological creature. I explored them all to understand which animal better suited my spirit and which districts I would have fought in an epic battle. I felt like a kid at Hogwarts having to choose a patronus.