Warsaw is a popular European city that's known for its perfect harmony of old architecture and modern structures. That makes it a top destination for Polish locals and travelers alike.
Known as the Paris of the North, this Polish capital is home to a UNESCO World Heritage Site and is popularly lined with museums and historic churches. It also boasts high-speed Internet connectivity and a wide selection of coworking spaces – making it fit for a digital nomad to consider his temporary home.
> Read more: Ultimate guide to Poland for digital nomads.
If you're keen on traveling to Warsaw, then you came to the right place. Our ultimate guide to Warsaw for digital nomads will adequately prepare you for your next adventure.
Language
There's no denying that Polish is one of the most complicated languages out there. And in Warsaw, there is a specific Polish substratum that locals use to communicate with each other.
But before you get intimidated by the language barrier, you'd be pleased to know that most Warsaw locals are bilingual. The younger generation is fluent in English, so that's a good thing to keep in mind. If you're not a native English speaker, German and Italian are also widely spoken in the city.
Thus, you won't have a problem with navigating through the city streets, even if you don't speak Polish.
Accommodation
Finding a place to stay in Poland's capital city won't be a challenge. It is dotted with secure and comfortable accommodation options that can make travelers feel safe throughout the night. But since this is also the country's most populated city, rent prices are not cheap.
Fortunately, some platforms can help you find reasonable places to stay around the city. Here are some of the most reliable sources:
PepeHousing
This platform lists over a thousand housing options around the city. You have a variety of rental options to choose from, ranging from single rooms to studio-type apartments. Landlords are transparent about their policies, so you know that there are no strings attached. To get the best deal, it's best to stay for a longer period since monthly rentals are often cheaper.
Airbnb
Another source for reasonably-priced rentals around Warsaw is Airbnb. This platform lists down accommodation options that are fairly rated and reviewed by people who have previously stayed there. The rentals are often fully furnished apartments, so you'll surely feel at home during your stay.
Internet Availability and Strength
You'd be pleased to know that the country's average internet speed is slightly above the global average. At 54.5 Mbps, you can surely get a lot of things done.
As for the mobile internet speeds, the country has an impressive average download speed of 55 Mbps and an upload speed of 11 Mbps. And since Warsaw is the capital of Poland, you can expect that same performance everywhere in the city.
To avail of Poland's impressive mobile internet service, you will need a local sim card during your stay. A Poland sim card costs around $1.5 and is already loaded with call, text, and data credits. Topping up is also easy since you just have to visit any of the sim card provider's official stores around the city.
To obtain a local sim card, simply visit a kiosk at the airport upon your arrival. You will be required to show your passport, ID card, or residence permit before you are given one since the law requires a mandatory sim card registration.
General Cost of Living
Admittedly, Warsaw is not the cheapest city to live in. Nevertheless, most of the prices are reasonable, especially considering that it's a European country.
The currency used in Warsaw is the Polish zloty or PLN. For your reference, one US dollar runs for around 3.80 PLN.
On average, a meal will cost you around 30 PLN. But, you can also find more affordable alternatives at a milk bar, where food prices go for around 8 to 15 PLN.
While food prices seem reasonable, the rent is another story. Warsaw residents can agree that accommodation rental takes up a large portion of their income. On average, expect to pay around 1400 PLN per month for a place outside the city center, and almost double that amount if you want to stay at the center. That means preparing a monthly rental budget ranging between 400 USD to 650 USD.
Overall, you have to prepare around 2,000 PLN per month to live comfortably in Poland's capital city.
Coworking Spaces in Warsaw
HubHub
HubHub is a popular spot among freelancers, start-ups, and digital nomads because of its flexible spaces and wide range of amenities. You can opt to avail of a desk only, or get a private office if you need more space.
Among its amenities include free coffee and tea, high-speed internet access, a meeting room, showers, personal lockers, and a game room, among others. This coworking space also holds events and workshops to help you boost your productivity. And that's quite a good deal for 110 PLN per day or 500 PLN per month.
> Read more: best coworking spaces in Warsaw.
Brain Embassy
This coworking space has four locations around Warsaw, so you're bound to find one near your area. It has a professional vibe to it that allows you to stay focused and get the job done.
With around 20 working spaces available, you won't have a hard time picking the type of space that you'll need for your work. And if you have to record a podcast, the podcasting room is always waiting for you.
It also features free coffee and water, a kitchen, an on-site café, and a chill-out area for when you need to take a break.
Clockwork
If peace, quiet, and a premium working space are all you need, then head on to Clockwork. This coworking space features a tranquil ambience that's bound to help you stay focused. It also offers a variety of spaces, including a fixed desk, an open space, hot desks, meeting rooms, and even a virtual office.
Interesting services offered by Clockwork include bookkeeping services, medical care, and coaching rooms. You can enjoy all of this starting from 125 PLN per month – one of your most affordable options in the city.  
Transportation
Getting to Warsaw is easy since two airports serve the city – the Warsaw Frederic Chopin Airport and the Warsaw Modlin International Airport. Traveling to the city from the airport is easily accessible by bus or train. Taxis are also available, but fees can be pretty steep, so be warned before you board one.
Traveling within the city is also a breeze. With around 200 bus lines and 30 tram lines, we can all agree that Warsaw has one of the most organized public transportation systems around the globe. The city also has a central authority that regulates the issuance of tickets to ensure fair pricing across all transportation modes.
Ticket prices range between 3.40 PLN for a 20-minute ride to 36 PLN for a 72-hour ticket. A group ticket for up to five people who want to travel over the weekend is also available for 40 PLN. Another value-for-money option is to consider the 30 or 90-day travel cards if you're planning to stay longer.
Also, we must note that you should always have your ticket at all times when you board any of Warsaw's public transportation modes. You risk paying a fine of around 266 PLN or around 69 USD if you fail to do so – and that's a lot of money.
Must-Try Eateries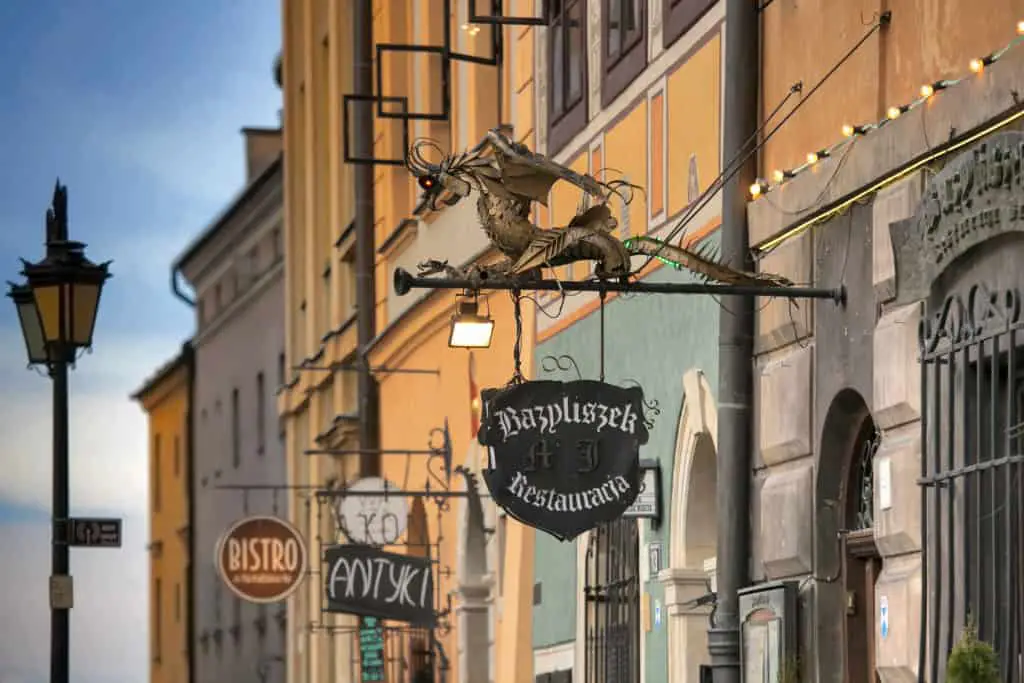 If you're looking for a taste of local Polish dishes, then Warsaw won't disappoint you. Wherever you go, you'll seem to find a restaurant or café that caters to the local taste. As a result, you're bound to enjoy the country's unique cuisine during your stay.
We recommend going to Srodmiescie. This area is lined with restaurants and cafes with different specialties. Here, you can find the snacks and dishes ranging from Poland's famous pierogi to mouthwatering kebabs.  
Aside from the eateries you can find at Srodmiescie, we also recommend you to try the following:
Manekin. Located at the heart of Constitution Square, this restaurant offers the famous nalesniki or polish crepes with various stuffing. With many stuffing combinations to choose from, you'll surely find one that best caters to your taste.  
Prasowy. Warsaw is also popular for its milk bars, which are what they call eateries with budget-friendly offerings. Among its milk bars, Prasowy is one of the most popular. It's been a local favorite since 1956, and the fact that it stays popular today makes only shows the quality of its dishes.
Falla Warszawa. If you're looking for some plant-based dishes, then head to the Old Town and look for Falla Warszawa. This restaurant offers a variety of mouthwatering vegetarian delicacies that will keep you coming back for more.
The best places to toss a few back
It's normal to unwind after a tiring at work. Fortunately, Warsaw has a lot of locations where we can toss a few backs after a long day.
Coffee shops. Warsaw has a vibrant café culture that you'd be pleased to explore. Just head on to Srodmiescie and try any of the cafes that line its streets. You'll be surprised by all the options at hand, with coffee shops offering a variety of local eats as well. You're bound to have an exciting time as you stroll along this area.
Pawilony. After exploring the Royal Route, you'll find yourself in an area that's lined with pubs along both sides of the road. This area is called the Pawilony in Nowy Swiat street, and it's the heart of Warsaw's exciting nightlife. Here, you will not only grab a few drinks, but you'll also find fun parties, enjoy local music, and other exciting entertainment.
Klub Plan B. If you're looking to meet other travelers, Plan B is the place to be. This brewpub at what's colloquially called Hipster's Square is a vibrant bar that's popular among locals and tourists. Locals often take international visitors to this pub, which is how you'll meet other travelers in such a foreign city.
Weather
Warsaw enjoys four seasons all year round, with mild summers and freezing winters.
Spring is from March to May, where we can enjoy moderate temperatures ranging from -1 to 19 degrees Celsius. Summer starts from June to August, with days dropping to a cooler 11 degrees Celsius with warmer days at 24 degrees. While summers can be rainy, it's considered the city's peak season.
From September to November, the air becomes dryer and chillier, with autumn temperatures now ranging between 0 to 13 degrees. And finally, the freezing winter starts from December to February with temperatures dropping between -5 to 2 degrees Celsius. This may be the season to exit Warsaw and visit Poland's many ski resorts.
Top Excursions around the City
There's no denying that Warsaw is a top tourist destination in Poland. Aside from its notable architecture, the city is also home to various museums and parks to explore. You'll never run out of things to see, so you know that there will never be a dull moment during your stay.
For your reference, here are some of the top spots to see around this beautiful city.
Old Town. The Warsaw Old Town is the city's most popular tourist destination. This UNESCO World Heritage Site is the oldest area n the city and contains most of Warsaw's iconic destinations like the Castle Square, the Royal Castle, and the St. John's Cathedral.
You can also opt to take a stroll around the Old Town Market, where you can find colorful buildings lining up around the town square. Aside from enjoying the colorful scenery, you can also grab a bite at any of its iconic cafes.
New Town. From the old town, walk along Freta street and head on to New Town. The New Town may not be as iconic as the old town, but it also offers a variety of scenic spots and churches for you to explore.
National Museum in Warsaw. Warsaw is also home to several museums, with the National Museum in Warsaw or NMW as the largest and one of the most iconic. With over 800,000 Polish and international artwork on display, you'll surely learn a lot after your visit.
Where you can find other digital nomads/travelers
Being the capital of Poland, Warsaw is also the temporary home of digital nomads from around the world. Meeting these like-minded travelers will allow you to enjoy your stay better since you can exchange useful tips and information to make the stay more worthwhile.
Fortunately, there are surefire ways for you to meet other people in the city. One way is through language exchange meetings. Since Polish is one of the trickiest languages to learn, a lot of foreign travelers will find these meetings helpful. Joining these meetings will not only help you learn the language, but it will also introduce you to more people.
Another option is to join a pub crawl. Because of the exciting nightlife that Warsaw has to offer, a lot of travelers prefer to go to pubs to unwind. When you join a pub crawl, you get a guided tour of the city's night scene, which is also a great opportunity to mingle with others. This is a fun way to grab a few drinks while socializing with others with the same interests.
Poland's capital city has so much to offer for digital nomads. From its wide selection of coworking spaces, a picturesque cityscape, and delicious dishes, there's no doubt that Warsaw is a traveler's haven. We hope this guide will adequately prepare you for your travel to this vibrant and historical city.