The digital nomad life is incredible in so many ways! You get to work from wherever you want and, in some cases, whenever you want. If you live this lifestyle, though, you already know that it can also come with its challenges. One of the most significant being that it can be especially hard to find a space that promotes productivity.
So, whether Costa Rica is a stop on your journey to exploring the world, or you live there and work from home (lucky you!), we've found some of the best coworking spots for you to set up shop and hammer through those emails, conference calls, and deadlines.
If you're looking for great coffee, good eats, live/work, or just a space that has the optimal design to get you into your ideal workflow – this list is sure to have something that fits perfectly with your coworking needs in Costa Rica!
1. Selina CoWork San José
Various locations
You can find Selina CoWork in various locations across Costa Rica, including San Jose, Jaco, La Fortuna, Saint Teresa (north and south), and others. Selina CoWork is known for its high-quality office spaces, which boast everything you need to get your work done. The amenities vary from location to location, but they all offer food options, guest suites, bars, fast internet, and pools (for those much-needed breaks).
As a hostel-first operation, Selina CoWork allows you to eat, sleep, work, and play all in the same place. Their locations are built with community in mind, which enables guests to meet new people in between their work and their downtime.
2. Gracias Coffee & Cowork
San Jose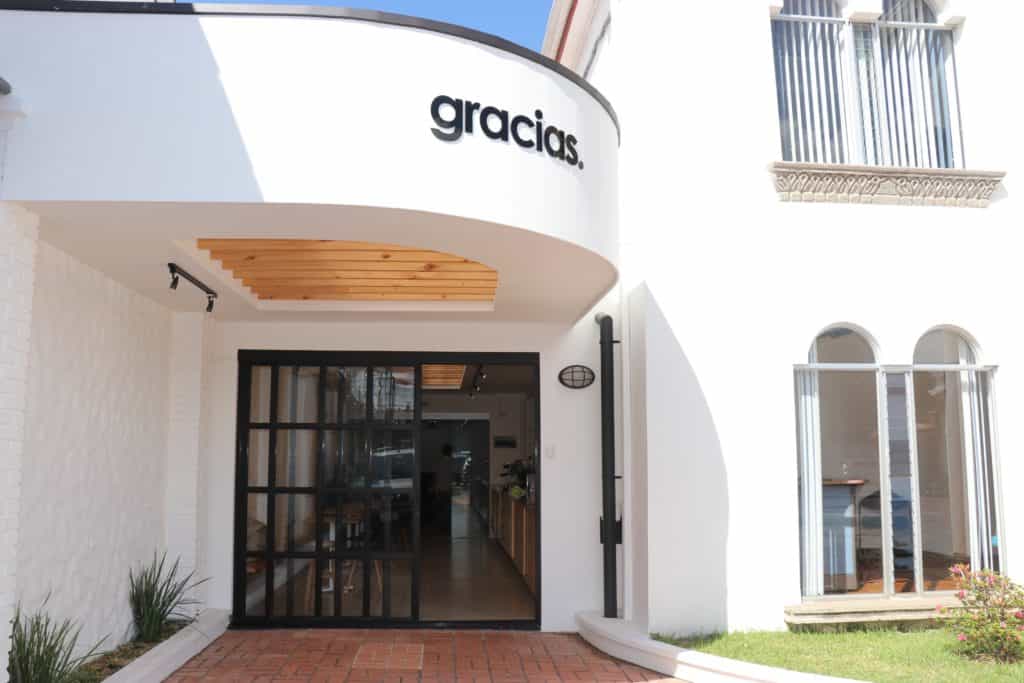 Located in San Jose, Gracias Coffee and Cowork offers guests all of the amenities they need to get the job done! With access to a recording studio, graphic design space, and digital printers, this is an excellent option for those who have to get creative work done. They have a regular open space that can be used by individuals for $10 per day, as well as meeting and workshop spaces, complete with projectors and TVs, that can hold up to 10 people.
Their internet connection is fast and reliable, and their in-house brew will have you going back for seconds and thirds as you power through your workday!
3. Puerto & Co. Coworking Space & Vegan Café
Puerto Viejo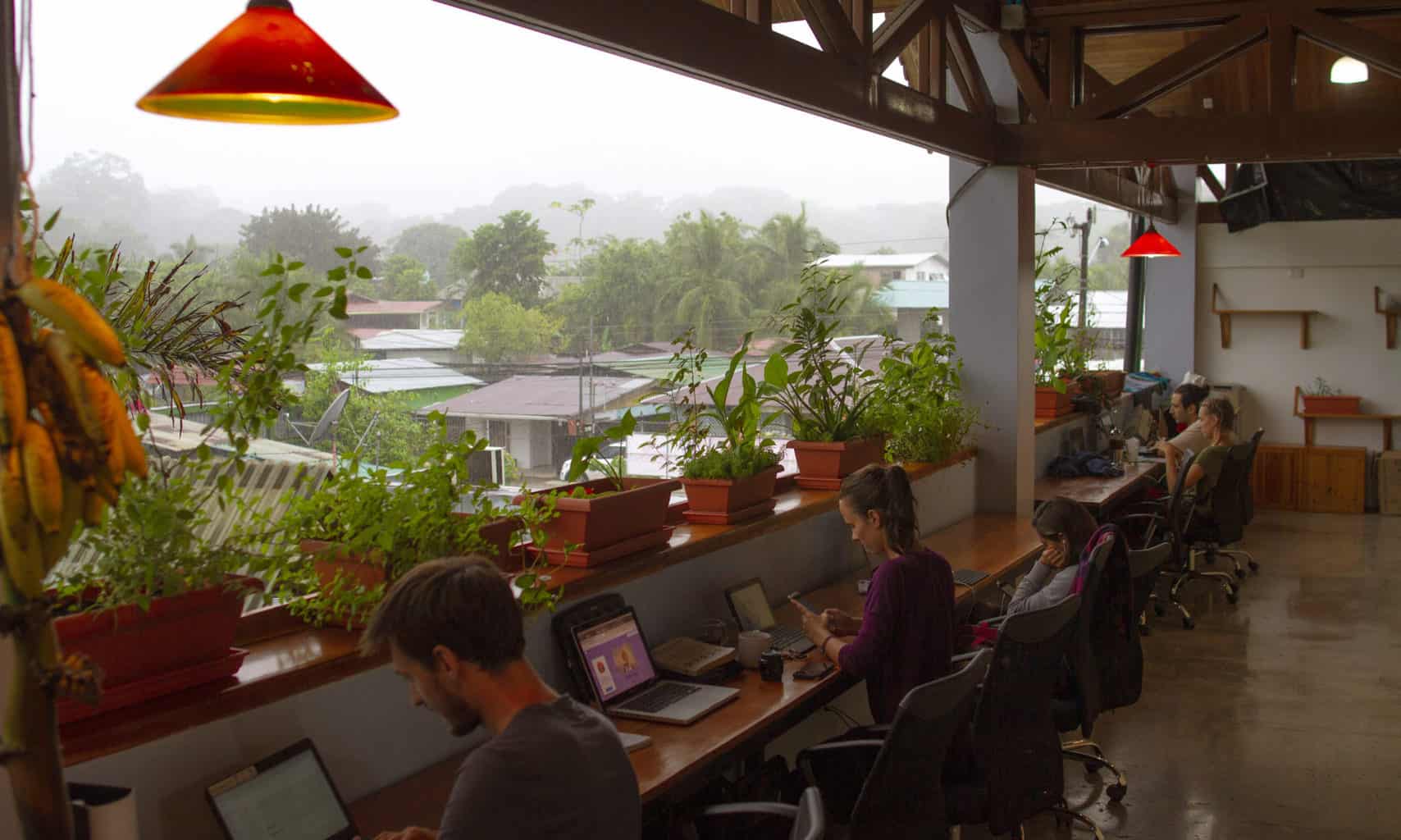 If you aren't into the big cities and you plan to spend your time in the smaller coastal towns of Costa Rica, head to Puerto Viejo. Nestled in the southeast corner of the country is the quaint little town of Puerto Viejo, where you'll find Puerto & Co.—one of Costa Rica's most relaxed coworking spaces. Bonus: If you are a vegan, or simply prefer to eat super healthy, you will fall madly in love with your meal options at this coworking space!
Puerto & Co. is conveniently located in the center of town, giving you access to the little shops and amenities Puerto Viejo has to offer. The lounge portion of the café is open to the outdoors, which allows you to get your work done while enjoying some fresh air.
There are over 20 desks with comfortable office chairs, two meeting rooms that can accommodate four to six people, and a lounge area with loads of tables and comfy bean bag chairs. Puerto & Co. offers its guests a fast and consistent internet connection, delicious organic coffee, and an impressive vegan menu, which includes a variety of bowls, smoothies, and baked goods. Prices vary, but you can pay by the day, week, month, or even hour, which includes 10% off all food and drink items while using the space.
4. Creasala Coworking
San José
Creasala offers everything from coworking areas to private meeting spaces to rooms with full A/V setups for workshops or courses. It is a great option for any digital nomad looking for a lovely place to get work done in Costa Rica's bustling capital, San José.
With daily coworking rates starting around $6 per day, which includes free coffee and high-speed internet, this is an excellent spot for freelancers and solopreneurs (someone who runs their business alone) to set-up shop and work through their projects with no distractions. For larger gatherings, like meetings and workshops, Creasala has enclosed spaces with A/V and whiteboards. Check their site for rates or contact them to get a quote.
5. LoCoworking
Samara
If "the black hole of happiness," also known as Samara, is on your list of places to stay in Costa Rica, then LoCoworking will be your go-to office space during your time there. LoCoworking is the first shared office space in Samara and is known as a hotspot for artists, entrepreneurs, and digital nomads from around the globe to meet, work, and get inspired.
This fully stocked office space includes parking, event rooms, high-speed internet, air conditioning, standing desks, locker, and even a book exchange! It is a great place to surround yourself with other like-minded remote workers. You can also take your breaks at the beach, which is only a three-minute walk away!
6. Sand & Surf Co-working
Tamarindo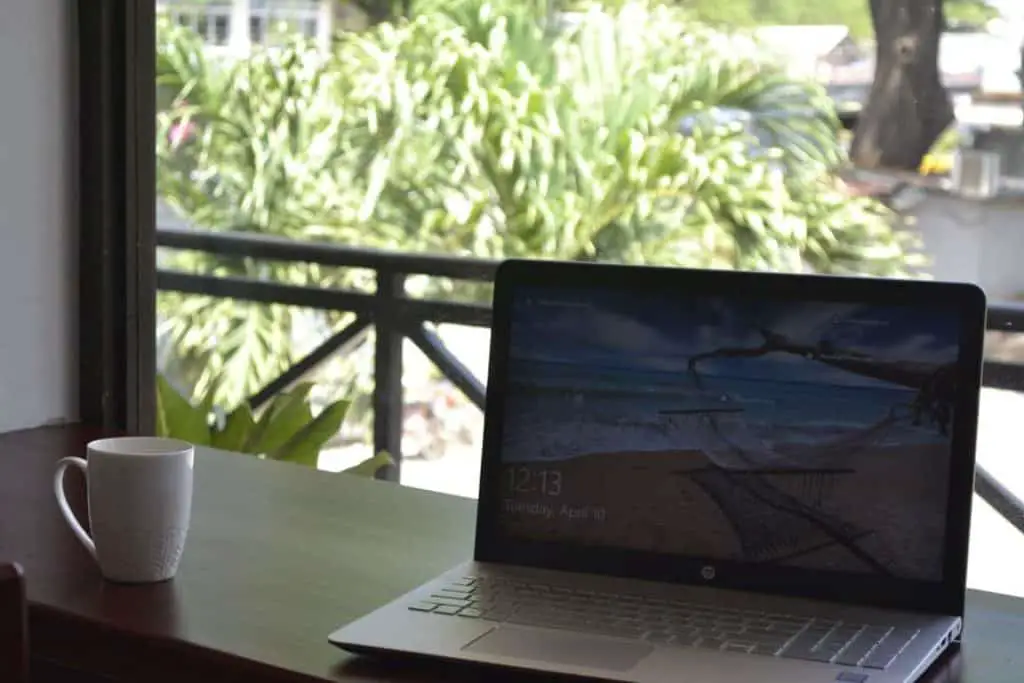 Offering 24/7 access to remote workers, Sand and Surf is a clean, modern space located in the peaceful coastal town of Tamarindo. With daily rates starting at $15, guests have access to high-speed internet in an elegant and welcoming space. For those who need a little extra concentration or a quiet area for conference calls, you can rent private offices for $25 per day. Sand and Surf is a nice no-frills option that will give you all of the necessities required to get you through your workday.
Plus, its location is perfect—you can take your breaks at the beach or hit the waves after a busy day of teleconferences!
7. SkyLoft Coworking
Santa Teresa
Located in the bustling town of Santa Teresa, SkyLoft is one of the more unique spaces on our list. They offer an open-air environment for entrepreneurs and digital nomads alike with the option to rent out a desk in their inspiring and highly productive setting.
Aside from making use of their desks and office space, you can enjoy a chill lounge and an outdoor terrace along with a trampoline available to members and a mix of top-notch amenities that they offer. And if you're looking to take a break, you can take an ATV ride through the lush rainforest, ride horses on the beautiful beach and go for a quick dip in the warm tropical waters that Costa Rica is known for.
They offer a variety of rates, starting at a daily rate of $24.00 USD to a monthly membership that'll run you $279.00 USD.
8. Impact Hub San José
San José
San José is enormous, so here's another excellent option for your coworking needs if you are staying in this Costa Rican capital. With entrepreneurial programs, innovation consulting, future skills workshops, and creative spaces, Impact Hub offers its members several resources while living the digital nomad lifestyle. Part of the broader community of Impact Hub's located all over the world, their San José location offers guests the opportunity to work with and meet other like-minded travelers who are part of a broader community embracing the nomad lifestyle.
Impact Hub is a hidden gem, but once you locate the little red unmarked door, you will find behind it a vast workspace filled with little nooks and hammocks for you to work on your laptop while enjoying their rich, delicious coffee. They offer rooms equipped with A/V for meetings and small events, and you can use the space as a guest or become part of the more substantial Impact Hub network—offering you the opportunity to work in their coworking spaces across the globe.
---
Costa Rica is a beautiful country, rich in nature and known for its sand and surf. If you're a digital nomad, and you haven't already been to this country, it's probably on your list of places to work from remotely. The affordable accommodations and abundant access to nature offer visitors numerous options for spots to relax in between their workdays. And, as it continues to gain popularity among digital nomads, more and more great coworking options keep popping up!
So, if you're looking for the ideal destination that is almost always sunny and beautiful, affordable, and where you can get some actual work done (after those early morning surf sessions, of course), then Costa Rica is the place to be!