Thailand, a place for beaches, bars, and elephants…right? For the typical traveler, this is exactly what it is; however, recently, more professional nomads have sought out Thailand as a place to work.
These are the people who work and play, sightsee, and get some productivity time in along the way. For these professional travelers, they need spaces to work. Across Thailand, there are now hundreds of coworking spaces that offer wifi, meeting rooms, hot seats, and even hammocks!
> For Bangkok only: Best coworking spaces in Bangkok.
All in all – there is no better place to infuse work with relaxation.
From big city living in Bangkok to island beach bumming in Koh Lanta, these are the 6 best coworking spaces in Thailand:
1. Hubba Thailand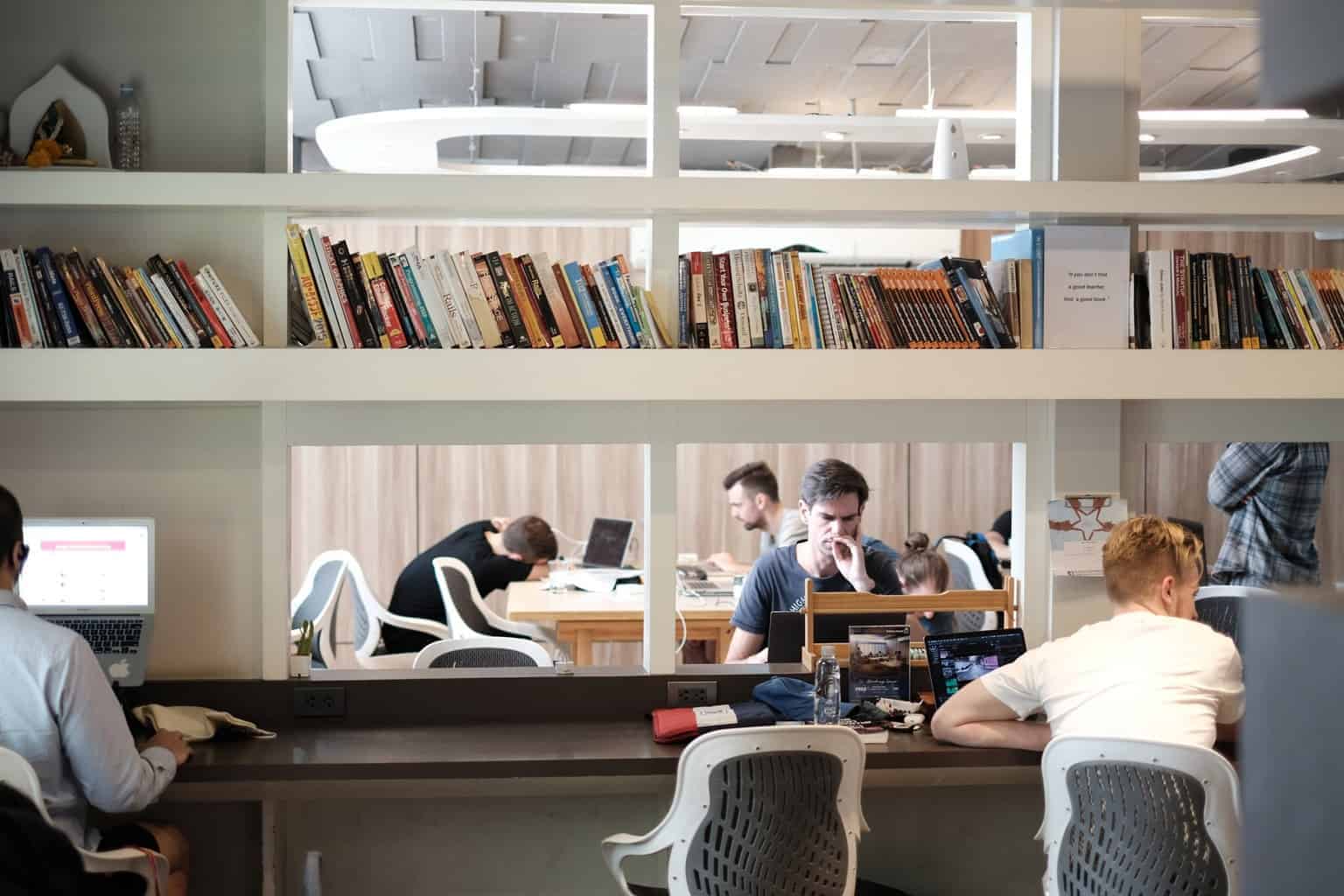 A collaborative environment enriched with people across different walks of life, different goals, and different ideas. There are currently 3 Hubba coworking locations all within Bangkok, which are all accessible through the BTS.
They offer meeting rooms, private offices, power lunches, and even monthly events to spice things up. There are also regular meetups where people discuss their projects, interests, or simply share life stories with each other. And they even host ecosystem events for corporations as well!
As an environment to stimulate growth and innovation, Hubba focuses on teamwork and community collaboration to achieve your goals. It is open every day, except Sunday, from 9 a.m. to 6 p.m. And in terms of costs, it'll only run you a very reasonable ฿265 a day.
2. KoHub, Koh Lanta
Located on the island of Koh Lanta, this coworking environment offers a much more relaxed and calm meaning to the words "work environment." This modernized take on island life (or however you would like to envision it) boasts high-speed wifi, a tropical garden, hammocks to ease your back, skype rooms, and even co-living accommodations so you can sleep where you work!
KoHub is located only 5 minutes away from the beach, so if you need a break and want to take a dip – it's the right spot for you. It's open 24/7, 52 weeks a year, with the reception desk being open from 8 a.m. to 6 p.m.
The daily rate is a meager ฿400, but the monthly packages are where long-term tenants really start to see the savings!
3. The Hive, Thonglar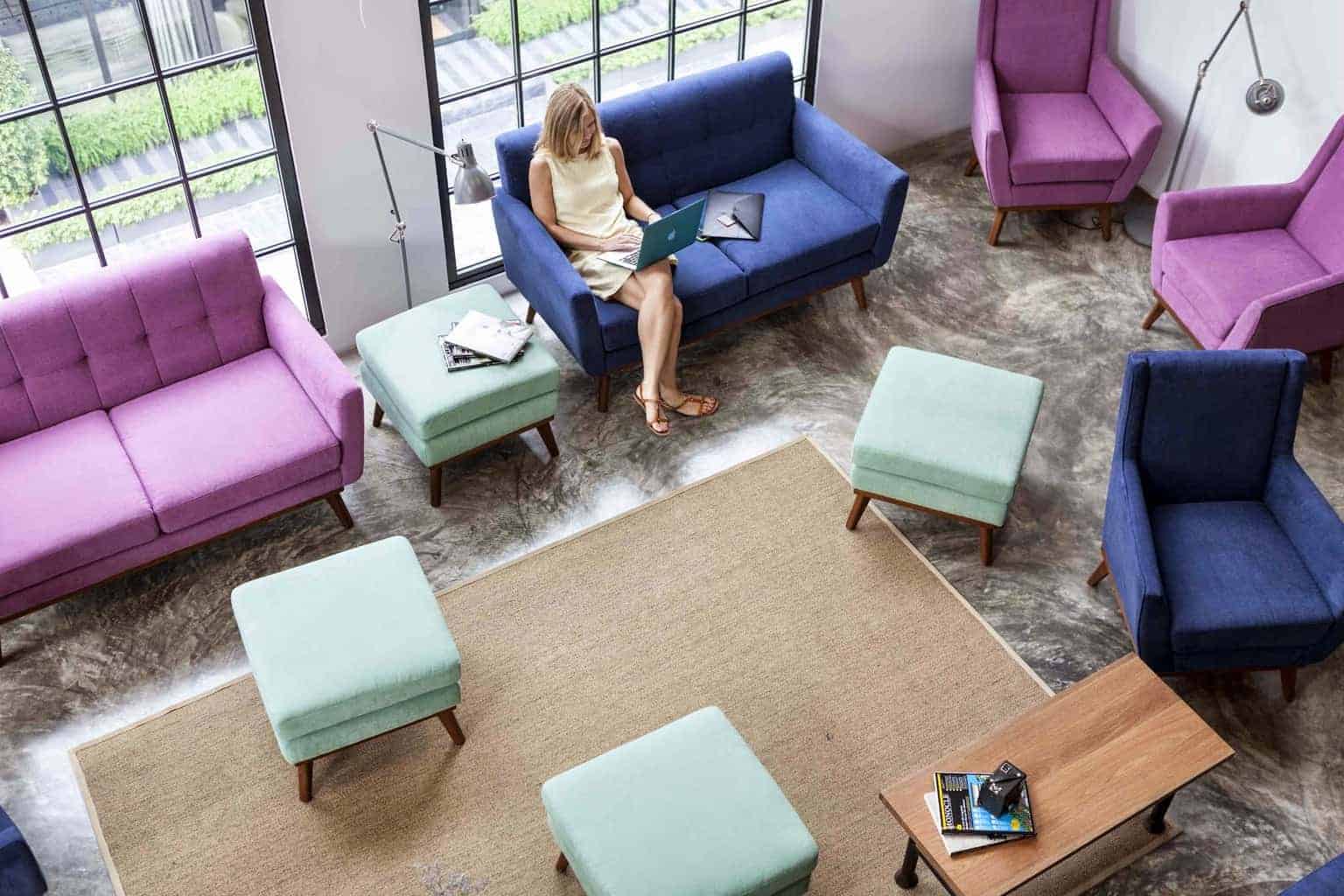 This is another cool coworking spot located in Bangkok. This amazingly designed, open-office environment provides some vibrant, productive spaces to incite creativity and success for all of its tenants and visitors.
The Hive's "key to success" comes from its work environment. The lush and spacious area helps to alleviate any stress built up from grinding on the go. And with a rooftop café, it also gives people a break from their daily activities. The Hive offers private offices, hot seats, a dedicated desk, and meeting rooms/event venues. And if you want to try some rooftop yoga or a meetup lunch, The Hive hosts a number of monthly events open for anyone to join.
It is open from 8 a.m. to 8 p.m. every day. And at a very reasonable ฿350 daily, it provides an affordable and accessible work environment. Keep in mind that there is also another newly opened location within Bangkok, which might be situated closer to your living accommodations.
4. Glowfish, Sathorn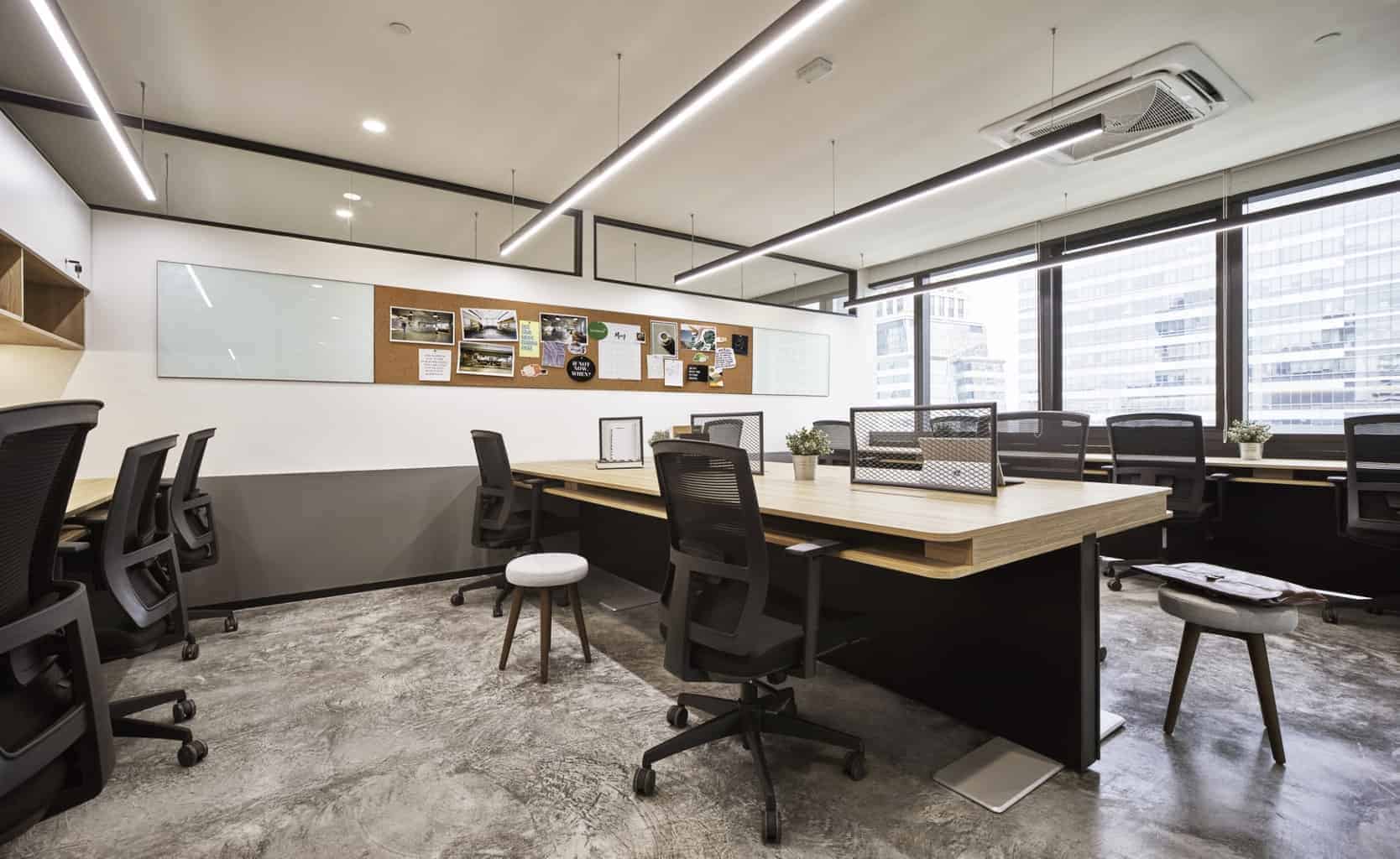 This large, spacious environment aims to bring your daily life right to your fingertips. Giving you access to just about everything from dining halls to fitness gyms – it aims to make life accessible, enjoyable, and easy for the working traveler.
Glowfish takes the stress out of classic work environments and instead fosters productivity, business growth, and personal lifestyle through innovation. In addition to classy eating and great spaces to work out, it provides shared workspaces with hot seats, meeting rooms, and even conference halls. And it definitely is not only a place for small start-up companies. Rather, it's a place for individuals and entrepreneurs, no matter the size of their hustle.
The doors are open from 8:30 a.m. to 5:30 p.m. Monday through Friday. And while it starts from ฿12,000 per month for a personal desk, Glowfish provides hefty discounts depending on the length of your stay.
5. Hub53, Chiang Mai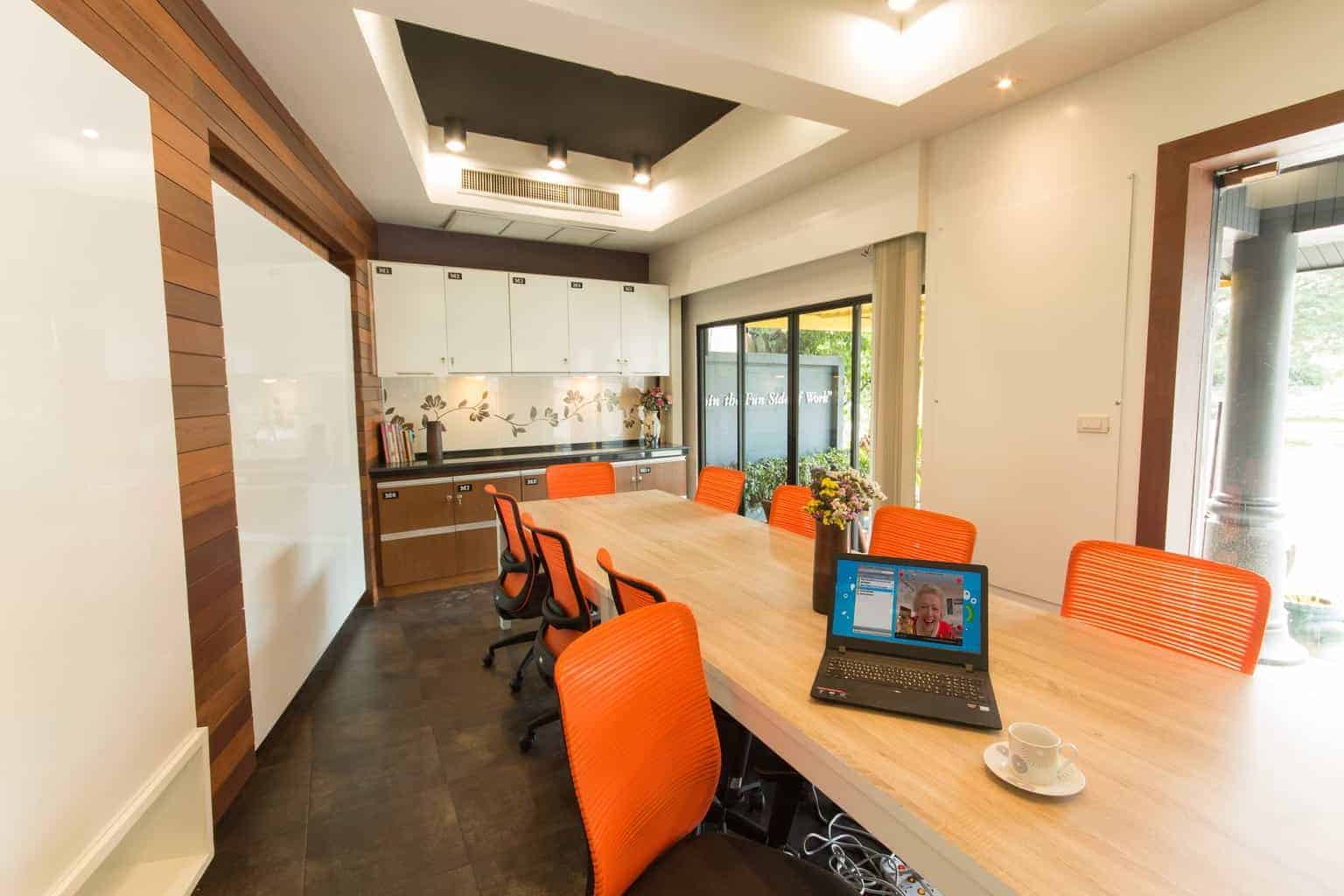 A relaxed and comfortable vibe, Hub53 appeals to the creative minds abroad and travelers alike. This place is the epitome of a flexible coworking environment.
Hub53 offers private rooms, meeting rooms, workshop spaces, conference rooms, and skype rooms to boot. Its real appeal, though, is its awesome co-living arrangements. Did I mention this coworking space was perfect for travelers? As a perfect location for quick stays or for longer hauls, Hub53 provides a number of options for shared or single rooms. You'll find most of the rooms decked out with fridges, personal showers, desks, and even a few comfortable chairs.
There are also common areas for travelers to hang out and meet new people. A workplace hostel is really the term that summarizes this perfect getaway. And being located dab-smack in Chiang Mai, it's also the perfect place to stay if you plan on touring around the city, going to an elephant sanctuary, and visiting some temples along the way.
There are far too many package options to list them all here, but the daily rate—if you don't want to stay the night—is an absolute steal at only ฿189. Hub53 is open from 8 a.m. to 8 p.m. every day.
6. The Company, Bangkok
The biggest upside to The Company is its shared working space. Located in the GMM Grammy building in Bodega, Bangkok – this location offers a convenience store, a fitness center, a photo studio, multiple restaurants, and many other businesses in tow.
They have a lightning-speed wifi system, multiple kinds of hot seats (shared, flexible, or dedicated), private offices, lockers for rent, a lounge, a beverage counter, and a phone booth.
One of the cool things about The Company is its incredibly affordable hourly rate. If you only want to pop by for an hour or two, it will only cost you ฿100/hour. However, if you're going to stay for the day, you'll be looking at ฿400 instead, which is relatively average for the area.
Closing Thoughts
From the nomadic creative to the small tech start-up, there is a cooperative and enriching work environment in Thailand for everyone.
Finding the right balance between travel, work, and play is difficult, to say the least. However, the spaces that we've listed out for you above can help you cover all three bases in one go. With reasonable rates, each coworking company also offers its own flexibility in terms of length of stay, the kinds of perks that are included, as well as the potential to enjoy a wide array of extra amenities that you'd otherwise miss out on.
All in all, many of these spaces are incredibly affordable and can provide for a great way to mix your fun abroad with a little bit of on the go hustle. We hope that our list of the 6 best coworking spaces in Thailand gave you the low-down on which ones you should put on your short-list and potentially even inspired you to go and check some of them out next time you're in town.