Medellin is regarded as one of the most visited by and fitting a situation, for the community of digital nomads for reasons more than one. A reliable internet connection, a nomad-friendly tourist visa, and the cordial nature of the Colombian people out there are few things to look forward to. And of course, the accessibility to numerous coworking spaces and cafes make Medellin an instant choice for workaholics who like to travel a lot.
>> Read more: Our ultimate guide to Colombia for digital nomads.
There are some amazing coworking facilities to choose from and find one's own cozy nook in and around the city. 
1. Coworking Inspira
Their concepts are inspired by nature. Coworking Inspira is an environment-friendly, calm, and serene coworking space tucked away into the city, far from the chaos of main Medellin.
There are vertical gardens and large plants almost everywhere inside. It uses LED lamps that save energy and reduce CO2 emissions. Thus, being the perfect place for environment-conscious workers.
It is located near Belen Malibu Park, close to the Belen Sports Unit. Inspira rents offices, fixed positions, and boardrooms. Roble rooms providing dedicated desks and permanent facilities have oakwood workstations, scanner service, and internal cellars. 
Inspira also lets trading rooms on rent – a space for those sharing education and for traders.
The facility is equipped with ergonomic chairs, copier, high-speed internet, aromatics, filtered water. Unlimited coffee is obviously a major incentive for workaholics.
2. Impact Hub – Medellin NOI
Rated 4.8 on Google reviews, NOI, with 22 rooms, an auditorium, and 363 coworkers so far, is a coworking space conveniently located about 10 minutes from the Poblado metro station. It is also 10 minutes from the Museum of Modern Art and the Monterrey Shopping Centre.
Its plans include virtual offices providing virtual assistant service and a Global Impact Hub passport, which gives access to 100+ Impact hubs all over the world. Ticket 100h and 200h that let coworking areas with highly professional vibes for special events, meetings, etc. The
Night Owl is an excellent plan that provides shared space for those who want to work together comfortably and feel that they can maximize their efficiency at night. The rooms are available from 7 pm to 6 am along with locker facilities. The fixed station is a private area, and the Corporate Plans provides the clientele with coworking area as well as rooms.
Basic amenities like free coffee/tea services, printing services, reliable internet are available.
3. Circular Coworking – La Casa Redonda
A welcoming atmosphere with a smiling greeting is what meets one on walking through the door in here. Always ready people to give drive to the ideas of the workers, a holistic environment. Most importantly, a certain warmth that is missing from most common workplaces are features that are prime to Casa Redonda.
Several people connected by their love for working and traveling find their perfect spot here. This is mainly owing to the custom options designed to lower costs, the contracts with flexible time, space, and prices at La Casa Redonda.
An in-site cafe, recreational rooms, a pet-friendly atmosphere lends a unique charm to this place. The facility has five different coworking spaces, each with a different personality located in different sectors of the city.
4. IVY Laureles – Cowork 24/7
Located only ten blocks away from Metro Estadio, IVY Laureles provides a largely befitting coworking space. Owing to free meeting rooms, soundproof call rooms, print, and virtual mail services, a rooftop sundeck, pet-friendly atmosphere, and wifi 200MB speed, the space offers almost everything.
It is perfectly adequate space for those who want to work efficiently, at a reasonable expense.
5. Quokka Cafe Coworking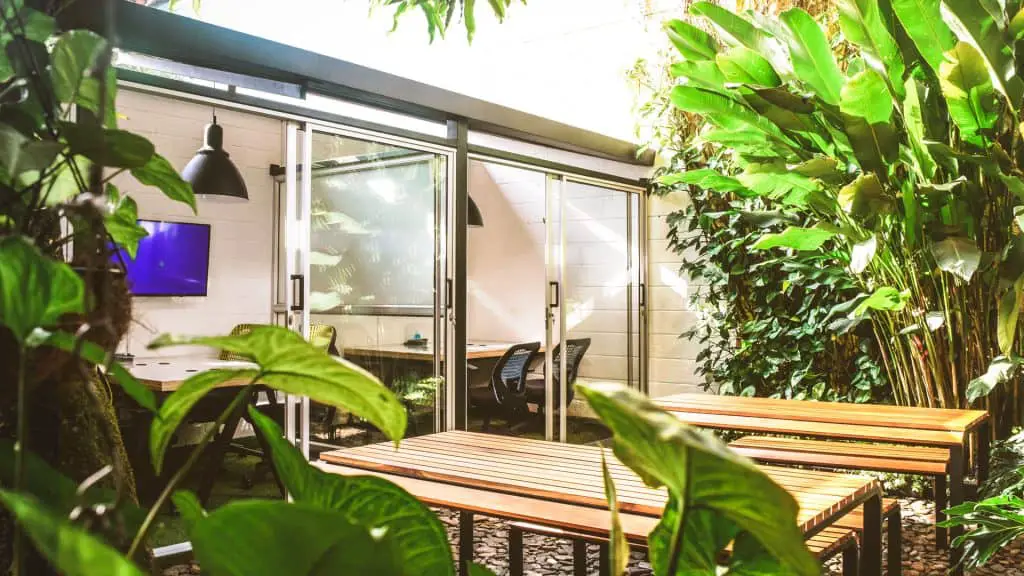 This is one of the most vibrant coworking spaces available in the city. The cozy cafe vibe that it gives off makes it quite enticing a situation for some to settle down temporarily in.
Exceptional facilities like the Skype room, chillout room, silent zone make it possible for the people in there to concentrate fully and work productively. 
Free tea/coffee services, wifi, accessible wheelchairs, ergo chairs, personal lockers, and even a cooking area are some of the amenities available. The space even provides Holding Company, a business community that drives one's ideas. The place has a beautiful garden.
6. Ofizen – Siembra Coworking
One gets the feel of a home away from home here, all the while knowing that they're here to work assignments and meet deadlines. A successful community of people working in harmony together and being productive is what this coworking space has created.
Located in the heart of El Poblado, it has adapted spaces with different environments to choose from. Ofizen believes and executes that as long as the workers rent the desks and bring their tools, the rest is for them to manage and cater.
Working in Ofizen is about working on projects as well as sharing experiences.
7. Selina Medellin Cowork
Selina is a residence of color and ambiance. Filled with art installations and locally curated murals, this is a perfect hub for those who like their working space with an artistic touch or two. Selina provides a beautifully designed office brimming with a whole new level of creative energy. 
Photography workshops to meditation evenings, the on-site restaurants, and rooftop music studios bring about the ultimate flexibility to travel and work.
8. Frenda Colectivo, Laureles
Frenda Colectivo is one of the coziest and welcoming coworking spaces around the globe, as well as in Medellin. This space offers a unique combination of homestay and coworking area with private bedrooms and a kitchen. However, this is not your typical coworking. It's an audio coworking, mostly geared towards sound artists.
FrendaColectivo's style creates a very welcoming atmosphere in which members and guests completely feel satisfied. This space is particularly designed to create and connect different people with each other. It is also considered a collaborative workspace and is worth checking out for anybody with exploring spirits.
The place has rooms available with 24/7 access, and it provides a homely feel. There is a strong community value as well. People can relax and rejuvenate at the yoga center at this place.
Final Thoughts
Medellin has a wide variety of coworking spaces to choose from. Each one has a different aesthetic and character to it, and the ultimate goal of each coworking space is to help find the workers in their own comfort zone. Once that is taken care of at a reasonable cost, along with the basic provision, working becomes intensely more satisfying. 
These were some of the top coworking spaces in Medellin. So, pick any one of these and work in an uninterrupted environment.