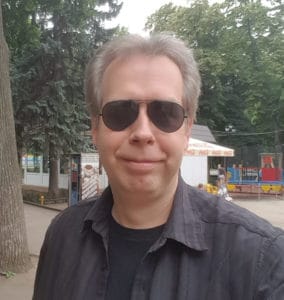 Matt Dykstra is the founder of the Digital Nomad 2020 — a series of three separate online events. You can get your $1 ticket here.
Q: What is the idea behind Digital Nomad 2020? 
A: There were two main reasons I wanted to create Digital Nomad 2020.  
The first had to do with how I became a Nomad. When I started this journey, like many nomads, it wasn't actually with the intention to stay abroad. I left with my family for a summer vacation that…well, turned into our life. This meant none of the basics (renting our home, banking, taxes or even setting up education for our kids) was prepared before we left. It all had to be figured out as we went along. And as I did, I could not find a single, affordable source I could turn to online to find out the information I needed. Digital Nomad 2020 was created to fill that gap: a virtual nomad-in-a-box.
The second reason came out of frustration from attending other conferences. Most conferences have a pattern — they get you excited, tease you with just enough information to get you thinking you can do something, and then it' s over. Afterward you realize you don't know how to get beyond step one.
So I have made a point of making sure all our speakers know the goal of Digital Nomad 2020 is to help our audience succeed.
I divided the conference into three separate weekends (April 25th/26th, August 8th/9th, and Nov 7th/8th), so that between each weekend, audience members can implement what they have learned and then return for the next steps. Each weekend the presentations will build on those from the previous weekend, but can also stand on its own.
Q: Who is the summit for?
A: The title of the conference is Digital Nomad 2020, but the reality is you do not have to be a nomad. This conference is for anyone who wants to build a revenue stream that is not dependent on them being in any specific location. We want to help you build a location-independent income.
Q: You always planned for the summit to be entirely virtual. What changes have you made because of the Coronavirus pandemic?
A: When the pandemic started, we weren't sure how it would impact the conference. At one point, we debated if it was even appropriate to still have the conference. But as quarantines spread and people started losing their jobs, the importance of providing people with a means of building an income online became clear.
Q: How has the pandemic affected you personally?
A: I consider Seattle my home. Most of my family and friends live in that area, right in America's first epicenter for the pandemic – a fact that continues to weigh heavily on me. It also made returning to the United States a risky option. Flying from where we are in Russia, I would have had to take my children first to Moscow (the epicenter of Coronavirus for Russia), then through either Frankfurt or London (two more hot spots) and then through New York or Washington D.C. (also risky) before finally arriving in Seattle. Every step would mean putting my children at greater risk.
While the safety of my children made the choice to stay in Russia the right one, I cannot say it was an easy choice.  
Q: Where are you from and how did you become a digital nomad?
A: I'm from Bellevue, Washington state, just outside Seattle in the US.
You could say I have always been a bit of a nomad…even at an early age, my family moved around a lot. By the time I entered third grade, I had already lived in four different states. I honestly do not know how many different schools I attended, or how many houses I called home before I graduated high school.
Eventually, I ended up at Microsoft, where I was lucky enough to hold positions that included travel. One day my wife and I both had business trips at the same time. Sitting next to her with my laptop open, I told her I wanted to quit Microsoft so I could start a company where we could live anywhere we wanted — where as long as we had an internet connection, we could sit on the beach and do our work dinking a Mai Tai.
This was still the early 2000's, and at the time it sounded impossible. I did not act on my dream for several years. But eventually, I did leave Microsoft, to start my company, TreDigital, which is now an award-winning digital marketing agency. That led to me becoming a digital nomad. 
Q: What's it like planning something like this? 
A: Planning a conference, virtual or otherwise, is a full-time job. It always amazes me how many individual parts there are that need to be managed almost 24/7. And the truth is that no matter how well you plan, there will be problems. Adapting to those issues and finding solutions can be difficult.
That said, it can also be fun. I have talked with so many amazing people — individuals who, at one point or another, have decided to go against conventional wisdom and strike out on their own. People who have taken a leap of faith, invested in themselves, and changed their lives. People who built a future of their own making. They amaze and inspire me.  
This Q&A has been edited for narrative and context.
The writer will be a speaker at Digital Nomad 2020. Her session is "Developing a Successful Brand: A Step-by-Step Guide."