Sarah Kuhlemann is the Founder of Hub Hội An, a coworking space in Hội An, Vietnam; our recommended spot for digital nomads in Hội An. Please note that at the time of publication, there is no community transmission of COVID-19 in Vietnam, borders are closed to foreign tourists, and coworking spaces can operate as normal.
Q: What made you decide to open a coworking space? Why Hội An?
A: I'm from Germany, and I was a digital nomad myself, and I was not ready to finish my world trip and fly back home. Hội An was not really on the radar for digital nomads and I thought it was underestimated — the digital nomad community was pretty concentrated in Thailand and Bali. Many nomads would come to Vietnam just for a visa run or to see Saigon or Hanoi. When they came, most people were positively surprised by the infrastructure and safety of Vietnam and considered staying.
Since there was no pre-existing community for digital nomads or a coworking space in Hội An, it felt like a good opportunity. I considered all the important factors for a great place, including climate, nature, infrastructure, cost of living, internet speed, housing, food, and fun. I studied and worked in tourism before, and I could see that Vietnam was on the rise as a destination. As an entrepreneur, it's super exciting to experience this crazy fast development on the spot. I find this way more interesting than coming here in 5 years when it would be all too easy. Where would the adventure be then?
I was ready to stay in the same place for a bit, and actually hang up my clothes on a rack — but not ready to go back to my home country. Moving to Vietnam felt like an adventure but gave me space to create my own business and make lifelong friends with the community here. 
Q: Who should go to Hub Hội An? What kinds of people does it attract?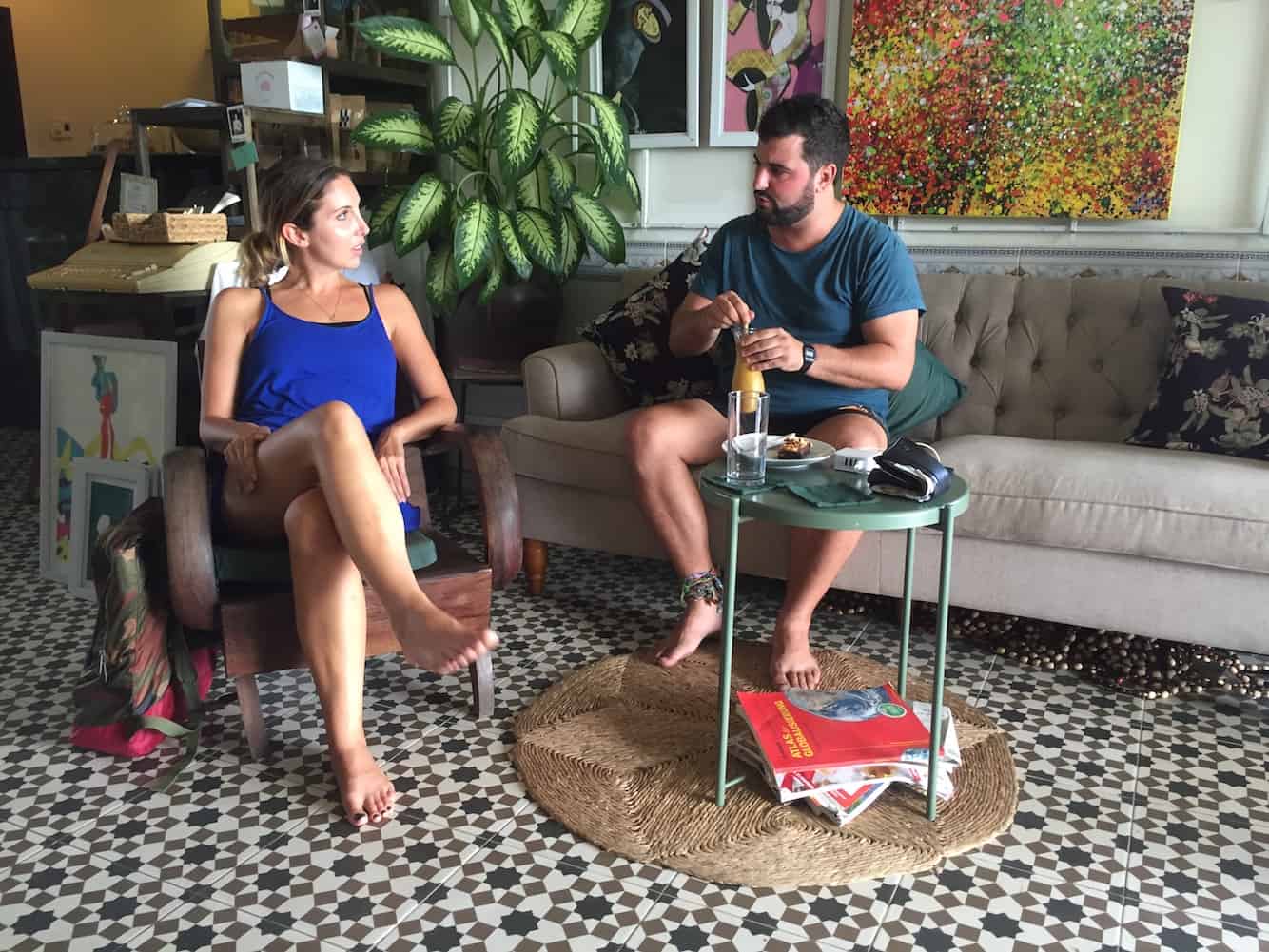 A: It's a good spot for couples, groups of friends and individuals who don't need to distract themselves every day with parties, meetups, and other events. It's a great spot for people who love to be by the beach, slouching in cafés, cycling around the rice fields, and prefer rural to city life. Some people find it boring, some people call it paradise. Luckily not everyone loves it here, so there is space for those who embrace it!
Q: How did you end up in Vietnam?
A: I came here while traveling around the world in 2016 and I fell in love with the place. While I continued traveling, I wrote a business plan and then convinced my dad to invest. He was excited for the new business venture and visited me to help set up the space. As an electrical engineer, he felt responsible for everything that involved power, cables, sockets and wifi. 
Q: What was the hardest part of opening Hub Hội An?
A: I was solving a problem for people who weren't here yet and didn't know they had that problem — so, basically, I met a demand for a not-yet-existing target group. I spent the first year doing intensive destination marketing to promote Vietnam and Hội An as a destination for nomads — not just tourists. I stayed in the tiniest bedroom because I didn't have enough money to rent a nice place. The hardest part is when you don't have cash but need to stick to your vision; because you know one day it will all pay off. You need to hold your breath for it. That was hard.
Q: What has been your favorite thing about Hub Hội An?
A: I am from Europe, so I love places with city centers. Hội An, similar to Chiang Mai, has a  "center" with a pedestrian area. Although I don't go to the Hội An Old Town, which is a UNESCO World Heritage site, often, I am so happy it is there: a beautiful old, yellow, historic town with cute cafés and hidden nooks. I love having an airport close enough to leave, but also love the fact that it is an hour away. I adore the locals here; they have their own rhythm, traditions, and they don't give a f*** about what foreigners think about them. They are proud, humble, and open-hearted folk. They might not smile at you the first time, but once you make friends with them, you have a friend for life.
Q: What is your favorite thing about Hội An? Why should we visit post-pandemic?
A: I love that you can always think of Hội An as small, but it is pretty spread out with lots to do. There are still people in town I haven't met, although I've lived here for several years. The town reinvents itself all the time. It is a pleasure to see the busy entrepreneurial spirit of the town in balance with the laziness the weather can induce on a hot day.
Q: What was it like running a coworking space during the COVID-19 pandemic? What was the hardest decision you had to make?
A: The toughest decision was to not freak out.
There were moments of panic, anxiety, doubt, and fear. Days I questioned my business, the news, and my own intuition. It was a roller coaster. One week I was ready to close, the next week I considered expanding. I changed my mind all the time and ran through dozens of calculations, strategy sheets, and pitch decks. I wanted to be prepared with plans B, C, and D. In the end, I ran myself ragged. I've kept everything how it is. And how it is is very good. 
Q: How do you think the pandemic will impact travel and digital nomadism?
A: I think that digital nomads won't die out. People are ready to travel responsibly, and they are in Europe already. We won't stop traveling. Technology and infrastructure get easier and cheaper, so I think digital nomads will be the first movers within the travel industry. We will sit on a plane way before tourists take holidays. I also think it will be easier in the future for employees to work remotely, making digital nomadism even more relevant.
This Q&A has been edited for narrative and context.
You can learn more about the Hub here.