The town of Tamarindo is the largest developed beach town in the Guanacaste region, in the stunning tropical nation of Costa Rica.
Starting as a humble fishing village on the west coast of Costa Rica the town of Tamarindo has grown into a popular tourist region throughout the last 15 years due to its stunningly beautiful beaches, fantastic surf conditions, and thanks to its important role in eco-tourism and marine animal conservation.
Once the sun sets, however, Tamarindo turns into an atmospheric haven for those looking for exciting nightlife and the town has unique markets, buzzing bars and delicious restaurants nearly everywhere, which means you won't have to walk far down its boulevard to find something to do!
> Read more: The ultimate guide to Costa Rica for digital nomads.
All this and the laid-back surf attitude that this coastal town embodies makes it a popular stopping destination for digital nomads and backpacker travelers alike, which is why, to help you discover all the uniquely interesting things there is to do in Tamarindo we have provided a list of our top ten best things to do!
1. Visit Atmospheric Tamarindo's beach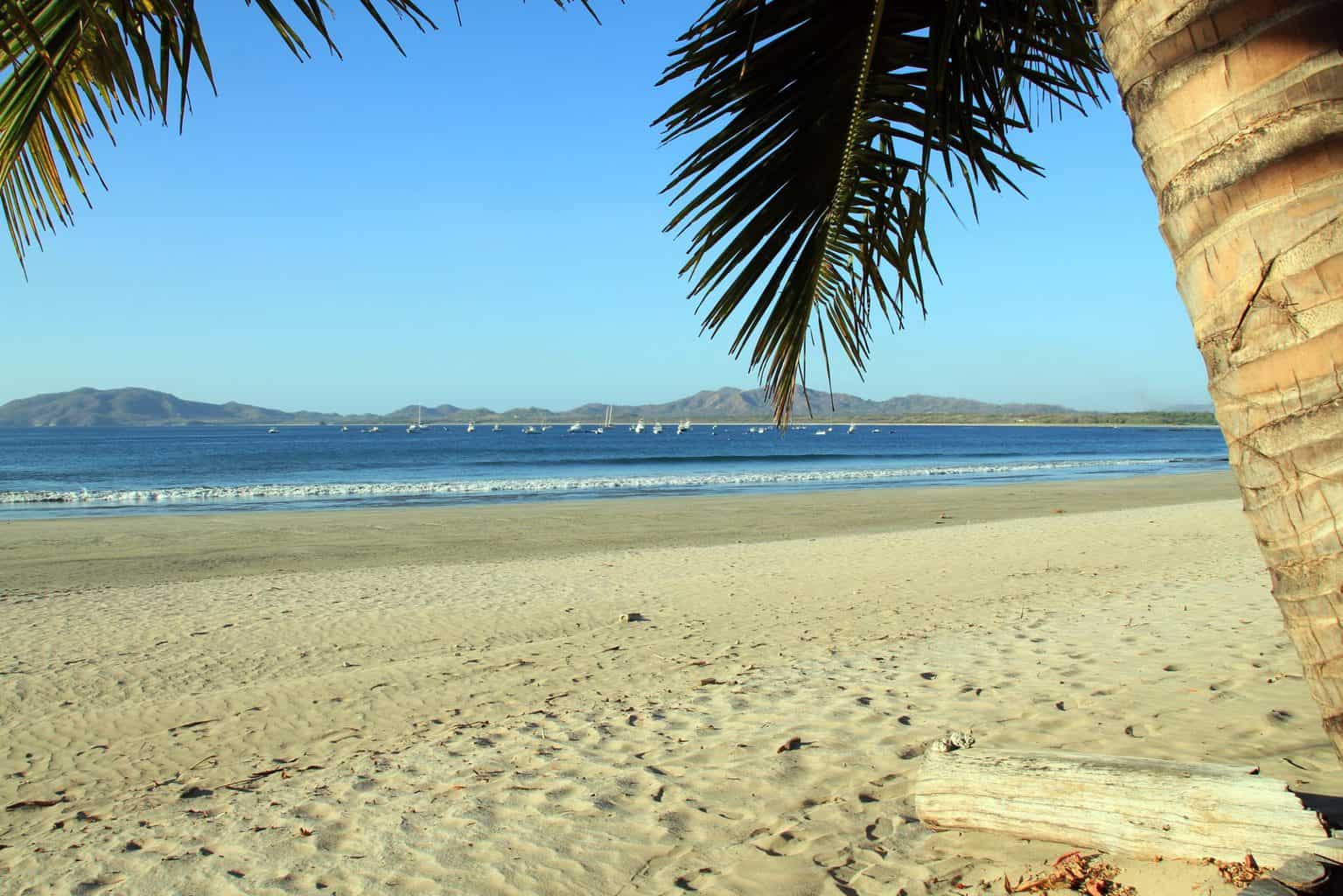 Tamarindo Beach is a long white sand beach which is considered a great place to learn surfing thanks to its favorable wave conditions and warm water.
There is also a huge variety of surf schools dotted along the beachfront which is great for beginners that want to learn and the surf breaks near the river mouth are perfect for more pro surfers that fancy a challenge.   
The currents here can be strong so watch for posted advisories when swimming and if you feel unsure stick to the lifeguarded areas near the southern part of the beach which are calmer waters.
The beachfront also has a huge number of restaurants, bars, and cafes dotted along it which makes this one of the perfect spots to watch some of the most fantastic sunsets you could ever imagine while enjoying a drink with like-minded travelers and digital nomads.
The atmosphere turns particularly party orientated once the sun sets and Tamarindo beach is a great space to meet other young people.
2. Explore Tamarindo Estuary by kayak. 
In the northern region of Tamarindo there is a vast maze of mangrove forest waterways which provides a diverse ecosystem for a plethora of animal species.
You can book a professional guide who will help you to explore this fascinating ecosystem by kayak and will help you spot all the unique animal species that live here.
Make sure to keep an eye out for crocodiles sunbathing on the river's edges as well as howler monkeys and tropical birds resting in the forest treetops.
3. Visit Giant leatherback turtles.
Las Baulas National Marine Park stretches along 1,100 acres of coastline and is named after the leatherback sea turtles that between November to April land on the beach at night and bury their egg clusters on the sandy shore.
Watch these rarely seen 8-foot-long giants venture from the crashing waves and learn about the conservation process of protecting these stunning marine mammals' eggs during your visit.
Grande Beach which is 30 minutes north of Tamarindo is also a well-known nesting site for leatherback turtles and this a great spot to watch these solitary creatures in a more peaceful and secluded location.  
4. Visit some of the more peaceful beaches for a tropical escape. 
If you are looking for a more laid back and relaxed beach to spend a day reading a book on while listening to nothing but the crashing waves of the ocean, then the white sand Langosta Beach which is located south of Tamarindo is perfect for you.
Enjoyed by many because of its relaxed atmosphere and complete absence of development this beach can feel totally secluded at times and is the perfect location to watch beautiful sunsets from the palm-lined shore or visit its fascinating tidal pools which are a diverse micro-marine system.
Other popular beaches which are less busy than Tamarindo beach include Coconut Beach and Hermosa Beach, which are great places to relax and unwind in tropical bliss.
5. Enjoy a day on the ocean deep sea fishing. 
Venturing out to sea from Tamarindo provides you with the perfect opportunity to catch some of the most impressive fish in the ocean. Enjoy the smell of the fresh air and feel the splash of seawater on your face as you take a chartered boat out into the massive Pacific Ocean.
Half-day or full day tours are available from Tamarindo harbor and fishing is generally great all year round and it's also a great opportunity to spot some other rare ocean animals like Dolphins.
Expect to catch Snappers, Billfish, Roosterfish and a host of other impressive fish species.  
6. Explore the bays by boat. 
A huge variety of private boat cruises run out from Tamarindo harbor and these are a great way to view the coastline from a different perspective.
Cruises can range massively in style, ranging from relaxed sundowner cruises to energetic party boats and these are some of the best ways to meet new people in Tamarindo while watching the palm tree-lined coastline slide by!
7. Discover the pacific oceans vast marine life. 
The coastal area around Tamarindo has a huge assortment of bays that provide homes to vibrant coral reefs and countless tropical fish species.
You can view these bays and their many coral eco-systems by taking a boat trip out with a coordinated tour company that will allow you to snorkel in the warm tropical waters.
Scuba diving trips are also common in the area and a boat will take you out to some of the best diving hotspots around Tamarindo, such as the Catalinas Islands, where you can get up close to some of the Pacific's most colorful sea creatures.
8. Zipline through the Tamarindo Canopy 
Outside of the town of Tamarindo you can enjoy one of the most exhilarating views of Costa Rica's tropical dry forest by ziplining through its canopy.
Feel the wind rush through your hair as you zip between the trees in a fun activity that provides you with a chance to spot rare monkey species, lizards, and many tropical birds.
You also get a great view of the mountains and ocean from many of the zipline platforms so make sure to take a moment to enjoy the stunning scenery!
9. Race through the mountain trails on an ATV
A great way to view the tropical forest and an exhilarating adventure at the same time, taking one of the ATV tours through the Tamarindo forest can last from a few hours around the local area to an all-day experience that will take you much further into the Costa Rican jungle.
You can also rent an ATV privately and use it as a way to explore the back roads of Tamarindo if you do not want to hire a car.
10. Take time to stroll this beach town's vibrant streets. 
The town of Tamarindo overall is a place that captures an incredibly laid-back atmosphere and one of the best ways to enjoy everything that this town has to offer is by exploring its many different street activities!
Try some fresh and local food at one of the towns many farmers markets, taste a locally brewed beer at the Volcano Brewing Company and stare out over the beautiful Pacific Ocean from their beach patio and finally end your evening at the Tamarindo night market which has a host of stalls and live music performances for you to enjoy.
No matter what you hope for during your travels in Costa Rica you will find an energetic and vibrant atmosphere that is perfect for digital nomads and backpackers alike!