Dating and love are fundamental parts of our lives. That doesn't change when we hit the road. But dating as a digital nomad does present unique challenges — and opportunities. Read on to learn more about dating on the road — and some real-life stories of couples who didn't just catch flights, they caught feelings.
#CatchingFlightsAndFeelings
Dating in the nomad world
When I started talking to nomads about dating, they mentioned issues I'd never even considered, such as finding a partner who never wanted to settle down in one physical location. When I decided to go nomad, my initial idea was to do it for around one or two years — something temporary, a phase. I saw people traveling with partners — kids even — but it never really occurred to me that some people see themselves staying on the move indefinitely.
Just like dating in non-nomad life, digital nomads are looking for like-minded companions that share their values. Living as a digital nomad certainly makes it likely that you'll meet other digital nomads — who you'll already have some shared connections with in terms of lifestyle, love of travel, and perhaps an entrepreneurial spirit.
You might forge deeper connections with people more quickly when you're traveling — the odds you'll never see each other again are decently high, so you have nothing to lose by being your full and authentic self. And you're likely sharing cool experiences that will bond you and spark deep conversations about your values, hopes, and dreams.
But by virtue of being a nomad, you'll only have so long to get to know someone. And no matter how great the conversations you have are, it takes an incredibly strong connection to bypass a key ingredient for developing a strong relationship: time.
One or both of you will be moving on to the next destination. When that happens, seeing each other again becomes an investment in time, money, and the choice to co-locate yourselves somewhere for some amount of time. There's nothing like booking a flight for forcing you get clear on your feelings. For nomads who are less risk averse than the general population, flying halfway across the world to see someone you just met might be less of a big deal than for others, but there's still a lot of variance within the nomad community.
Looking for love
Some digital nomads see their lifestyle as temporary. They might be dating casually now and waiting to be more serious until they settle down somewhere. There are others who are determined to find a partner, shaping their travel plans to make sure they're somewhere long enough to try and create a strong connection. For those who've been traveling a long time, their attitude towards dating may change over time.
That was the case for Aline Dahmen. Aline is from Germany, and happily traveled around the world being single and loving it — for the first two years. Aline is very social, so didn't have a problem making friends. But she also started to get lonely. "I found myself becoming really good at being alone. You know when you are so used to eating alone, working alone, doing activities alone, sleeping alone? Being alone eventually made me feel lonely." She wanted to find love. She slowed down and established a home base in Bali. That's where she met her partner, Nalom Simanjuntak, who's from Indonesia.
"We met at a big shared table and it was like magic from the start. We talked and laughed until the coffee shop closed. We became very close very fast. Back then he was still employed, yet he had plans to quit and go after his own dreams," Aline says.
Aline and Nalom have been together for three years now, and have traveled together to Finland, Bulgaria, and Nalom's home in Sumatra. He has since become his own boss, and Aline says they are "two independent free souls, doing what we love."
Aline's experience led her to found Nomad Soulmates, soon to be an app for — you guessed it, helping nomads and remote workers find a partner and meaningful relationships.
"Finding a partner was difficult and I knew I wanted to share all my amazing experiences with someone special. And I knew I wasn't alone with that wish," says Aline.
So, what are the kids doing these days?
Nomads often used existing dating apps that are geography-based, like Tinder, Bumble, Grindr, Happn, etc. And they often meet other nomads and locals in person through coworking or coliving spaces, at events, or out eating or exploring.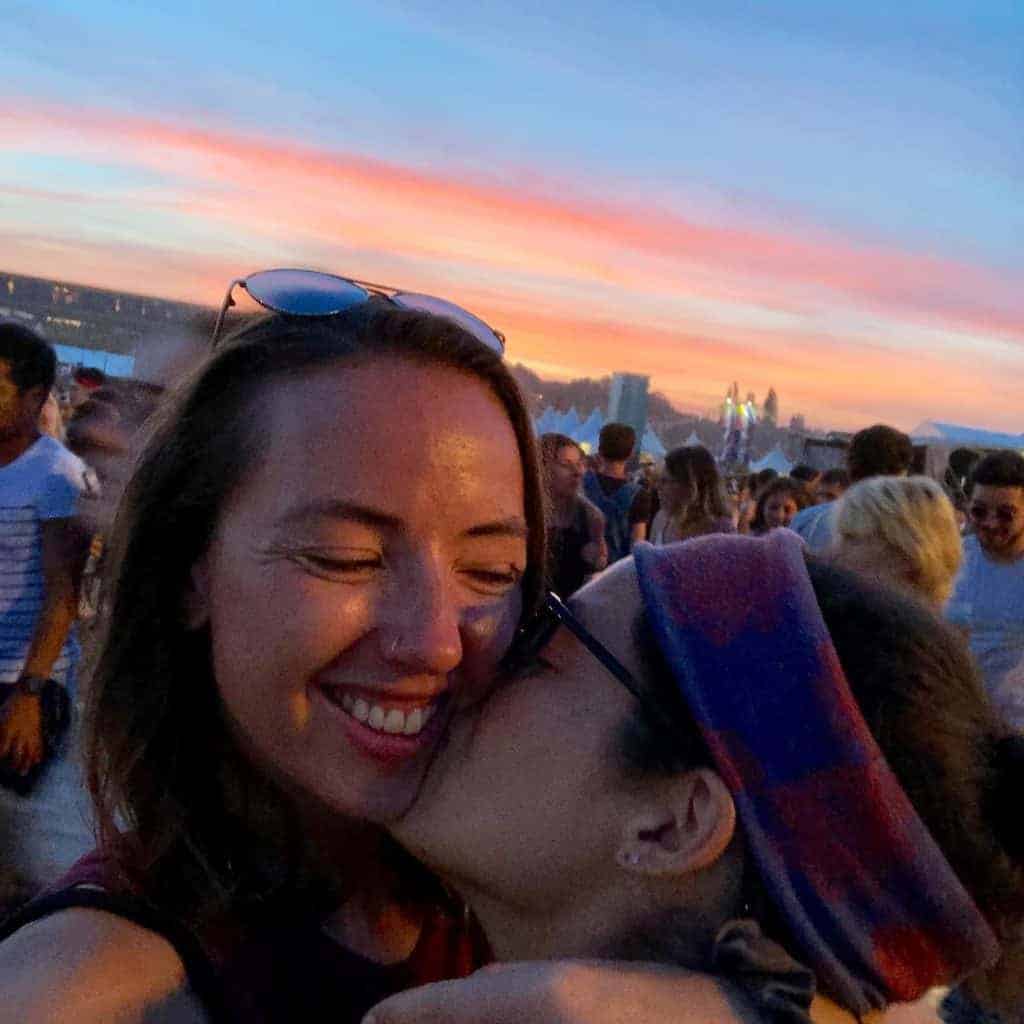 Depending on what you're looking for though, the dating pool can be quite small. Erica Schneider, from the U.S. met her now-fiance Anna Panton, from the UK, on the Thai island Ko Pha Ngan — in a small bay only accessible by boat. "Anna was basically the only lesbian who popped up [on Tinder]. I think I swiped maybe three times total, and I swiped right on her," says Erica.
"I met Erica ten days into my 2.5-month trip and all my plans went out the window," Anna said. Both women had recently gotten out of relationships and weren't really looking for something serious. "But after that first date, I was hooked," says Erica. "[Anna] was different in the best possible way. We still took it slow, though, because we wanted to make sure we truly were who we thought each other were, and not rush into something that ended up in flames like we had both done in the past," Erica said.
Nikki Gucciardo and Nick Brown, Americans, met in Mexico, also on Tinder. Nikki had just finished seven months of solo travel and was there to meet up with her sister and some friends, and Nick was there celebrating his sister's wedding. They had so much fun the first time they hung out, they got together again the next day.
"I know Nikki and I both had a ton of fun those few days, but we were both at very pivotal moments of our lives and I wasn't really expecting to keep in touch afterwards. The universe had other plans. Nikki and I completely separate of each other were coincidentally visiting Milwaukee the very next week. We of course met up several times while there and the rest is history, " Nick says.
After a few more days together in Milwaukee, Nikki says, "I had an 'oh shit' moment and realized I was pretty smitten. We kept in touch every day following our first meeting at the Tequila Barrel and eventually I moved to Cleveland. He was just too great to pass up!"
They've been living together for two and a half years now, and have traveled together internationally for seven months. Neither of them were looking for a relationship, but they were just drawn to each other.
"When I met Nikki I was extremely happy and content with myself and my life. I know Nikki says she was in a similar place in her life. I think that's why we were so attracted to each other. We were both the best versions of ourselves when we met. I definitely wasn't interested in dating anyone when Nikki and I met, if anything I was resistant. But there was such a strong pull to her that I eventually could not ignore it!"
Falling fast
For some couples, just one night is enough to know they had something. Jane Turner, and Australian, met her husband Steve Turner in the MGM lobby in Las Vegas. She didn't have a phone, so they swapped email addresses. Both were traveling with friends, and neither was looking for a relationship — but they stayed in touch, even as Jane moved to London and Steve to Hawaii.
Steve was a U.S. Marine, and Jane says he kept asking her to come visit before he deployed. "I went out there on my own and once we met again it was like he was a person I'd known forever. I ended up staying an extra week and flew out again a month later. From then we knew it was serious," she says.
Steve deployed to Iraq for seven months, and when he returned, he proposed to her with this video. They got engaged in Baltimore. Steve deployed again a year later. When he got home they had their families fly to Hawaii to meet and they got married in 2011.
Two years later, Steve deployed for another seven months to Afghanistan when Jane was nine weeks pregnant. "He got home the day my water broke and came straight off the plane to the hospital. We were lucky he made the birth and after seven months of not seeing each other we took home a baby boy!" The couple had a baby girl in 2015 and moved to Perth in 2019, where Jane is from. "I had always heard of people meeting their partners while traveling but I wasn't even looking," Jane says.
It was the same for Jillian Coury from the U.S. She was actually engaged when she met her beau Linus Silfveroxe, from Sweden, in Stockholm. "I was not looking for anyone, however Linus and I shared a pretty instantaneous connection. And when I say connection, I mean knee-numbing, crazy-about-each-other-connection," says Jillian.
Jillian's wedding was scheduled for June 2018. She says she was happy, but had always wondered if there was someone better suited for her out there. "I always say that Linus saved me, he kept me from making a big mistake — which was marrying the wrong guy. So I went home, broke off the engagement and for the following six months, him and I continued to stay in touch. We knew we wanted to be together but were not sure how!" says Jillian.
"I wasn't even looking"
Linus wasn't looking for love either. "My mindset before I met [Jillian] was that I was too independent to be in a relationship. I wasn't looking to meet a partner but had way too much fun with her to not continue to hang out with her. Also the sex was beyond amazing," Linus says.
Like Linus and Jillian, Lissett Medrano, from the U.S., wasn't interested in meeting anyone while traveling; she had just gotten out of a relationship. "I was just interested in exploring as much as I could and was looking forward to being on my own for a change," she says.
Lissett had just finished a 10-month volunteer project in Guererro, Mexico, and was in Oaxaca for Dia de los Muertos (Day of the Dead). She only had one night booked at her hostel. She remembers "a cute guy sat in the hammock next to me and said 'looking to make some moves?'" They ended up spending a few amazing weeks in Mexico together. They parted ways but eventually reunited in Colombia months later. Lissett said their relationship became real then when they decided to travel the rest of South America together.
For many couples who meet while traveling, they end up spending long stretches apart, especially at the beginning of the relationship. Jillian says, "you can feel that person missing from you, but it really builds up the excitement and even the connection when you have to wait for long months. But modern technology is gold for travelers! I went back to visit Linus in July 2018 to confirm that we were indeed crazy about each other — and we were. So I moved to Stockholm 2 months later. Dating and traveling just takes determination, and if you're crazy about that person, the determination and commitment comes very naturally."
Dating and traveling
Lissett says getting to know each other while dealing with all the challenges of traveling — and living together — was intense. "We went from hardly knowing each other to spending 24/7 with each other and traveling through four countries together. I had never lived with a partner before, so sharing so much time and space together was new and an adjustment," she says.
Despite some ups and downs, Lissett feels like it was overall a very positive experience — they're still together. "We bonded over our love for Latin American culture and food, the ocean, and having a similar minimalistic travel style — we're both on a budget and most interested in exploring natural landscapes," Lissett says.
Hana LaRock, an American, agrees that adjusting to so many new things at once was a challenge. She taught English in South Korea with her now-husband, and they moved in together after four months of dating. "Being a recent graduate, trying to find ourselves in career and life, being in a new country, money — we had to navigate all these obstacles, but had no other option really but to do it together and try and support each other as much as possible. We've grown so much as individuals but also together," says Hana.
Seven years later, not only is Hana married to her partner, they have a business, Strait Up Travel, where they give people tools and support to travel.
For some, having a constant travel companion enhanced their experience. "I'd always traveled with friends or alone, and while that was exciting, I had just begun picturing what it would be like to have my partner with me on these journeys. It's everything I imagined and more. Those eye-opening moments that us travelers are so accustomed to can be quite difficult to explain to our friends or family who don't share a similar lifestyle. Being with someone who gets it is one of the best feelings in the world," says Erica.
As a lesbian couple, Erica and Anna faced some additional challenges traveling together. There are obvious safety concerns, and they try to visit countries where "being gay won't get you locked up," says Anna. They often find themselves an "attraction" if they show affection in public, and have a hard time convincing hotels that they really want a double bed instead of twin beds.
Overall, though, the benefits of traveling together have outweighed the challenges. "Travelling with your partner is amazing as you get to experience every new place together and you always have someone to turn to for support and love. We're really lucky that we were both working remotely when we met, so travelling and being on the move as we grew our relationship is our normal," says Anna.
How couples travel together can make a big difference. Most couples had a partner with a similar travel style. Nick says, "dating and traveling with Nikki has been great. First of all, she's just a great traveler herself. We're very compatible in that we can both roll with the punches, which is such an important trait to have while traveling. We both love to eat and enjoy just meandering around cities for hours aimlessly."
Over time, though, couples are bound to influence each other's travel preferences and tastes. "I especially like the sweet tooth Nick has acquired since we started traveling together. I'm not the only one that wants baked goods and ice cream now!" Nikki says.
Finding the one
According to Aline, the hardest thing for many nomads is finding a partner that's like-minded. Her best advice if you're looking for love? "Trust that it WILL happen and practice being your own best soulmate."