Ah, mesmerizing Greece. The myths, the beaches, the adventurous rides on donkeys. So much on the Greek islands seems to be appositely fabricated to steal your heart, included those legions of cats freely roaming around. Well yes, I still need to get that luxurious shot of my legs soaking in a private bathtub while looking at the sunset in white Santorini. Bite me. But I've been lucky enough to hit some of the prettiest locations of Greece, nonetheless. And while magic and charm abound everywhere there, no place has the same energy as eclectic Athens. The fierce capital rightly takes the name of Athena, the goddess of wisdom, inspiration, and warfare: the city has been standing strong throughout the years, taking new colors over and over. Its cosmopolitan vibe didn't completely overshadow the ancient trail of history and art that only the birthplace of democracy can bring about. But if you're looking for more than a cultural tour or wonderful views, this is just the place to be. Stick with me and you'll soon find out everything there's to know for your next trip to Athens.
> Read more: Our guide to Greece for digital nomads.
---
Accommodations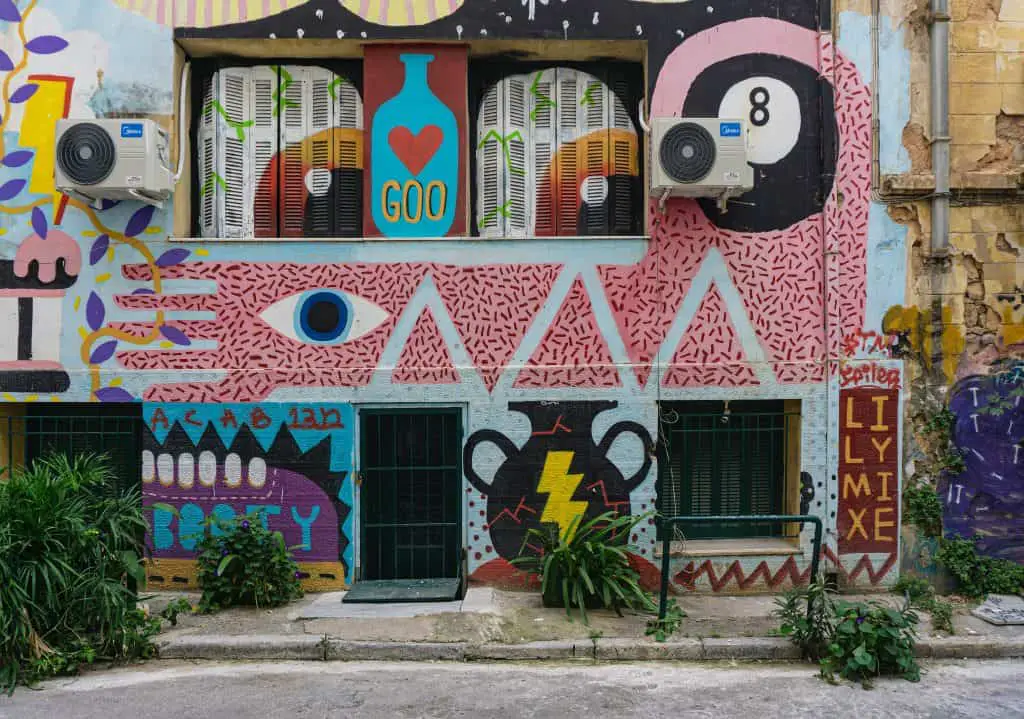 Maybe it didn't seem like it from the Hercules movie, but Athens is actually quite big. I'm sure you're already thinking 'the closer to the Acropolis, the better'. But Athens has so many different neighborhoods that you should really base your decision on the type of vacation you're planning. Don't even sweat trying to decide between hotels or Airbnb – the options are great and many in both cases. (Although, if I can give my honest opinion, Athens backpackers hits just right).
 There's a wide range of choices for low-budget travelers, boujee and luxurious ones. But each area in Athens offers a different atmosphere and activities. Plaka is probably the best one of all: it's the oldest part of the city, close to all the main attractions and full of life. Gazi is great if you're on a budget, but you don't want to miss out on the amazing nightlife. Kolonaki is for all those fancy hearts suffering from shopping fever, and Syntagma is for those who just need to be in the eye of the storm – it being the center of it all. We'll talk more in deep about the best areas of Athens, so hang on in there.
You won't have any problems finding the right accommodation for you, but I'll leave you with two always valid tips. First, book way in advance: Athens is loved by tourists from all over the world, so don't be like me when I'm doing online shopping – always waiting for the last second to buy everything in my cart. Or you'll be left with your mouth dry. And second, don't make the big mistake of booking a place outside the city center. You might be tempted by the lower prices, but the commute is just not worth it. It'll literally drain you, moneywise and timewise. Better to sacrifice a few more doubloons.
Where to Eat
Easy: literally anywhere. For real, it's hard to eat bad food in Greece (which is why I, as an Italian, feel like home there). On top of that, it's pretty affordable with way less than 10 euro you'll easily get big, grandma's Sunday meal-like portions.
If you're a fully committed carnivore, then you might want to try out the restaurant called Savvas, which offers delicious kebab meat topped with a view of the Parthenon. At least once in your life, you must eat bougatsa, a typical cream-filled pastry that tastes like heaven. There's no better place to lose your bougatsa-viriginity than Bougatsadiko Thessaloniki, in the district of Psyri; here, you'll need to take your sweet time (get it?) with a classic bougatsa with cream topping, savoring every little bite. Stay on the comfort food train with me, because the next stop is Potato King: located in Monastiraki, it'll serve you mythical fries, along with other types of amazing street food.
But let's take the microphone away from old carnivore me, fast forward, and pass it on to this renovated version of myself. Indeed, what options are there for all those recently converted vegetarians like me? Generally speaking, Greece gives a much easier life to meat-eaters, not gonna lie. Then again, it's in the dark that gems shine the most: and I'm talking about  Vegan beat Athens, only the best vegan restaurant on the whole island. Incredible options, huge portions, great prices – it checks all the boxes. Another good place is Winners Vegan, which is a bit more modern, but located in a very central place and quite cheap anyway. And finally, Veganaki is a great choice for all your veggie heads who wants to experience a cultural tour right after lunch, without wasting any minute: it's located near major monuments and museums, like Olympiou Dios, Arch of Hadrian, and the acropolis museum.
Places to go and things to do
As we said, Athens is divided into many areas. Plaka, Thiseio, Monastiraki, Kolonaki (sounds like I'm chanting a witch spell) are the most central ones that I'd recommend touring.

On the other hand, Exarcheia is a neighborhood you should mostly avoid: it's always pretty loud, and sometimes even dangerous. Nothing deadly, granted; but in this district, you can frequently witness extremist leftists protesting, and fights with police. Still, if your anthropological soul can't help being brave, in Exarcheia you'll find a beautiful music scene: there are concerts for all tastes, from metal to smooth jazz, and people here host great parties. However, if you're a woman (such a sad disclaimer to make in 2020), don't walk around here alone.

If you're looking for parties and bars somewhere else, then you should definitely head either to  Kerameikos or Psyri. Kerameikos is a bit more mainstream, Psyiri a bit more underground.

In summer, you'll find everyone having a jolly time at beach bars, which are all lined up on Poseidonos Avenue. But if you're in search of a gentler atmosphere and a relaxing walk, head to Plaka, the neighborhood of Gods: this area, located on the slopes of the Acropolis, it's known for its maze-like conformation and its beautiful architecture. It's probably the most romantic place of all, and you'll find amazing food to taste while looking at the breathtaking Acropolis.

Let's leave behind the central area for a second and talk about Kifisia and Chalandri. These two neighborhoods can be easily reached by train and have their own strong personality. Kifisia is one of the richest areas in Athens: here, people are a bit snobbish but still polite overall. It's all very green, yet full of shops – and we're talking big money here. So if you're in the mood for buying a Rolex, or do some window shopping, this is the place. Chalandri is where the middle class resides, along with high-end fashion brands. And it's also the perfect place to get a cocktail: all the best cocktail bars are located in this neighborhood, like Mr peacock and White Monkey.

And finally, during your visit to the Acropolis museum, make sure to go upstairs and get a seat at the café on the second floor. Your cappuccino will have a whole new taste with the view you'll get.
Transports
Transports in Athens are easy to use and fairly efficient. Once you arrive at the airport, you'll realize that sizewise, it's all pretty contained; from here, you can either opt for the bus, or the metro (which is slightly more expensive but obviously faster). Taxis are quite expensive compared to the other options, and many Greek drivers tend to be quite enthusiasts on the road (if you get the idea).

Both buses and the metro are good ways to move around the city during your stay, but I'd recommend the metro, nonetheless. It's quite clean and safe, and there are only 3 lines, so it's difficult to board on the wrong one. Buses can sometimes be not so reliable, and tend to get overcrowded during weekdays.
Extra tips
If you're in the mood to get out of the city center, you can always take a trip to another city. Within 2 hours, you can reach Kalavryta, a town that stands as a memoir of tragic historical events. Once there, you can also visit the beautiful cave of the lakes, a magical stone forest standing on bright blue waters.
At around 1 hour from Athens, you can find the seaport town of Nafplio, great for a romantic tour with your significant other, or for a dive into history.

Alternatively, just stick in the city center and blend in with the locals. Do the one thing they love doing: sitting at a café while sipping a coffee. You'll catch Greeks chilling on the same chair, with the same cup in their hands, for hours. Bonus point – all cafés in Athens have wifi, so you can catch up with your work while looking like you belong.
Cons of Athens
It's hard to find strong cons when captured by the charm of Athens. It's indeed one of my favorite places when I'm in search of warmth and lively locations. But everything has a but.

It sounds like a silly complaint, but Athens can get way too hot in summer. After all, it's a bit of a concrete jungle, so the air quickly gets dense and unbreathable when the sun is out there boiling heads. And though Athens is generally a safe place, there's still some areas that I wouldn't dare walk by myself. And the sad reality is, that it's all the more difficult if you're of the wrong gender. Catcalling is a huge problem in Athens: they don't have any hairs on their tongues, and they won't mind their own business. Hence, my dear sisters, stay safe and strong; injustice is around every corner.