Ever since Angelina Jolie walked through the mystique sites of Angkor Wat in Tomb Raider, the awe-inspiring temple had caught our attention.
Caught your fancy too, eh?
Well, wait till I tell you about all the things Cambodia has to offer and you will be drooling through your mind!
From the ancient wats (temples) to the grand architectural wonders of the French colonial times, Cambodia offers the best raw Southeast Asia experience. Unlike the other western influenced neighboring countries, Cambodia held on to it's regional and ethnic glory that will make sure you have an experience of a lifetime there as a digital nomad.
Now,
Apart from a treat to the eyes and mind, what other purpose do grand temples and architecture serve to digital nomads like us?
Not any, I suppose!
But, what about most affordable accommodations, a flourishing community of expats, hundreds of cafes to work from with free high-speed internet, and a thriving culture of co-working spaces that are easy on the pocket?
Reason enough? Also, add the ease of getting a visa and $0.5 beers to that, and now we are getting somewhere!
Above all, Cambodia offers the best value for money stay options, a thriving digital nomad culture, and one of the most hospitable people in the world. Clearly, the value it provides made Cambodia and particularly Phnom Penh the Digital nomad capital of the world.
Cambodia for digital nomads at a glance
Cambodia has long been designated a tourists' paradise in southeast Asia. While for a long time in the past, it has served the purpose of a resting place for exhausted backpackers, recent developments and city up-gradation have undoubtedly changed that scene completely.
Take a flight to Phnom Penh, and the bustling city will surprise you. We all have heard about the difficulties Cambodia faced; land mines, poverty, and civil war. Nevertheless, now look at all the developments that are happening throughout the country and you will hardly realize that this is one of the poorest countries in the world.
Pros
Cheap apartment and living costs.
High-speed wifi everywhere.
Affordable markets with a long list of items.
Cons
Underdeveloped public transport.
Frequent power cuts.
Dangerous roads.
Corruption.
Cost of living in Cambodia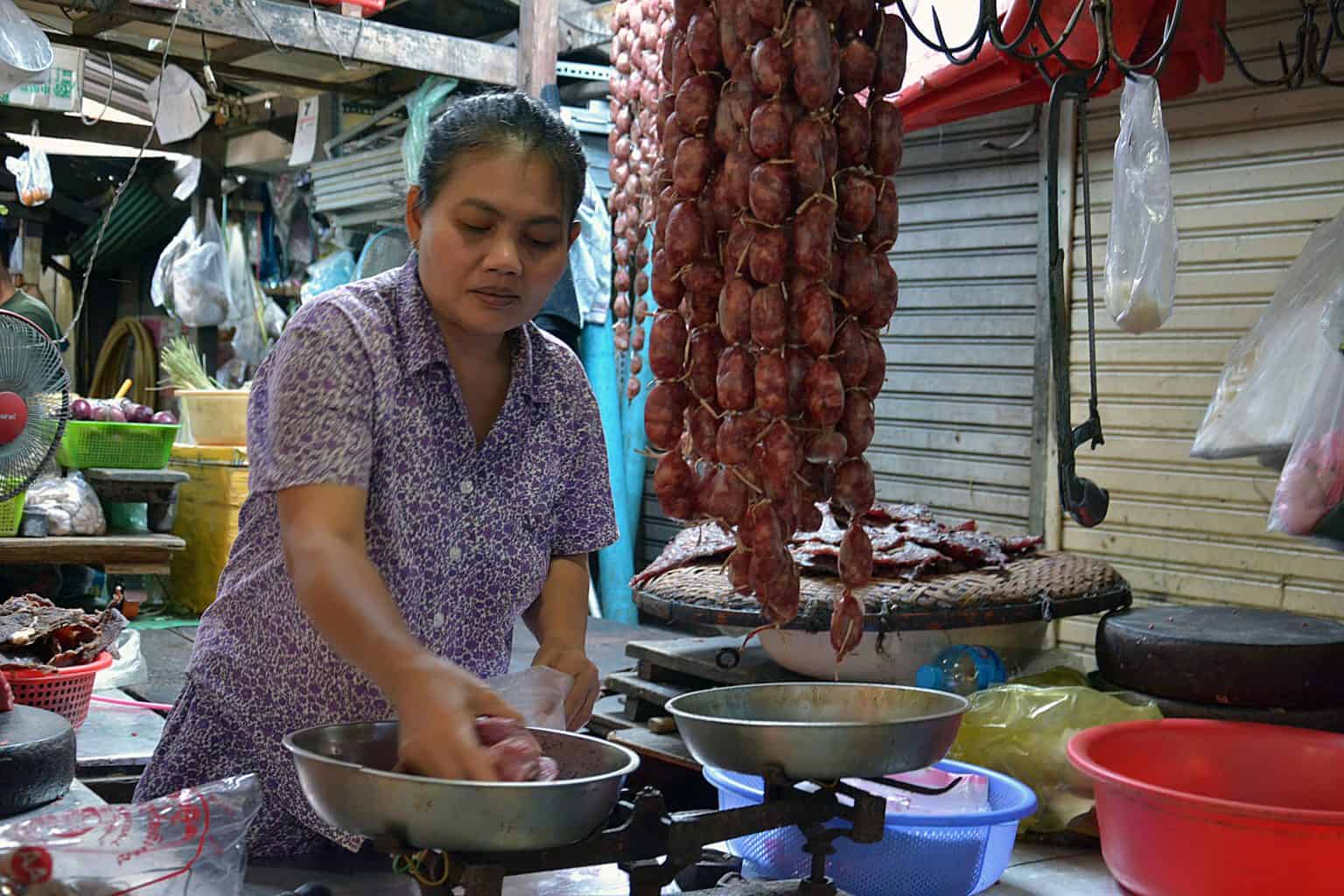 Cambodia is best known for its affordability apart from its heritage culture, beautiful temples, and landscapes. Featuring in the top spot of the most affordable countries' list for years, Cambodia is a digital nomad's paradise in terms of prices.
> Read more: Cost of living in Cambodia.
The costs of things are so little, the neighboring countries, although very cheap themselves, will feel like expensive. From bottled water to beer, daily food to public transport,  rent to cable tv, and wifi, nothing will put a dent to your pocket. While there are luxurious hotels, extravagant lounges, and nightclubs that cost a little bit more, nothing will seem priced too much.
Accommodation
For rented accommodation, a basic studio apartment's price on average in European or American cities will fetch you a luxurious 1500-2000 square ft apartment even in the important cities like Phnom Penh or Siem Reap. The rent for studio apartments just outside the city starts from $200 and $1200 will fetch you a spacious 3 bedroom apartment will all the amenities. If that isn't cheap, I don't know what is.
Transportation
The daily public transport is tuk-tuk and costs around $1. Taxis are from $2 and buses from $0.8. Until a couple of years ago, there was no control over prices and you needed to constantly haggle to get the best prices. But those days are gone with the introduction of app-based services. Install City bee, Uber, and Grab for transparent and fair transport prices.
The daily foods, fruits, and vegetables are sold on individual sellers' prices and need a bit of haggling. Otherwise, the shopping centers sell them at a fixed rate which is $1-2 more than the local prices.
The prices are so low at restaurants than eating out daily is not a bad idea. A meal for two will cost you a mere $10 at any affordable restaurant.
Water costs $5 per person, high-speed internet around 15$, and maid for cleaning costs 40$ for twice a week's visit.
Healthcare
Healthcare is pretty affordable with decent doctors and hospitals. Because of the tropical weather, diseases that come with it will sometimes affect you.  Although serious illnesses will require you to go to Thailand for further treatment and better care, most of the time you will be fine in Cambodia. Their dental hospitals are best in class and you can have the best treatment with a fraction of the cost you would otherwise incur in your hometown.
The below price pointers will give you an idea of the average cost of living:
A fresh loaf of bread(500g) costs $1.5
A meal in an average restaurant costs $3-$5
Electricity bill stands around $65-$100 for a month with average usage (including A/C)
The weather in Cambodia
If you are trying to avoid snowy freezing temperatures, Cambodia is your best bet.
Cambodia has tropical weather with mainly  2 seasons, monsoon and summer. And along come the diseases that are prevalent in the tropical weather. The temperature stays warm throughout with some very hot periods. The cooler monsoon stays from October to February with little rain from October to November. December to February is dry and sunny and is the best time of the year.
From February to April, the temperature rises gradually and hot weather continues till early June. In April, the temperature rises to around 40°C and requires aircon. May and June are hot and humid and you will feel maximum discomfort during these months.
From June to September, it rains heavily with September receiving the most rainfall.
Best time for hikes and camps
December to February, being the best times of the year, receives maximum tourists, larger crowds, and heightened activity resulting in higher prices. If you want to explore the country well, going to the picturesque villages and beautiful shorelines in Sihanoukville, that will be time to do so. Go hiking or camping along with your friends, light a bonfire, and enjoy the night.
Finding places to stay in Camodia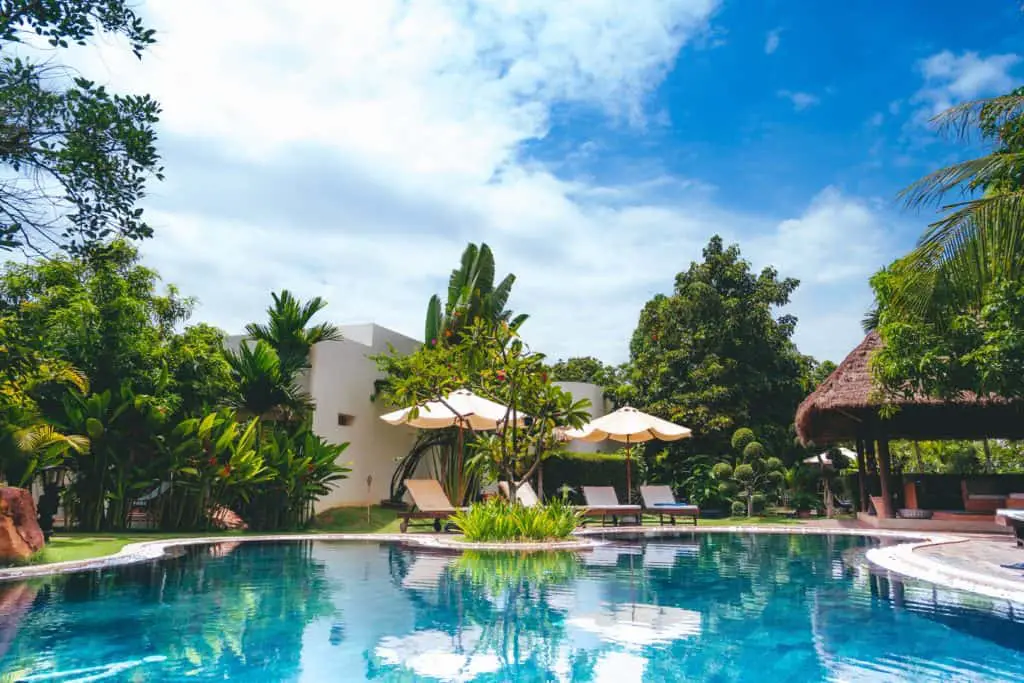 The hotels are aplenty, cheap, and provides value for money. Hotel rooms are available from $14 a night and provide the best security and comfort for your money. You can find hotels with swimming pools and world-class amenities at very affordable rates. The main cities like Phnom Penh, Battambang, and Siem Reap have numerous hotels, hostels, and Airbnb homestays.
Alternatively, rented accommodations are cheap and easy to find. They are ideal for long term stay. The agents will push for a stay contract with more than 6 months because they receive no commission for a stay under 6 months. But, you can negotiate with the landlord and push for a shorter duration contract. Keep in mind, longer contracts ask for a bigger advance and security payment. So it is in your best interest to push for a shorter contract.
Hostels
Hostels are cheap in Cambodia and can be found around Phnom Penh and Siem Reap. They usually cost around $3 per bed and are well equipped with all the amenities. They are clean and offer a common place for chilling out, affordable food, and an inclusive environment.
Airbnb
You can always avoid agents and find houses to rent in Airbnb. But they are mostly in Phnom Penh and have hardly any options in parts of the country. The private rooms in Airbnb start at around $250 for a month and are beautifully decorated and homely. Head over to Airbnb and finds a room that suits your needs.
Booking Airbnb for a long period gives you an extra discount for the total booking. Avail them if you are staying for long.
Facebook groups
For rented accommodation, the expats generally live around bkk-1, bkk-2, and bkk-3 area, but you can live anywhere you want. The prices around the side of the Russian market are a little less if you want some cheap accommodations. Head over to the Facebook groups and look for listings that your requirements. Most useful Facebooks groups for this are:
Another thing to keep in mind is burglary. Burglars are aplenty in cities. If you are going somewhere, lock your house well and keep windows shut from inside. A little bit of precaution will keep you and your valuables secure.
Visas and documentation in Cambodia
Visas are easy to get in Cambodia. To most countries, they offer visas on arrival. Though you can get a visa from the Cambodian embassy or consulate overseas, it is better to get a visa on arrival if your country has the benefit of visa on arrival in Cambodia.
If you are a digital nomad, we will advise you to get a business visa. A single-entry tourist visa and a business E visa both cost $30. Both have a validity of 30 days. But if you want to stay for a long time, it is better to apply for a business visa or E visa ( different from e – Visa i.e electronic visa)for the benefits it offers. A tourist visa may have a maximum extension of 30 additional days. But an E visa has an infinite extension possibility and costs $35 for a 30 day period. The extension of a business visa for a year costs around $300.
Also getting your visa extension takes some days. So it is better to plan early and to get it done by a certified Travel agent or agency. That will save you from a lot of hassle.
The top destinations for digital nomads in Cambodia
Phnom Penh
Sitting at the junction of Mekong and Tonlé Sap rivers, the bustling capital city of Cambodia, Phnom Penh is the place to be if you are or aspiring to be a digital nomad. Be it imported products, happening city life, or a massive expat population, Phnom Penh has the best city experience Cambodia has to offer.
Standing beside the river, the Royal palace and the Siver Pagoda are major tourist attractions. Walk by and you will find several bars and cafes along the same riverside where you can sit, enjoy the view and have a good cup of coffee.
And if you want to buy anything, anything at all proceeds to the Art deco Central Market, located at the heart of the city. The market is massive, beautifully designed, and itself a landmark shopping center.
Siem Reap
Located in northwestern Cambodia, Siem Reap is the gateway to the famous Angkor Wat. Although a low key city, Siem Reap boasts of a number of resorts, boutique hotels, museums, and galleries. The old French quarter is full of restaurants that offer diverse Cambodian and international foods. And, the Pub street has the best nightlife.
Sihanoukville
The coastal city of Sihanoukville is the capital of Sihanoukville province located in the country's southeast region. The city is full of strings of beaches and beachside marshlands. There used to the flourished diving scene in the sea, but dynamite fishing has made them a risky affair. If you are fond of neverending sealine, Sihanoukville is your ideal place. Although at night the region is not safe for everyone, a few precautions will keep you out of any danger.
---
If you are already living in Cambodia or have lived in the past, feel free to add any more information in the comment section. Your experience will be beneficial for all the existing and aspiring digital nomads all over the world. They will help in strengthening the digital nomad community even more and prepare them for any difficulties well ahead. Based on your suggestion, we will try to update the Ultimate guide to Cambodia for digital nomads even more with recent happenings and developments.