With its wild forests, sweeping all the way from the Russian border to the Baltic Sea, and its cobbled cities dating back millennia, you might think that Estonia was the Europe of old; untouched, undiscovered, untrodden. Not a chance. Proudly rebranded e-Estonia in the noughties, it's one of the world's most cutting-edge digital nations. It gave us Skype and harbors more start-ups than Silicon Valley. There's uber-quick internet and the groundbreaking e-residency scheme that's a boon for many a digital nomad (but more on that later).
On the surface, Estonia might not look like the tech-savvy, entrepreneur factory described above. Its capital is all spiked keeps from the 12th century and onion-domed churches built by the Russian tsars. Smaller Tartu comes laced with timber-built cottages and surrounded by wild woodlands and swamps. The beaches are vast and windblown. The upshot? You'll be enchanted while still being able to do business…
Estonia for digital nomads at a glance
Pros
Great digital infrastructure.
Cheap cost of living.
The e-residency scheme makes admin easy.
Cons
Only two cities.
Gets cold in the winter.
Proximity to Scandinavia is cranking up prices – especially in Tallinn.
The cost of living in Estonia
To put it simply: Estonia is cheap…but not the cheapest. Rough estimations put this corner of the continent at around 50% less expensive than New York City, and a shade under the average for Central Europe. That means it's not as easy on the wallet as its nearby Baltic compadres – Latvia, Lithuania – but it is eminently manageable on most budgets.  
For digital nomads in Estonia, the good news is that business costs are cut to a minimum thanks to the easy e-residency program (still, more later). You should also find rent nice and affordable, with a studio flat in the capital of Tallinn coming in at an average of around 650 USD/month. Other outgoings you might expect include:
A beer in a bar in the Old Town of Tallinn: €2 ($2.20)
A whole meal deal in McDonald's: €6 ($6.60)
Bus between Tartu and Tallinn (the two biggest cities in Estonia): €5 ($5.50)
A pint of milk in a local grocery store: €0.74 ($0.82)
The weather in Estonia
Estonia gets the full four seasons, and even adds on an extra one for good measure: The Flood season. That occurs in the region of Soomaa, around April, when thaw and increased rainfall cause a surge in water levels. But instead of reaping damage and destruction, Estonia's floods are beloved of residents, who drag out the kayaks and canoes and get exploring.
Summer is the favorite time to be in this corner of the Baltics. It's rarely scorching a la Greece, but the balmy continental weather systems can bring lots of sun, high humidity, and even mercury levels in excess of 85 between June and August. That's when the crowds exodus from the cities to the beaches of Pärnu and beyond.
Autumn sets in as soon as September comes, and things can get chilly quite fast. In fact, the first snowfall is usually dousing Tallinn by early November. You'll definitely need the thermals and the boots to get around. Also remember that Estonia is quite far north. Elongated days in the warmer months quickly turn to short, dark days in winter, so you will have to deal with lower doses of Vitamin D.
Finding places to stay in Estonia
Estonia is becoming one of the global hubs for digital nomads on account of its forward-thinking e-residency. But it still remains a quiet, off-the-beaten-track corner of Europe, without huge crowds of visitors. That means you can still enjoy relatively low prices on short-term rentals on apps like Airbnb, and there's not too much competition for the best pads in places like Tallinn and Tartu.
Airbnb
We'd say Airbnb is the best option for seeking out your first home away from home in Estonia. Maybe there's something about the digitally minded Estonian landlords that means online listings are their first port of call. Either way, the service has a wide selection of urban digs that are stylish to the T. What's more, loads of them are located in hotspot areas, like the Tallinn Old Town or the riverside districts of Tartu. Be sure to check for places with monthly discounts – it's possible to get 50% or more off!
Kv.ee and city24.ee
Rental contracts for towns, cities, and villages all over the country are advertised on these property platforms (Kv.ee and city24.ee). They've long been the go-to place for locals looking for somewhere to live or even buy, but they are becoming commonly used by digital nomads in Estonia. Select the language options to switch listings into English, and remember to select the short-term rent option if you don't want to commit.
Visas and documentation in Estonia
EU citizens can chillax – Estonia is a member of the union and the Schengen Zone, so you can just hop in and out whenever you want. There's no visa required to do pretty much all the things you'll need to do as a digital nomad in Estonia, from buying a car to setting up a business. Just be sure to register your residency after three months.
For non-EU citizens, there's the short-stay Schengen Visa that allows stays of 90 days within 180 days. That's strictly for non-work purposes, so you might want to consider applying for residency in order to gain the right to work. That might be a lot easier than you think, too, all thanks to the groundbreaking e-residency program…
One of the many bright ideas of the forward-thinking Estonian government, it's something that should appeal directly to digital nomads the world over. You register for e-residency, you get access to Estonia's business and taxation systems (both of which are famously easy to use), and even the national banks (great if you're having trouble accessing existing payment services like PayPal). The scheme is open to anyone, anywhere in the world, and the application is – of course – simple and totally online. (Be sure to check out our in-depth guide to the Estonia e-residency program for more info)
The top destinations for digital nomads in Estonia
Tallinn
Tallinn is the Estonia you've probably see on the postcards. It's a real looker of a city – some say the single best preserved medieval old town in the world! Walls dating back to the 1200s ring its maze-like center, where open squares host taverns, town halls, and grand cathedrals that look more Russian than Baltic. It's unquestionably the most vibrant and lively place to be for digital nomads in Estonia, with its buzzy nightlife and fast-moving startup scene. We recommend starting here.
>> Read more: Best coworking spaces in Tallinn.
Tartu
The second city of Estonia is a confident and characterful town that occupies the remoter southern half of the country. It's hemmed in by what seems like an endless sea of evergreen woodland, but soon makes itself known with grand Neo-Classical buildings and a fairy-tale old heart that's awash with timber-clad cottages and their smoking chimney stacks. A big student population keeps things energetic throughout the year, especially in the bars down Rüütli street and the spots along the riverside.
Haapsalu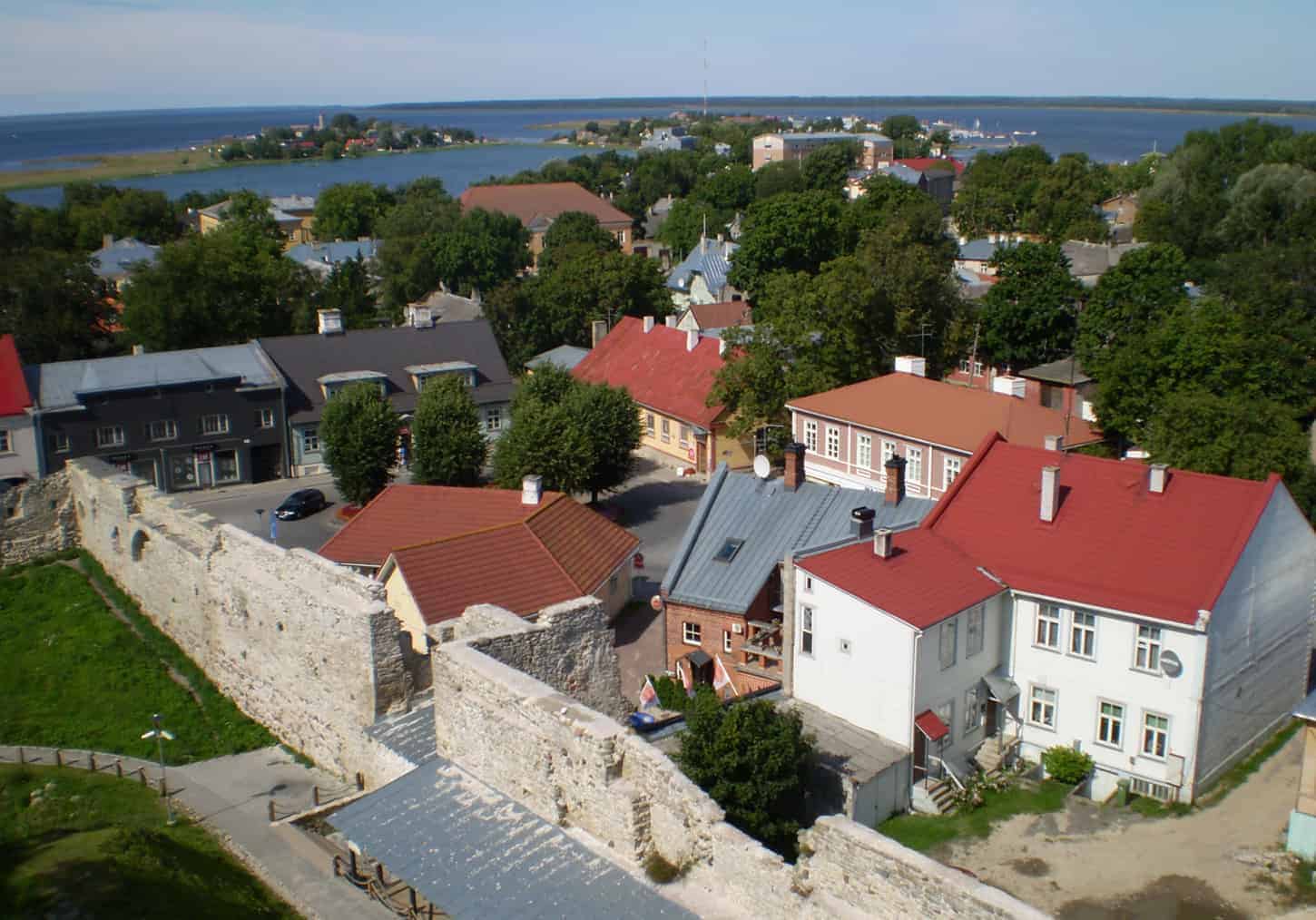 The joys of Haapsalu are many: Smell the salt from the Baltic Sea, wander wooded headlands, and enjoy a lived-in old city that's topped by the muscular walls of Haapsalu Castle – just avoid that on full moons, because it's supposed to be haunted. This is a charming option to head for if you're not too keen on city living. There are sandy beaches and lots of coastal walks, coupled with a lively summertime vibe.
Pärnu
Between May and August, Pärnu is party central. It draws in loads of hedonistic Fins and Swedes from across the water, who come in search of cheap beer and lively bars by the sea. The whole waterfront is awash with elegant spa hotels and cool cafés, and the sands are simply lovely when the sun is a-shining. Arrive at any other time of the year and you're likely to find lots closed and hardly a soul about.
Saaremaa
Make it just you and the bracing Baltic breezes by escaping to the ancient island of Saaremaa. Historical records as old as the 14th century note this isle as a Catholic outpost at the very end of Europe. These days, it's centered on the spa resort of Kuressaare, which has more chic hotels than you can shake your guidebook at. Outside that are swathes of virgin coastal pines and creaking windmills gazing over wintry bays. It's one for the DNs who like to be surrounded by nature, with just a dash of luxury on the side.
---
Feel free to add your tips, ideas, destinations or tricks in the comments below. We're always looking for more info to add to this ultimate guide to Estonia for digital nomads!