So you're thinking about making a trip to the gorgeous pastures of Ireland. Now, it's time to figure out what bucket list items await digital nomads in the land of leprechauns, rolling green hills, and Guinness. I recently returned from my own Ireland experience and did some digging. Here I'll dive into the gems, the spots you may want to skip, and the places I'll be putting on my list for next time!
1. Cliffs of Moher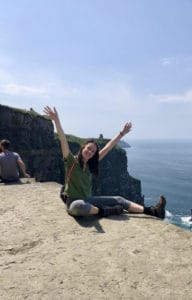 Perhaps one of the most iconic landmarks in Ireland, the Cliffs of Moher is an absolute must-see! I experienced the cliffs via a bus trip through Paddy Wagon Tours. The tour gave us a fair amount of time to take pictures, hike around, and enjoy the scenery. In the future, don't take a tour if you can afford to rent a car. Driving to visit the cliffs is the best option, as you could spend most of your day there breathing in the Atlantic Ocean. Try to check out when their busiest times are ahead of your trip so that the cliffs aren't overflowing with tourists when you arrive.
2. Blarney Castle and Gardens
The castle and gardens will exceed your expectations.  I also booked this excursion through Paddy Wagon Tours, who made the trip fun and relaxed. Keep a close eye on the time, as lines at the castle can get long to kiss the Blarney Stone and receive the infamous Gift of Gab (do some back stretches and wear comfortable clothing!). The garden's expansive size and manicured perfection will completely take you by surprise. There was plenty to do here and I would recommend blocking off an afternoon so you can explore it fully.
3. Guinness Storehouse Tour
If you enjoy Guinness this needs to be on your to-do list! Book your tickets online to save money and time waiting in a long queue. The tour is self-guided, allowing nomads to spend as much time learning as they like. The entire storehouse is built on levels so that guests experience a new portion of the brewing process as they go up the floors. Towards the end, they'll teach you how to "pour your perfect pint" and put your skills to the test. The top-level opens up to give you incredible panoramic views of the entirety of Dublin. Wear comfortable shoes and don't forget to bring some extra cash for the gigantic souvenir store!
4. Phoenix Park
If you're like me and love the outdoors, then Phoenix Park is a breath of fresh air. It's a wonderful way to escape the bustling city life of Dublin. The park itself is huge and you can easily spend hours exploring the beautifully designed walking trails. Venture off a little further through the trees and you'll find the most popular guests in the park, wild deer! The deer of this park are quirky and completely unafraid of people. They're often seen walking directly up to visitors if they suspect food. Feeding the deer is against the law though, so watch out for park rangers!
5. Temple Bar and Pubs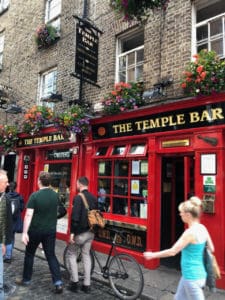 The pubs of Dublin are one of its top attractions and busting with life the majority of the week. A unique watering hole can be found around nearly every corner. Grabbing a pint at Temple Bar and enjoying the local band's music is a staple of any Ireland experience. Just a head's up-the drinks can get pretty expensive in more touristy places like Temple. It's a popular spot, and people tend to pack in like sardines on lively nights. Don't plan on being here for the entire evening unless you want to spend a pretty penny.
6. Galway
Sadly I was unable to venture to Galway during my stay in Ireland and it has thus become a next-time item. The travelers I spoke with describe Galway as the likeably less crowded, less touristy, and maybe even more hipster version of Dublin.
7. Doolin
This small and beautiful village has also made the list for next-time adventures. I was able to make a quick stop here on the way to the Cliffs of Moher, (the village is only a short distance from the cliffs), and was blown away with the hidden gem feel that it radiated in our short time here.
8. Dublin
Dublin is perhaps one of the most popular cities to explore in Ireland. I spent my time here at a hostel close to the center and easy on the wallet, Paddy's Palace. Although I would recommend Dublin in terms of visiting, I wouldn't opt to stay in this city for your entire experience. It's a great deal grittier and crowded than I had anticipated, and seems to be more in tune with the "stay-up-all-night, sleep-all-day" crowd. The rolling green hills that you anticipate when you think of Ireland are not to be found within the city of Dublin.
9. Skellig Michael
Skellig Michael is at the top of my list for my next Ireland adventure, and should be on yours too! It's listed as a UNESCO World Heritage Site and is certainly not for the faint of heart. A trip here involves careful planning, as it is entirely dependent on the weather and requires booking through a guided tour. Hiking up the incredible landscape involves careful navigation and can be very dangerous. Fun fact: The Skellig Islands were one of the locations where they filmed Star Wars: The Force Awakens!
10. Glendalough in the Wicklow Mountains
Any P.S. I Love You fans here?  Take a trip up to the Wicklow Mountains and you will be able to experience the fantastic scenery filmed here (and maybe even see Gerard Butler?) along the flower-lined winding roads. Glendalough is located within the national park and offers wonderful walking trails that open up into their famous lakes. The area is also rich in history and monastic sites for those interested in learning more about this amazing country.
Time to pull on those rain boots, throw on a GAA jersey, and grab that road map. This island nation of breweries and Celtic history is ready to be explored. Tell us about why you want to visit Ireland in the comments below!