Lisbon is one of the best hotposts in Europe, and rightly so. Annual host of the Web Summit and increasingly wifi friendly, sunny Lisbon gathers thousands of DNs and a proactive DNs community. Vivid colors, perfectly surfable waves, tasty food and friendly faces: let's explore the good – and less good – things Lisbon has to offer!
Accommodation
Rental prices have been skyrocketing in the last years, due to the growing tourism. While Lisbon is still an affordable city to live in, the gap between general everyday expenses and rent costs is absolutely ridiculous! Let's look at some good options together.
Short stays
If you're planning a short stay, I recommend hands down Airbnb.

Home Lisbon Hostel is also a perfect choice: shared rooms from 18 euro per night, cool clean common areas with fast wifi, and friendly staff; this hostel is a total bargain. It's also in Santa Maria Maior, a great freguesia to walk around and breathe in the authentic portuguese vibe.
Medium / Long stays
For Coliving options, Selina's secret garden is the best choice if you're on a budget. Outsite is an all-rounded accommodation with rooms starting from 40 euro a night. Samesame co-living is probably the best one in terms of price-quality ratio. They all offer cozy spaces specifically for Digital Nomads, with all the comforts a remote worker would need.

You can always check out Facebook groups for Digital Nomads for individual rooms and apartments, as well as Nomadx.

Tip 1: In case you're looking to rent a space on your own, get familiar with the portuguese housing classification – T0, T1, T2, T3, are all ways to indicate the number of rooms a place has to offer.

Tip 2: Lots of guides will recommend you to check Uniplaces to get accommodation. As dreamy as it looks – easy interface, cheap prices, great apartments -, listen to me and avoid at all costs! The number of scammers on this platform is infinite, as the policy of the website is to not provide any direct contact with landlords.
Working and Coworking spaces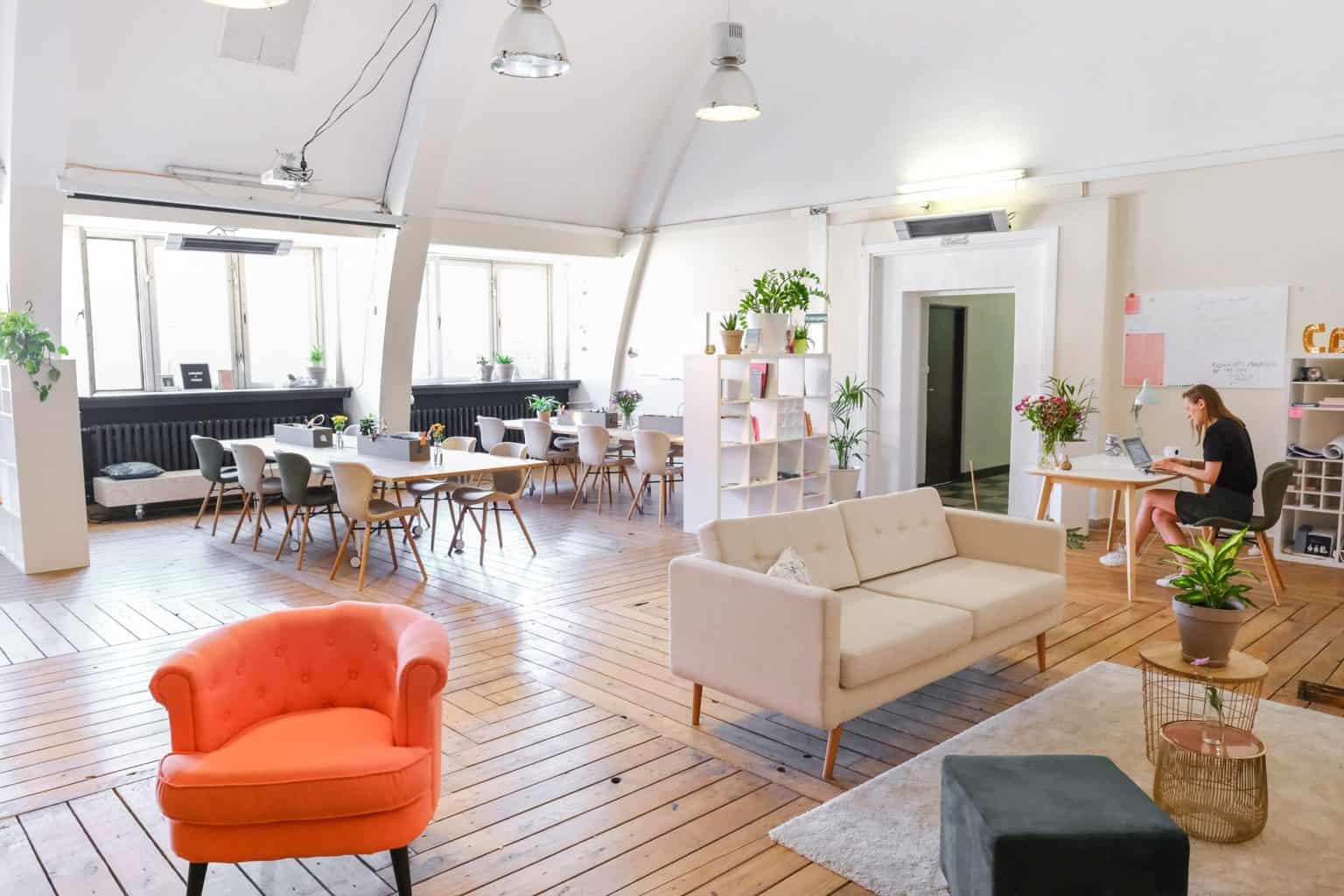 Lisbon counts a gazillion of functional cafés and just as many coworking spaces – so many we'd need the whole day to list them all. So here's my 3 favorite spots to hang out with my laptop!
For 269 euros a month, you can head into Liberdade 229, get your own desk and do some nomadic networking. What we especially like about this spot is the location, in the heart of Lisbon. It's a paradise for hipster souls! The membership includes fruit, coffee, a super fast internet connection and a ping pong table!

Selva, in Alcantara, is an absolute blessing for digital nomads. The DNs community of Lisbon organizes Casual Coworking Monday every week in this exact location! Go sign up and enjoy a little treat in between your working hours.

Around Lisbon, there are multiple Copenhagen Coffee Labs where you can easily work with your laptop. My favorite one is located in Alfama – every time I'm fed up with the job, I simply pop out of the café to enjoy a magical view of the river. It's not your typical portuguese place – in fact, everything inside it screams "North!", from the industrial decor to the danish pastries. Yet, the wifi is great, the place is always quiet, and the cardamom brioche is to die for. Seriously.
Money and ATMs: a warning
Here here, let me help you avoid the unnecessary frustration I had to go through. Most places in the central area of Lisbon made the jump into the 21st-century trends and allow you to use credit and debit cards of any type. However, many other cafes, restaurants, shops, especially the local ones, do not provide any options for card users. Not even portuguese cards! Hence, if you plan a tour outside of the most touristic spots, make sure to withdraw some cash.
That said, a word of warning. Lisbon is packed with ATMs, yet some are treacherous snakes. You might be already welcoming an ATM machine from the distance like a mirage in the desert, but if you see the colors blue and yellow, and the big sign spelling "Euronet" on it, run for your life! These ATMs impose absurd transactional fees on any amount of withdrawal. I remember being out of options, in a hurry, with a sad grin on my face while looking at a 5 euro charge on a 20 euro withdrawal. Outrageous.

Euronet ATMs are especially located in the touristy areas; but with a few minutes walk, you'll find a proper ATM near you with no problems. You want to look for ATMs with the MB logo on top – MultiBanco! -, grey and reddish, certainly less shiny than the Euronet ones but with no scam involved.
General Cost of Living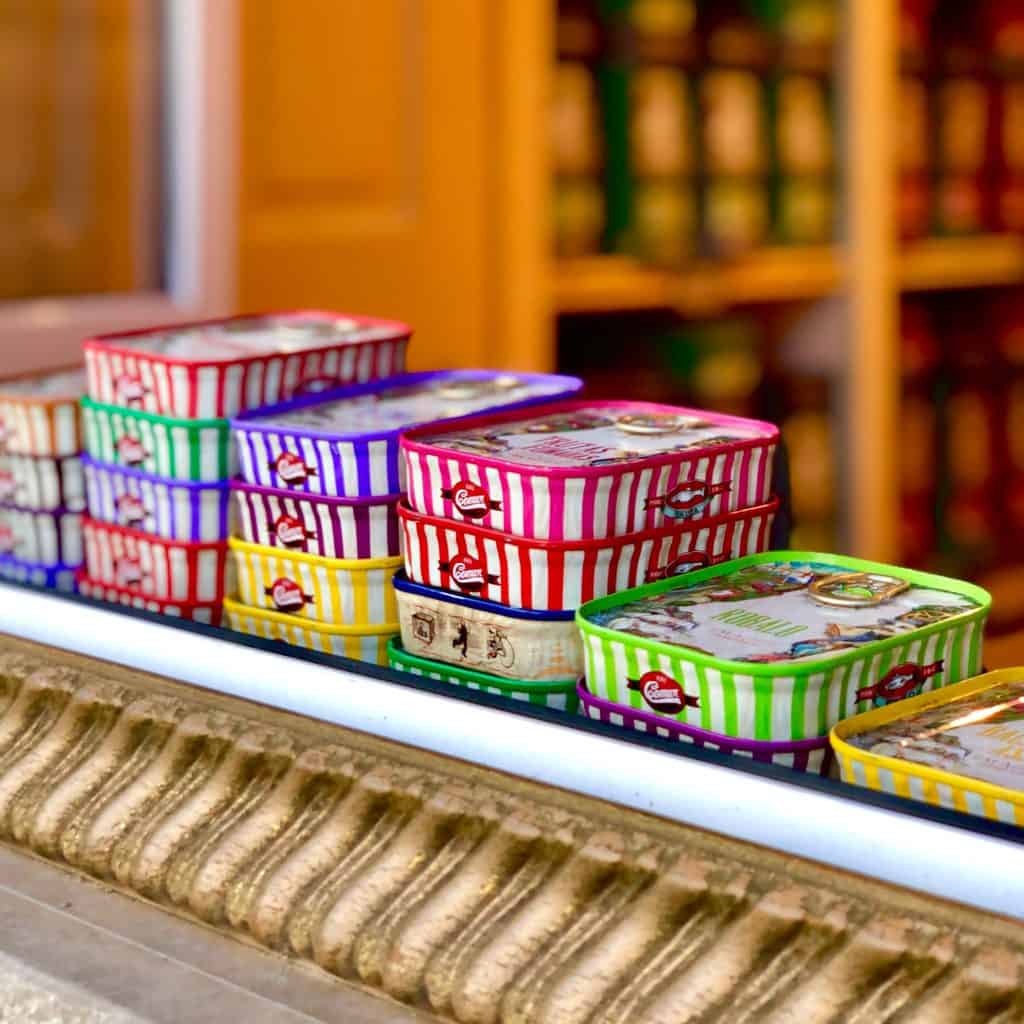 All in all, Lisbon is super cheap!
You'll get coffee for about 0,60 cents in any local cafe – cents, no cards, remember! Of course, we're talking about the typical espresso coffee: not the big mugs filled to the top, but tiny cups with couple fingers of liquid, South European style! A small beer, called Imperial, will cost you around 1,50 euro. A tasty, typically portuguese fish dinner is readily available at local restaurants  – called Tascas – for about 9 euro. Big portions guaranteed! If the price is above 18 euro, you're probably in the wrong place.

Public transport is quite affordable and efficient. The best way to move around is certainly the Metro, with a ride costing around 1,50 euro. Just think that for basically the same price you can take a train and visit another city, such as Sintra!

Depending on the type of accommodation, you'll be spending between 20 euro per night for a room to ∼600 euro per month for a private studio. As we said, rents are higher compared to the everyday life expenses, but it's still far better than in many other European countries!
Eat and Drink: best places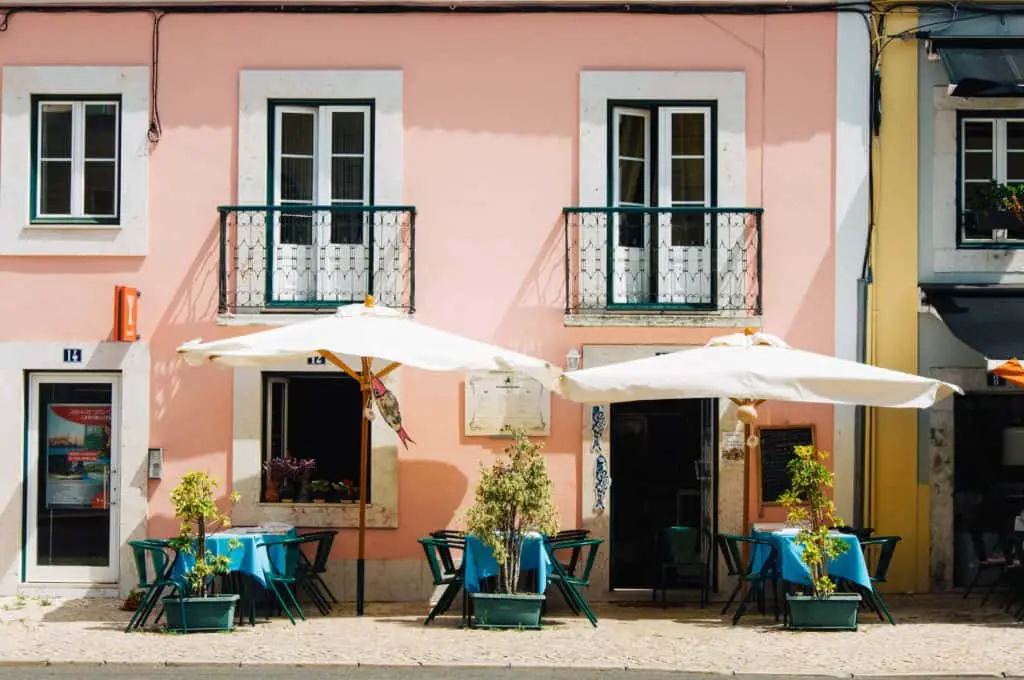 Here's a huge problem with an increasingly touristic place and booming globalization. It gets difficult to spot restaurants and bars that will offer a great experience, providing quality without ripping you off. Here's some favorites of mine – ones that ensure a perfect quality-price ratio and an english-speakers friendly atmosphere!
Breakfast
A Padaria Portuguesa has its facilities sprinkled all over Lisbon. As a chain, it might not feel like the most authentic choice, but it offers all the typical pastries and more. It's perfect for a quick breakfast, it's fairly cheap and accepts all cards as well as cash!
Meal
If you're in for the local experience, look no further. O Trigueirinho is the best you can ask for. You can get huge portions of delicious fish and meat for as little as 7 euro. And you absolutely have to try the house dessert: it's a heavenly cloud. Make sure to book a table, because no matter what season it is, there's always people waiting in line. Ah, they only accept cash!
There are of course vegetarian and vegan restaurants in the city; the typical food in Portugal, however, is meat-based.
Drinks
Located in the lively Intendente square, Josephine is definitely the bar to go and get some drinks on a night out. Always full of energetic people, right next to Casa Independente, the cheapest yet greatest drinks ever and friendly staff: what a deal. Some nights, I can't get enough of their Sangria Tinta! They only accept cash.
Lisbon is extremely safe, but less-touristy areas like Intendente square can at times have their dodgy passersby!
Things to do around Lisbon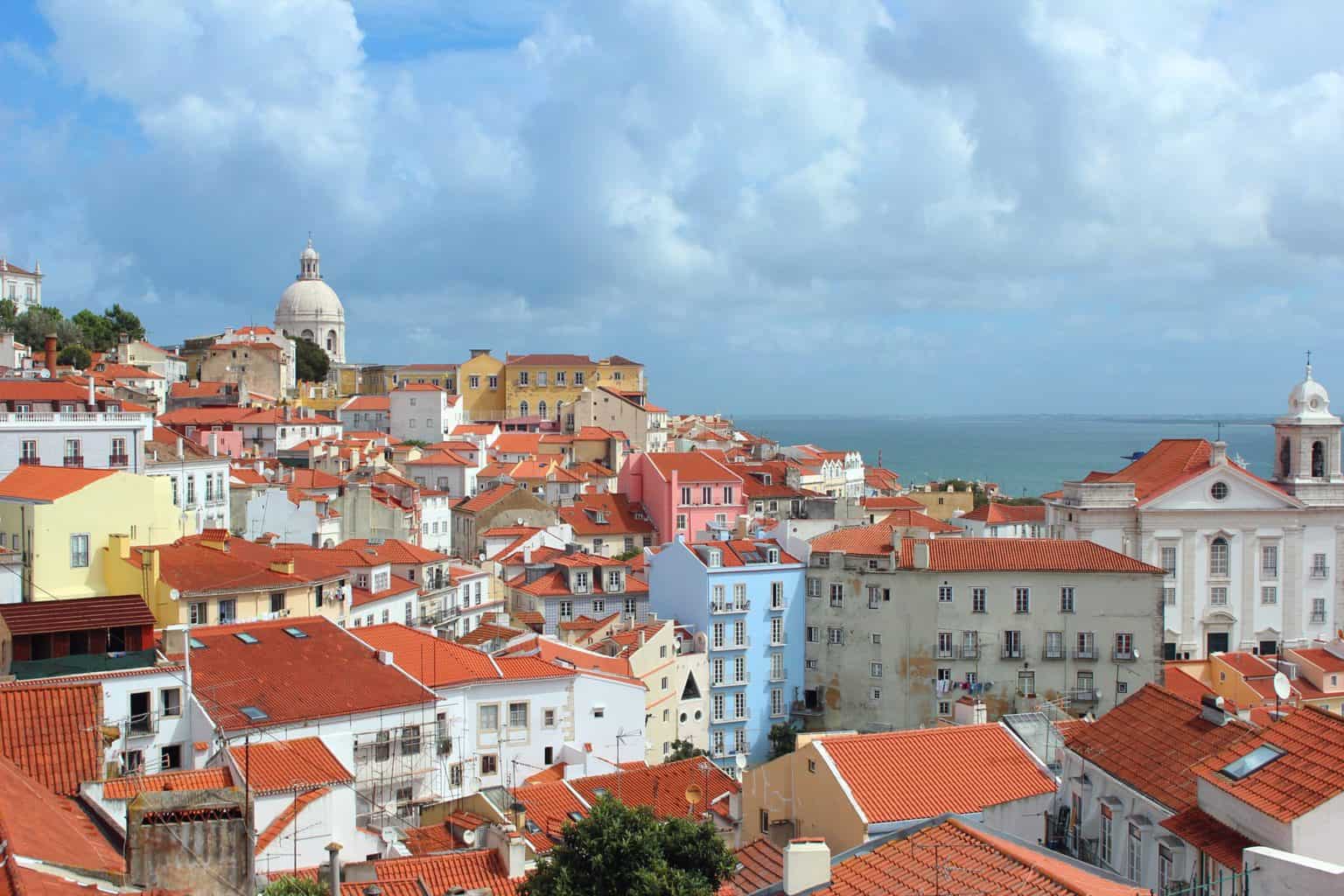 Obviously, Lisbon offers a myriad of dazzling activities. But what would you absolutely have to do if you were in Lisbon for a few days top? Here's the answer to your prayers.
Take a stroll in Alfama
It won't sound so much like a grandma's activity once you start walking all those uphill streets. But trust me, it's worth it. Alfama is the best and oldest district of Lisbon: every corner is a little gem, every path is colorful and charming. This is the place where to find true beauty in Lisbon.  All the way up, the ultimate reward: the Castelo de S.Jorge. The entry ticket is 10 euro, but the view repays it all.
A Trip to Sintra
Alright, I hear you. It's not exactly central Lisbon. But with a 40 minutes train ride, you'll get to one of the most magical kingdoms on Earth – no exaggeration. Hop on the train departing from Rossio station and go! Sintra is a living fairytale, with its palaces, castles, woods, labyrinths, wells, caves. Even better if the weather is not the best – it all gets more magical with a bit of mist surrounding it.
Surf in Carcavelos
Lisbon loves its waves, and you will too. Carcavelos is a great place for all kinds of surfers – even for surfing-virgins like me. It barely takes 20 minutes from central Lisbon to get to Carcavelos. There are schools and surf camps where you can book lessons and rent the equipment. It's fun all year long, with the waves getting increasingly high in winter. And if I can do it, you can too!
Transfers from the airport
Moving from and to the airport is pretty straightforward. Let's look at some ways to get you out of there!
The easiest option is the Metro: it's basically inside the airport, and you can get a ticket at any vending machine. You'll have to buy a Viva Viagem pass: they cost 0,50 euro. Then, add a single metro ride (1,50 euro) and you're good to go. Don't trash the pass: it can be used for metro, buses and trams all over Lisbon! You'll just need to top it up at any ticket machine – they're all scattered around metro and train stations.
Tip: there are 2 types of Viva Viagem cards a white and a green one. They work similarly, but in some areas, only the green pass is valid!
If you climb all the way up inside the airport – inside it, don't leave the building just yet!-, you'll eventually find a parking lot filled with Uber cars. Uber works quite well here in Lisbon, it's trustworthy and affordable. An Uber ride to central Lisbon will cost you around 10 euro. It's obviously a comfortable  choice for tired, overpacked travelers!
There are 2 lines of Aerobus departing from the terminal. They'll stop pretty much at all the relevant locations of the city, especially near hotels and facilities. A one-way ticket will cost you 4 euro (3,60 euro online). I'd still recommend the metro over this!
Digital Nomads and Expats: where to find them
Unless you're already staying in coliving facilities, you might be wondering where all the DNs are. Well, the DNs community is quite active on Meetup: a lot of DNs regularly hang out at Selina's secret garden, but the main DNs community organizes all kinds of events every week – coworking, nights out, trees planting, hiking..!
Find them on Facebook as well!
Lisbon: the ugly side
Every coin has two faces. We certainly don't want to overshadow the beauty of Lisbon; but an honest guide will prepare you better for your journey. So here's the main problems of amazing Lisbon.
Tourists invasion!
This city has changed so much and so fast in a decade. Some neighborhoods are just hard to walk through, you'll feel squeezed like a sardine and won't appreciate your surroundings at all. The whole area of Bairro Alto – Chiado is definitely the worst when it comes to mass tourism. Bairro Alto can still be fun for nights out and drinks, and overall the area has interesting locations to visit. But one time is more than enough here.
Poverty and  homelessness
Lisbon is filled with homeless people just roaming the streets, even in the coldest nights. It's estimated that over 2000 people live in poverty at present. This is not only a sad mark on the beautiful postcard-like Lisbon. It might present some threats for those tourists wandering the city at night. Lisbon is pretty safe, but some areas are a bit risky to walk alone. As a (female) solitary wanderer, I've been in unpleasant situations around the area of Rossio and Martim Moniz.
Rooms and Apartments: not the best quality
This is especially for all those travelers who decide to rent a room or a flat from a private landlord. I was shocked to notice how many shops of duvets and blankets there were all around the city when I first arrived. With the winter approaching, I realized that heating systems are not a thing in Lisbon – and there, I got my answer. Houses have little to no insulation, and humidity gets through quite easily. And no noise insulation either. So be careful if you book a room in a lively neighborhood – you might not sleep at all at night.