Sizzling noodles topped with peanut crumb. Turquoise seas washing into cotton-white sands. Coconut groves and tuk-tuks. Hardy kickboxers and serene Buddhist temples. It can only be Thailand: The Land of Smiles!
This paradise of islands and jungles in the heart of Southeast Asia has risen and risen to become one of the global hubs for digital nomads. In fact, some even say the movement began here, thanks to a boom of startups and laptop warriors in the second city of Chiang Mai.
With a good balance of living costs, infrastructure, speedy internet, and – of course – postcard-worthy destinations, it's hardly a surprise that Thailand and digital nomadism are a match made in heaven. This guide runs through all the basics of going location independent in the home of pad noodles, with details on costs, accommodations, and a whole load more…
Thailand for Digital Nomads at a glance
Pros
Uber-friendly people.
Some of the tastiest (and cheapest) food.
Super-fast internet.
Low cost of living
Cons
Rainy seasons (boo!)
Not as cheap as it once was.
Lots of tourists to contend with.
The cost of living in Thailand
Thailand is cheap, right? Well…yes and no…
There are some things in the Land of Smiles that are downright bargains. A bowl of pad Thai noodles for just 40 THB ($1.30)? Yes please. A two-hour train journey through lush rice paddies and jungle for a mere 100 THB ($3.30)? Stamp my ticket.
Then come the pricier things. Hotels aren't what they used to be. Granted, they're also no longer ramshackle hostels a la Leo DiCaprio in The Beach. But a good place to bed down can set you back more than 1,500 THB ($50) a night. Meanwhile, a beer in popular spots like buzzing Khaosan Road can be as much as 120 THB ($4), which ain't no happy hour if you ask me!
Here's a rough guide to the sorts of prices you can expect to pay as a digital nomad in Thailand:
Condominium apartment with a pool for a month in Bangkok: 27,000 THB ($900)
A multi-course meal in a midrange restaurant: 500 THB ($16.50)
A beer on Khaosan Road: 80-120 THB ($2.65-$4)
A ferry from Phuket to Koh Phi Phi: 800 THB ($26.50)
The weather in Thailand
Thailand follows the same rainy-dry pattern as the rest of Southeast Asia. Confusingly, that's divided into a trio of seasons:
Hot season (March-June)
It's possible that the rains come early and hit the Andaman coast around April. Either way, you can expect some of the highest temperatures of the whole year in the spring. Rough seas are another symptom of May and June, especially on the west coast. The upshot? You'll be hot, sweaty, and potentially rained on. But…you do get uber-cheap hotel deals to balance it out!
Wet season (June-November)
Beware the coming of the monsoons. Actually, monsoons in the Land of Smiles tend to be more easy-going than in other Southeast Asian countries. You might catch showers for 10-20 minutes a day and then be blessed with blue skies and sunshine. What's more, rates are considerably lower in hotels and rentals. And there are less people crowding the beaches on islands like Koh Lanta and Samui.
Cool season (November-February)
Okay, so the cool season is hardly cool. In fact, it's pretty darn hot! Put it this way – you're not going to be reaching for your thermals and bobble hat any time soon. Basically, average daily highs are a couple of degrees shy of what they are in other months. That still means mercury readings in the mid-80s most days. There's not much rain but there can be the odd storm. One exception: The far north. There, things can be chilly come evening (we're talking potential long sleeves).
Finding places to stay in Thailand
There's good news for any nomads searching out short- and long-term accommodation in the Land of Smiles – this place is bursting at the sandy seams with it! From bamboo-built beach huts on the Andaman Sea to sleek inner-city condos in the buzzing heart of Bangkok, there's oodles to choose from.
Cue this list of useful resources for anyone on the hunt for somewhere to stay:
Airbnb
The nomad favorite of Airbnb is a murky area in Thailand. The recent Hotels and Condominium Act has made it illegal to rent properties for anything less than 30 days. Reports are that enforcement isn't across the board. But some condos, especially the ones in and around Bangkok, are taking the rule very seriously. You simply won't be allowed to stay if you've booked only a few days or weeks.
That aside, Airbnb remains a great place to seek out beach huts, guesthouses, and long-term flat rentals. It's got options all over the country, along with hefty price reductions of up to 75% on monthly tenancies in the wet season.
Booking.com / Agoda / Hotels.com
Some nomads prefer the comfort of a fully blown hotel. It's a particularly tempting prospect in Thailand, where there are some serious corkers. On the beaches of islands like Phuket and Phi Phi, you can score deluxe establishments with infinity pools and walking access to private beaches for as little as $60 per night. Meanwhile, local homestays and guesthouses are often clean and comfy, run by people with a perpetual smile, and will never break the bank.
Booking.com – Great discounts and perks for regular hotel bookers.
Agoda – Some of the most comprehensive hotel listings in Asia.
Hotels.com – You can collect free nights for every 10 nights booked.
Facebook groups
Local expat groups for Thailand often advertise longer-term flat vacancies. These are also a great resource to look to if you want to share a place with another incoming nomad to reduce the cost. And they are perfect for networking with other location independent workers in the same city or town. Check out communities like Chiang Mai Digital Expats and Bangkok Digital Nomads.
The Thai visa situation
Thwack! That's the sound of yet another Thai visa exemption being imprinted on the passport. Most DNs in the Land of Smiles have a hefty collection of them. The country's waiver program offers 30 days of free entry to a whopping 60 nationalities, which can either be extended for 1,900 THB or renewed by flying in and out.
Let's be clear here: This is a visa exemption intended for tourism purposes. The legality of location-independent work with this stamp is still very much a grey area (or simply not allowed, depending on who you ask). Some DNs have reported stronger scrutiny at the borders in 2019, especially towards those with multiple entries in a single year.
Unfortunately, bagging a bona fide Thai working visa might not be the solution. For that, you need medical certificates, a professional sponsor, and even blueprints of the office you're going to work at (eh?).
On the flip side, the Department of Labor has, on occasion, deemed short-term work for non-Thai companies via the web within the law. However, much depends on the mood of the immigration officer you encounter or the person you ask. For that reason, we'll stop short of making a recommendation on how you should handle the visa situation. But suffice to say, it's certainly best to avoid multiple entries, long stays, and back-to-back visa exemptions. Unless, of course, you enjoy airport detention cells!
The top destinations for digital nomads in Thailand
Without further ado, let's get stuck right into the nitty gritty of Thailand's digital nomad scene. Where's good? What's hot? Where are the co-working spaces? Here, we list the top destinations for DNs in the Land of Smiles, with a little info on why each is worth considering for your next locale-independent adventure.
Bangkok (city)
Big, boisterous, traffic-filled, and bursting with fun, Bangkok is home to more than 8.2 million people. Recently, it's sort of trumped Chiang Mai as the nomad hub of the nation. That's largely thanks to more availability in city condos, and up-coming neighborhoods like Ekkamai and Thong Lor.
The trick with settling in Bangkok is to avoid the backpacker hubs of Khaosan Road and Banglamphu. These areas are the province of Chang-guzzling backpackers; they're not built for serious professionals like yourself (ahem).
Upsides to nomad life in Bangkok: Super-fast internet, unlimited cafes to check out, and an abundance of luxury condominiums. Downsides: It's super busy, there's bad public transport, and it's probably the most expensive place in the country.
> Read More: Best coworking spaces in Bangkok.
Chiang Mai (city)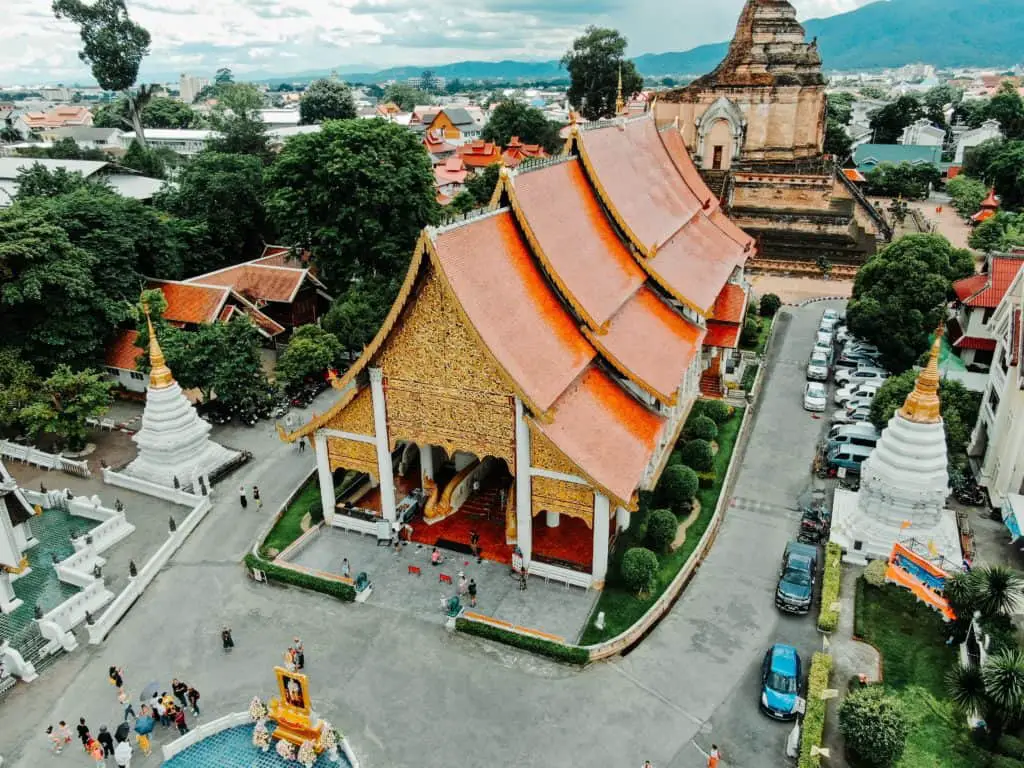 Chiang Mai is hallowed ground in the world of the digital nomad. Some say this is where it all began; the movement of working and earning online. True or not, the truth is that Chiang Mai is very much a love it or hate it place. The old center is gorgeous for sure – think timber Lanna homes and gold-trimmed Buddhist stupas. But the bazaars and streets outside of that have a distinct air of seediness – think go-go bars and gaudy Chinese casinos.
Overall, Chiang Mai is still a doozy of a DN destination. It's got an endless supply of expat flats and rentals. There are tasty veggie and vegan eats tucked into the leafy lanes of the center. And it's nowhere near as busy as Bangkok; a true second city.
Upsides to a nomad life in Chiang Mai: It's easy to meet other nomads, lots of accommodation choices, a good foodie scene. Downsides: There might just be too many DNs here (have we hit critical mass?), while outside of the old town can be hectic and lacks a little charm.
Koh Lanta (island)
A relative newcomer to the Thailand digital nomad scene, Koh Lanta's star has risen in recent years. That's largely down to its chilled beaches and beach towns. They string all the way from Ban Saladan (the main port) on the north coast to chic Kantiang Bay in the south (head there for 5-star hotels).
Our favorite will always remain the little clutch of bars, eateries, and bungalow stays around Long Beach. There's always a cold beer and a game of Jenga on offer at Joker Bar there. You've got the healthy dishes of Happy Veggie. And you can hit Relax Bay for some of the best sunsets in all of Thailand (big claim, we know!).
Upsides to a nomad life in Koh Lanta: Beaches, laid-back vibes, the sunsets! Downsides: Lack of modern accommodation, sometimes the internet is slow, and it's not the easiest to get to.
Pai (town)
Reach for the tie dye and let's head to Pai. Hippy central is located up in the lush green hills of northern Thailand. It's a stomach-churning bus ride in from Chiang Mai, but boy is it worth it!
New Age bars meet coffee roasteries and health-food cafés on the main street, which transforms into an excellent night bazaar come 6pm. Temperatures are a little lower in these hills, which means cooler evenings and less sweating while you work. Oh, and the surrounding region touts hot springs, waterfalls, and mountain trekking for weekends away from the laptop.
Koh Samui (island)
Sun, sand, sea, and just a lacing of beach parties – those are what make Koh Samui a top choice for digital nomads in Thailand. Yes, this is the original vacay mecca. But don't let that put you off. There's still scope to find some hidden corners to call your own.
Think about heading up around Mae Nam. There, the shores empty of tanning holidaymakers and little pine forests cluster by the beach. It's also an area with some deluxe bungalows with sea views. Alternatively, seek out Maret on the east coast. You can find little fishing villages between the big resorts there, and also a co-working space with views over the coconut trees.
Do you have anything to add to this ultimate guide for digital nomads in Thailand? We'd sure love to hear your tips and thoughts in the comments!